"Unity in diversity" – sounds familiar? I am sure it does. These are highly applicable when we describe our country with all its diversity and richness. The diversity in India is one-of-a-kind. We stand distinctively tall in the global fraternity because of our culture-rich background, euphoria in celebrations, and the warmth in relations. Feel proud of our country yet?
If not, here are twenty reasons that make India one of the most diverse countries globally, a fact every Indian should be proud of.
India – Unity in Diversity 
1. So many States
To begin with, India is the largest democracy in the world. With the second-largest population, our mainland is a vast extent. Stretching from Jammu and Kashmir in the north to Kanyakumari in the south and Gujarat in the west to Arunachal Pradesh in the east, there are 29 different states and 7 union territories, including the islands of Andaman and Nicobar and Lakshadweep in the Indian Ocean.
2. Linguistic Diversity
Such a huge population, from so many different regions, does mean many languages. India has 22 official languages. This is not just it. There are hundreds of dialects spoken in the remote areas of the mainland as well. They say that language isolates people, but in our case, it binds us to our roots.
Hindi, English, Bengali, Urdu, Nepali, Bhojpuri, Rajasthani, Magahi, Pahari, Garhwali, Kangri, and the list goes on.
3. History
We are a part of a country whose historical achievements we can proudly boast of and not get judged in the least. Why should we? We have been a land of the greatest changes in the world. From the Harappan and Mesopotamian Civilizations to the invasion of Alexander the Great, the Mughals, the British, the partition of India, and the fight for independence, everything has left a scar in the world's history.
4. India – Religiously Yours!
This is the birthplace of various important religions like Hinduism, Sikhism, Jainism, and Buddhism. Secularism is an article in the Indian constitution, not just for the sake of it. People here follow the above religions and Islam, Christianity, and other Abrahamic religions as well. Atheism and agnostics also have visible influence in India, along with a self-ascribed tolerance to other faiths. Hence, there is diversity in India.
5. Occupation
60% of our population depends on agriculture for a living. The remaining 40% are, however, engaged in a variety of other occupations. From Pottery, glassmaking, teaching, weaving to opening up big industries – you are likely to find everyone engaged in something or the other. Our entrepreneurs have made it to the world's richest lists, bringing India to the industrial sphere's limelight.
6. Cuisines (with an 's')
Our stomachs are way too hard to please *winks*. How can there only be one or two types of food when there is a huge population and so many different regions?
If north India serves chhole bhature, kadhi chawal, tandoori, South India has the tangy taste of dosa, idli, vada, rasam, and uttapam. Not to forget the east and the west. The west offers more authentic dishes that belong to its roots like dhokla, mathhri, and Khandwa. Then, you have the east offering you lip-smacking dishes, including momos, Iilish Maach (fish), rosogullas, and so many more.
Hungry yet?
7. Everyone Celebrates Here
Even though there are many religions, each religion's festival is celebrated and welcomed with open arms. If you are in India during Diwali or Christmas or Ed, you will see every tiny lane in every possible locality filled with people decorating, laughing, and wishing each other. There, you see, there is unity in diversity.
Such is the effect of festivals here that people forget all their personal and religious differences and join in one another's happiness; hence, there is cultural diversity in India.
8. Go Trendy yet Authentic
Yes, you read that right. One can go being trendy in one part of the country, and that may be the authentic wear of some other part of the country. Be it the traditional Saari, Salwaar-suit, Ghaghra-Choli, or casual jeans and dress or just the regional dresses, and you are free to choose what you wear.
If you stop walking on the road and glance around, I am sure you will notice people wearing all these different clothing mentioned at least once.
9. Family Structure
We hear that the younger generation move out of their parent's homes and live on their own in many countries. But for India, the case is slightly different. We have a prevailing tradition of the joint family system, where the extended family members live together. Studies show that the younger socio-economic groups are more inclined to spend time with their families than their peers.
10. Values
The values imparted in India are categorized as subtle, apt, and immortal. They are not rigid, which is why it survives with pride in the modern era. Non-violence and tolerance – India have been a distinction between these two words. Mahatma Gandhi's Satyagraha movement is a testimony to this.
11. Movies
Bollywood is the informal name given to the Mumbai based film industry in India. Bollywood and other major cinematic hubs (Bengali-Cinema, Oriya film industry, Malayalam, Kannada, Marathi, Tamil, Punjabi, and Telugu) constitute the entire Indian-film industry, whose output is the largest in the world in terms of the number of films produced every year.
12. Wildlife
The varied, rich wildlife in India has a profound impact on its culture. From the royal Bengal Tiger in the Sundarbans to the One-horned Rhinoceros in Assam to the hundreds of migratory birds, India's wildlife is no less varied than the people themselves.
13. Weather
In which country will you find all the four seasons at the same time of the year? Of course, in India. When north India is sweating and suffering the extensive summer heat, places in south India and north-east India receive heavy rainfall, and places in the extreme north, such as Leh and Ladakh, are covered in thick snow layers.
It is like experiencing the weather of the entire world at one time with a country tour. Amazing, isn't it?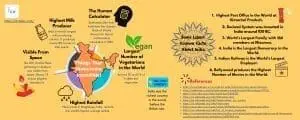 14. Literature
Sanskrit, being one of the oldest languages of humanity, has a profound impact on the evolution of literature and India's language and the rest of the world. Many languages have come into existence with the help of Sanskrit and vice versa.
Apart from Sanskrit, we all know about Mahabharata and Ramayana. These are the oldest and most well-preserved epics in India. Along with these, we have the Upanishads and Vedas, teaching us values and a way of life regardless of our faith in any religion or the sphere of life we belong to.
15. Sports
Hockey is the national game of India. Cricket is the most populous game in the country, followed by Football. Not many know, but the mind-blogging game of chess originated in our very own land. Hence one can say there is diversity in India.
We have been keen players ever since the dawn of civilization. Other games believed to be originated here are kabaddi, Gilli-danda, and Kho-Kho.
16. Music
For us, music is to the soul what food is to the body. Indian Classical music is broadly divided into two parts- Carnatic and Hindustani Music. The Indian Villages have their very own type of music, which carries a traditional folk wave in it.
Every Indian you find will definitely be a music lover- the favorites vary from classical to folk to Indi-pop and modern. Thus, one can say there is diversity in India.
17. Dance
The Indian Dance, as written in ancient books, is said to be the expression of inner beauty and the divine in man. Each gesture tends to communicate emotions and ideas.
It includes eight classical dance forms: Bharatnatyam, Kathak, Kathakali, Mohiniattam, Kuchipudi, Yakshagana, Manipuri, Orris, and Sattriya.
In addition to this, there are folk dances of different states, chhau, bhangra, Bihu and dandiya, to name a few of them; hence there is cultural diversity in India.
18. Architecture
Indian Architecture encompasses a multitude of expressions over time and space revealing new ideas every time. The Harappa and Mesopotamia's well-planned cities, the Ajanta Ellora caves, the Sanchi Stupa, the Sun temple at Konark, and the Red Fort, the Taj Mahal, Fatehpur Sikri are all examples of the greatest architecture the world has ever seen. Therefore, speaking proof of the cultural diversity in India.
19. Transport
The bullock carts in the villages to metros, airplanes, and ships in the urban cities- India has seen it all. We are an example of how the modern and the medieval era can thrive together. If we look at Kolkata, we will see Trams, Buses, cars, old rickshaws, the black-yellow taxis, local trains, and the metro all in one city.
20. People
Finally, India is a diverse country because of all the people who live it. It is you, me, and every one of us, with our distinctiveness, making India the country it is now.
-Tapasya Upadhyaya