Take a break from your work and the fast-spinning world in these overwater bungalows Fiji, where time and tide waits for you. You can spend time with your family like you never did before in these amazing overwater bungalows.
It's now time to know your partner better and possibly have the best time together. What's more, you get a fascinating floating experience with water on all sides of your abode!
4 Splendid Overwater Bungalows Fiji for an Unforgettable Experience:
Fiji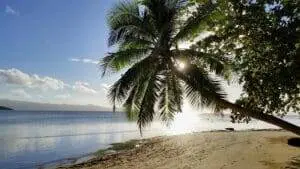 A south pacific country consisting of around 300 islands is famous for its fine beaches, pristine lagoons, and overwater bungalows. More than half the Fijians live in Viti Levu and Vanua Levu.
Viti Levu, which means Great Fiji, is the main island of Fiji. It is home to many natural attractions like Fiji's highest peak and sleeping volcanoes, international airports, Fiji's capital Suva, agricultural fields, and alluring overwater bungalows Fiji.
With a pleasant climate, Fiji attracts many tourists, especially couples. It is also known for its friendly people and tropical forests. Overwater bungalows, having a special place in Fiji, deserve your read.
Read about the ten best beaches in Fiji here.
Overwater Bungalows
Overwater bungalows are the water bungalows or villas that hang over, perched upon, or built on scenic waters. In most cases, well-built, elevated, wooden pathways link them to the main island resort. Otherwise, they have a private jetty next to each bungalow to reach the land. They were born in 1960 in French Polynesia and reached their heights in Bora Bora bungalows.
1. Likuliku Lagoon Overwater Bures
Overwater bungalows Fiji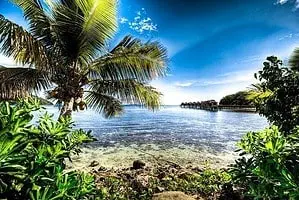 Likuliku Lagoon Resort is one of the five resorts on the volcanic Malolo Levu island, the largest Mamanuca island group on Viti Levu. It is an exotic luxury haven of subtle pleasure exclusively for adults, 15 miles away from the Nadi international airport. 
The resort is booked exclusively for guests to live in. You take a flight or a boat to reach it. Then, from there, you walk down the long-raised platform to the heart-melting overwater bures  (huts). Over 50 bures on land fade behind these gorgeous Likuliku overwater bures.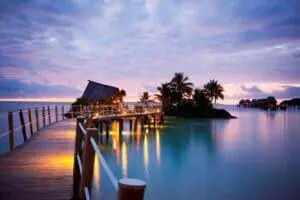 10 ancient-looking overwater huts are arranged one after the other parallel to the island. The main pathway linking the island and the overwater bures extends to these huts on one side. It breaks off at smaller decks that lead to each bure. 
Each overwater bure has its own access to the waters from a private balcony. Not more than two people can stay in the bures at one time. Each of the ten is furnished with a huge fluffy bed – the king bed.
Watch the video: Explore the Likuliku Lagoon resort Fiji.
It is the only resort in Fiji to have real overwater bures in a natural lagoon. A stunning marine sanctuary and a rich coral reef encircle it. With the lush island behind and the crystal blue ocean in front of you, you live your dream in this peaceful paradise.
Likuliku Lagoon Resort is a multiple award-winner for its efficiency. Likuliku means calm waters and stays true to that name. A unique and special place, designed with integrity to cultural values, traditional patterns, and architecture, is treasured by many.
Want to have a peaceful and romantic honeymoon? Drop-in at the Likuliku lagoon resort, the perfect destination for newlyweds. There are wedding packages too to get you going with your best day ever. 
Watch the video: Interior of Likuliku Overwater bungalow Fiji
With a unique design, it has a scenic atmosphere overlooking a rich biodiverse and marine life. You don't need to walk out to look at the breathtaking lagoon. A separate open-air washroom gives you the chance to get a lagoon view from your bathtub. A private deck is another such spot.
With a free snorkel kit with which you can jump anytime into the waters to fish watching, kayaks, paddleboards to paddle away to explore the nearby islands, marvelous food, and serene overwater terraces to enjoy, this is a gem of an overwater bungalow Fiji.
2. Fiji Marriott Resort Momi Bay
Overwater bungalows Fiji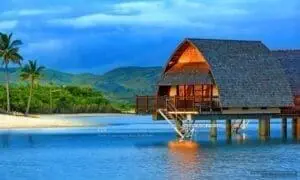 A great surfer looking for a getaway with your partner? Head to the Fiji Marriott resort dotted with some of the world's best surfing and diving spots. Fiji Mariott resort, a brand-new five-star resort, lies in Momi bay's heart near Nadi international airport, west of Viti Levu.
With a spectacular view of blissful nature, this aesthetic resort offers the best service to nature lovers. In addition to villas and deluxe rooms, Marriott resort also boasts of overwater bures. What more could have John Keats written if he knew of this spot!
By providing expansive accommodation on land, Fiji Marriott gives you all the space in the world! Occupying a large area of the clear blue waters, the cute and pleasant shack-shaped straw topped overwater resorts promise an unforgettable stay!
Watch the video: Explore Marriott Resort Momi Bay, Fiji
This is the only artificial lagoon resort among the four overwater bungalows Fiji. These bures offer a king bed, television, internet access, air conditioning, shower, excellent dining options, beverage services, and a patio.
With light-shaded interiors, they hold an incredible aura. Breathe in the spectacular views of these waters from the comfort of your bed in master bedrooms.
Make your wedding day memorable with Momi bay's Marriott resort. The hotel rooms within this paradise are well furnished with adorable interior designs and well-matched amenities. They are diverse, and your budget decides the type of room you want. 
You also have a lot of select recreational activities to choose from. Access to white sand beach, 3 swimming pools including one for kids, health club, kids room, fun in the waters, multiple dining areas, spas, and gyms are just some of them.
Related: Check out the four stunning overwater bungalows Caribbean here
3. Koro Sun Resort: Edgewater Floating Bures
Overwater bungalows Fiji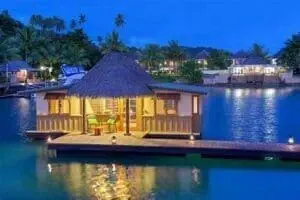 Want to live on bures that stand on waters? Want to explore rainforests? Edgewater floating bures in Koko sun resort for couples define luxury. It is situated in north Fiji with thick rainforests within eyeshot.
A stop at this beach resort means a yes to the adventurous rainforest trekking and cycling. Edgewater floating bures are the only floating bures among the overwater bungalows Fiji. To reach these amazing bures, you need to take a short jetty from the resort on land.
These bless the Edgewater lagoon with their elegance and fascinating structure. The thatched roofs, 'dodo' wood decor, and native designs capture the true aura of Fiji.
Watch the video: Koko Sun Resort, Fiji official video
Each bure has a majestic bed, modern washroom, air conditioners, private lounge area, and mini-fridge dressed in a unique style. They have no internet or telephone services. Get a break from the outside world and endless notifications.
Neat elevated wooden platforms connecting all the bures smoothly opens out into the translucent lagoon waters. Step onto the charming porches to bask on the chairs or get a romantic view of the lagoon.
Want to kayak badly? Jump into the 2 person kayaks tied right in front of your private deck and row away to explore the lagoons. They have many sister islands which you can discover at your own leisure.
Edgewater floating water bures have all the facilities to make the best of your stay. You get to have romantic dinners, relaxing massage, and unforgettable memories in these adult-only bures.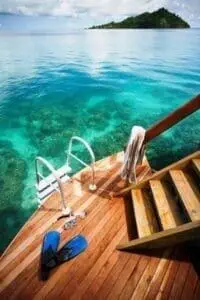 Edgewater pool bures, the latest addition to Koko sun resort, are equipped with a ladder from the balcony if you wish to take a dip in the waters. It is as magnificent as the Edgewater floating bures. In short, these are the pride of Koko sun resort.
Related: Check out 15 top-rated tourist attractions in Fiji here
4. Laucala Island Resort Fiji 
Overwater bungalows Fiji
LaucalaIslandd, a private island in Fiji, is the center of villas. One among the 25 beautiful villas, the Laucala overwater villa sits on a splendid lagoon. All of them are naturally constructed with thatched roofs and magi twines with local leaves.
Set out to this huge bungalow hanging over the waters and wish your stay never ends. With its emerald-green waters, the lagoon laps around the vast bungalow with enormous gardens and many rooms. A hot tub is provided to make your bath perfect.
Both modern and traditional styles are brought together to form this smoothly shaped bungalow and its interiors. A roomy terrace stretching across various lengths adds to the quirkiness and offers a bird's eye view of the lagoon. Delectable food and pleasant dining areas stretch your appetite.
Watch the video: Laucala island Fiji and its resort
You also have an artificial private pool among the rocks to swim the little heat away. Well secluded yet integrated, this resort has all you need. Available services are of great help and add to the stress-free and tranquil atmosphere. The private jetty supports the to and fro journey.
These four amazing overwater bungalows Fiji on extraordinary lagoons are all you need to make your trip to Fiji a beautiful memory. These also make Fiji your perfect honeymoon destination. You have all romantic elements close to home.
Related: Check out the ten best overwater bungalows 2021 here
Watching the sunset from the deck, dangling your feet over the water, with your partner by your side and beauty all around you is what makes these overwater bungalows Fiji beloved to the couples seeking their time off from the daily rigmarole of life.