As an affiliate-driven website, Icy Tales earns from qualifying purchases.
Iceland black sand beaches with their dusky sand base and ashen pebbles comprise one of the most striking examples of the island country's breathtaking natural landscapes. Beach enthusiasts all over the globe bow to the visual spectacle of Iceland's black sand beaches, with the waves curling on stygian sand grains and gravel, seducing the viewer into its ocular rhapsody.
If you're looking for a seaside unique beach experience then a visit to one of Iceland's black sand beaches is a must. From the volcanic Reykjanes Peninsula to the stunning East Fjords, there are plenty of options to choose from.
Whether you're looking to relax, go for a swim, explore the surrounding area, or just research destinations to add to your bucket list, you can't go wrong with the silken textured dark beaches characteristic of Iceland's topography.
Here is an all-encompassing guide to the top black sand beaches in Iceland, to help you get started.
1. What are Black Sand Beaches?
Black sand beaches are, quite simply, beaches with black sand. But how does the sand get its color?
The short answer is that it's due to volcanic activity. At present, the lava flows from Icelandic volcanoes have cooled down and hardened into black sand. This is because when volcanoes erupt, the resulting ash falls into the ocean and is eventually deposited on the shore, creating a black sand beach.
2. What Causes Black Sand Beaches in Iceland?
Black sand beaches in Iceland are formed due to the natural geological conditions prevalent in the region. Iceland is a volcanic island that lies on the Mid-Atlantic Ridge, a divergent plate boundary at the cusp where the tectonic plates of Eurasian and North American landmasses move apart from each other.
The black sand on these beaches is composed of volcanic basalt minerals. When lava oozing out from an overflowing volcano falls into the ocean, the lava instantly cools and solidifies forming black volcanic rocks.
Owing to weathering from the sea waves, these volcanic rocks face erosion and eventually break down into finer sand-like texture, the distinct black sand, and constitute the namesake for Iceland's famed beaches.
In addition to black sand, Iceland's volcanic activity also leads to unique geological attributes and occurrences such as hot springs, geysers, and glaciers. The geothermal ensemble created by the physical geography of Iceland accentuates its appeal among tourists and individuals who follow geology and others who crave outdoor activities.
3. How Many Black Sand Beaches are There in Iceland?
Iceland has several black sand beaches, but the exact number is difficult to determine as there are many small and secluded beaches scattered throughout the country. Some of the most famous black sand beaches in Iceland include Reynisfjara, Vik, Djupalonssandur, and Kirkjufjara.
Additionally, there are many other lesser-known Icelandic black-sand beaches that exist as hidden gems. These are just waiting to be discovered and elevated to the same fame as the likes of Kirkjufjara and Reynisfjara.
4. Where to Find Black Sand Beaches in Iceland?
One of the best things about black sand beaches in Iceland is that they are accessible and easy to get to find. This is because Iceland is an island nation. It is situated on all sides by water bodies. Hence, its vast coastline is a hotbed for beaches. The beaches are not only a source of domestic pride but sustain Iceland's massive tourism industry.
5. Top Iceland Black Sand Beaches: Our Picks
5.1. Diamond Beach
Located on the southern coast of Iceland, Diamond Beach is named after the icebergs that wash up on its shores from the nearby Jokulsarlon Glacier Lagoon. When the sparkling ice and dark raven-colored sand co-exist, their contrast serves a visual spectacle like no other. The ice shards, when disentangled from glaciers, can assume the appearance of diamonds.
5.2. Vik i Myrdal Beach
If you take a short drive from Reynisfjara Beach, you come upon Vik I Myrdal Beach, another majestic black sand beach straddled on the southern coast of Iceland. The surrounding cliffs and sea waves crashing against them present an exquisite confluence of different elements of nature.
5.3. Djupalossandur Beach
This magnificent marvel is located on the Snaefellsnes Peninsula in western Iceland. Djupalonssandur Beach is a rather secluded black sand beach, but that makes it perfect for a peaceful stroll without the hum-dum of other fellow tourists. This beach is also surrounded by cliffs that go far under the sea and features eclectic rock formations.
5.4. Stokksnes Beach
This beauty is another secluded black sand beach that's worth checking out. It is located near the town of Hofn in the southeastern part of Iceland. The beach offers heartwarming views of Vestrahorn Mountain and attracts several thousand photography enthusiasts owing to its hauntingly serene vibe.
5.5. Solheimasandur Beach
Located between the towns of Vik and Kirkjubaejarklaustur, there lies a vast stretch of black sand identified as Solheimasandur. It has a reputation for its unique scenery, which features black sand, palatial coastal cliffs, and even glimpses of the Myrdalsjokull glacier.
When talking about the Solheimasandur beach it would be blasphemous to not discuss the wreckage of a US Navy DC-3 airplane from a 1973 crash. It has become a destination magnet for the casual observer and vacationing visitors alike. Solheimasandur offers a range of outdoor activities, including hiking, birdwatching, and photography.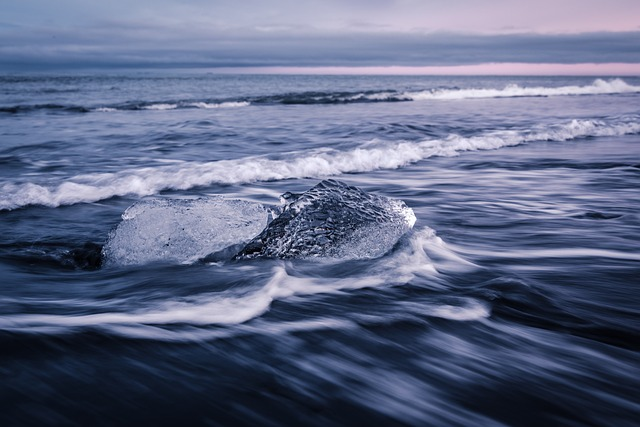 5.6. Myvatn
Myvatn is a lake in northern Iceland known for its natural beauty and unique geology. The name "Myvatn" translates to "Midge Lake" as an ode to the large numbers of midges found in the area during the summer. The lake owes its formation to a large basaltic lava flow from about 2300 years ago.
It is surrounded by a volcanic landscape (craters), lava fields, and geothermal areas. The area is also home to many bird species, including several that are unique to Iceland, such as the Barrow's Goldeneye and the Harlequin Duck. In addition to its natural beauty, Myvatn has also played a role in Icelandic history and folklore.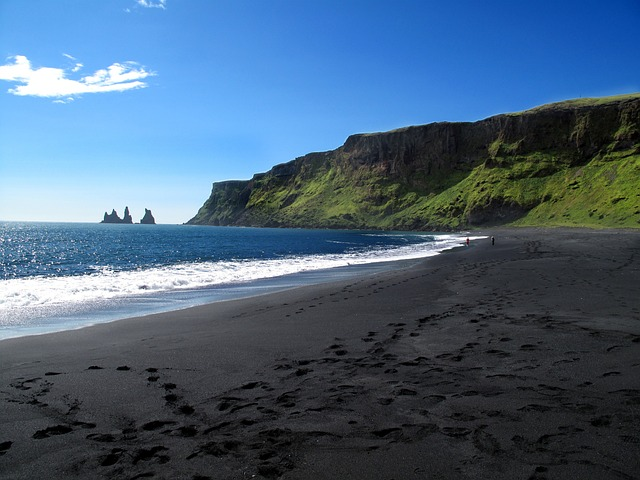 6. Can You Swim in Iceland's Black Sand Beaches?
Yes, you can swim at Iceland's black sand beaches, but it's important to keep in mind that the water temperature can be testing and extremely cold. Take your cues from Iceland's name itself, swimming in and around these peculiar black sand beaches can become a chilly ordeal even in the summer seasonal cycle. It is the land of ice after all!
For that reason, the black sand beaches dotting Iceland's coastline are generally not known for their swimming opportunities. Once submerged in the water while swimming the cold water, which draws its chilly nature from the proximity to glaciers, can restrict body movement if the body temperature isn't maintained. This can be dangerous as the swimmer may not be able to swim aghast waves that chill the muscles and restrict mobility.
However, having noted that, there are some black sand beaches in Iceland where swimming may be possible under certain conditions. For example, the beach at Vik I Myrdal which is a spectacular destination for tourists also accommodates some niches where it may be safe to swim depending on the fierceness or calmness of the sea and general weather conditions.
However, it's important to exercise caution when stepping out to swim and to make sure to swim with a buddy. Swimming entices people as it is a fun activity, but ultimately it's important to prioritize one's own safety and be aware of the potential risks associated with ocean swimming in the beachside waters of Iceland's black sand beaches.
7. How to be Safe at Iceland Black Sand Beaches?
Safety First, Swim Later!
No matter which black sand beach you choose to visit in Iceland if you ought to be sure to dress to protect and remain warm; and wear sturdy shoes that can offer good grip in the sand. It is no surprise that the terrain can be uneven and slippery. Weather Reports and authorities also post out safety warnings to preserve the experience and mortality of visitors.
7.1. Pay Attention to Official Warning
The typical black sand in Icelandic beaches comes from physical and chemical processes involving active volcanoes or Iceland's famous glacier lagoons. Both of these are sources capable of creating unpredictable and dangerous conditions. Official warnings from weather departments or beach authorities must not be ignored.
7.2. Limber Up
Whenever you are on the beach, warm up your body so that you may be able to react in case a surprise wave makes its way to you.
7.3. Watch for Danger from Sneaker Waves
Sneaker waves are large waves that can suddenly appear and take with them bystanders of tourists unaware of the possibility of such a phenomenon. Locals are aware of this tendency of ocean waves. They are more common on black sand beaches because the dark sand is known to absorb more heat than silver or golden sand; and makes the water that is curled closer to the shore warmer, which can palpitate into strong currents. It is best to keep an eye on the water and keep a safe distance between you and the shoreline.
7.4. Dress in Warm Clothes and Limber Up
You got to protect yourself out on Iceland's dark sand beaches from the chill and cold. There is no such thing as being too careful. Do not endeavor to just dress to impress, but rather dress to protect!
7.5. Do Not Forget Use of Waterproof Garments
Waterproof layers on the body will not only help preserve heat but also protect against the shock factor inherent in accidentally coming in contact with exceptionally cold water. These layers also help in the slippery and rugged terrain. If you decide to venture out on a black sand beach always ensure that you have a stable supply of waterproof clothes. This is because wearing wet clothes can cause you to catch a cold.
7.6. Ally Yourself to Caution
Rocks on Iceland's black sand beaches as well as the cliffs are slippery and dangerous. Most Iceland black sand beaches have rock formations and cliffs that can be slippery and dangerous to climb on. One must be mindful of our own safety and footing when exploring such stretches and landforms. It is advisable to wear footwear with a quality grip that stabilizes your movement.
7.7. Be in Tandem With Nature and Respect it
Black sand beaches are mesmerizing no doubt, but the natural ecosystem they sustain has come under threat with the increase in tourist activities as new visitors flock to these beaches with the dark sand. This has rendered these beaches fragile. Human activity often brings with it pollution and disturbance of natural patterns of both the physical geography as well as plant and animal species.
To avoid upsetting nature and to avoid disturbing the natural ecosystem of black sand beaches, one must make sure to follow the right trails and official advice. By following these safety tips, you can enjoy the peculiar charm of Iceland's black sand beaches while reducing the risks.
8. Do Iceland's Black Sand Beaches Contain Gold?
Gold isn't your typical metal that can be found in the ground, much less in the sand. This is because it is much heavier than most sand particles. Given beaches are under constant attack of the wind and waves gold can't be retained under such physical geographies.
So, black sand concentrates can be found across destinations around the globe, they are not always associated with gold. While gold is not the kind of reactive metal like iron, we find that its presence is generally divorced from black sand beaches. In Iceland Black sand beaches, the sand particles contain elements like oxide minerals and iron titanium which have magnetic properties. As is obvious, these are barely related to gold.
However, sometimes black sand beaches can also indicate the presence of gold in rare cases. To a great extent, the larger geological and geographical formations and evolution of a landmass determine this presence.
Read more interesting content from us at Top 10 Best Beaches in the World