Shahid Afridi's youngest daughter's pictures became viral in the news recently. And you won't believe why.
The news popped up that the Pakistan cricketer's youngest daughter Asmara passed away. Pictures of her clad in white cloth with flowers over her went viral. A picture of procession too was shown around. Although no confirmation came from the family, people started believing it to be true.
Now here is the truth behind the hoax.
Asmara did go through an operation and was admitted in the hospital. It wasn't something serious though. It was a minor dental operation. The pictures of procession were actually the pictures of Shahid Afridi's father's funeral procession.
A picture which showed Afridi standing over a girl in hospital is what made people believe the lie. The picture was taken immediately after World T 20. Although the picture was true but there was nothing to be worried of.
After the operation, Afridi had even thanked his fans for praying for his daughter.
Imagine what a parent has to go when one sees their children's picture being circulated on TV and that too with the headline going about "DEAD". It would put them in a shock or probably make them laugh.
Recently Shahrukh Khan's daughter's bikini pictures went viral online. She is just 16 and was having fun time with her younger brother in a beach ( that explains the bikini). What was there to make an issue out of it? Probably if it wasn't Shahrukh Khan's daughter, nobody would have paid a heed to it.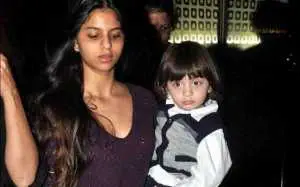 Similarly, Sri Devi's daughter's picture went viral online too. Apparently she was in a party and got a little drunk. So what? Every day some girl goes to a bar and gets drunk. Big deal? Why pester the lives of these people. They too are humans, let them have their personal lives.
So Indian Bollywood Media, please find something better to talk about.