Kavya Sharma author of popular books like 'All Seasons Alike,' 'To Naddiyaa,' 'The 7 Transgressions', 'Chronicles From Homeland,' and many more popular books.
The author and poet have been writing from a very young age. She started writing poems first and her parents always motivated her towards writing.
"I was hardly 7 or 8 years old when I wrote my first poem. My journey as a writer started with poetry. So poetry is closer to my heart than fiction. I kept on writing, and my parents kept on giving me the push."
Kavya Sharma did her English literature, and at the age of 19, she came up with her first book – 'The Carmine Memories: An Insane Woman's Poetry.' Some of her favorite lines from the poem written by her are:
"It's okay to hurt, it's okay to feel let down by whosoever you've been there.

Experiencing the same feeling isn't faulty, punishing yourself for the same is."
Being in the field and realizing that people love her work and connect with it gave her constant motivation. "I feel writers are born writers; you just have it within you to want to express yourself through your words. I think I had it in me, and that's what kept me going, and then there was no looking back."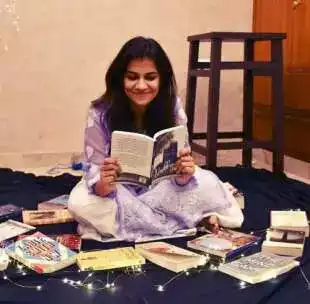 Kavya Sharma did her master's degree in creative writing from Nottingham, England. There she learned the concept of literary magazines."Before that, I had no idea about what these literary magazines are, and through our course, we were asked to submit our poems, stories, creative works that we write to these literary magazines."
Kavya Sharma then realized that not everyone would want to come with full-fledged poetry or fiction. Then she researched and realized that there are very few literary magazines in India and not many. Some people have only one poem or story to tell, which is beautiful and is worth publishing. That's when the idea of the literary magazine came into view.
"Now it's been 4-5 years since I came back from England, and I have seen a few of them doing well, so I had decided that when I come back to India, I am going to start a literary magazine." Kavya Sharma wants to provide an unbiased creative platform to artists worldwide who can share their poetry, stories, artwork, photo essays, literary artwork. A platform they can trust and have a readership growing continuously is the sole intention, which is how Kavya Sharma started it. She is the founder and editor-in-chief for 'Verse Of Silence' a literary magazine.
Kavya Sharma finds inspiration in poets like Kamla Das, Emily Elizabeth Dickinson, Gulzar Ji and feels inspired by their work.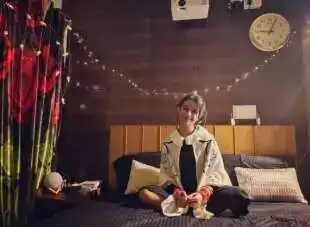 It was a mix of motivation, creativity, and a bit of sinking as well! – Kavya Sharma
Like, everyone, Kavya Sharma was also a little scared and wondered how things were going to work out when the lockdown started. She also wondered how will it impact her work life. The stress helped her channel her energy in different directions. Kavya Sharma got on to her hobbies. She loves to cook, and cooking is a stress buster for the author. "I cooked a lot, did a lot of yoga and meditation, and diverted my energy in that direction, and eventually, I was better off. I was just more concerned about taking care of my physical and mental health."
Initially, Kavya Sharma got motivated to write a lot on the professional front. She also wrote her book 'All Seasons Alike' during the lockdown. "I wouldn't say it affected me negatively on the professional front. I had more time on my hand because of many projects I lost, but that gave me time to work on my poems and stories and work a lot on my creative instinct."
Since the pandemic was going on for a long time, there did come a time when Kavya Sharma was exhausted with ideas because she was not going out, not getting enough experience or exposure. "I was not getting things to observe and write my ideas and stories around. But right now, I am in a good place; I am happy."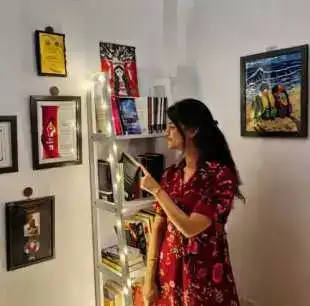 Want to bring about some positive changes! – Kavya Sharma"
The only thing that the author has in her mind is that she wants to bring some amount of change through her writings. So whatever stories and poems she writes, they have an underlying intent. It can be stories and poems on feminism, social change, emotional vulnerabilities, mental health, caste system, patriarchy.
"So the sole intention for me is to bring about a change. But of course, as a writer, when I have grown, I have realized that even if I can impact three-four people through my writing, even if 3-4 people read my work and that makes them happy and feel connected, this is the thing I am looking forward to. It provides me with gratification and internal happiness. So this is what motivates me to write."
A lot of research and hard work goes behind writing a book! – Kavya Sharma
'All Seasons Alike' is something Kavya Sharma wrote in the lockdown, so it was a tough book to write. It was also a challenging book to write because she has covered a lot of essential issues in the book, including the idea of sisterhood, womanhood, the idea of an underprivileged woman, and how things have been so difficult for them and the living standard is so tough their livelihood, survival is so tough.
So the story is about Bindiya/Shaina, the character has two names. The character is an underprivileged woman and has a mother who works as a maid in different houses, and the living is tough. But Bindya wants to break out from this cycle of the underprivileged. She wants to educate herself a lot and live a better life. But then the book also shows even if people are trying to break this cycle, sometimes circumstances, people around them are pushing them down.
The title is based on the fact that each time the protagonist tries to break from this cycle, she keeps falling into this loop of endless misery. Therefore it makes it even more difficult for people to break through this cycle and make a place for themselves. It may not be a very happy book, but it has a lot of things to learn from, and it is very reality-oriented. This is what 'All Seasons Alike' is about.
"This book wouldn't have been possible without proper research. I am from Delhi, and the book is based on Mumbai and Delhi. So I traveled to Mumbai a lot and saw the chawl system there. I went through a lot of women's NGOs and interviewed a few women about how difficult life has been and what made them join that NGO."
Kavya Sharma also talked to them about women's menstrual health, hygiene, body issues. "I am not talking about privileged women who have the resources to take care of themselves. I am talking about women who do not have enough money to care for themselves. The situation made me sad, and it made me feel like we aren't doing enough for these women, and all this pushed me to write this book." This has come out of a lot of personal and visual imagery that Kavya Sharma has seen in reality.
Writing gives a sense of satisfaction and gratification! – Kavya Sharma
Kavya Sharma also suggests some excellent ways for upcoming writers to start their writing journey. The author believes that beginners should start with their comfort zone. It's good to experiment but become a master of one area first. "It is always important to start with your safe zone, something that comes naturally to you, something that you are comfortable in writing, and once you have grown in it and have enough experience in it, then you can experiment."
Secondly, she firmly believes that one cannot be a good writer if you aren't a good reader. "Read a lot of books, poems, whatever sort of reading you do, just read a lot. This expands your horizon and gives you exposure and gives you better ideas to work on."
Thirdly, Kavya Sharma understands not to be overly critical of your writings. "As writers, we are always in a growing phase. We are always improving and working on ourselves. It is no good or bad here, and there is always scope for improvement. You cannot expect others to fall in love with your writing if you do not love them. So fall in love with your work."
The one thing that Kavya Sharma enjoys the most is when her work reaches out to people, and they get back to her through emails, messages, and they genuinely tell her what they liked about the book and how they connected with it. The sense of satisfaction and gratification that, yes, her work has reached the right side of people, people who could relate to, is the most satisfying part of being an author.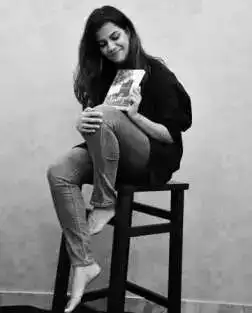 Honestly, the author still feels there is a long way to success. "I feel I am in a comfortable position wherein I am happy about where I am and also ready to take my journey ahead with a headstrong mind." 
Kavya Sharma's parents and husband have been the most significant source of motivation in her life. They have been very supportive throughout her journey, which has kept her going.
Kavya Sharma is very good with poems and writeups that are very homely and raw and very Indian in their approach. Her poems are straightforward and expressed in a very simple language. They are very Indian in their approach as she is currently targeting the Indian audience and wants to grow her readership in India. That is why her poems are very simple in their language and very raw and have an Indian aspect that increases the relatability aspect with the people.
Kavya Sharma strongly affirms that if you keep going, things fall in place, you have to keep going, and secondly, patience is the key to success.