Bollywood looks like the town of glamour, riches, and effortless beauty. But behind all that bedazzlement is the hard work of people whose contributions turn a movie into a piece of art. While actors may have the power to make it into our hearts, the crew we don't see on the screen can play with our senses- especially the sense of vision. And what appeals more to the eye than the very clothes that adorn the stars we know and love?
Movies have much more to them than what we see on the screen. And that's exactly what Veera Kapur Ee, one of Bollywood's most acclaimed costume designers, is here to tell us. With big hits like Pari, Bharat, Bulbbul, Piku, Phillauri, Pink, and more, to her name, Kapur has had the most exciting 18 years working in Bollywood. Through the lens of her career, we find out what goes behind designing actors' looks, right from the initial intricate planning to the final look tests.
How It All Began
I started as an assistant director in an advertising production house, and I learned under Shoojit Sarkar. Even assistant directors were very involved in the costumes and had to do a lot independently. After that, I got a chance to work with Dolly Ahluwalia on Partition (2007), a period drama about the 1947 partition, and my interest in costumes was piqued on those sets. From there on out, I pursued only costume designing.
On Her Creative Process
The first step is to read the script, understand what the story is and who the characters are. My job requires me to bring characters to life. Make them a genuine person with a backstory, and a lot of that expression can be done through clothes. So I understand the director's vision to find out the nuances of the character.
After that, we work on references. We mustn't rely on creating something exaggerated because they will seem unreal and hence, unfamiliar to the audience. We try to align our vision of the characters so that the result is the best that it can be. We take into account everybody's inputs and ideas. Then we connect the dots and start working to create the last look.
From Then To Now
I feel that the costume team has become more crucial these last few years. And another big change is about doing real films. Now, the audience wants characters to look natural. We are not over-dramatizing anymore or adding glamour just for the sake of it. It's important now, more than ever, that the actors be true to their characters and the script.
Besides, I have also changed a lot. I have gained something new and valuable from each movie, each ad. With time, I have learned how to take a stand, be confident, and work in unity. The good part is I have gotten the chance to work on such different kinds of films; from Uddham Singh (2021), a period drama, to Gulabo Sitabo (2020) with its small-town feels, to the simple and subtle Piku (2015). And with every varied film I do, I grow and become better.
Creating Looks for Simple Characters
Creating looks for a simple character can be complicated. We deal with the conflict of whether a look is "too simple" for the camera. For me, though, the relatability is most important. For instance, Piku is a girl from Delhi. She works as an architect who leads a simple life and sustains two people on her salary. She should genuinely look like a girl next door. If we dress her up glamorously, she won't be in sync with her character.
Taking another example of Dan in October (2018); he is a simple boy from Delhi, interning at a hotel. We asked ourselves, how would someone like that dress up every day? What kind of climate are we showing? What is his income range? How much can he afford to spend on clothes? After working out such details, we do a look test to see the character come together.
On the other hand, there is a much bigger setup for movies like period-dramas, and details are more intricate. We have to focus on not only the main cast but also the background actors and the extras. So for that, I have to give more time.
Things To Consider
It's important to keep both the actors and characters in mind when we develop a costume. Sometimes, during the idea stage, the look can seem very fitting for the character, but it's possible it doesn't suit the actor playing it. That's why we have a round of trials; it's an integral part of our process. We need to assess how the costume will look at the actor and fit for a character.
We also do many color palettes, including inputs from the entire team, including designers, art directors, and camerapersons. Because we don't want any outfit to be popping out or become an eyesore, we want it to fit the movie's theme perfectly for it to sit well. The aim is to make sure that the entire frame blends in beautifully.
Challenges and Pitstop  
The most challenging aspect of my job is the fact that I deal with a creative process. And creativity is subjective. Besides, film-making is a culmination of many mindsets. Actors, directors may have differing opinions. Sometimes, the cameramen would tell us that the color isn't sitting well on screen. It can be challenging to reach a consensus that works for everyone. The actor should be happy, it should look good on camera, and it shouldn't conflict with the director's vision.
The Integrity of Costumes
Costumes have a much more direct impact than we realize in the film's narrative. Suppose somebody is in a loud, unsuitable costume for a somber scene; it will disrupt the narrative. Costumes are integral to setting the tone of a scene, along with the entire movie. In the last couple of years in the cinema, I am happy to see costumes given their due importance. If we make a mistake, it will show on the screen.
Working On Advertisements
Honestly, creating looks for advertisements can be tough too. We are obliged to work under the agencies' restrictions, the brands, the colors they want, the script they create, and the way they want to be perceived. Another challenge is the short duration wherein we are required to achieve so much. There is a lesser scope for creativity in ads than in films where we have more leeway to experiment.
Although I'm lucky that I have had the chance to work on so many advertisements, it has helped me in my films. When we make ads, we work on short timelines. Sometimes, we have to prep in a day or two and go shoot. Working on ads has given me an edge, preparing me for high-pressure situations on film sets.
Working On Hindi Medium (2017)
Hindu Medium is one of the most interesting projects I have done. It wasn't just about drawing a contrast between the rich and poor lives, though that was a part of it, it was about showing the three stages of people for having money. One is having money but not having the class to spend it well. There was this scene where they buy ten things of different brands, but it all on, and assume it will look good. But it doesn't work like that. Money can't buy you class or the understanding of how to style yourself. Sometimes less is more.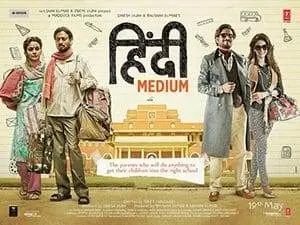 In the second stage, they are shown as classier, upper-market rich people who know how to dress and groom themselves. The third stage was about going completely poor. In that, we had to understand and take into consideration all elements. So it was interesting to make sure that the same people look distinctly different in all three stages. I had a lot of fun making it happen.
Most Challenging Project
One of the most challenging projects I have worked on is Udham Singh, set to release next year. Since it was a period drama, we were shooting in freezing climates in Russia. We had to get the look right while also dealing with the climate and its restrictions. Procuring materials and finding the right kind of fabrics was also tough.
Recreating a period requires extensive research so that every detail pertains to the time period we're set in. Certain things, like accessories, metal badges, or ornaments, aren't easily available.  It can be challenging to put together that authentic look.
What The Pandemic Did To The Profession of Costume Designing
Covid- 19 has definitely impacted the way I work. On the one hand, platforms like Zoom and Google Meets have made meetings much easier. More people can attend, regardless of where they are. We can show presentations by sharing our screens. On the other hand, nothing can replace the touch and feel of fabrics in my hand or work with tailors and explain exactly what we need. It's a hands-on job. So while much can't be achieved sitting at home, the pandemic has made the interaction process easier.
The Future Of Costume Designing
I'm sure, with technology getting advanced and new processes being discovered, we will see changes and development. Maybe, there will be a faster way of sewing clothes, though I don't know how that will happen!
The online market has also opened up a lot in the last few years, so accessibility has increased. We can procure international clothes and materials easily. I think that will keep evolving with communication. And because of online platforms, we can also connect with many more people, hire consultants from different countries and use their assistance during our research process. This wasn't possible in earlier times.
New Opportunities
I have some acting credits too, but that was just for fun. I do like acting, and I don't mind pursuing it on the side. I would love to do character roles, though, for sure. But my first and true love will always remain costume designing, and I see myself doing it till I'm alive!
Veera Kapur Ee is one of Bollywood's topmost costume designers, all owing to her talent and passion for her work. Click here to check out the movies she has worked on. And now, when you watch them, keep an eye out for the costumes, accessories, and color palettes!