As an affiliate-driven website, Icy Tales earns from qualifying purchases.
Cook the perfect cream of mushroom soup!!! 
Down with a rainy day or a rainy mood? Don't worry, we gotcha!!
This cream of mushroom soup recipe is easy, quick, and is all that you need this soup season.
Because everybody has got room for mushrooms. 
We all know that mushrooms are fungi with high protein, fiber, and low in calories. They are also known for their unique benefits health-wise, and who doesn't love mushrooms.
They have an abundance of vitamins and minerals and are a great add-on to your diet.
If you don't already know, then let me introduce you to some of the health benefits of mushrooms :
mushrooms are a great source of antioxidants

rich in vitamin D

rich in proteins

crimini mushrooms contain zinc which helps in building immunity and growth

it is known to lower the blood pressure

rich source of potassium

it also has anti-inflammatory properties

helps in weight loss and hence used in the keto diet

it cuts down the risk of Alzheimer's and heart diseases

other trace elements are selenium, copper, thiamine, magnesium, phosphorus, and so on.
Mushrooms are great as a vegetarian option. Mushrooms can also be used as a substitute for meat.
Before diving into the recipe, let's study the shrooms:
What is the typical type of mushrooms used in this dish?
Several wild mushrooms grow out in nature, both edible and poisonous. Let's check a few common types of mushrooms.
Cremini mushrooms:
Also known as Agaricus bisporus, these are native to Europe, rich in zinc, and one of the most common varieties used in this recipe of cream of mushroom soup. It can be eaten raw too.
Shiitake mushrooms:
They are cholesterol-free, fat-free and low in sodium and a good source of fiber. This is also one of the common varieties used in soups. They are super yummy and can transform any bland recipe into a fantastic recipe.
Button mushrooms:
Also called table mushrooms, white mushrooms, or common mushrooms.
It's one of the popular mushrooms commonly available and most used in different kinds of mushroom recipes. You can use it in stir fry, soups, fried rice, curry, and many more.
One interesting fact: did you know?
Button mushrooms are the baby toddler mushrooms, same as that of the cremini mushrooms, which are more on the white side, and the cremini mushrooms are browner and a little older, and this age difference enhances the taste. These mushrooms can be eaten raw.
Let's talk about the cream of mushroom soup
How did it come into existence?
Cream of mushroom soup is famous in North America. The base is readily available in the markets.
This soup is made of roux which is nothing but flour and fat cooked in a pot, and the sauce is thickened. The grease and the flour should be mixed into a smooth, creamy consistency and strained to avoid lumps.
The color of the roux upon you if you want white or brown. You can use butter as the fat. This is also seen in bechamel sauce, veloute sauce, and french cooking.
Cream of mushroom soup is also one of the main ingredients in casseroles.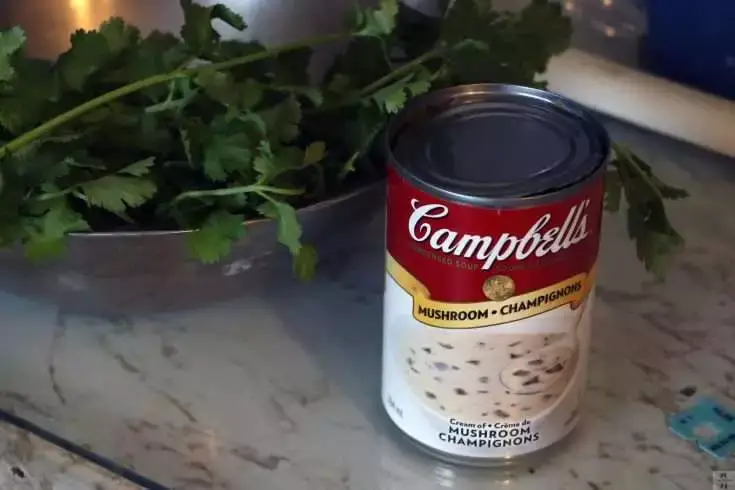 The Campbell soup company started producing a canned variety of cream of mushrooms which became popular. But why consider canned stuff when you can get fresh home-cooked in under 15 minutes.
Follow this fantastic recipe to make cream of mushroom, which is delicious and enjoy with your whole family:
Now let us get started,
Prep time: 10-15 mins
Cooking time: 40 mins
Total time: 55-60 mins
Total serving: 7
Before cooking, lay out all the ingredients with measured quantity to save time and make it easy.
Ingredients:
What all do you need for this excellent recipe?
4-5 tablespoon butter

1 tbs oil

2 onions (yellow or red, whichever is available, but most preferred yellow)

4 garlic cloves finely chopped

Brown or white sliced mushrooms or store-bought pre-sliced mushrooms, you can also you 2-3 kinds of mushrooms like shiitake and button mushrooms sliced: 800g

4 tbs dried thyme

Red wine or white wine

6-7 tablespoons all-purpose flour

Chicken stock or beef stock /chicken broth

Salt to taste

2 tablespoons black pepper

Fresh thyme and parsley chopped
You can make new chicken stock or get the stock readily available in the market. If you are a vegetarian, you can also use vegetable stock or cube, but the taste might differ.
Procedure for the mushroom soup recipe
This homemade mushroom soup is also served for the Thanksgiving feast.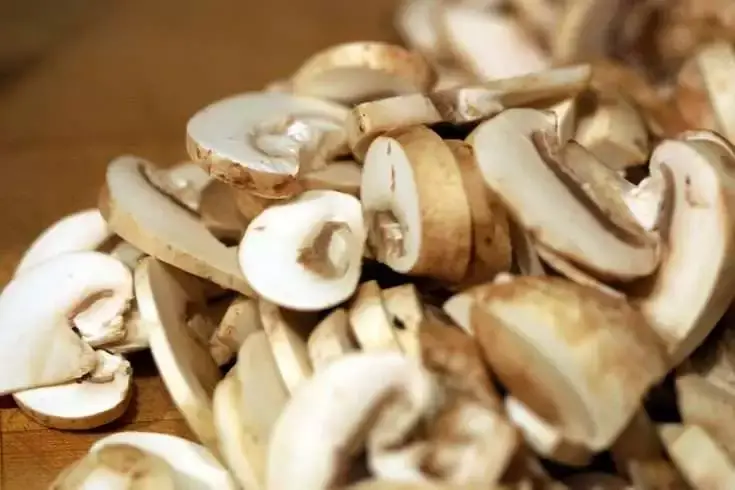 This recipe requires 2 large onions. Peel and wash the onions thoroughly and dice it medium or fine however you prefer.

Rinse the mushrooms. You can use a combination of button mushrooms, shiitake mushrooms, baby Bella mushrooms, and crimini mushrooms, pat dry.

Remove the lower half of the stalk and slice them into any size you like.
Assembling the soup base of homemade cream of mushroom:
To make the homemade cream of mushroom soup, take a large pot or a pan, and keep it on medium-low heat.

Take 2-3 tablespoons of unsalted butter and melt the butter. Pour over the onions and saute them until light and transparent for 4-5 mins.

Next, add the chopped/minced garlic and saute it till the raw smell of garlic disappears. Garlic gives a rich flavor.

Take a spoon or spatula and give it a quick stir. Until the caramelization of onions and garlic is done

, use the combination of fresh mushrooms that you picked like baby Bella mushrooms, shiitake mushrooms, crimini mushrooms, or whatever variety you have at home, save about half a cup for garnishing.

Remove the stalks, use the mushrooms, remove the gills as they ruin the taste

, raise the flame to medium-high heat, and add the pre-sliced mushrooms. You can also add a little bit of olive oil to the large pot, add white wine or red wine, and cook it down for 5-6 minutes.

Reduce heat to medium heat or low, and season it with salt according to your taste.

Please give it a good stir, and continue cooking until the fresh mushroom soaks in all the wine.

Now, to make the roux, take all-purpose flour, mix with the mushrooms, add chicken stock/chicken broth or vegetable or beef stock to make a mushroom broth mixture, bring it to high heat, and bring the roux to boil and cook it till it is thick and creamy. The homemade chicken broth tastes better and gives it a rich flavor than what you get in the market.

Add black pepper, fresh thyme, and fresh parsley.

You can even add onion powder (optional) to enhance the flavor

Add salt to the taste.

If the soup is not thick enough, you can add cornstarch slurry by mixing it with water and bringing it to a boil.

Add heavy cream, use the best quality cream to make the soup pure creamy. The cream will add more fat and change the color.

You can substitute heavy cream with light cream or condensed cream or add fat-free half and half cream.

Use an immersion blender in case of no immersion blender, use a food processor to smoothen it out for about a minute or two, stir well.

Take a small pan, add olive oil and add mushrooms and saute it until golden brown and set aside. We are going to use it for garnishing.

Meanwhile, cover the soup and let it simmer for 15 mins and stir it until thick.
Note: Half and half in the above recipe refers to half milk and half cream.
Presentation and serving: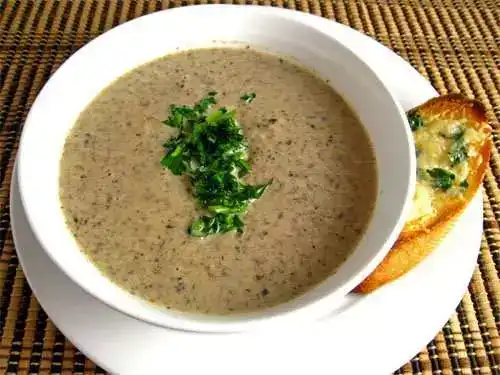 To serve a hot bowl of cream of mushroom soup, take a large bowl, pour in the cream of mushroom soup, add the sauteed mushrooms on top, and add fresh thyme and parsley. It can be served both hot or cold. It can also be topped with chili oil.
You can even add coconut milk instead of cream, and coconut milk gives off a unique flavor.
This easy recipe will make everyone speechless, and it's an easy meal and less time-consuming.
Canned versions are also available, but nothing tastes as good as fresh creamy mushroom soup.
This creamy mushroom soup can also be served with a side of mashed potatoes or a slice of bread/garlic bread.
Adding balsamic vinegar to the recipe
Adding balsamic vinegar and cream gives a sweet flavor to the soup. It is a secret ingredient to make the soup taste even better. A teaspoon of nutmeg can also be added to the cream of mushroom soup.
Nutrition facts
The addition of chicken broth in the mushroom soup and fresh herbs like fresh thyme and the amalgamation of mushroom broth mixture with the vegetable stock and cream make it nutritious and healthy.
One bowl of soup contains:
calories: 271kcal

carbohydrates: 21g

proteins: 8g

fat: 15g

cholesterol: 40mg

fiber: 1g

sodium: 583 mg

calcium: 91mg

iron: 1.8mg

potassium: 699 gm

vitamin: C 7.8mg
Tips:
You can even add tarragon in place of thyme

You can make it gluten-free by adding corn starch or potato starch instead of flour to make the roux.

If you want to make it dairy-free, you can use coconut milk.

You can also use cider vinegar instead of balsamic vinegar.

To make the soup thicker, you can also use condensed cream.

You can store the soup for over a weak by freezing it but don't add the cream; after defrosting the soup, you can add the cream.

If you want to intensify the flavor, you can also add soy sauce.

You can even add a little pesto on top as a garnish. It makes it even better.

Cornstarch slurry is highly recommended if you have a thin and runny roux.

If you add salted butter, then reduce the salt in the soup; taste it before adding any further.

You can come up with your variations, and if it is too bland for you, you can make it more flavourful by modifying it according to your taste.

If you want to skip the cream, you can also use whole milk to make a lighter version.

Apart from mashed potatoes and garlic bread, cajun potato salad, steamed broccoli, and any other vegetable of your choice can be served.

If you want to take the recipe to the next level, add tobacco sauce.

If you do not have thyme, then you can also add rosemary.

If you want to make it fancy, oysters can also be added to the dish to complement it.
Why should we avoid the canned version?
The canned version of mushroom soup is quite popular, but the canned soups and pasta contain more sodium than what is required for daily intake. Although canned food preserves nutrients and minerals and is unchanged by the process of canning, it may also contain dangerous bacteria and may cause serious illness.
The high sodium content can also give rise to multiple kidney problems as it contributes to water retention. And hence people with kidney disease should avoid canned food. However, with growing risk factors, canned food no longer contains BPA [BISPHENOL -A], which is safe to use. It is always better to consume fresh food as it enhances the taste and also is beneficial.
The roux or the soup base can also be used for more mushroom recipes. This excellent recipe is best for a light meal, but it is also filling at the same time and makes the perfect dinner soup and a treat for people who love mushrooms.
Cream of mushroom soup substitutes
Well, if you get bored of these dishes or want to try some healthy alternatives, then we have that too.
1. Whole wheat flour+ broth + cream
This is for when you want a better-tasting roux than cream of soup, but with all the flavors intact. This will be a healthy alternative, as you can also use gluten-free flour.
Simply mix about 1/4 cup of (gluten-free) wheat flour, 1/4 cup of cream, and a cup of broth.
Mix in some chopped mushrooms, parsley, butter, pepper, and salt to add more flavor.
2. Coconut milk + broth + mushrooms
This is for the ones looking for a dairy-free recipe. Just mix 1/2 cup of (unsweetened) coconut milk to 1/2 cup of mushroom broth, and add 1/2 cup of chopped mushrooms.
If you would like it thick, add about three tablespoons of flour. And to give it an excellent finishing, add a few seasonings of your choice.
I hope you enjoyed all these recipes. Do tell us how it turned out when you try making it.