Influences on Japanese Culture
Japan has been influenced majorly by Chinese Culture. Their language, their lunar calendar, traditional clothes, and architecture, almost all were influenced by China, but that was traditional Japan.
After World War II, the Japanese pop culture was cultivated, and it followed the American pop culture. Since America dominated it in the war, it was left bare and uncared for. To make sense of the empty shell they were living in, and their entertainment is a riot of fun, fear, sadness, excitement, and traumatic experiences.
According to Writer Haruki Murakami, Japan has not managed to make peace because they lost in the war. This has left them confused that they try to make sense of the situation they are currently facing with arts.
The themes of their entertainment solely revolve around apocalypses, ugly metamorphosis, nuclear mutation, socially vulnerable, which shows that Japan is still depending on America. With the baby boom the income of people rising, the Japanese people required more dynamic, imaginative, and chaotic entertainment.
Since Japan's history is rich and varied with the use of mythological characters historical characters, they have a lot of content to market these stories to the young people of generation next.
Japan was known for its cute characters like Hello Kitty, Pokemon, Sony, Toyota cars to the general masses. It has gained international popularity with its cuisine, fashion trends, consumer electronics like Nintendos, toys, and vehicles.
Japan was coined as Gross National Cool by a writer, Douglas Murray, at a magazine, Foreign Policy. It used its arts like music, fashion, electronics, food, and art to grab consumers worldwide, which propelled them to have a higher influence now than when they were an economic superpower.
The Japanese Government, once it realized that people were interested in Japanese Culture and arts, started investing more into these art forms.
They invested in their stars going abroad to promote their fashion, invested in companies that dealt with entertainment industries.
So the business world has started flourishing in production houses, studios for music, literature in novels and comic book form, animation production. In Japan, the Japanese companies leading the industry are from the entertainment sector.
Japan, however, has managed to make itself a soft power. Soft power is one where a nation uses its Culture through art to depict its values and ideals, thus swaying people to support them.
Most Asian countries follow this route since, like Korea, unlike the West, their Culture has no uniformity.
Fashion Trends in The Japanese Pop Culture
Since Japanese designers like Issey Miyake, Yohji Yamamoto, and Rei Kawabuko got recognized worldwide, people cannot stop watching out for the latest trends in the country.
Japan has become a worthy rival of the World's fashion capital, Paris and Milan. There is no rival to speed at which Tokyo develops its fashion.
Brand names like Comme des Garcons have made fashion innovative and fresh by letting people see that fashion does not have to be clean and straight cut. It can be flashy, innovative, or messy even.
The Japanese street fashion caught the eyes of many designers abroad, including famous people like Jay-Z, Kanye West, Jermaine Dupri, and many more.
Gwen Stefani has also paid an ode to the Harajuku style in her song, where she praises the style and the demeanour of those who wear them. This leads to an interest in the style itself, leading to a website explaining how to dress up like them.
Let's take a look at a few such pop-culture styles:
Kawaii (the cuteness style)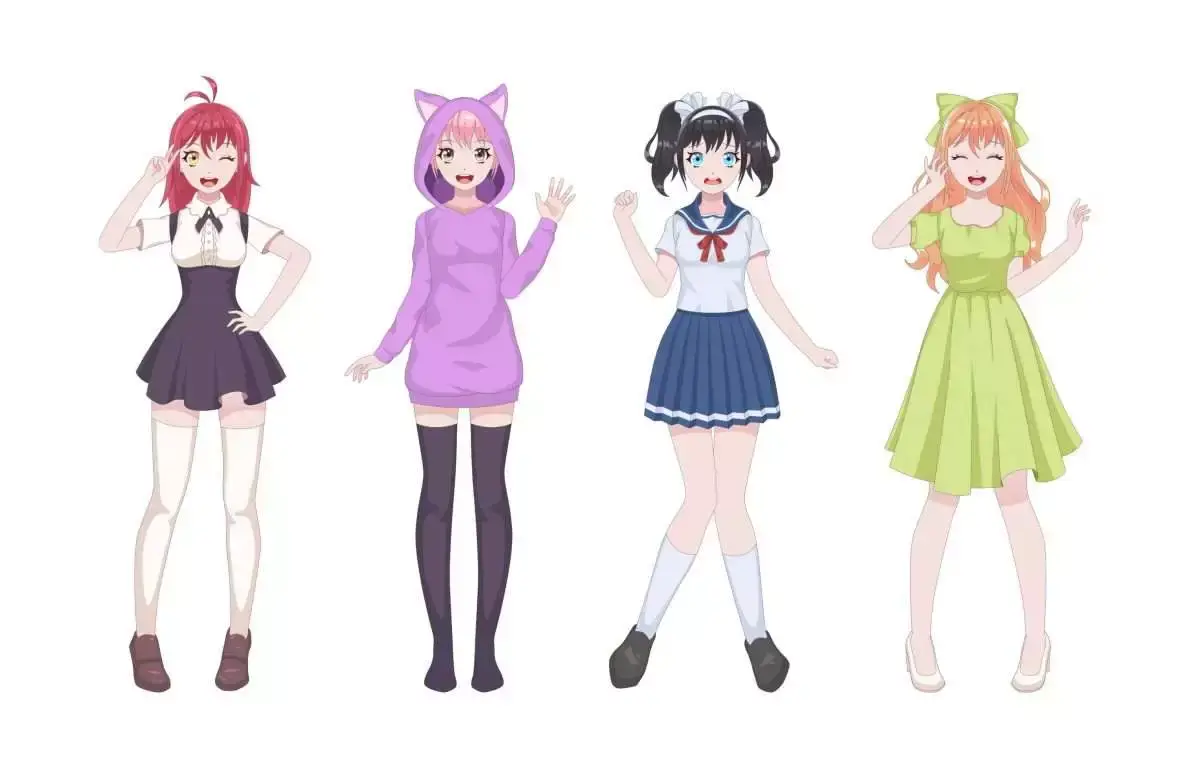 The most iconic Japanese Culture was the Kawaii one; it started as a rebellion by teenage girls and soon became a brand by itself. This began with the introduction of mechanical pencils, and girls began decorating their handwriting with hearts stars, and they used round writing. This started being banned at schools but only led to an explosion.
It began with Hello Kitty. The pink cutesie design of this character started the Kawaii culture, later becoming the symbol of Kawaii culture.
Kawaii became a way to escape from the strict and formal attitude one had to maintain in daily life. The style is cute, frilly, and mostly in light colours.
Lolita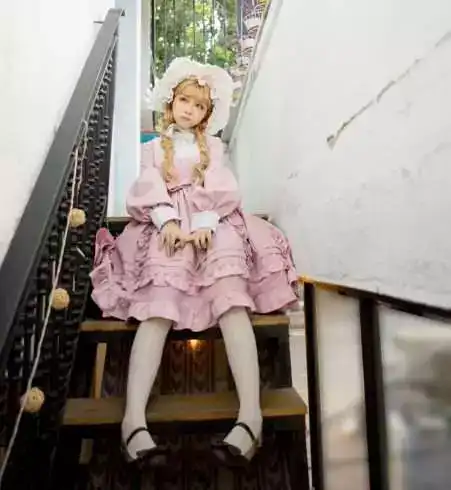 Dressed in the 18th Century French style, these girls are in Marie Antoinette-Esque outfits but shorter. They wear handbags, hats, and shoes that are striking compared to their outfit.
There are three lolita styles – Sweet, Classic, and Gothic. Sweet Lolita is all pastel, pink, with soft frills. Classic Lolita goes for a more muted dressing using darker colours, antique motifs, and lesser makeup that looks more natural.
The last and the least worn type of Lolita is the Gothic Lolita. They go for a vamp look, with their look primarily black. Their makeup is predominantly white, giving a vampiric look, and they wear white or black contacts.
Gyaru
Their look is overdone with nails, huge hairdos, tan skin, flashy makeup, and long eyelashes. They use flowers, feathers, diamonds to accessorize their hair. Their nails are not only shiny with diamonds and glitter, but they also have key chains with anime characters.
This trend started as a rebellion against the white-skinned and moderate makeup look the Japanese went for. They went for the bold, beautiful look similar to the American look.
This look also has categories – Hime gyaru, kogyaru, ganguro.
Hime girl is a princess type style, whereas kogyaru is a school-type. They are lighter and more pastel but are combined with fancy hairdos.
Ganguro fashion is striking with neon colours on their nails, clothes, and incredibly bleached hair with white eye makeup and stripes to highlight the face.
Decora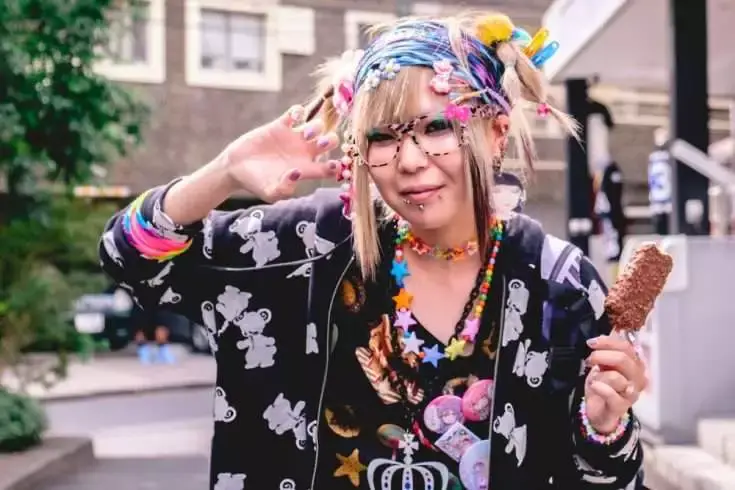 Coming from the word 'decoration'. However, you can wear the plainest clothes but top it off with an extreme accessory.
It could be a hat, shoes, thick glasses. Some wore patterned dental masks or arm warmers. Their makeup is bold, with coloured contacts. The entire idea of fashion was not caring for what other people thought and being happy to express yourself.
Visual-Kei
Visual-kei has been inspired by Western glam rock and has slowly become an underground style. It is glamourous and grunge mixed and is known for its dark lipstick, heavy piercings, and contouring with coloured lenses. The look depends mostly on the band itself.
This look is a form of pushing away the soft and pliant Japanese stereotypes that the world has. Now it has become a way of describing anyone who sticks out in music, but it also has its presence in magazines like Shoxx and Stuppy.
Japanese Popular Culture through the Arts
Japan has captured the hearts of millions across the world with its art forms. They do not market their art only to the Japanese youth but to Japanese society.
The fashion trends are seen through the art forms. Depending on the period of the release of the work, the Japanese pop culture can be seen.
It also depends on the character's personality to understand the character's personality at a glance.
Manga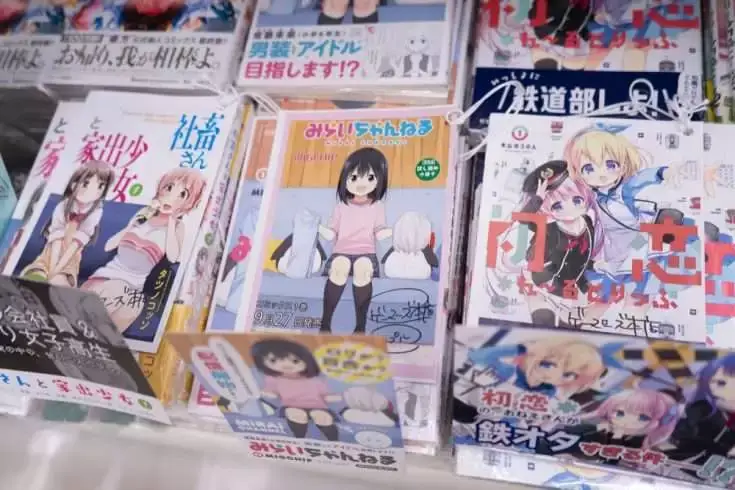 These are comics sold at convenience stores and come in five categories – Shoujo, Shounen, Josei, Seinen, and Kodomomuke.
Kodomomuke is derived from the Japanese word 'Kodomo', meaning child. These mangas are written for elementary children, and it focuses on teaching morals and core values to the little reader. Mostly, wholesome and sweet stories are aimed at kids in that category.
Shoujo in Japanese means 'girl'. Aimed for girls in the adolescent age, revolving around love with female protagonists, and if a male protagonist could have a homosexual tone. However, action and adventure have become a popular genre in this group nowadays.
Shounen in Japanese means 'boy'. These stories with male protagonists going on action-packed adventures and friendships, school sports competitions, and the like. But slowly, female protagonists with humour and series are also being developed.
Josei is marketed towards women or ladies in the age bracket of fifteen and above. They are more realistic and cover darker psychological themes in romance and life.
Seinen is marketed towards men above the age of fifteen—more action, kind of on a horror-thriller level. Borderline pornographic and violent, but now are entering humour genre as well.
Anime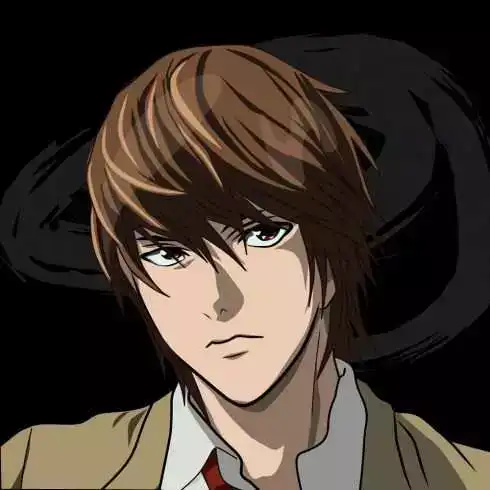 Mostly based on manga plots, the production houses create their own story and animate it. Art trends influence the art style in the industry or the manga artist.
Have you heard of Dragon Ball Z, Naruto!, My Hero Academia, HoriMiya, Ouran High School Host Club? These are popular anime titles in recent years.
With its beautiful art style, anime has captured the hearts of many. The backgrounds of each anime look so similar to real-Japan, the loud and funny characters, the overreactions to crazy situations, and most of all, the addictive plotline. A range of people shows interest in this due to the fabulous animation.
The animator and the writer of these anime shows are always trying to grip your attention with the relatable character, their problems, the art style, the concept they want to explain sprinkled with humour and values to learn.
There are shows about corruption, interpretations of Japanese folklore, the difference in economic standing, con artists, yakuza, underground world, fantasy world, the collision of modern Japan with the historical or fictional world, and they use the premise of friendship or love to conquer your heart.
Click here to find out more about animes.
Movies
Godzilla, the biggest movie Japan shook the world with. The high standard of CGI animation with drama blew up.
The character has gained so much love that they are the longest and oldest film franchise that got the American Movie Industry producing movies on this beloved anti-hero. It got people analyzing the themes it had, and it did not disappoint.
The story was Anti-American, showing the Americans using Godzilla to devastate Japan. Godzilla was a result of nuclear radiation and was made for mass destruction, and with the help of Science in Japan, he was put down.
This was a reference to the nuclear bombing of Hiroshima and Nagasaki that led to the end of World War II.
It also showcased the ambivalent attitude to authority. It highlighted that the Japanese had sworn off the right to declare war, so this was a way of showing the masses the benefits of having a military base.
Rashomon is a classic film that won an award at the International Film Festival. Akira Kurosawa directed that. A story set in historical Japan with a story that four protagonists narrated. But none of their stories adds up.
This story showcases human nature at its lowest. The woodcutter narrates the things said at the trial at Rashomon to two other people who are stuck in the rain. Each frames their story in the way that they felt brought them justice.
Rashomon surprised the world with its intricate weaving of a story. Most people would have brushed off this confusing story, but it managed to hook people into the premise. It brought to light the difference between perception and reality.
Music
Japan is the biggest producer of music in the world. They have music in their advertisements, movies, serials, anime, games.
They brought in the idol culture, single, duos or groups singing in shiny outfits with funky hairdos. These groups become popular enough to have tours abroad, generating revenue.
Anime and movies need their outro or intro song tracks. Thus, leading to high-quality music production. This music has been gaining attention during this pandemic, which led to an increase in interest in the Japanese Music Industry.
Video Games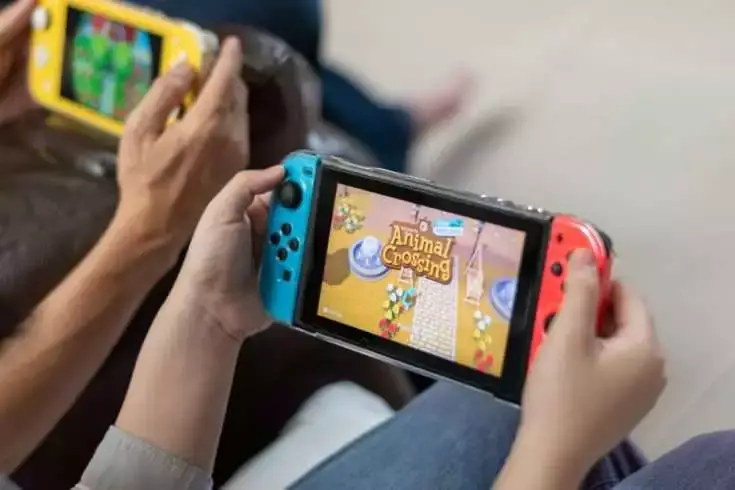 This started with the introduction of Nintendos. It caused a storm in America as well. Every child wanted a Nintendo, as it became a fad. Girls and boys stayed at home playing games on this device with colourful aesthetics and peppy music with an addictive storyline.
These games have united people from any caste, race, and gender. Each generation and nationality have seen these game consoles.
The world of gaming was massive. Being a pioneer in gaming culture, role-play games that absorb the gamer into fantasy worlds and rhythm games challenge the user to play and listen to various genres. These dating games have a variety of characters.
Conclusion
The fashion trends are reflected in the art mediums of Japan. This helps people identify the characters and situations they are in.
I hope this article on the 4 Mediums of Japanese Pop Culture was interesting. If we missed out on anything, please share your views on it.
Using the comment section, you can connect with us.