If you are interested in fly fishing North Carolina, the southeastern region in the United States, is undoubtedly the spot you should check out. Don't know much about it?
Well, here is an extensive fly fishing North Carolina guide for you. So, let us get started!
Why fly fishing in North Carolina?
North Carolina is the ideal place for both beginners and experienced anglers. It provides the best fly fishing opportunities in both freshwater and saltwater.
The lakes and ponds here have healthy populations of trout- brook trout, rainbow trout, tiger trout, and brown trout. Apart from these, there are several other fishes found in the area.
Most streams are year-round fisheries, but the best season is through August to February if the streams do not freeze. Hence, fly fishing is a beautiful outdoor activity here if you know how to do it!
10 Spots for Trout Fishing in North Carolina
Most of the fly fishing trout streams in North Carolina are located in the mountains on the state's western side. So, let us take a look at them.
1. Santeetlah Creek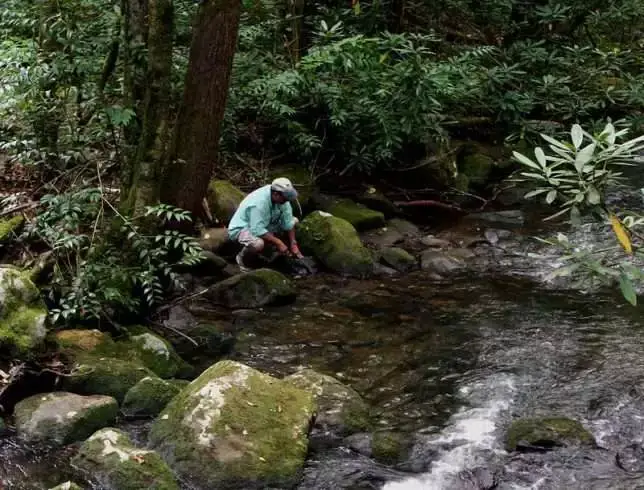 Known for its rainbow trout and brown trout, Santeetlah Creek is located near Robbinsville town in North Carolina. The crystal-clear upper tributary Sand Creek is famous for small rainbow trout.
Farther downstream, you can find the Indian Creek and the Wright Creek, again famous for rainbow trout.
Catching brown trout here can be a challenging task but not impossible. You can find many brown trout here if you avoid using dry flies. There are many wild and holdover fishes available too.
If you are an adventure junkie, several camping options are available by the creek. However, this isn't necessary as it is well connected via roads. Santeetlah Creek is also known for its easy accessibility by fishers.
Best Time: Although Santeetlah Creek is a year-round fishery, the spring season is the best time to fly fish.
You can come during Summers, but the water isn't very deep, and there aren't many fishes.
2. Oconaluftee River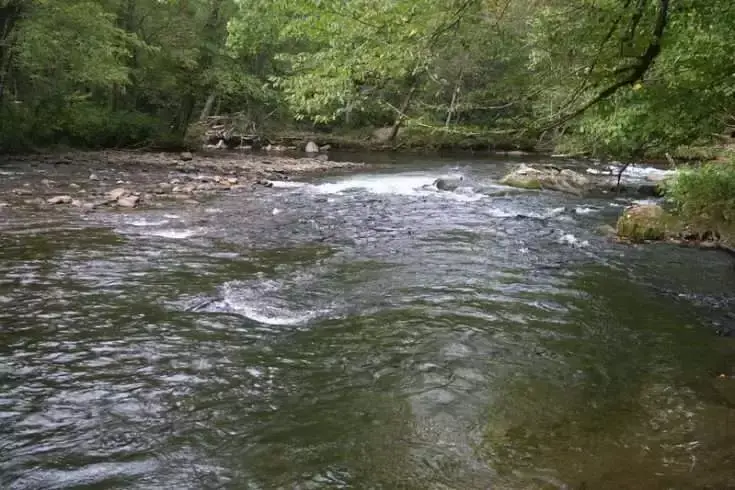 In the middle of the Great Smoky Mountains National Park, the Oconaluftee River has clear and blue 30 miles of water stocked with Rainbow trout, brown trout, and even some golden trout.
Here you can witness some enchanting scenery surrounded by the Cherokee Indian Reservation.
The famous Bradley Fork region in the stream makes you work harder for the catch but offers rewarding results. There are some deep pockets where you can find a plethora of rainbow and brown trout.
Best Time: During summertime, the cool shade from the trees keeps the water cooler compared to other creeks. In addition, the winters are also considered ideal for trout fishing if the North Carolina regulations allow.
3. Nantahala River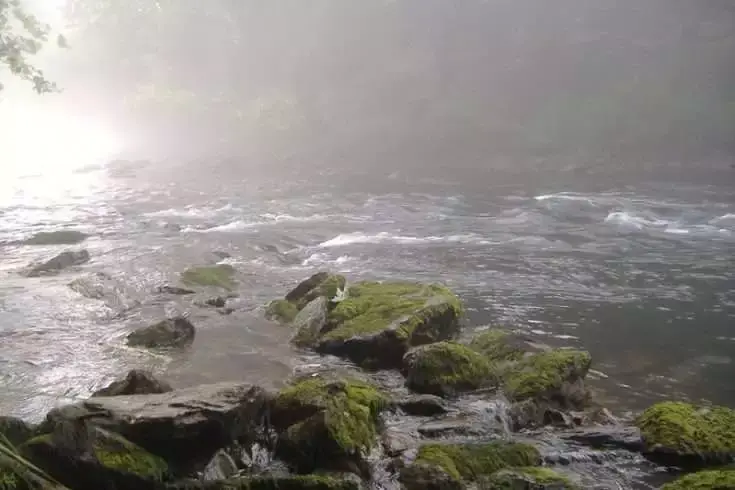 Again, located in the Smoky Mountains, it is one of the top 100 trout fisheries in the United States. Not only it has a fantastic landscape, but it also provides tons of action.
Apart from fishing opportunities, it has adventure sports like kayaking and whitewater river rafting.
You can find excellent trout like rainbow, brook, and brown at the White Oak Creek and the Lower Nantahala River. Moreover, stocked trout are found in the lower areas of the river.
The one thing to keep in mind is that it is primarily private property. So, make sure you avoid areas that are not for the public.
Best Time: It is also a year-round fishery. However, its hatchery operations are closed in March.
4. Boone Fork Creek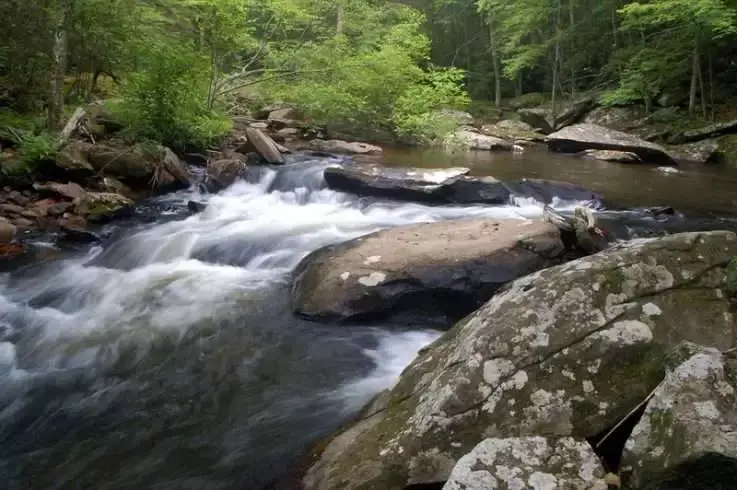 Boone Fork Creek, situated at the Blue Ridge Parkway at the bottom of Grandfather Mountain, is another good location for fly fishing North Carolina.
As you trail, you will reach the Boone Fork Bridge, where you can hear the Creek and get a good look at it. You can access the creek from either side of the Bridge and catch some good trout-rainbow, brook, and brown trout.
If you are lucky enough, you might even get your hands on large brown trout. It is one of the pretty good fly fishing streams for wild trout.
Best Time: Like most locations, Boone Fork Creek is also a year-round fishery. Yet, the best time to explore this beauty is Spring due to the hatches.
Summers and Falls also provide an excellent opportunity to fish in this small lake.
5. Wilson Creek
Another outstanding fly fishing in Pisgah National Forest, Wilson Creek, is divided into the upper Headwaters and the Gorge.
The Gorge is heavily stocked and has both public and private areas. So, keep in mind to look for the posted signs here. The area is about two miles long and has deeper pools to find rainbow trout, brook trout, and brown trout.
On the other hand, the upper Headwaters is equally difficult to access but offers some worthy fish. It has small deep pools that will test your fly fishing skills.
Although you might not catch a big wild fish here, the low-pressure trout waters wouldn't disappoint you!
Best Time: There are a few regulations here that you might want to check out before heading out. However, the Spring and Summer are considered decent for fishing trout in Wilson Creek. Do not plan a trip in March as the water is pretty much inaccessible.
6. Davidson River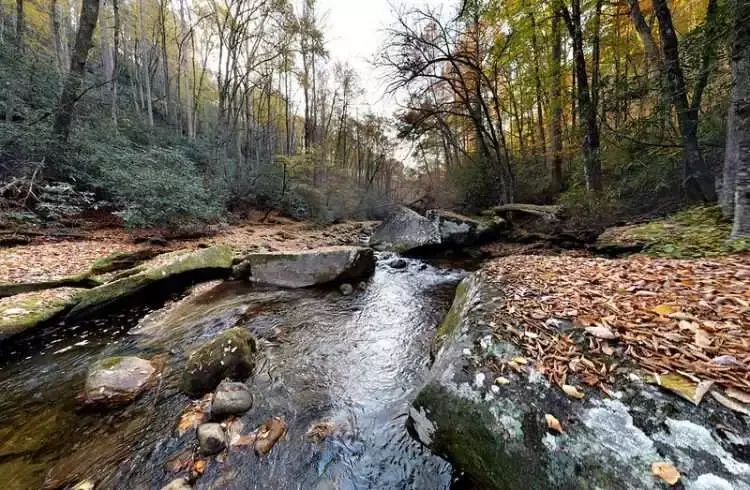 One of the most famous destinations to fly fish in North Carolina, the Davidson River has transparent water, making it an exciting spot for trout fishing.
The river is under wild trout regulations in Avery Creek, where only catch-and-release is allowed with artificial lures.
The Davidson River is fished hard for rainbow and brook trout. However, the real challenge here is to catch a brown trout that hides under the cover. Well, if you can catch a brown trout here, it is something you should flaunt.
Davidson River is a perfect family getaway location to relax near the enchanting scenic beauty while catching brook and rainbow!
Best Time: Spring is the best time for trout fishing here as insect hatches attract all the trout outside from their hiding.
As far as Summer is concerned, the area is flocked with tourists and locals, so come around the week when the traffic is less.
7. South Toe River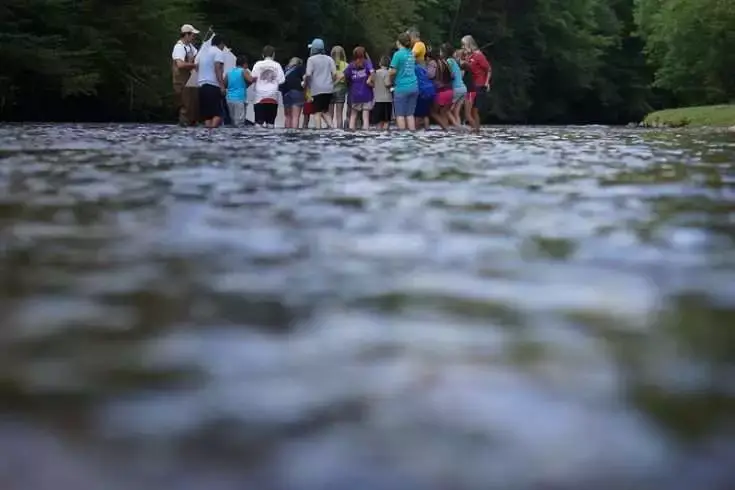 Asheville's north, the South Toe River flows from the Pisgah National Forest and Mt. Mitchell. Most of its water comes from the Upper Creek, Lower Creek, and Rock Creek with some big fish.
You can easily catch rainbow trout, big brook trout, and big brown trout here. However, the upper areas of the river are hard to access due to rough terrain. You might have to hike a little to reach your fishing spots. Even then, it is one of the best locations to catch fish in the trout waters.
Best Time: Springtime is the best for trout fishing in the South Toe River because it has cooler temperatures and attracts trout.
8. Lake Fontana
Just outside Bryson City, Lake Fontana is a very large fishery with over 400 miles of shoreline and 10,000 acres of land here. Fishing here is an enthralling experience as you witness the emerald green water surrounded by the Great Smoky Mountains.
It is known as one of the most diverse fisheries of North Carolina as you can find various types of fish here apart from trout- smallmouth bass, carp, muskie, walleye, catfish, and whatnot!
Add binoculars in your bags if you want to spot otters, deer, boars, turkey in the Great Smoky Mountain National Park.
Best Time: The best time to fly fish here is the cooler months where you can enjoy the landscape and boat in the lake to catch fish. However, you might need a fishing guide here to access the area better.
9. Watauga River
The 75-mile stream in western North Carolina has deep waters and green banks. It offers a variety of trout, mainly large brown trout.
It has an ideal location due to its high elevation. It is best suited for amateur and avid anglers and has a supported hatchery.
The main access points of the Watauga River are the Watauga River Gorge Access Point and the Valle Crucis Community Park.
Best Time: It is a year-round fishery, so that you can come anytime.
10. Raven Fork
The Cherokee Indians own quite a few reservations in North Carolina, including Raven Fork. It is the best place to catch trophy trout as you can catch some of the biggest rainbows and brooks here.
There are many 20 inches of trout here, but catching 30 inches does not happen daily. Hence, if you are in North Carolina, you cannot miss this once-in-a-lifetime opportunity to catch trout.
In the late 1800s, the brook population drastically went down in the area. Therefore it was closed for fishing for around 30 years. Although it is back now, you need to purchase the tribal permit online to fish in this area.
These are just the top locations for fly fishing in North Carolina. However, there are several other fishing spots you can check out like South Mills River, North Mills River, Linville River in the Spring season.
The Fly Fishing adventure does not end here, people. What we will discuss now is the most significant highlight of North Carolina. It is an experience for every angler who loves North Carolina fly fishing.
Western North Carolina Fly Fishing Trail
What is known as the first fly fishing trail in the United States, Western North Carolina Fly Fishing Trail in Jackson County has it all for both beginners and experts.
It takes you through 15 prime fishing spots in the Great Smoky Mountains, where you can test your skillset in wade fishing and float fishing. Not only this, the trail is a combination of small streams and large streams where everyone can try their hands.
This trail helps all the anglers easily access the best spots to fly fish and catch some of the best brown, rainbow, and brook trout.
So if you are an experienced angler, take your fly rod and get ready to fish in the three miles of Panthertown Creek. You will reach here after a two-mile hike but be assured that it will be worth your time—other spots that might interest you- Chattooga River, Tanasee Creek, and Whitewater river.
For beginners and first-timers, it is best to explore Eastern Jackson County's small streams- Chastine Creek, Mull Creek, Moses Creek, Rough Butt Creek, and the Piney Mountain Creek. There are large waterfalls in the area, and you can easily catch wild trout here.
There are other creeks where both amateurs and experienced can try their hand, like Savannah Creek, Caney Fork, Scott Creek, and the five spots along Tuckasegee River.
If you plan a family outing, Tuckasegee River East of Laporte Park is the best location. This is a hatchery-supported fishing area with public restrooms and a picnic table. Thus, it makes a perfect picnic spot for afternoons on weekends.
If you want to know more about the WNC fly fishing trail, visit the website that provides fishing reports, maps, GPS coordinates for every location, and other relevant information for the anglers.
Although we have mostly talked about the trout population in North Carolina above, it is not it!
Other Fishes Found in North Carolina
It is safe to say fly fishing. North California is heavily dependent on trout fishing, but it is not the case every time. There are various other fish species that you can find at the fishing spots in the mountain streams of North Carolina.
A few of them are here:
Cobia
You must be wondering how did Cobia make it to the list. Though it is right that they are challenging to catch with a fly, let us not forget North Carolina fly fishing is also something else.
Come to North Carolina in the Spring, and you might find a few near the shores. But get ready for a severe battle if you want to catch even one Cobia as they fight hard to stay out of your clutches.
Striped Bass
Saltwater fly fishing in North Carolina is the way to catch this fish. Go to the south of North Carolina and be ready for a good battle with them.
Well, nothing good can be achieved without a bit of struggle. But, they are indeed a sight for fly anglers.
Redfish
If trout is the king of freshwater, redfish dominate the saltwater. You can catch this huge fish through wading, boating, or even using a fly rod via shore.
The best time to catch them is Spring and Fall because they are in their best shape then. This also means you will have to fight this fat fish if you want delicious meat.
Fishing Regulations in North Carolina
It is fun to fish around in North Carolina mountains and trout streams, but it is equally important to follow the guidelines issued in the region. Here are some general points you must remember before planning an excursion:
A valid North Carolina Fishing License is required to pursue Fishing in trout streams by both residents and non-residents. There are three types of licenses available- Short Term Licenses, Annual Licenses, and Lifetime Licenses. You can choose the one accordingly.
Make sure to check the guidelines regarding possession of certain fish. It is unlawful to possess or stock any state-designated endangered and threatened species.
There is a defined number and size of fish you can take home at some fisheries. Follow those requirements diligently so that the fishing experience is suitable for all.
To know more about the fishing guidelines across North Carolina, check this website.
Tips and Tricks for Fly Fishing in North Carolina
This video will provide the best tips for fly fishing.
So, let's go!
Pack your bags and plan your next trip to fly fishing North Carolina to experience the beauty and adventure like never before!
Fly fishing here has everything to offer for solo travelers, families, and friends. You can explore the hard terrains of mountains, hike to the trout fishing areas, capture some aesthetic shots, and watch some incredible animals and fish.
So, if you love trout fishing, here is another place for you to check out.