Big cities and technology gave our kids a new educational experience that enriched their knowledge gain but failed to provide the physical space to do activities.
The real world is beyond the books and four walls we build.
This article will help you create a safe and fun way for outdoor activities for your kids.
1. Benefits of Outdoor Activities for Kids
Outdoor activity helps kids to be active.
Kids tend to develop cognitive skills faster with outdoor activities.
Kids get to learn with peer-to-peer learning methods.
Helps to build memory capacity.
Helps to build a positive attitude.
Helps to develop physical strength.
Helps to enrich their communication skill and social skill.
Build their creativity.
The activities play a crucial role in developing the personalities of the kids.
It builds good coordination.
Let your children enjoy the sunshine, rain, birds, trees, shades, fallen leaves, snow, and sand.
Your children could explore their adventure, be creative, brave, courageous, affectionate, easy-going, and develop self-confidence.
2. How to Prepare Your Kids for Outdoor Activity
Give your child a journal for Outdoor Activities for Kids.
Make them backpack themselves the necessary things, including a water bottle, snacks, colored pencils, pencils, their journals.
Dress them up for the weather. Keep them comfortable with what they wear. If you planned for a walk, give them shoes, plan for the beach make them wear slippers.
Give them instructions on what to do when they feel they may have gone on the wrong side.
Build their confidence by letting them know information like Phone number, home address, and how to contact the police if lost.
Now that you know how to prepare your kids for outdoor activities let's check out what outdoor activities you kids can be a part of.
3. Fun Family Activities
Starting fun outdoor activities as a family will increase the bond between parents and children.
When the children get introduced to the outdoors, they want their superhero mother and father at their back to lift them and dust the mud when they fall while cycling, to save them when got bullied by kids, and as a cheerleader to witness their first successful shoot, flip, goals.
There are a lot of activities that can be done outdoors, some of which are:
3.1. Activities to Do in A Local Park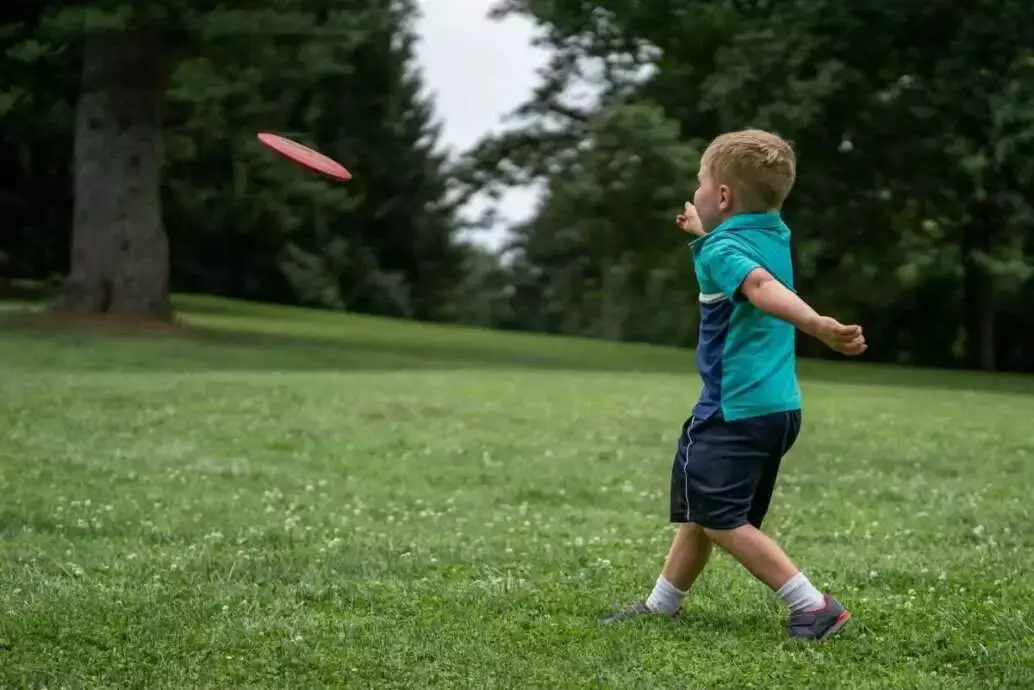 If you have a pet animal, take your kid and your pet to the park and let them play frisbee. The good wind and fresh air will make your kid feel active.
Try walking with your children on the sidewalk and doing an activity like asking them questions like what do you see? What looks different here? What could you smell?
They might also come up with things they are interested in, which might be a flower blooming in the corner, the running squirrel, trees, leaves, or sounds of birds. This will make them connected to nature.
Join your kids and feed the bird with a bird feeder or fish or dogs. This will help build qualities like care, responsibilities, and understanding the anatomy and think questions.
They could process the answer like how fish breathe underwater, whether they have an oxygen tank, how dogs could produce more saliva, or how birds use their beak and identify animal parts.
Have fun by running in the garden with a hose or sprinkler flow. A park allows great space and time for your kids to enjoy. Let them be free, and do anything they want.
Make them feel connected to nature.
A nature scavenger hunt is a fun activity. You could ask your children to find a bug (bug hunt) and draw them or ask them to collect items like flowers, sticks, or stones.
3.2. Activities to Do in Your Backyard
Give your children a small portion of your garden and make them grow their plants. This habit will enrich understanding, patience, positivity, and aid in learning science.
Poke holes in the water bottle to make a homemade sprinkler. This does not cost much, and keep your kids dancing in the rain. This will be a fun activity on summer days.
Sponge relay or sponge attack could be the best activity for younger adults.
Playing with mud is therapeutic. Create a space where your children can own their mud kitchen to cook mud pies and serve them to you. This will reduce stress and anxiety.
Your backyard can be a beautiful space for them to play and have fun.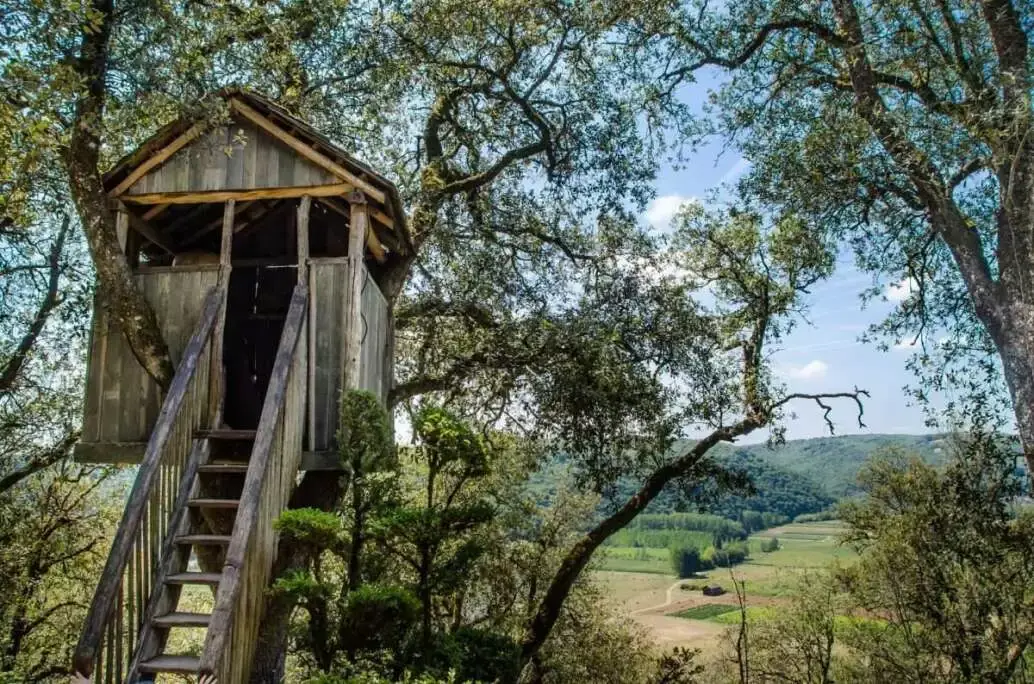 Build a treehouse in the tree branch. Prepare with the collection of children's storybooks, and drawing kits. Give your kids paint, with a nice view, they can even try squirt gun painting.
Spend time with your kids outdoors in the treehouse. Let your kids engage while building the treehouse; let them use their imagination to decorate it the best way they can.
4. Outdoor Fun with Neighborhood Kids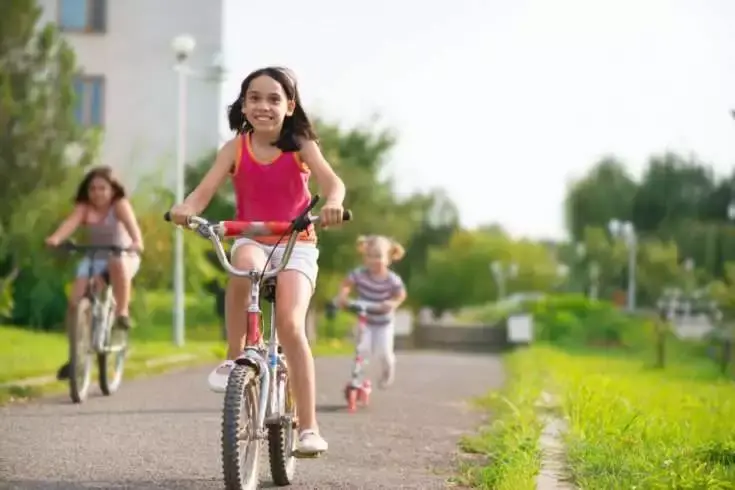 A bike parade could be a cool outdoor activity. The kids from the neighborhood joining the bike ride together will build their social connections.
This activity can be made more thrilled by flipping a coin to decide the direction to follow. This physical activity will also be a mind-refreshing game.
A movie night with a fun outdoor activity will make a wholesome day.
Outdoor scavenger hunts with other kids will make the game more interesting. Scavenger hunts are always fun, and your kids will enjoy it if there's any reward at the end.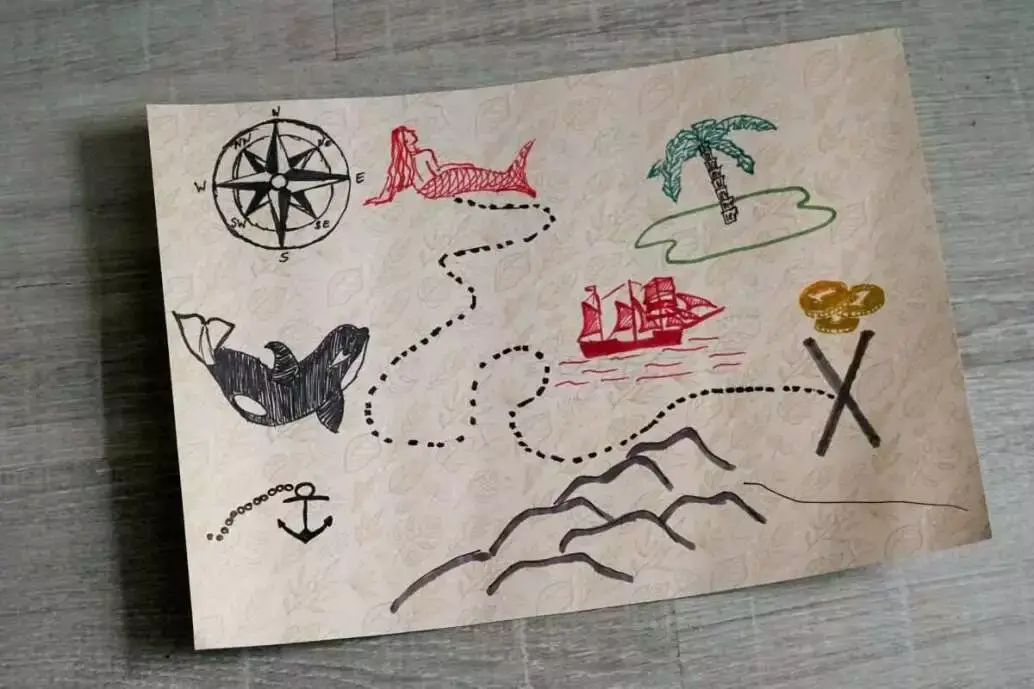 Treasure hunts could be fun activities for kids for outdoor play. Make it interesting and creative; let your kids do the work. Write exciting puzzles to solve and find the treasure.
Chasing ice cream trucks, the sun, and the train by screaming could be memorable outdoor activities for kids. It is a classic kid activity that is so much fun.
Jump ropes or building a palace with cardboard boxes will boost the children's enthusiasm.
Dodge ball is another exciting game to play as a group. The thrower gets to throw the ball at the opponent. The opponent should escape from getting caught.
5. Other Fun Outdoor Activities
Outdoor play involving physical activities boosts the mind, strengthens the body, and keeps the kids active.
Your kids can be a part of:
5.1. Water Games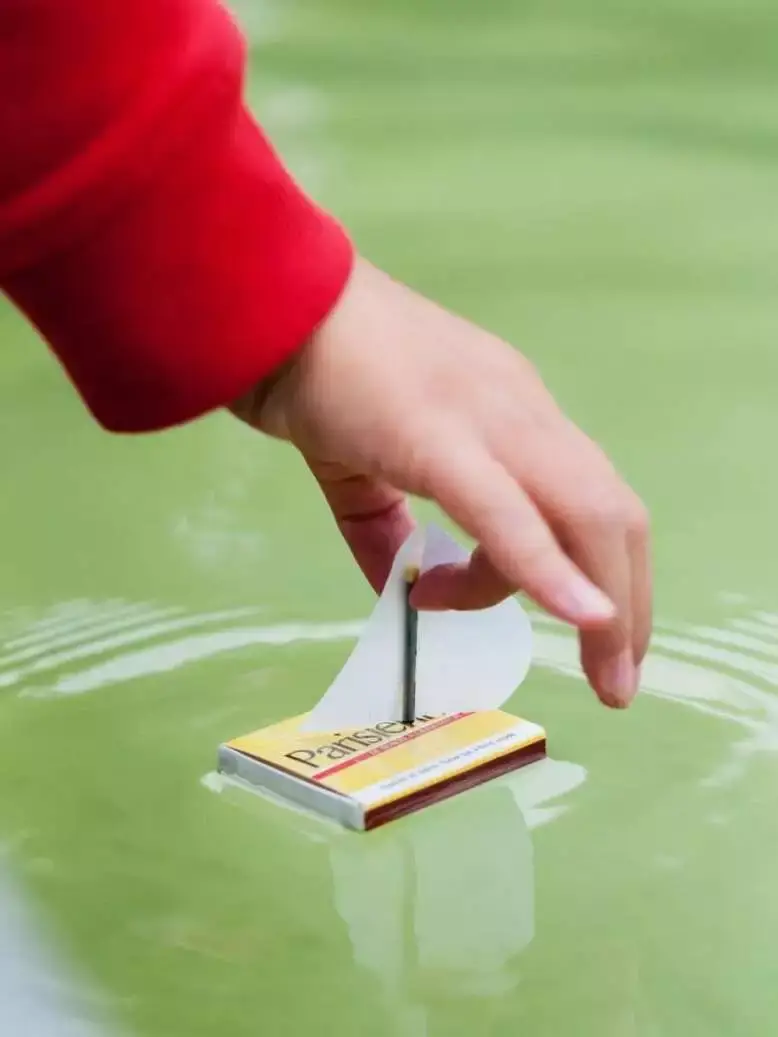 The stagnant water on rainy days or the pond will be the best time for the kids to launch their paper boats. The fun in making boats and having a paper boat race is way beyond fun for kids.
Another activity could be the water balloon game! Fill water balloons with color-mixed water and let your kids have a colorful day. Filling water in the balloon and hitting others with the water-filled balloons is a fun game.
Car wash using a water hose with your kids could be a game-changer. You get the job done, plus it will be a fun time.
There are so many things to do outdoors for kids that you can't just list them. Slip n slide is another interesting water game. Get your kids to the pool that has a slider.
You can make a routine for your kids to water plants in the garden with the water hose. In this way, they adjust the handler according to plants.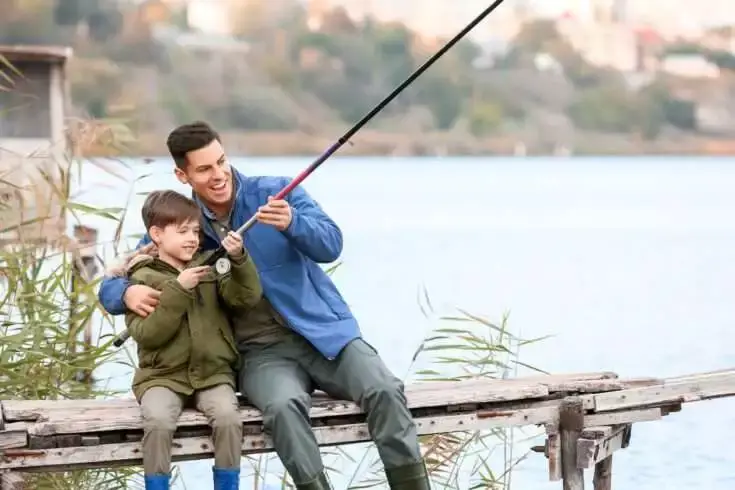 Or go fishing in the water stream. Take tin cans filled with little worms, fishing tools, and two buckets. In this fun game, you can include your younger kids too.
6. Fun Outdoor Ideas
Planning to buy some sports equipment for your kids? Well, get the right things. Buy hula hoops, and toy cars. This playing kit will be the best entertainment for single kids.
A Kiddie pool with balls and ducks in the backyard will be a suitable game on weekends.
You can also arrange a natural beach living set up with an umbrella, relaxing chair, and arranged juice. Spending time outdoors in nature is a good change of pace for kids.
You can get your kids involved in craftworks with popsicle sticks, as building things using their fun ideas indulge creative thinking.
You can also create an obstacle course for your kids using the available things like cardboard boxes, hula hoops, and balls.
Fly a hand-made kite as a family and enjoy the height and wind.
Ask your kids to gaze at the sky and make them draw their imagination. This will be a fun-filled activity.
7. Outdoor Learning Activities
7.1. Sidewalk Chalk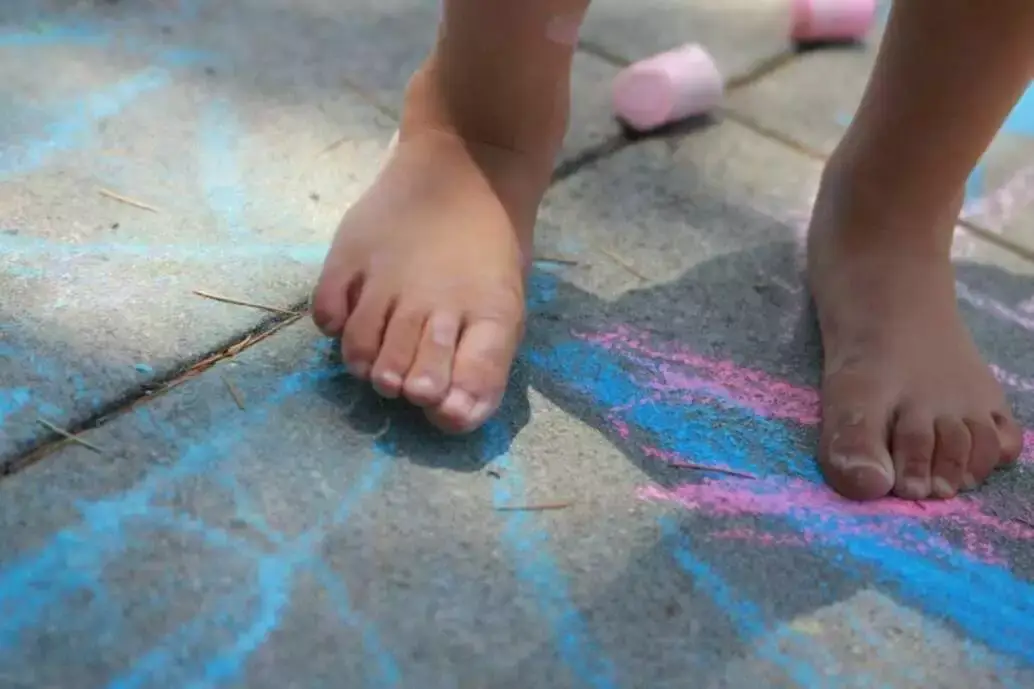 Kids' outdoor games can be made fun with sidewalk chalk. This game, sidewalk chalk, is about drawing, learning words, spelling, and reading.
Write the spelling of three-letter words and ask them to assemble stones above them while reading it aloud.
Give words and ask them to draw in color chalk.
Write numbers and ask them to draw that much object equal to the given number.
Write letters on the sidewalk. Tell the letter that they can find and erase with water.
To teach biology, draw the parts of the body on one side & add the names on the other side of the sidewalk and ask them to match.
Show game. Draw the facial expression on the sidewalk and ask them to express themselves.
Wet the chalk and ask them to draw.
You can draw the instruction in the sidewalk chalk game and ask them to follow.
Draw horizontal lines and ask them to follow. Like make a jump on each gap or make a clap while crossing each horizontal line.
Draw a random circle on the sidewalk and play the "don't step on the lava" game. Anywhere stepped outside, the lava is considered out.
Draw a human being and ask your kids to draw clothes for those human beings.
Add your creativity and make many more games to play. This is a wonderful way to indulge in learning and fun games together.
8. Outdoor Sports
Slowly you can include outdoor games with activities for your kids. A half an hour play before studying helps to concentrate and makes it easy to grasp the lesson.
You can create a mini-golf place.
All kinds of ball games like basketball, football, soccer, and throwball.
Skipping itself is an excellent game to play. This category includes badminton, shuttle, and running.
Try including aerobic exercise.
A student interested in sport will shine with concentration power, active performance and will be known as the happy kid.
9. How to Get Teens to Play Outdoors
Today's technology-driven world has made the kids sit in a corner and use mobiles, tablets, and computers. This activity drops their physical strength.
Pulling them out the doors could be possible by giving them the lead character in a trip. Give them responsibilities in camping. They will start to do their best by leading the younger ones.
You can modify the kids' outdoor activities to teens' outdoor activities by developing the game to their interest.
Skating, perspective photography, hammocks, cooking activities, camping could be some of the wonderful outdoor activities for teen kids.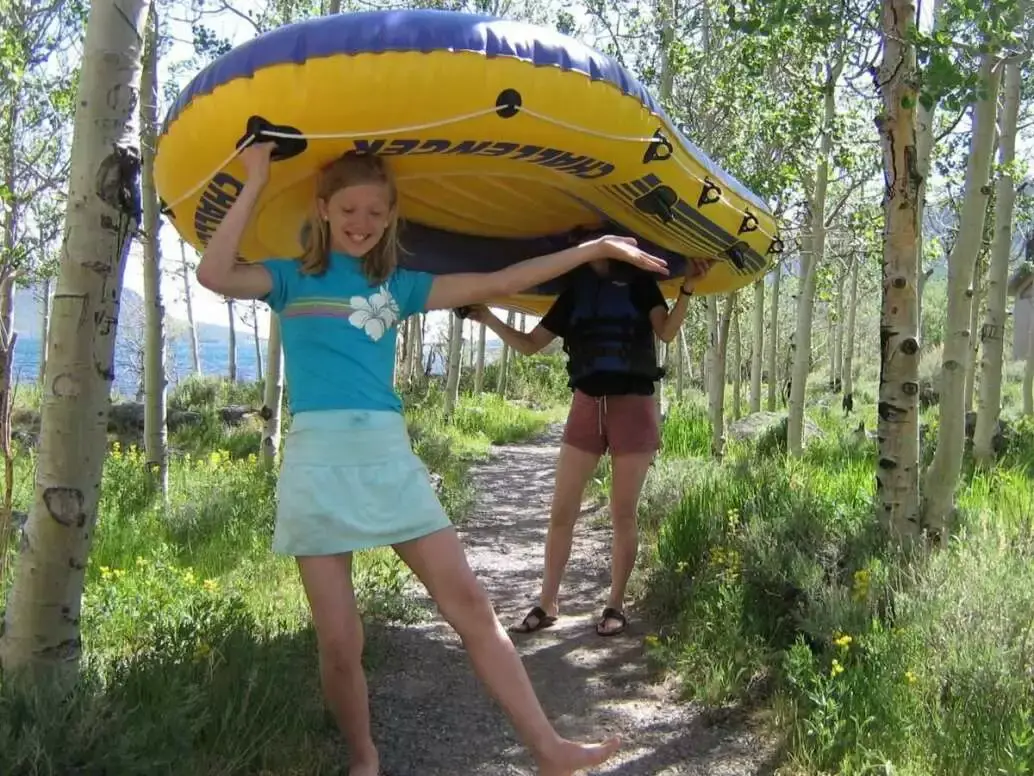 Driving a boat will allow them to take control and learn to sail in practical learning. Help them to learn from their mistakes.
A walkie-talkie will be the more interesting activity of all. This way, they get to mingle with friends and aid in communication skills.
Ask them to vlog or take photography or do art on the trip. This will be a good creative activity.
Every kid would love to use their gadgets and have fun doing related work.
Conclusion
Keep the learning fun for your kids by using the above outdoor activities. Enjoy playing and spending time with your kids.
Enjoy their mud pies, be their cheerleader and guide. Spending time with your kids is more important than educating them.
Encourage them to build friendships. You can also organize outdoor activities for kids, movie nights for neighborhood children, prepare them for treasure hunts.
Going outdoors is very important for your kids' mental and physical health. In today's time, kids are under a lot of pressure, be it school work or otherwise, so they need some time off.
And going outdoors and spending time with family and friends could be a much-needed break. So, plan it out nicely. Have a good weekend with your kids.
Click here to read more.