Hello, coffee lovers! What's more of an excellent way to start your morning than a nice, strong coffee? We all can agree that coffee is an important part of our day! Right? With Good Coffee, there's a Good Morning!
There are many types of coffee drinks, Cappuccino, Espresso, Macchiato, Latte, Mocha and so much more. They are all different. Today here we are not talking about just any coffee, but a Latte.
Latte is a type of coffee made up of three layers, two shots of espresso and hot steamed milk which is topped with thin foam which the barista calls, microfoam. These elements combined together give a pleasing texture and delicious taste to the coffee. Wondering how to make a latte? Keep reading!
Before we begin, many of us have this question, can we really make a latte without an espresso maker or any coffee machine? Is it possible to make a latte at home like coffee in a coffee shop? If yes, how to make a latte without any espresso machines? The answer is, yes, we can make a cafe latte at home without an espresso machine! And that's what, we're going to learn to make through this blog.
1. How to Make a Latte Without an Espresso Machine
To make it simple, we're going to use ingredients that can be easily found in your kitchen. Take a look at the ingredients below:
1.1. Ingredients Used-
1) Nescafé Classic Instant Coffee (1/4 cup)
2) Sugar (1/4 cup)
3) Water (1/4 cup)
4) Full Fat Milk or Whole Milk (500ml)
1.2. Equipment Used-
Handheld milk frother or any frothing wand or a balloon whisk (it takes a little longer, but your job will be done) or a stick blender or a Steaming Wand(any of it would work)
1.3. Procedure Guide-
Step 1) Boil 1/4 cup of water in a small saucepan at a medium flame, and add 1/4 cup of instant coffee powder that'll help in the decoction of coffee, which in coffee terminology is called, brewing coffee. Boil for 30-40 seconds. Our unsweetened espresso is ready!
Adding more coffee will help you make strong coffee. The moment you add in coffee, you'll notice that the water develops a little bit of creaminess which is important in getting your espresso correct. Switch off the flame. Our espresso is ready!
Step 2) Now heat the milk (500ml) in a microwave for 45 seconds or on the stove.
Step 3) Take the boiled milk, pour it into a stainless steel jug and with a handheld milk frother, froth milk for 1:30 minutes at a 45-degree angle, make sure that your air goes into the milk, instead of just skimming across the surface of the milk, getting bubbles. Bubbles are bad. Now, put the steamed milk down to rest.
Step 4) For the next step, lift the frothed milk, there should be no bubbles. But again if you do have bubbles, give it a little tap. Keep the jug swirling, before you add it to your coffee espresso.
Step 5) Bringing it all together, take a warm latte glass or cup, add two parts of warm espresso, tilt your glass for about 45 degrees, and start pouring your warm frothed milk from a slightly higher level, swirl into the espresso, when the glass starts to fill, you need to get low, and watch building those foamed milk layers on top. try to make latte art with foam. It might be tricky at first but with practice, you'll get a good hold of that too. You can also do some Latte art if you wish.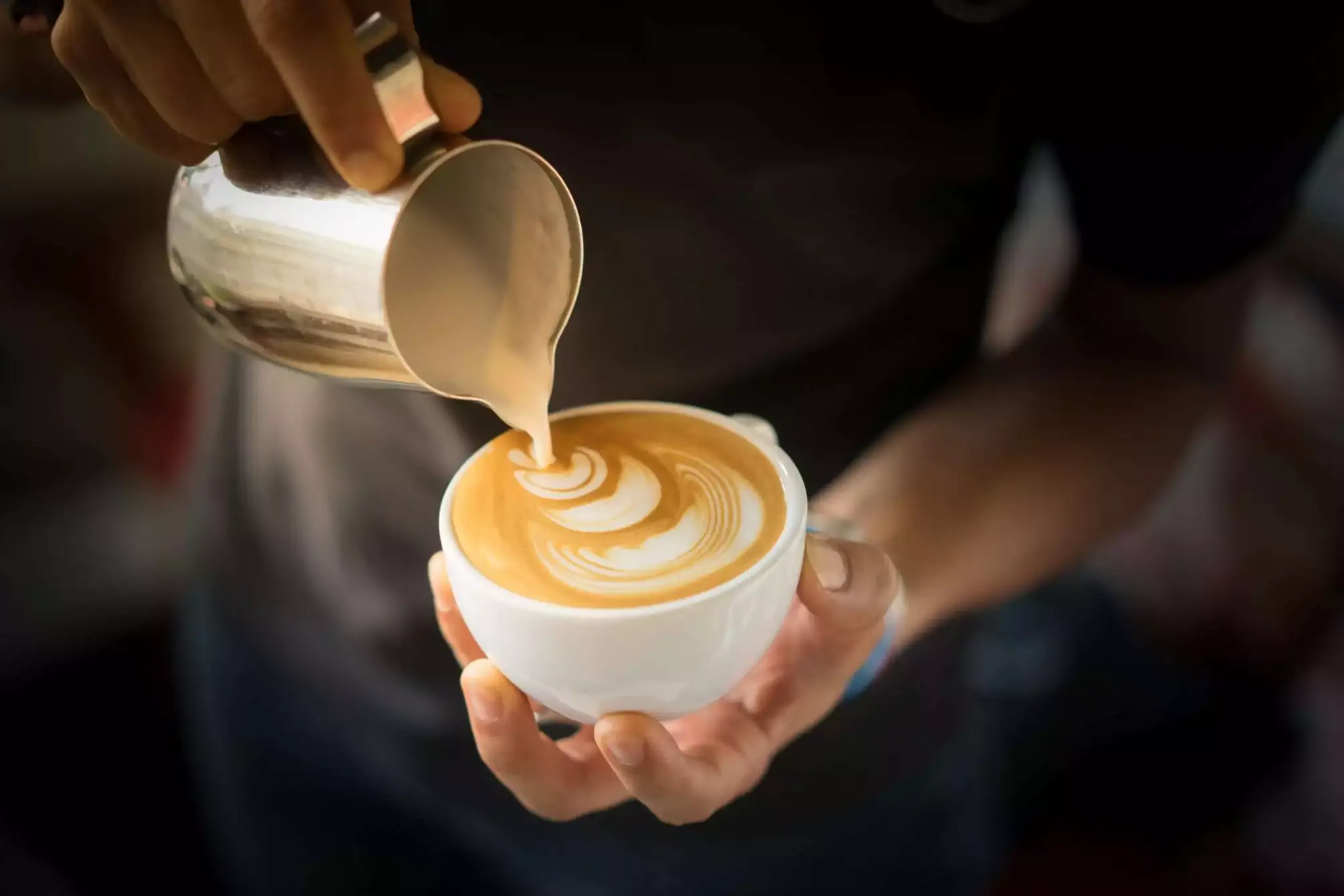 Tip- Ways to warm the latte glass:
Here are a few ways you can warm the glass before serving-
– Dip it in hot water, wipe it and use it.
– Simply, put the glass in a Microwave, for 10 seconds, and the glass warms up.
There you go!
With this, your Latte is ready without an espresso machine. Isn't it such a simple recipe?
1.4. Basic Questions That are Important to Understand to Make a Perfect Homemade Latte-
Here are the answers to some basic questions that'll help you understand the importance of each step, and will help you make your authentic, cafe-like, perfect latte!
1.4.1. Why is It Advised to Use a Stainless Steel Jug for Steaming Process?
Stainless steel conduct the heat very well, so you can check the temperature by your hand if you don't have a thermometer.
1.4.2. What is the Perfect Temperature When Using a Frothing Wand for Frothing Milk?
The perfect temperature should be precisely the temperature you can touch with your hand, which means while you are frothing the milk and it's too hot for handling, it's time to turn the steam off.
1.4.3. Why Is it Necessary to Keep the Jug Swirling Before and While Pouring Into the Glass?
If you leave the frothing milk to sit, your foam texture will split and rise to the surface and you won't be able to pour something beautiful.
1.4.4. Is It Important to Warm the Glass for a Latte?
Most restaurants or cafes, do not serve coffee at the right temperature, and that's where most of the guest's complaints come from. When serving, it's important to warm the brewed coffee espresso, warm the milk and also warm the glass because what happens is, you may serve the best of coffees, it could be the warmest, the hottest but the moment it hits the cold glass, the temperature drops and that's when most of the complaints come.
2. How to Make a Latte of Different Flavors?
Now that we have learned how to make a Latte without any machines, let's discover how many different types of latte can we make at home. The best thing about making Latte at home is that we can adjust the taste of the latte on our own and according to our taste. We can experiment with the taste, and even make different flavored lattes at home. Let's learn how to make a flavored latte at home.
All these recipes listed below are so popular in coffee shops and can be made at home very easily. Making flavored lattes doesn't need any rocket science, you can always twist a recipe a little bit! Of course, if you know the basic procedure of making a classic homemade latte (that also has been explained above), you can easily make these recipes down below.
2.1. Most Popular Latte Flavors:
2.1.1. Mocha
Mocha is for chocolate lovers, with a combination of brewed coffee, chocolate, and warm milk. It is among the top picks of coffee drinkers.
2.1.2. Vanilla Latte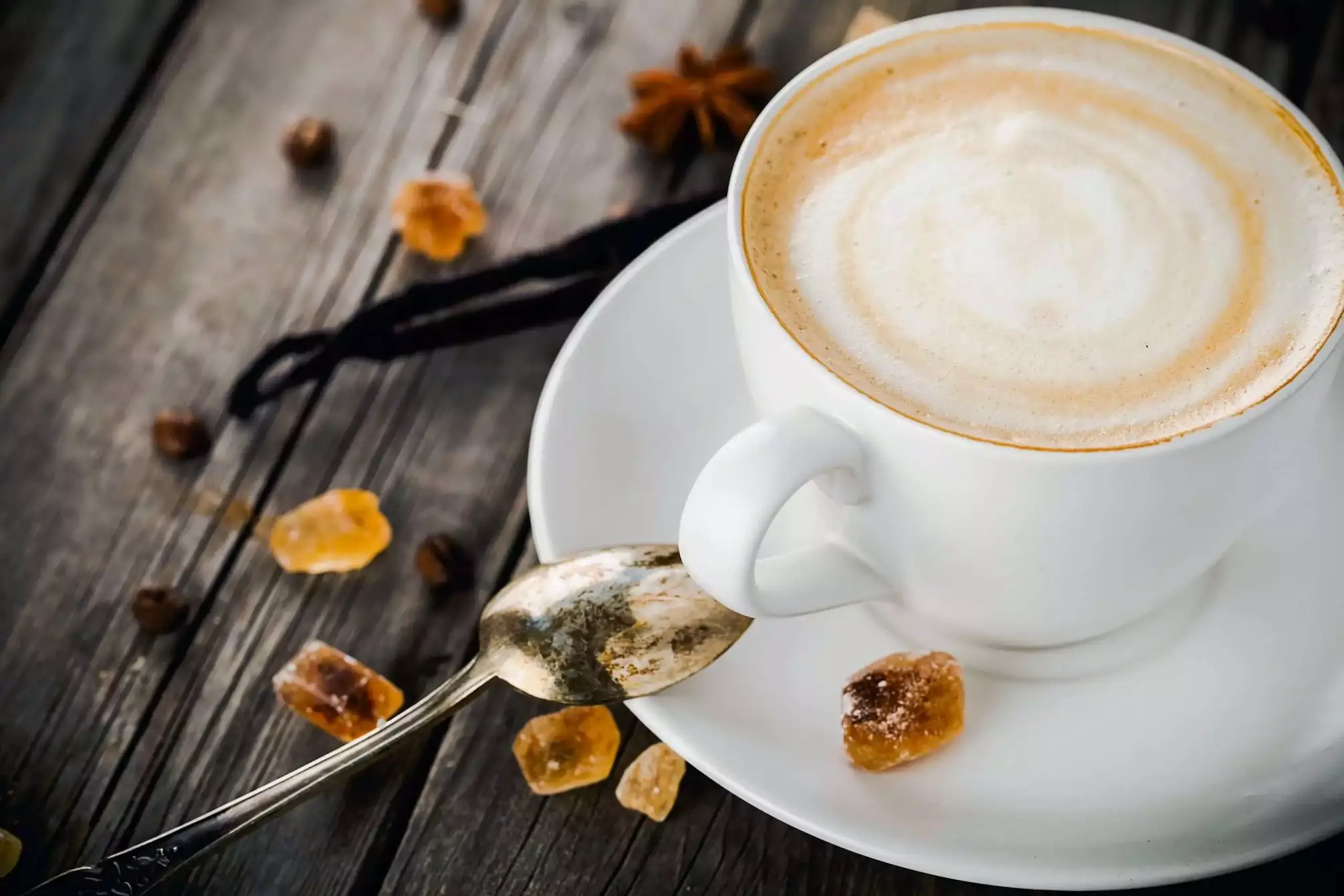 Vanilla Latte comes as one of the most popular latte flavors. It is a classic flavor loved by all and can be ordered iced or hot. You can easily add vanilla syrup or vanilla powder for the vanilla essence in the latte.
2.1.3. Caramel Latte
Caramel goes well with classic coffee because its sweet creaminess compliments well with the coffee's bitter taste. You can easily make a Caramel Latte at home by adding a Caramel shot with the espresso or topping it with caramel syrup for the caramel essence.
2.1.4. Hazelnut Latte
It is the most loved recipe in cafes, coffee, and hazelnut compliments each other, and has one of the easiest latte recipes. For hazelnut essence in the latte, you just have to replace your whole milk with hazelnut milk and your job will be done.
2.1.5. Cinnamon Latte
Cinnamon offers various health benefits. Another most loved latte recipe, with deep earthy notes, blend beautifully, as a peppery drink.
2.1.6. White Chocolate Latte
We can easily understand by the name, this latte recipe has a rich essence of white chocolate. We can easily make this flavored latte at home by adding a shot of white chocolate syrup to the latte.
3. Can Lactose Intolerant People Drink Lattes?
Being lactose intolerant doesn't necessarily mean you cannot have Coffee drinks. You can definitely switch the milk in your latte to non-dairy milk such as almond milk, soy milk, or oat milk since it does not contain lactose and is the perfect substitute for people with lactose intolerance.
Now with all those doubts cleared, we hope you understand our 5-step procedure of How to Make a Latte. And are ready to make a perfect latte at home like those in coffee shops and that too without any fancy equipment. All you need is do now is to follow the above steps to make your own creamy homemade latte without any special equipment!
Happy coffee!