Sopa de tortilla also known as tortilla soup is a famous Mexican food prepared with fried tortilla strips with a tomato and pasilla chile broth. The actual origin of tortilla soup is uncertain, however, it is believed to originate in the Mexico City region.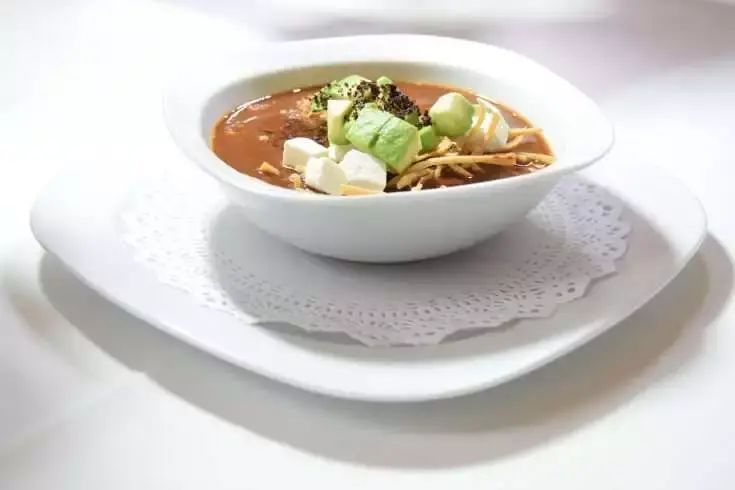 Tortilla soup is traditionally made with chicken broth, roasted tomatoes, onion, garlic, chiles, and tortillas that have been chopped into strips and fried. There are several varieties, such as a bean soup topped with crispy strips of fried tortillas or a broth made with a thicker tomato base and crushed tortillas.
In cold winters, all you need to cozy up in a bowl of Sopa de tortilla. This authentic Mexican soup is not only easy to prepare but is also very flavorful.
In this article, you will learn to make Sopa de tortilla or tortilla soup in very easy steps so that you can also enjoy this delicious soup.
Key Ingredients to Prepare Sopa de Tortilla
The first ingredient needed to cook Sopa de tortilla is a tortilla. Corn tortillas have a little sweet, toasted, and nutty flavor that you simply can not ignore, especially since this meal is named after them. The soup is thickened with crunchy tortilla strips, which give flavor and texture to each mouthful.
Corn tortillas have a relatively low-calorie count and are naturally gluten-free. They're also high in fiber and magnesium, both of which are beneficial to the overall wellbeing of your heart.
The next essential ingredient for sopa de tortilla is pasilla chiles. Pasilla chile is the traditional chile used in Sopa de tortilla, with a sweet, rustic, and mildly smokey flavor. Heating them in oil helps to bring out the flavors, resulting in a more flavorful soup.
Pasilla chiles, which contain the strong chemical capsaicin, can decrease inflammation. They can boost heart health, and even make us burn more calories.
The third ingredient for preparing an authentic bowl of Sopa de tortilla is tomato. Tangy, plump, little sweet Roma tomatoes serve as the broth's foundation. Their fresh taste provides an incredibly tasty soup once combined and boiled down.
Tomatoes are high in potassium, vitamin C, and a variety of other components that contribute to the formation of vitamin A. That is why tomatoes are very beneficial for your heart, eyes, and even your skin. That's quite an accomplishment!
The fourth ingredient required to cook Sopa de tortilla is epazote. Epazote, a Mexican herb, was used to complete the soup. Oregano, anise, lemon, mint, tar, and creosote can be some of the alternatives used instead of epazote. Fresh leaves and stems have the most taste, whereas older leaves have a rich flavor.
The traditional recipe uses epazote and you can use it if it is easily available. However, most recipes below use other substitutes for flavoring the tortilla soups.
Recipes for Sopa de tortilla
Sopa de tortilla is a very flavorful soup that also has nutritional value. Tortilla soup is very easy to prepare which means it is time-saving. This dish can be served as lunch and dinner. Tortilla soup gives a warming feeling and is very filling. Here are some recipes for tortilla soup or Sopa de tortilla so that you can prepare it yourself and relish it.
1. Traditional Sopa de Tortilla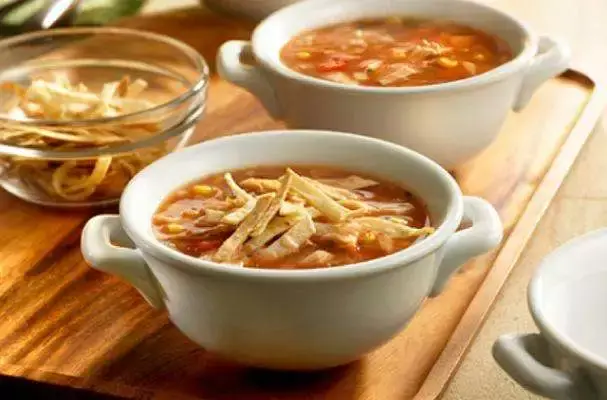 This traditional Sopa de Tortilla (Tortilla Soup) is cooked with a simple tomato-chile soup that is poured steaming upon fried tortilla strips and decorated with your favorite toppings. If you'd like, you may add chicken and/or cheese.
Ingredients:
2 Dried pasilla chiles
1 Epazote sprig
1 tbsp of olive oil
1 3/4 Roma tomatoes (fire-roasted and diced)
1 Onion and 4 cloves of garlic
1/4 Oregano
Salt and pepper
8 cups Chicken/Vegetable stock
Corn tortilla chips (cut in strips and fried)
Avocado (diced or sliced)
Chicken (cooked & shredded)
Cheese (optional; crumbled or diced)
Lime wedges, sour cream, cilantro (toppings)
Steps for preparing traditional Sopa de tortilla :
To draw out the full taste of the dried chiles, we want to toast them slightly first. If you have a gas burner, toast the chiles by holding them an inch or so over the open flame with tongs and flipping them every few seconds until aromatic.
The next step is to saute the onion and garlic in some oil.
Then, in a blender, puree the roasted chiles, onion, garlic, tomatoes, and approximately a cup or two of stock until absolutely smooth.
In the next step put the blended broth mixture in the large saucepan. Also put in the remaining stock, oregano, and epazote sprig if using any. Cook this on low heat.
In the meanwhile get started with your tortilla and chile strips. Also start preparing your toppings. Place fried tortilla strips and shredded chicken in each serving bowl and set aside.
After that, taste the soup and season it with as much salt and pepper as you think it requires.
Finally, spoon some of the boiling hot soup over the tortilla strips in each serving dish, top with a generous amount of avocado and cheese (when using), and sprinkle on loads of your favorite toppings… and have fun!
You can also make some variations in this traditional tortilla soup. If pasilla chiles aren't available, dried ancho chiles are the next best thing. If you want a less spicy soup, use them since they have a sweeter flavor and are lower in heat.
Sopa de tortilla is frequently cooked with beans puréed into the broth in various parts of Mexico. To prepare Sopa Azteca de Frijol, just mix a can of pinto or black beans (rinsed and drained) with the remaining broth ingredients until smooth.
2. Chicken Tortilla Soup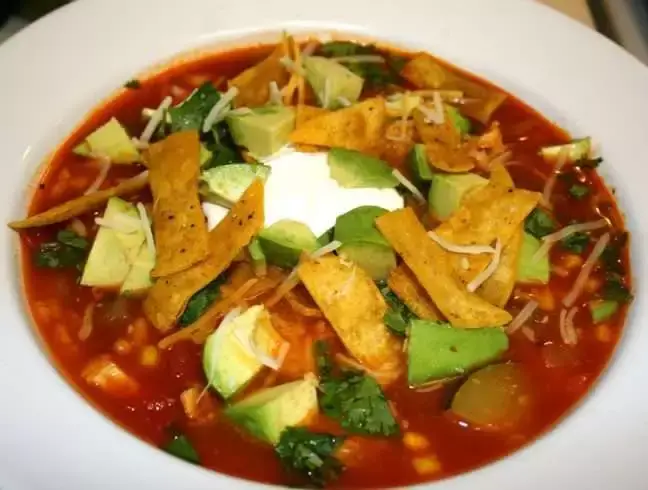 Chicken tortilla soup is a filling soup that may be served as a meal. It's stuffed with chicken, tortillas, and plenty of other toppings. This chicken tortilla soup recipe is fairly genuine with a few minor changes. This Sopa de tortilla recipe is a must-try and is fairly easy to follow. Let's learn how to make it.
Ingredients:
10 cups Chicken stock
8 Chicken thighs
2 teaspoons of Kosher salt
2 Onions
4 cloves of Garlic
28 oz of fire-roasted Tomatoes
8 Corn Tortillas
1/3 teaspoon Cumin powder
1 Chipotle
2 tablespoons of vegetable oil
3 cups of cooked black beans
Avocado, cheese, sour cream, jalapenos, green onions, and lime for toppings
Steps to prepare Chicken Tortilla Soup:
Start with poaching the chicken. In a large vessel, add the chicken broth and bring it to a simmer. Later add the chicken.
Simmer for about 15-20 minutes. Take the chicken out from the stock and keep it separately. Allow time for cooling.
Now, remove the chicken from the bones, shred it and keep it aside. At this stage, the chicken is properly cooked. Return the bones to the stock and continue to simmer if you have time.
You may strain the chicken stock for use. It works fine even without straining.
On medium heat place a cast iron frying pan. In a dry pan, place the sliced onions and peeled garlic. Keep turning the garlic cloves. Check the onion after a few minutes. If the bottom of the onion slice is browned, flip it.
Continue to turn the garlic cloves. Remove it when it has little burnt patches. When the onion becomes soft, it is done.
Make tortilla strips. You need three corn tortillas for soup and four to five for the toppings.
In a skillet, shallow fry the tortillas until golden brown. Put them on a tray that is lined with paper towels. Three of these will go into the soup.
Start on the soup next. Firstly, in a blender or food processor, combine the tomatoes, 3 fried tortillas, cumin, onion, garlic, and chipotle. Make a puree.
In the saucepan in which the soup will be cooked, heat 2 tablespoons of oil. Toss in the pureed tomatoes. Cook for about 10 minutes, covered. It's crucial to be covered or the puree will bump and everything will become messy. Also, it's hot.
Pour in the stock. To combine, stir everything together. Taste for salt. Add more if the soup requires it.
Simmer for about 10 minutes after adding the black beans. Warm the chicken in the pan.
In the bottom of the bowl, place a few tortilla strips. Pour in the soup. Make sure the black beans and chicken are evenly distributed. Garnish as desired and savor.
To make this Chicken tortilla soup even more filling and packed of nutrition you can add lightly roasted vegetables such as carrots, broccoli, and peas. Even without that this tortilla soup would give you the authentic taste and feel of a Mexican tortilla soup. Do try out this Sopa de tortilla recipe.
3. Vegetarian Tortilla Soup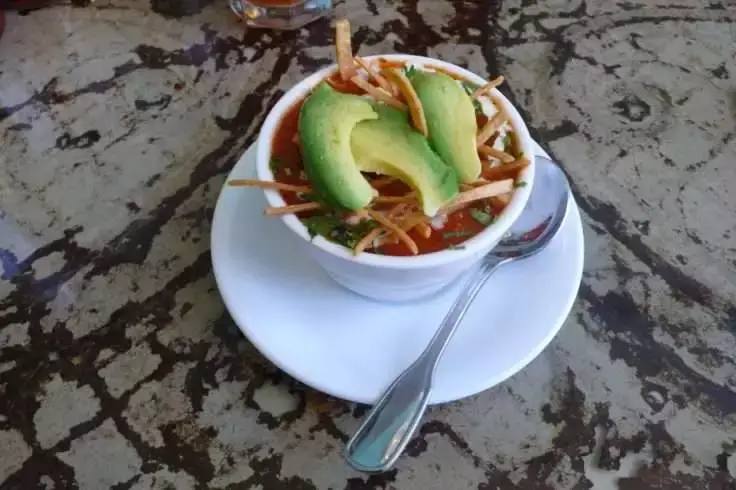 Traditional tortilla soups often comprise shredded chicken, however, vegetarian tortilla soups are common in Mexico. But this isn't a truly genuine recipe. It's a delightful take on traditional tortilla soup (Sopa de Tortilla) that you can cook at home whenever you want. Let's take a look at this tortilla soup recipe.
Ingredients:
2 mild Chili peppers or 1 teaspoon of Chili powder
15 ounces of diced and crushed tomatoes
2 to 3 tablespoons of Olive oil
1 chopped red/yellow Onion
1 chopped red bell pepper
1/4 teaspoons of salt
4 minced cloves of Garlic
2 teaspoons of ground Cumin
3 cups of cooked Black Beans
4 cups of vegetable broth
4 corn tortillas cut into strips
1/4 cups of fresh cilantro, chopped
1 to 2 tablespoons of lime juice
Freshly ground black pepper
Sour cream, crumbled feta cheese, diced avocados, and sliced radish for toppings
Steps for preparing Vegetarian Tortilla Soup:
If you are using dried chili peppers, roast them with tongs in a dry pan over medium heat or directly over a gas flame. Toast until aromatic and darkened all over.
Allow the peppers to cool completely before coarsely chopping them, removing the seeds and stalk. In a blender, puree the tinned tomatoes and chopped peppers until smooth.
Warm 2 tablespoons olive oil in a large pan over medium heat. Stir the onion, bell pepper, and salt in the pan. Cook, stirring occasionally, for 5 to 7 minutes, or until the onion is soft and transparent.
Add garlic, cumin, and chili powder if using and stir for 3 minutes to 1 minute. In the next step, add the tomato and chili pepper mixture. If you are using chili powder then put plain tomatoes. Cook all this for 1 minute while stirring.
Stir in the beans and broth until everything is well combined. Raise the heat to medium-high and boil the mixture to a soft simmer, then lower the heat as needed to keep the mixture at that temperature. Allow it to cook for 30 minutes on low heat.
Preheat the oven to 400 degrees Fahrenheit to prepare the crispy tortilla strips. To make cleaning easier, line a big baking sheet with parchment paper.
Throw the tortilla strips with some olive oil and a pinch of salt on the baking sheet until evenly covered. Bake for 8 to 12 minutes, flipping halfway through until the strips are crisp and golden. Keep it aside once they are done.
Stir in the majority of the cilantro, keeping a little amount for garnishing. Add 1 tablespoon of lime juice. Taste the soup and season with extra salt if the taste isn't perfect.
To serve, ladle the soup into bowls. Crisp tortilla strips, reserved cilantro, and any extra toppings of your choice are placed on top. Enjoy your awesome-tasting tortilla soup.
You can keep the leftovers and store them in the refrigerator for at least 5 days.
4. Sopa de Tortilla or Mexican Tomato Soup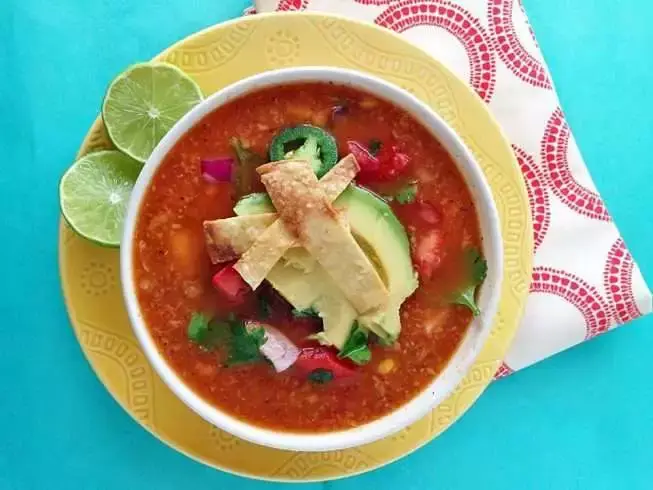 This tortilla soup is one of the versions of Sopa de tortilla and is very flavorful. And even if it is an experimented recipe it would still taste authentic. Let's learn how to make this yummy tortilla soup recipe.
Ingredients:
9 Tomatoes
1 Onion
6 cloves of Garlic
2 Small serrano pepper
1500 ml of Vegetable broth
8 Pasilla Chile
2 tablespoon Tomato paste
1 teaspoon dried cilantro
Fresh Cilantro
Olive oil
Salt and pepper
2 Bay leaves
360g of Fried tortilla strips
2 Avocados
250g of Panela cheese
250g of Sour Cream
4 Fresh Limes
Steps for preparing Mexican Tomato Soup:
Wash the tomatoes and serrano pepper. Tomatoes, garlic, and onion should all be cut into large chunks.
In a large pan, saute the tomatoes, onions, garlic, and serrano peppers. Sprinkle a little olive oil on top and cover with a lid. Allow everything to cook for 25 minutes over medium heat.
Remove the stems and seeds from the Chile Pasilla while the tomato mixture simmers. Preheat a frying pan for 2 minutes with a generous amount of olive oil.
For 30 seconds, stir the Chile Pasilla in the oil. Remove the pan from the heat and place the Chile Pasilla on a paper towel to cool. Keep the olive oil in the fridge for later use.
Remove the tomato mixture from the stove once it is done. Add in half of the Pasilla Chiles and 1000 ml of vegetable broth.
Discard the serrano pepper's seeds and stems before using them. Blend everything until it's perfectly smooth. Toss in the olive oil you saved up in the fridge earlier.
Cover the soup and continue to cook for another 25 minutes. After 15 minutes, remove the lid and leave to simmer for the remainder of the time.
While the soup is simmering, you can make preparations for the toppings. Take the rest of the Pasilla Chile and Panela cheese and cut or crumble it. Cut the avocado and limes into wedges. Cut the cilantro. Keep all this preparation aside.
Add a handful of chopped cilantro, tomato paste, bay leaves, salt, and pepper after 25 minutes in the simmering soup. If the soup requires, pour in a little more vegetable broth. Allow for another 15 minutes of simmering.
Take out the bay leaves from the soup and discard them. Add tortilla strips to the bottom of a bowl. Squeeze a fresh slice of lime over the strips and fill it with the soup. Add all the prepared toppings as per your taste. Serve warm. Find delight in your delicious Mexican tortilla soup!
These are the selected Mexican tortilla soup recipes that can warm you in winters and can be devoured in summer too. These are mostly easy to make and are perfect even to eat as leftovers.
Tortilla soup is light and delicious, with an earthy undertone and a hint of heat. It's a light yet filling dish for lunch or supper, topped with a large handful of crispy tortilla pieces. It tastes divine even the next day.
Some ingredients cannot be readily available to give you that Mexican authenticity. However, you can always substitute such ingredients with the readily available ones and create your Mexican tortilla soup as desired.
There are many regional variants and personal tastes for tortilla soup in Mexico. Also, there are vegan, gluten-free versions of Sopa de tortilla.
The vegan tortilla soup is almost similar to vegetarian tortilla soup. You can skip the ingredients that are animal-based and replace them with plant-based ones. The taste is authentic and you would love it.
For the gluten-free version, you can opt for gluten-free flour tortillas of your favorite brand. To make these tortillas crispy you need to brush them with oil and bake it in the oven for ten minutes at 400 degrees Fahrenheit. If making a chicken tortilla soup you can also go for gluten-free chicken broth that is easily available.
All in all Sopa de tortilla is very easy to make and with these recipes clarified with proper steps and a list of ingredients, you can make the best pot of tortilla soup to relieve some Mexican cuisine craving. Do try out these stellar recipes. One bowl of Mexican tortilla soup might warm your body and soul!