As an affiliate-driven website, Icy Tales earns from qualifying purchases.
Beautiful natural pools can be found at Rocky Canyon Hot Springs in secluded Idaho. Nothing is more in tune with nature than this location, which sits essentially in the centre of the Middle Fork Payette River and is walled off by rocks. "How to reach Rocky Canyon Hot Springs?"
You've most likely found this article because you enjoy Idaho's hot springs.
Additionally, it's likely that you came here in search of a more isolated, off-the-beaten-path pool. We wanted to provide adventure seekers like you a place to check out that's slightly tougher to get and less congested than most because we know some prominent hot springs in Idaho can get packed.
1. Rocky Canyon Hot Springs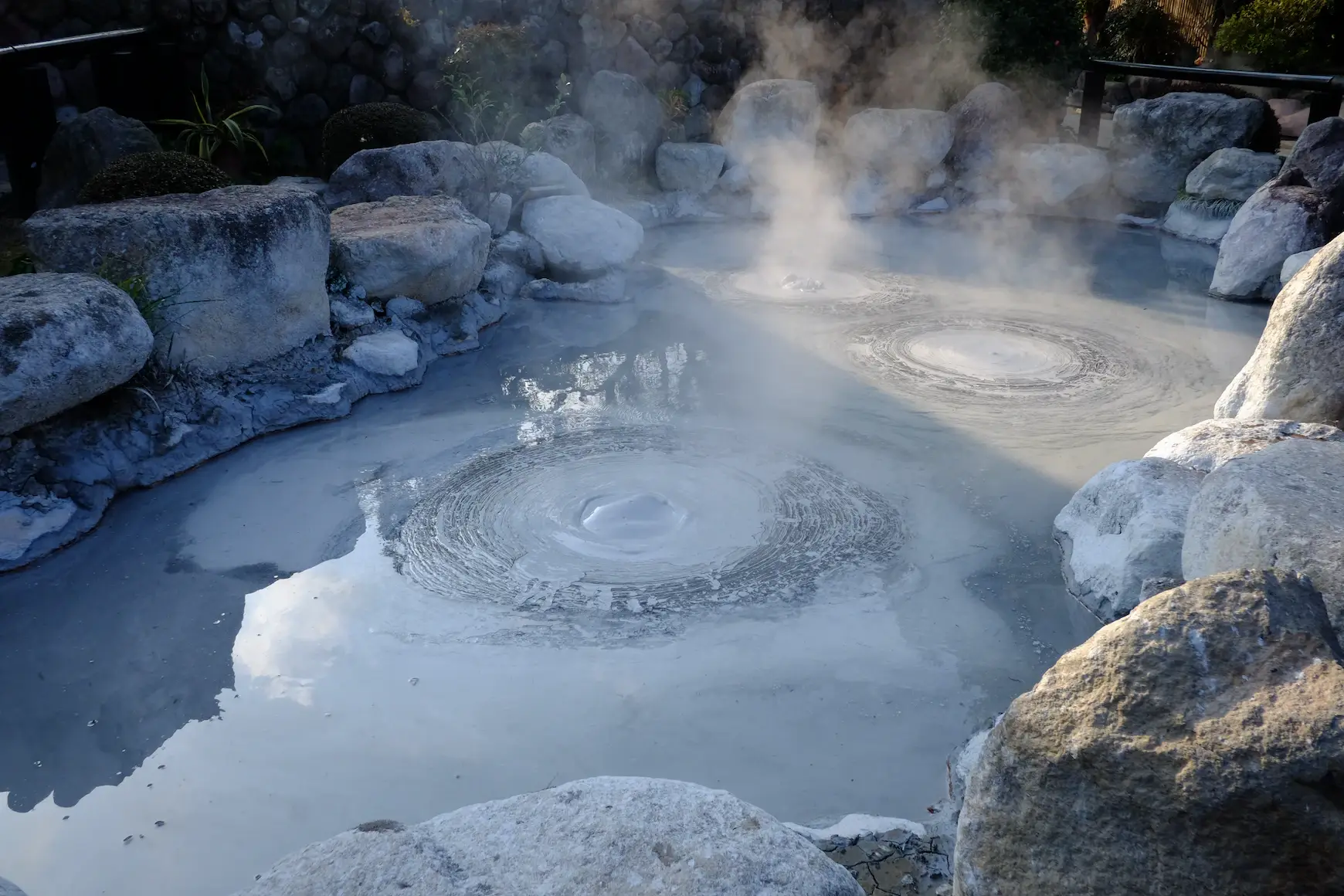 You may expect a tranquil soak despite its fame because it is surrounded by enormous pine trees and the fauna of the Boise National Forest. Rocky Canyon Hot Springs was well-known for being a clothing-optional spring for partygoers during the height of its popularity. It is popular among natural hot springs.
To discourage visitors in 2009, the local city officials in charge using jackhammers on the swimming pools. Some of the pools have since been recreated by the locals.
Various circumstances influence the number of baths at Rocky Canyon Hot Springs, but there are always a couple open. The temperature varies as well, but as the pools are stacked on a hillside, the highest pool will be your best shot of getting close to the 100°F (38°C) threshold.
2. How To Reach Rocky Canyon Hot Springs?
Rocky Canyon Hot Springs is a stunning sight located north of Crouch, Idaho on the opposite bank of the Middle Fork Payette River beside Idaho's busiest Forest Service Road.
Sadly, a few years ago, the drinking and excessive nudity at this hot spring did not meet with the approval of the city authority. Sledgehammers were used to smash the ten cascading pools that used to flow down the mountain.
The community took it very seriously, and although several pools have been renovated by residents, they haven't yet reached their former glory.
Accessing the springs may be more difficult during some seasons of the year than others.
You must snowshoe in because there is still snow on the ground during the winter months and the early spring.
The river is strong and the water is powerful since the mountains' snow is still melting from spring until the middle of summer.
The river is at its lowest point and the wind is at its weakest in late summer and early fall, making crossings simple.
If you can handle the crowds, constant traffic on the dirt roads, and the river ford, you are in for a treat.
2.1 Directions To The Rocky Canyon Hot Springs
It's usually when people are trying to find the Rocky canyon hot springs that they become lost,p and have to backtrack or give up. Unless you place a pin in the spot on your maps, there is no precise position.
Since there is sporadic cell phone service, you should carry a GPS or map with you to prevent getting lost.
2.2 How To Get To The Trailhead
Take Highway 55 to Banks, a landmark town where you may exit right off of Highway 55.
The Banks-Lowman Highway should be followed until you reach Crouch.
After a half-mile journey, South Fork Road loses the "South" and becomes just Fork Road after passing past the little settlement. For the next instructions, don't forget to reset your trip odometer.
The road will change to gravel after around 7 or 8 kilometers from Crouch.
The farther you go, the more camp spots will start popping up along the river.
The distance to the hot springs is around 12 miles, and at that point, you should be on the lookout for a two- or three-car pull-off place with steam emanating from the other bank of the river.
There are normally one or two cars at the pull-off site because the springs are a somewhat frequented location.
2.3 Boise National Forest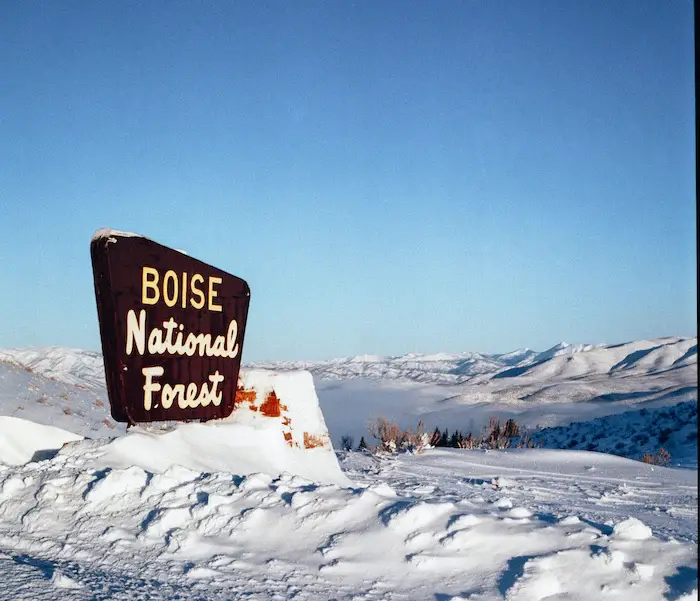 Some of the nicest boon-docking (camping on undesignated campgrounds) we've experienced in Idaho is in the Boise National Forest past Crouch.
There are numerous places to stop along the river and numerous backpacking locations on routes to Rocky canyon hot springs.
You might run into moose, whitetail antelope, deer, elk, occasionally a cow, and of course, bunnies and squirrels, when you're in the area to camp.
You might hear wolves or coyotes howling in the late evening or early morning. You will see steam coming from the riverside in winter. While in the outdoors, remain mindful of your surroundings at all times.
Stop and take in the scenery even though you are in the area for the fantastic hikes to some of the most stunning hot springs.
The pools are large enough that there is never a feeling of crowding, they are close to the river so that you may cool yourself in the cool water if it becomes too hot, and as you descend, the pool temperatures get colder and deeper.
You will enjoy the tiered pools.
2.4 Middle Fork Payette River Crossing
This route departs from Forest Service (FS) Road 698's northernmost point and follows the simply Middle Fork of the Payette River (cold river) in a northerly direction.
Before coming to an intersection with the Bull Creek Trail, the trail exits the middle fork rd and passes the historic Rocky Canyon Hot Springs Guard Station recreation rental cottage.
The Bull Creek Path is motorized for 0.5 miles before returning to a non-motorized state till the end of the trail at FS Road 409. This trail is motorized from the end of FS Road 698 to the Bull Creek Trail junction.
Please take extra caution as the bottom part of the route crosses the river 17 times, and it may be highly dangerous when the stream flow is high.
Enjoy the beautiful Middle Fork of the River and the natural hot springs.
3. Travel Tips For A Rocky Canyon Hot Springs Trip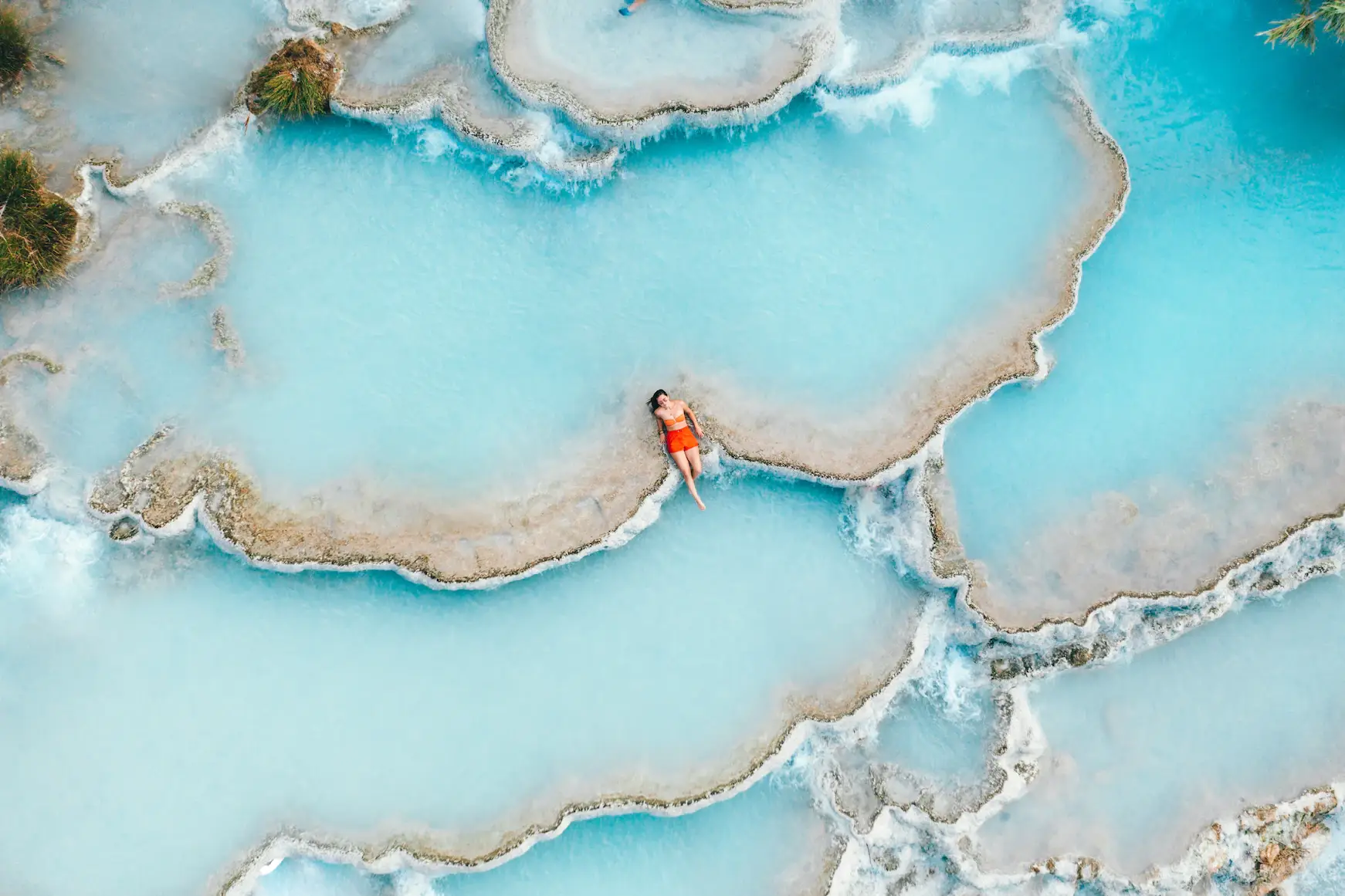 Here is what you should pack for your next trip to the Rocky canyon hot springs.
3.1. Swimsuit
Rocky Canyon Hot Springs, along Fork Road, is quite a distance north of Garden Valley, so bring your swimsuit (or not). As a result, you should be prepared to encounter people who are swimming in their underwear (nude bathers).
Water temperature in Idaho hot springs may vary from upper pools to middle pools to the lowest pools.
3.2. Quick Dry Towel
Today's market is flooded with high-quality, quick-drying towels, so there is no need to bring bulky ones that take up extra room.
3.3. Sandals For The Water
Water shoes are necessary, especially for the river crossing towards rocky canyon hot springs. These vintage Teva Hurricane sandals, which we own, provide the ideal amount of traction.
You may anticipate wearing them in the pools as well as using them to scale rocky terrain and reach the hillside pools.
3.4. Fuel For Your Vehicle
Garden Valley, Idaho is 30 minutes away from Rocky Canyon Hot Springs. Gas is available in Garden Valley, but it's a good idea to fill it up before you head out.
This is especially true if you are camping on the other side of the river, close to Rocky Canyon Hot Springs, and using gas to start a generator or generate heat.
3.5. Water And Food
Be sure you have access to fresh water as well as snacks. Yes, there is a river nearby, however, it can contain bacteria that should not be consumed by humans.
Bring refreshments, too, as crossing the river to reach the opposite side may be rather exhausting.
3.6. Sun Protection
The sun is directly overhead in this area. Bring a wide-brimmed hat with you if you plan to visit Rocky Canyon Hot Springs during the day to protect yourself from the sun.
Bug spray and sunscreen include chemicals that can leak into the river below, so use caution while using them.
3.7. Dry Bags
The river crossing at these hot springs can occasionally become fairly deep, thus dry bags are essential. To keep water out, safeguard your equipment in dry bags. These dry bags are easily available on online shopping websites.
4. Rocky Canyon Hot Springs General Tips
Rocky Canyon Hot Springs is a delicate location, and we want to be very specific that individuals must respect and care for it.
These hot springs etiquette guidelines should be taken into account before visiting Rocky Canyon Hot Springs since one incident of misuse might make this place unusable for all future guests:
1. Don't move any rocks around; the pools and baths were meticulously constructed with boulders and rock barriers.
2. Avoid adding any chemicals, such as soaps or shampoos, to the water. It may contaminate the river and the water.
3. When entering and exiting the pool, especially the top pool, use caution because you can find very hot water near hot spring pools.
4. When the river is high, crossing it may be quite perilous. Simply avoid crossing if you are anxious. When the river levels are lower, which is often in late summer or early fall, schedule a second visit.
5. Take your garbage with you and think about picking up any that was dropped off. Future visitors will experience cleaner surroundings as a result.
Final Note
What sort of pools can you anticipate at Rocky Canyon Hot Springs then?
Just keep in mind that the pools might appear very differently depending on the time of year you visit. The weather, river levels, and abuse all have the potential to significantly alter pools (unfortunately).
Have a great stay while visiting Idaho hot springs!