Men have been shaving since time immemorial, and in recent years, women have taken a liking to the practice. But before you take out your razor and go to town on your face, here's everything you need to know about How to shave your face.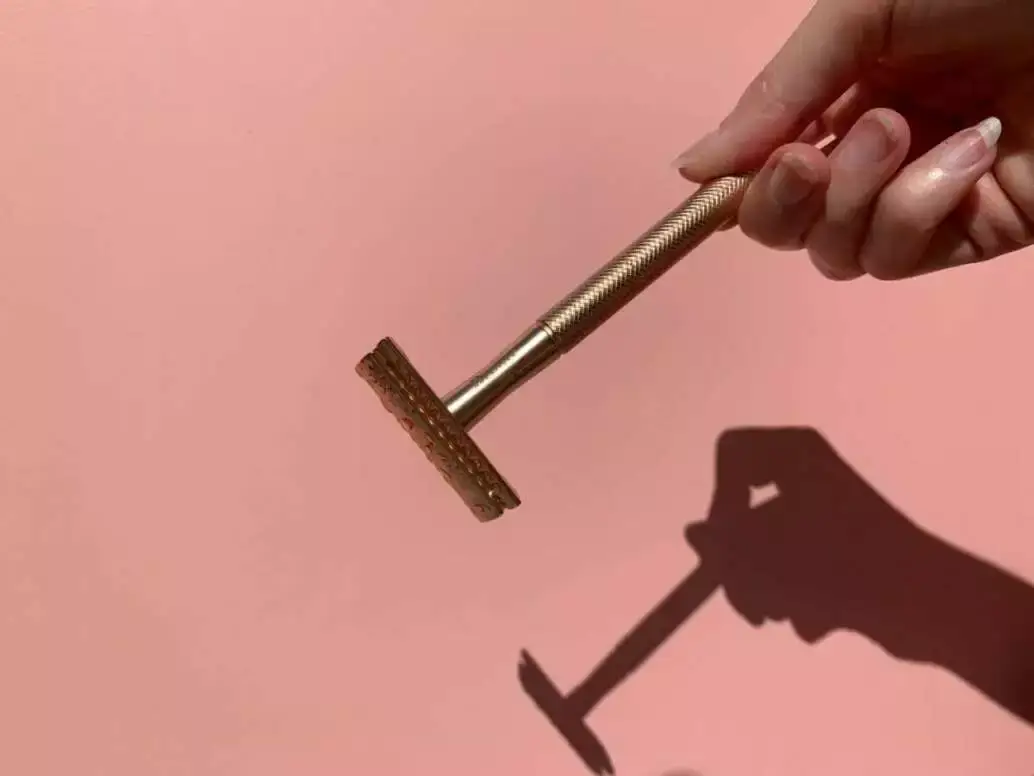 What is Shaving?
Shaving is removing unwanted facial hair or hair from any part of one's body.
Men have been shaving for ages, but it wasn't so trendy for women. One reason for this was the fear that hair would grow back thicker. Although women have also been grooming and removing their eyebrow hair and that on their upper lip, they prefer methods like waxing, threading, and even tweezing.
Another reason is that facial hair on men is different from that of women.
Beards vs. Peach fuzz.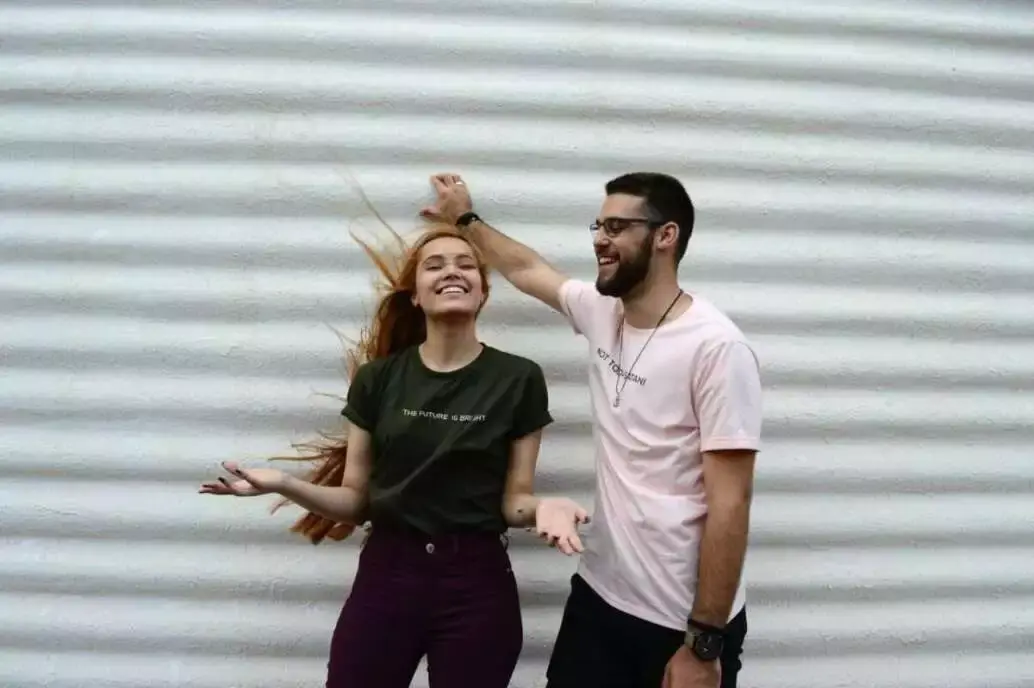 We humans, regardless of gender, have vellus hairs or peach fuzz on every part of our bodies aside from the palms of our hands and the soles of our feet. Vellus hairs are thin, short and light in colour. When puberty hits, increased testosterone levels in men convert vellus hairs into terminal hairs.
Terminal hair is thicker, longer and more pigmented. Since testosterone is secreted in men, they develop terminal hair growth on their arms, legs, armpits, chest and face while females keep most of their vellus hair.
In summary, the hairs on a man's face are terminal hair, so it's thicker and darker. The hair on a woman's face is vellus hair, which is thin and light. Men also have more facial hair than women.
Since the hair type is different, the tools for hair removal are also different for men and women.
How to shave facial hair (Men & Women)
Here is a step by step guide on how to shave your face. Most of these steps apply to both men and women, but there are a few things that you should do differently if you are female. Without further ado, let's get into it.
Step 1. Cleanser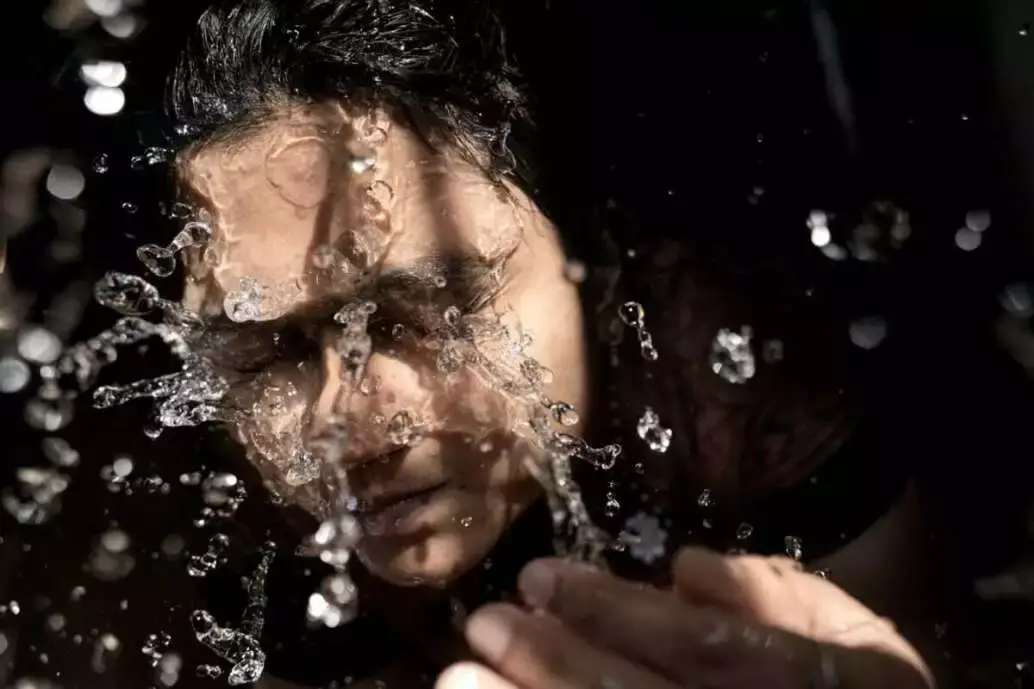 This is a step that both men and women must do before shaving. Using a gentle cleanser to wash your face will ensure there is no dirt, grime and excess oil on the face when you start to shave.
Making sure your entire face is clean before your shaving session is very important because when you shave your face, the pores on your face are open and it's easier for any impurities to penetrate the pores and cause acne. Therefore, clean skin before shaving is crucial.
Step 2. Exfoliate
Exfoliating the area you are about to shave helps remove dead skin, which reduces ingrown hairs. Ingrown hairs are tiny painful bumps that appear on top of the skin. It occurs when hair grows back under the skin instead of rising up from it.
You can use a gentle scrub that doesn't contain abrasive exfoliating beads like apricot or walnut. You can also use chemical exfoliators such as Alpha hydroxy acids and Beta hydroxy acids.
Step 3. Rinse with warm water.
Rinse your face with warm water or use a towel soaked in warm water and put it on the face for a few minutes, helping in opening the pores and softening the hairs. This step is quite important for men because their facial hair is thick.
Shaving thick hair that is not softened can be harsh on the skin and cause irritation and razor burn. The razor blade glides smoothly if your hair is soft and easy to remove.
Women already have thin and soft facial hair, but warm water or a good steaming session makes the light hair more visible and opens pores, making hair removal easier and much smoother.
Step 4. Shaving cream, gel, or oil.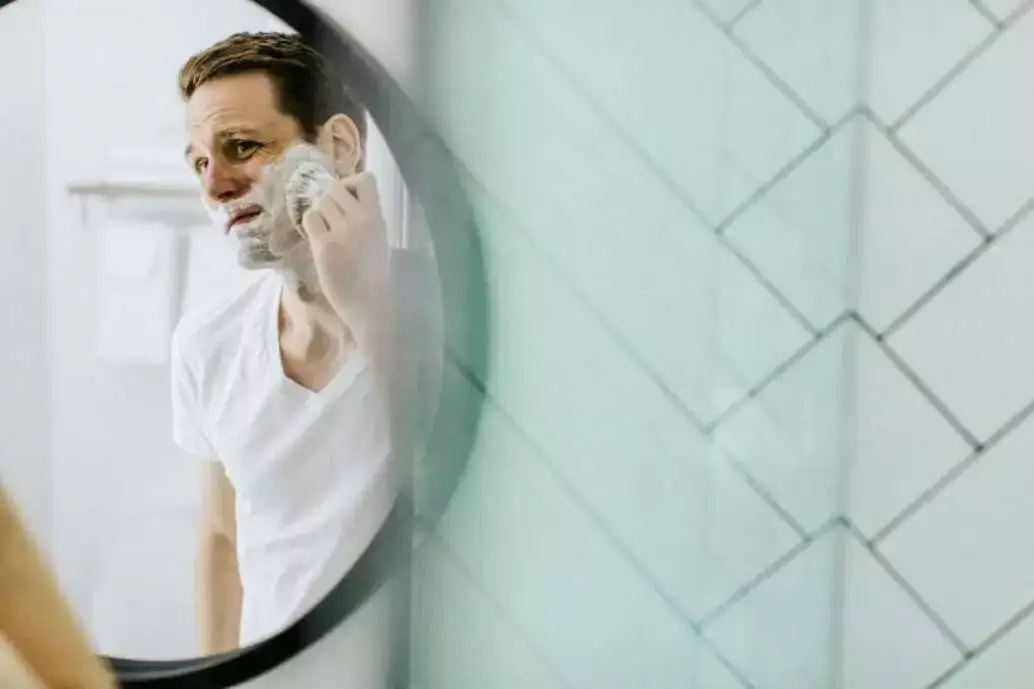 Products like shaving cream, shaving gel, or pre-shave oil are recommended before shaving because they create a thin layer of protection between your skin and the razor blade. The presence of this layer will minimize friction, razor burn, and skin irritation. It will also prevent nicks and cuts to the skin.
Shaving cream has the thickest consistency among the above-mentioned options. If your hair is extremely thick and coarse, the shaving cream will work best to soften the hair and give you a pleasant shave.
Shaving gel is comparatively thinner in consistency and people who don't have a lot of hair growth use this.
Women usually dry shave their face, and they can get away with it because they are dealing with soft hair, but it is often too irritating for people with dry skin type or sensitive skin.
For skin like that, using lightweight, non-comedogenic oils like sweet almond, grapeseed, or olive oil can be used as a pre-shave oil to help the razor glide more smoothly and reduce skin irritation.
Shaving tools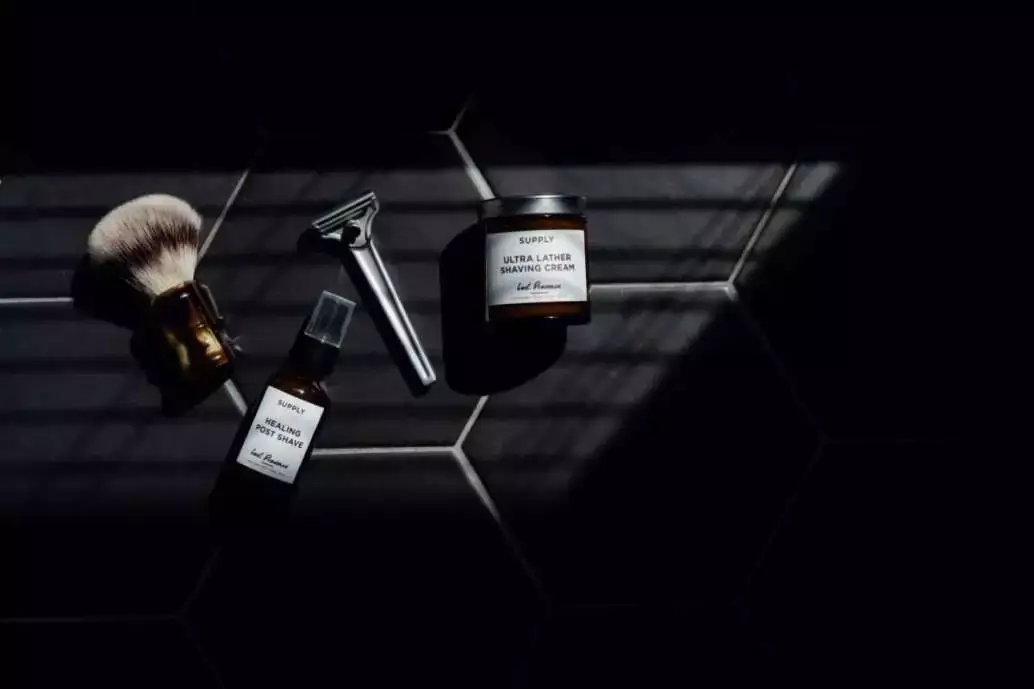 There are different types of razors which you can choose according to your preference. Disposable razors are the cheapest and since they are so cheap, they are not the best in quality and do not provide the closest shave. They are great for one-time use, though.
An electric razor can be used on the go. If you want a beard trim and you like a little bit of scruff, an electric razor is the one for you.
A cartridge razor comes with up to 4 cartridges of fresh blades and has a flexible center. A cartridge razor also has up to three blades stacked together, each one giving you a closer shave than the last. This razor is least likely to give you nicks and cuts because it follows the shape of your face.
The razors mentioned above are great for men, but women should ideally not use these for face shaving because they are meant to shave thick terminal hair.
Women can use these razors to shave their body hair, but their best option is an eyebrow razor for facial hair. This razor has a single blade and it is very effective in removing vellus hairs.
Shaving facial hair:
For men-
Have a mirror in front of you and a bowl of water. Make sure you have a sharp razor and a layer of shaving cream or gel on your face. Use light strokes to remove the hair and always shave in the direction of the hair growth.
Going in an upward motion will cause ingrown hair. Rinse the blade after every stroke by dunking it in water, your blade should not have a buildup of shaving gel and hair. Keep repeating this process until you are happy with your results. Wash the razer once you're done shaving.
For women-
Have a mirror and a paper towel in front of you. Make sure you are using a sharp blade to shave. Tilt your blade at a 45-degree angle to your face, hold your facial skin taut and start to shave in the direction the hair grows.
Use light strokes and do not shave in the opposite direction to prevent skin irritation and ingrown hairs. Keep cleaning the razor on the paper towel and always go slow. If you shave your face in a haste, there are more chances of you hurting yourself.
Aftercare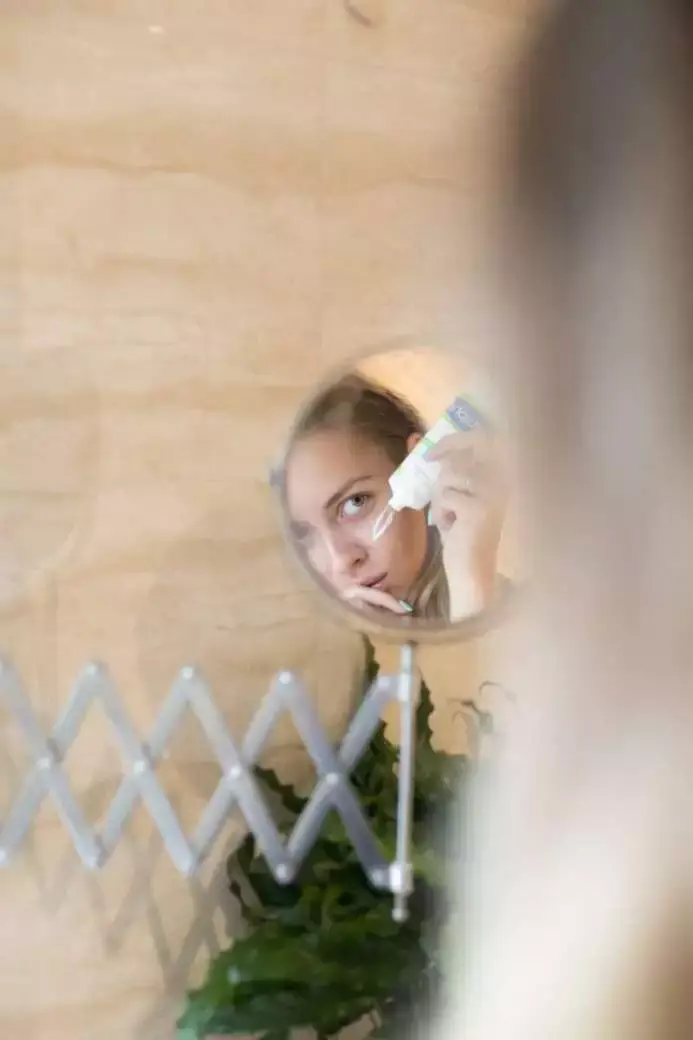 After shaving, wash your face with cold water. Doing this will close the open pores on your face. Immediately afterward, put on a moisturizing lotion on your skin. Shaving can weaken the skin barrier, leading to water loss from the face.
To prevent skin from drying, you should always apply aftershave or moisturizer to the skin. This soothes the skin post-shave. Keep changing your razor after a few uses to prevent skin irritation.
Advantages of shaving facial hair
If done properly, shaving can have many advantages to the skin.
It makes the skin smooth by removing dead skin cells from the skin's surface.
It provides a clean canvas for makeup to go on top of.
Skincare absorbs way better if you shave your face.
It reveals a glowing complexion underneath all that hair and dead skin.
Disadvantages of shaving facial hair.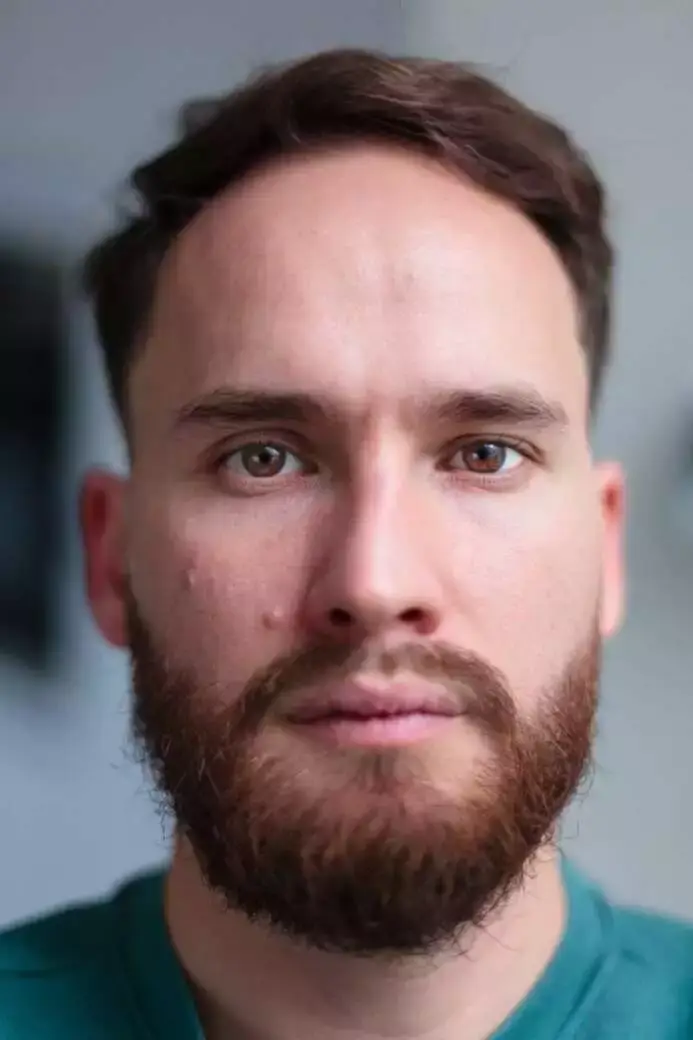 It does not suit every skin type.
It causes skin irritation for some people.
It leaves razor burn and razor bumps if dull blades are used for shaving.
Removal of dead skin cells weakens the skin barrier and leads to trans-epidermal water loss.
Things not to do.
Do not use a blunt facial razor. Using a blunt razor doesn't give you a good shave and it is the main culprit behind all the shaving disadvantages of face shaving-like bumps, burns, ingrown hairs and skin irritation.
Do not use skincare with active ingredients immediately after shaving. Your skin is sensitive after shaving and more prone to breakouts, so keep your skincare regimen as simple as possible for the next two days after you shave.
Do not use heavily fragranced skincare because fragrances can irritate the skin.
Do not shave if you have any active breakouts. Bacteria from your acne can travel to the rest of the face and cause more breakouts.
Do not shave if you have skin conditions like rosacea, psoriasis, etc.
Does shaving make hair grow back thicker?
The simple answer to this myth is, no. Hair grows from the follicles situated deep within our skin, and its thickness and texture do not depend on what you do on the surface.  When shaved, hair is cut at a blunt angle, making it appear thick and giving you that stubbly feeling. After it grows back though, it goes back to how it was initially.
Here is everything you need to know about How to shave your face. If you found this article helpful, don't forget to check out some more from us.
How To Use Salicylic Acid Cleanser To Ace Your Skincare Game
https://icytales.com/why-women-wear-makeup-2/