As an affiliate-driven website, Icy Tales earns from qualifying purchases.
Traveling takes us out of our comfort zones and enlightens us to discover and try new things. It challenges us, not only to conform to and explore different surroundings, but also to engage with new people, to embrace adventures as they come, and to share new and noteworthy experiences. Neus, a 24 year old young girl who loves traveling, is a travel blogger from Barcelona.
She is studying Communication and Law at Open University of Catalonia, in Spain. She is an administrative in the department of Economy and Finance in the public administration. She loves traveling and most of the places Neus has visited alone. The travel blogger loves travelling alone, because she thinks it is a good way to know ourselves.
Neus, in conversation with Icy Tales:
Q) What was your trigger to get you to travel? How did the whole saga start?
Neus – Since I was little, I travelled with my parents around the world and I suppose they infected me with the passion for travelling. I remember being only 14 years old when I told my parents about the idea of ​​going to study abroad, and they saw it as crazy. And as soon as I came of a particular age, I began to travel non-stop.
First I did it with my partner and friends. When I saw that my passion went beyond a simple hobby I decided that this decision could not depend on the availability of anyone and I ventured to travel alone. I still remember my first trip alone, which was to New York. A massive city in which I was alone with myself, and it was really wonderful because it helped me to get to know myself more and enjoy time alone with me.
Q) What was your childhood like? What did you think you would become when you grow up back then?
Neus – I had a very happy childhood and I was very close to my parents and was full of friendships, that I still keep today.
Regarding what I wanted to be when I grew up, I imagined that like every other child. Millions of professions went through my head, and in my case, it was being an archaeologist. When I was very young, my parents went to Egypt, and they told me wonders about that country and Egyptology. From that moment on I remember not stopping to look for information about Egyptology and especially about Tutankhamun. Later watching movies like 'The Mummy' or the 'Indiana Jones saga' made my passion for archaeology more forged.
But once I got older, I realised that maybe it was not a career that had exits and that not everything was going to be like in the movies. When I turned 18, I really didn't know what I wanted to be or study, but most people told me that studying tourism would be good because of my passion for traveling. So I started the double degree in tourism and business administration. What I did not know is that I would end up working on it without having to finish the degree.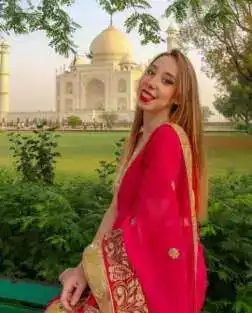 Many times in Spain they told us that it is necessary to have a university degree to be able to dedicate ourselves to a profession, but that is not true, and I was lucky enough to work in tourism since the first year of the degree.
After several years working in tourism, I decided that perhaps my passion was focused more on communication and I started the degree that I am currently finishing together with the law, another of my great passions.
Q) You have traveled a lot. What is that one place that never fails to impress you? Your one favourite place?
Neus – I have been to many places that I love, so I have many favourites. But I think that without a doubt, the one that always makes me want to return is Thailand. I have visited several areas of this country and both its culture, monuments and beaches is something that will never stop leaving me speechless. In addition, I have been able to go both on tourism and on volunteering, and living the two realities has also made me connect with this country.
Q) What is your favourite thing about traveling?
Neus – Getting to know other cultures, seeing how is the reality of life in other countries that are not Spain. In the end, each person lives in a different culture and for both good and bad it is wonderful for me to get closer to that reality even if it is a little bit.
Q) Among the places you have visited, which pocket-friendly yet fun place would you suggest someone going on a trip and is bound by a budget? And what are the must-try things of that place?
Neus – I would definitely recommend Thailand or Vietnam. I consider these two countries where you can find everything, like beaches, mountains, ruins, palaces, and on the other hand eat authentic delicacies at a great price. For me, if you go to Thailand you have to try eating a plate of Pad Thai on the famous Khaosan road and dessert that is a super typical dish there and that is also great, which is the mango sticky rice. And in Vietnam, you can't leave without trying their Vietnamese rolls and baguettes.
Q) What is the one thing that can instantly light up your mood?
Neus – I could say things like being close to my family, friends, partner. But if we talk about my passion to travel, booking a trip, thinking about the destination and informing me about the place I am planning to go, makes me unintentionally smile (laughs)
Q) What is the one piece of advice you would like to give other travel vloggers?
Neus – I follow quite a lot of travel vloggers. My best advice would be that, along with good material one should also create quality content. I follow many vloggers for trips that take photos or videos and it is a real pleasure to see them. So working hard on the content seems to be paramount. Also what is important is always trying to spend time to enjoy the trip and what each place or country offers. Since many times, to create good content we forget where we are and forget to enjoy the place and the moment.
Q) Would you like to share some traveling hacks, which are generally not known by people?
Neus – I do not know if they will be very known or not, but usually, when I want to get a good photo or video of a place, I always go accompanied by my tripod, in case I am traveling alone. And I usually visit the places I want to photograph at early hours or hours when there are usually no people, since it is more complicated to get a good photograph when there are people and if the place is a tourist attraction.
In addition, I also usually look at photos of other people who have gone to the same place to use them as inspiration, and for the editing of the photographs, I use the Lightroom app.
Q) Lastly, what's the best and worst piece of travel advice you've received?
Neus – Many people have strongly advised me not to travel alone, and even some have labeled me crazy for that as I was putting my life in danger, which I consider a bad advice. And as a good advice, always carry medication for anything that might happen and a good medical insurance.
Neus who loves adventure and the spontaneity that the journey brings. She enjoys pushing herself out of her comfort zone. The travel vlogger enjoys the personal growth that happens within her, through the culmination of everything she experiences and the people she meets. Neus ventures out into the unknown. It involves traveling to a new place, meeting new people and engaging in new experiences. Reading the blogs by Neus, it feels like we're traveling with her. That's how engaging they are. Travelling is indeed a very beautiful and enriching experience and with her content on Instagram, we are pretty sure the travel blogger fires the wanderlust in everyone.