OCD in Teenagers: How does it affect teenagers?
Obsessive-compulsive disorder is a psychological disorder. OCD symptoms are anxiety disorder, intrusive thoughts, obsessive thoughts and compulsions. They are also known as rituals. OCD sufferers are caught in a stressful loop of these thoughts and compulsive behaviours.
Cognitive behavioural treatment, residential treatment, ERP therapy can help patients break free from their obsessive-compulsive disorder or OCD cycle.
They learn to deal with annoying thoughts, settle anxiety, and address concerns safely without practicing rituals. Some young people additionally take OCD medication.
Talk to a parent or an adult in your life if you think you have signs of OCD. To learn more, ask them to assist you in seeing a doctor or mental health specialist for getting treatment.
Mental Health Disorders that co-occur along with OCD
Individuals with OCD are frequently diagnosed with one or more additional psychiatric diseases. The following are the most prevalent co-occurring disorders:
Depression
Bipolar disorders
Disorders of substance abuse
Anorexia nervosa
ADD/ADHD (attention deficit hyperactivity disorder)
Anxiety disorders (e.g. social phobia or panic disorder)
Another psychiatric disease can make it more challenging to treat OCD properly.
What Are Obsessions and Why Do People Have Them?
Obsessions are anxious-inducing intrusive thoughts. They can be fearful of unwanted thoughts about what might happen if something horrible happens. Or ideas about how things should be.
They can be niggling concerns about whether or not things are going well. Or images or ideas about things that appear frightening, nasty, or incorrect.
These distressing ideas come to mind repeatedly as a result of Obsessive-compulsive Disorder. They can be about anything, but many obsessive-compulsive disorders patients have ideas about:
Germs, injury, harm, or illness, things that appear to be bad, rude, or incorrect, whether things are even, straight, or arranged exactly as they 'should' be.
Colours or numbers that appear to be bad, unlucky, or have special meaning whether anything might come true and sometimes elaborate showering routines the teenage years is not too well and neither the school life as adolescent OCD makes you a target of bully among the teens.
What Are Compulsions and Why Do They Exist?
Compulsions are activities that persons with the obsessive-compulsive disorder feel compelled to perform. They're also known as rites.
Rituals appear to someone with obsessive-compulsive disorder to be a means to stop the thoughts, correct things, be safe, or ensure that awful things don't happen. Rituals might take the form of physical actions or mental statements.
Here are some ritual examples. Someone who suffers from this mental health illness may feel compelled to:
Frequent hand washing, rewriting, or starting over with words, phrases, or questions
Touch, tap, or step in an unusual method or a specified number of times to see if anything is closed, locked, clean, right, or done.
Put everything in the appropriate order, and follow a set of instructions.
Avoid items that seem unlucky, such as numerals or colours.
What Does It Feel Like to Have OCD?
Most persons with obsessive-compulsive disorder can tell that their thoughts and rituals are illogical. They have a great desire to perform the ritual. However, the obsessive-compulsive disorder makes them feel insecure.
They believe that if they don't, something horrible will occur. Rituals initially provide some comfort from negative thoughts and feelings.
However, rituals multiply. They require more time and effort. Worrying ideas keep coming back, and it becomes a form of compulsion.
This is how obsessive-compulsive disorder turns into a stressful situation and a mental illness. The rituals don't stop OCD; they make it worse.
Worry thoughts and rituals will occupy more than an hour of a person's day if they have OCD. They may go through the motions of checking, arranging, repairing, erasing, counting, or starting over a number of times to ensure everything is in order.
However, OCD makes it difficult to ignore thoughts. They don't want to consider these issues. They don't want to participate in rituals. However, OCD makes them feel compelled to.
OCD can manifest itself in many aspects of a person's life. Getting ready, eating breakfast, and schoolwork appear to be difficult options. OCD can appear as if making a certain decision will prevent a negative outcome. Or that making a different decision would result in a negative outcome.
Someone with OCD may have no idea why they think, feel, or act the way they do. They care about others' opinions and how others perceive them to be. They may make an effort to conceal their anxieties and rituals.
They may even believe they're going insane, but they aren't. OCD can bring this on.
Why are only some people affected by OCD?
Like many other health issues, A person's genes have a part in whether or not they develop OCD. Genes can influence several brain regions' chemistry, structure, and function. That is why OCD is so common in families.
These differences cause undesired ideas to become 'stuck,' rather than moving on, in those with OCD. OCD develops when someone inherits genes that make it more likely.
Repetitive behaviours and obsessive thoughts paint mental images in young people's minds. However, OCD persists due to rituals. The more people who perform rituals that are obsessions related, the more severe OCD in teens becomes.
This occurs because our brains get more adept at doing what we practice. In addition, our brains learn to do more of what is rewarded.
Recognizing OCD Symptoms
Obsessive-compulsive Disorder (OCD) can have a devastating effect on your teen. That's why it's critical to understand what to look for and how to spot OCD symptoms.
It's best to get your teen into treatment as soon as possible. Obsessions and compulsions usually worsen over time if they are not treated.
Symptoms of OCD :
Frequent illogical fears or anxieties (e.g., fretting that the front door isn't locked even after checking it)
Disturbing thoughts occur frequently, and people feel powerless to stop them.
Unusual or irrational actions by your teen that you can't explain
Any compulsive behaviour
Having trouble concentrating at school or when doing homework
Checking and rechecking things regularly.
Worry that something awful will happen regularly.
Making or retaining friends is difficult.
If they cannot engage in compulsive behaviour or are interrupted before completing it, they become agitated or angry.
Depressed mood or anxiety regularly.
Suicidal ideas and actions* *
Suicidal thoughts and actions are linked to various diseases, including OCD. They must never be overlooked.
Don't dismiss your adolescent's behaviour as "dramatic" or manipulative. It is necessary to care for their mental health and identify mental health disorders as soon as possible.
What causes Obsessive-compulsive disorder?
Obsessive-Compulsive disorder can be a tiring illness that negatively affects the person's quality of living.
Because the symptoms of OCD can appear unreasonable or even weird, it's critical to consider why some kids get the disorder while others do not.
So, according to study studies, various causes induce OCD usually occurs in the early twenties, and the causes of OCD include :
Genetics– Research has revealed that kids with an OCD blood relative are 57 percent more likely to develop the disorder themselves.
Biological factors– It has been discovered that elevated serotonin levels in the brain might cause OCD.
Stress-inducing events, such as the death of a loved one or a change in the family's circumstances, are examples of environmental factors.
What is OCD Treatment Like?
OCD is treated with a sort of cognitive behavioural therapy (CBT). People go to therapy to discuss, learn, and practice skills with a therapist. Some persons with OCD may need to take the medication and therapy.
People may learn through therapy:
how OCD is a brain 'trick' that makes it appear as if horrible things will happen unless people do rituals
How emotions and behaviour is interconnected
That performing ritual strengthens OCD and that not performing rituals lessens OCD.
However, even when someone with OCD understands this, it's challenging to quit performing rituals. As a result, treatment teaches abilities such as:
Anxiety coping and soothing techniques
How to Handle Worrying Thoughts
How to Face Fears in a Safe Way How to Avoid Rituals
People practice applying these skills in treatment. They face their concerns one by one without resorting to rituals. This can be unsettling at first, but it becomes second nature with repetition.
Worry thoughts can lessen the more persons with OCD oppose rituals. The brain's activity might alter for the better as the person improves their talents.
Therapy takes time, and how long it takes depends on the individual. Most people see their therapist once or twice a week for a few months or longer. Some people go to therapy more frequently than others.
The therapist will instruct, assist, and encourage you along the way. The mental health professional will frequently work with young adults and parents to remove unwanted thoughts OCD behaviours like excessive checking common compulsions.
When OCD symptoms occur at home, they negatively impact home life, and parents want to know how to best assist their children.
Follow these tips:
1. Have a conversation with your teens
Tell your teen that you're concerned about the actions you've noticed. Make it clear that you'd like to assist in any manner possible and that you're available and eager to listen.
If not outright denial, expect a defensive response that something is wrong. They may feel self-conscious about the symptoms they are having.
Avoid all forms of judgement, criticism, and humiliation since these will only worsen. The whole family needs to support adolescents to overcome their compulsions and obsessions, which will help treat the obsessive-compulsive disorder.
2. Have your adolescent assessed
A physical examination can be performed by your teen's pediatrician or family doctor to rule out any underlying medical concerns that may be contributing to or exacerbating their symptoms.
Because OCD is a complicated illness, you should get them assessed by a psychologist or psychiatrist. Look for a therapist that specializes in children and adolescents and has a lot of expertise with OCD.
A referral or recommendation from your family doctor or pediatrician may be possible.
3. Seek help for your adolescent
Because the symptoms of OCD tend to worsen over time, early management is critical. If your teen's symptoms are more severe, or if they also have another psychiatric disease, a more extensive degree of treatment for a length of time may be required.
Types of Treatment
# Individual therapy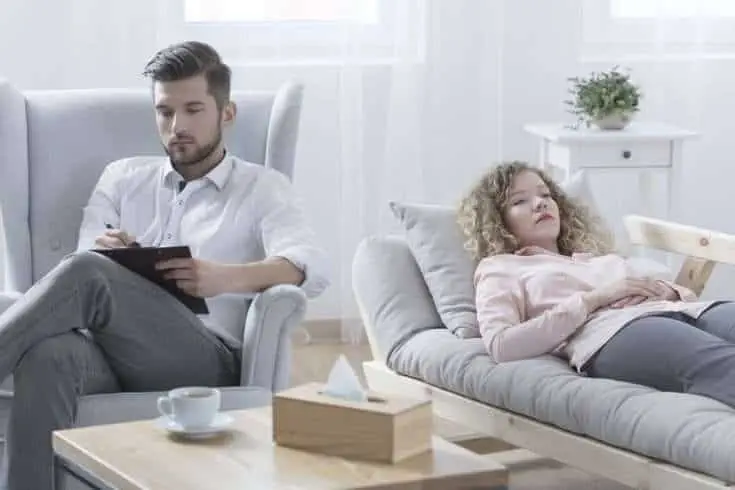 Also known as "talk therapy," it consists of one-on-one sessions with a therapist. Psychotherapy can help your kid understand their obsessions and compulsions, as well as the underlying issues that are driving them.
One of the most successful therapy methods for OCD is Cognitive Behavioral Therapy (CBT) in the form of Exposure and Response Prevention (ERP).
Exposure-response prevention exposes a person to the things that make them uneasy and teaches them how to cope with their anxiety healthily rather than engaging in the compulsive response.
# Medication
In the treatment of OCD, medication can be quite helpful. When it comes to treating OCD, research shows that medication combined with therapy is more helpful than medication alone.
The following are the most regularly prescribed OCD medications:
Clomipramine (Anafranil) – a tricyclic antidepressant medicine
SSRI antidepressants (selective serotonin reuptake inhibitors), such as Celexa, Paxil, or Zoloft
The symptoms of depression, anxiety, and other co-occurring illnesses may also be treated with medication.
Family therapy – Because OCD affects everyone in the household, family therapy can be an essential aspect of treatment. It entails teaching parents and other family members to support your teen without accommodating or enabling.
If there is a co-occurring substance use problem, dual diagnosis treatment is frequently required.
Residential treatment and Response prevention therapy deal with attention deficit disorder, overcome OCD and improve mental health conditions.
Hospitalization
# Providing Support and Encouragement to Your Child
As a parent of teens with OCD, one of the most challenging problems you may encounter is figuring out the symptoms and signs of OCD and encouraging and supporting them effectively.
Here are some helpful hints for finding the symptoms and some treatment options:
As a parent of teens with OCD, one of the most challenging problems you may encounter is figuring out how to encourage and support them effectively. Here are some helpful hints:
Always keep in mind that OCD is a medical condition. It's not a sign of weakness, and it's not something teens can control or conquer by sheer willpower.
Learn everything there is to know about OCD. This will allow you to understand better what teens are going through and what you can do to help.
Encourage your teen to stay focused on the treatment's goals and be patient with the process.
Assist teens in finding ways to unwind and cope with stress. For example, practice yoga at home with teens or enroll teens in a yoga class.
No matter how illogical, absurd, or strange teens' worries, fears, or behaviours appear to you, don't judge, criticize, or minimize what they are going through.
Consult teens therapist to discover how to avoid unhealthy accommodation of your teen's obsessions and compulsions. Maintaining teen's standards and routines at home; enabling and accommodating him (e.g., having a sibling do his chores because he's obsessed with germs) will only make things worse for him, not better.
Allow teens to know you're there for them by making themselves available (and ready) to listen.
Even if you're frustrated or terrified, try to keep your wits about you; a teen needs to be able to rely on you for support and direction.
If you're unsure how to handle a problem, talk to a teen's therapist or another mental health expert familiar with OCD.
Ensure that your entire family is involved to ensure that no one hinders your teen's recovery. Consider family counselling or ask the teen's therapist if they would be willing to meet with the entire family for a few sessions. Family counselling can also help families cope with the effects of mental illness.
What should parents do?
Your teen's OCD will almost certainly affect you at times, through no fault of their own. You might feel frustrated, overwhelmed, powerless, or even hopeless.
As a result, you must look after yourself as well. Among the things that could be beneficial are:
Finding a support group for parents of teenagers with OCD or mental health concerns, in general, is a challenge.
When you're exhausted or emotionally distressed, you can seek help from family friends, as it is a quite challenging phase to go through.
Yoga, meditation, or exercise are all good techniques to manage and relieve stress.
Checking to see if you're getting enough sleep.
Teens can learn to manage or even overcome their OCD, no matter how hopeless it may appear. Both you and your teen will benefit from remaining cheerful and hopeful.
Disclaimer:
All the points mentioned in the article are only for educational purposes. It is advised to visit a qualified medical practitioner for advice or treatment regarding obsessive-compulsive disorder or any other mental health disorder.
Effective treatment by mental health professionals is needed to treat OCD and other mental health issues.