What is it that you crave the most when you go to your friend's place, your college, your office, or any restaurant? What is the first thing on your mind that you want, and really want, for free?
Correct! It's called WiFi, free WiFi. A free WiFi will solve half the problems we face.
The internet is so much more addictive than the worst of drugs and is more of a necessity than anything else. In our country, it's next to impossible to find good things for free, and considering our irrevocable love for sales and free stuff, and we would try and grab every single opportunity to have free WiFi.
That brings me to the most important question, why am I talking about free WiFi all of a sudden? The answer is Sundar Pichai. (Also, the title of the article, duh!)
So when "our guy" from Google said that he'd provide us with free WiFi across the country in at least a 100 railway stations by the end of 2016, we lost our minds and performed all sorts of tapori dance as an expression of pure delight.
Now, there are some pointers that you might be aware of, but there still are some that closely need to be paid attention to. Time to talk about them? I think so! (Show more enthusiasm -_-)
What will happen?
Google started a Project called RailWire, which is supposed to be launched successfully by the start of 2016. It will provide free WiFi to all the passengers at the railway stations. Google presently has a plan to cover at least 100 stations by the end of 2016The company would pick the stations from every zone of the country as there are 16 in total and it won't be fair if only a few of them are covered in order to check how successful this program will be.
The word from the bird says that they'll cover the 100 busiest stations of our country out of 7000 in total (Yeah! You read that right!) but let's see what happens. Also, the internet speed will be faster than the average speed of the internet in our country, like being able to watch HD videos kind. Woohoo!
Also, they don't have plans to provide you with free WiFi while you're in the train travelling around the country so try being content with your immense power of being able to order food while you're in the train.
2. How will it happen?
The very first station they've thought of is Mumbai Central, which is currently under testing and might surprise us any minute. The station choosing policy will involve picking zones and working with regional railway officers to choose a station in that particular region at any particular time.
Their idea is to make high-definition content available to the country's people, which means faster speed. Since, the stations will be frequented by way too many people at any time, the speed won't be the same for long. One will be able to experience the faster side of the internet for about an hour, after which the facility would still be free, but the speed would be, quote, 'nominal and supportable'.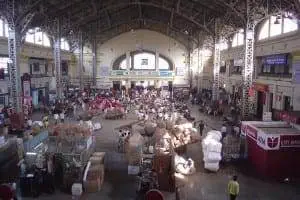 It is important that there isn't a lot of pressure on access points, few in number, for a big bunch of passengers. Therefore, there would be a limited number of them until a lot more users start connecting, and after that, the access points would be increased in number in order to achieve the promised data speed for every passenger.
Also, public WiFis are usually based on technologies like DSL backhaul, cable backhaul or point-to-point wireless but the one that Google will be employing will be fibre backed.
3. The fears.
The biggest of all fears regarding this project by Google is neither the speed nor the access, but it is, Net Neutrality (you probably guessed that, didn't you?). It is one of those concerns that'll continue to linger on for some time as Net Neutrality is an issue we Indians feel very personally about (The internet, remember?). Google somehow promises that the project is net neutral and the users can use whatever apps they feel like using at the very same speed apart from the ones from Google itself.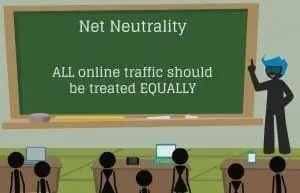 "But that's what Facebook said about FreeBasics too!"
"Yeah, don't go there. We don't know about that."
Sundar Pichai and Mark Zuckerberg share the same idea of providing this little facility of the internet to everyone. But why our country?
The answer is the simplest of all. Second largest population. China won't let Google come in. Neither Facebook. And India will have double the users by 2017 that it had back in 2014. It's an obvious market choice.
The signing note will pretend to talk about how the fears would not go away until we actually see all of it happening and none of it is against our simplest right of having net neutrality across the country for every citizen, but it's pretty obvious that the author is bored. So the signing note says,
Bye.
-Apurva Jain