As an affiliate-driven website, Icy Tales earns from qualifying purchases.
Before giving Mr. Shadab Hassan a call for the interview, I watched some of his speeches and was overwhelmed; instead, I would say intimidated by his personality. But by the end of the interview, I realized that he is just like all of us trying to bring change in this world.
After doing his MBA from Birla Institute of Technology, Mesra, Mr. Shadab Hassan gave up a chance at a fantastic career. Instead, he went to his father's village, Brambe, located 25 km away from Ranchi. The winner of the Yuva Prabodhan-2012 award says that HH High School is his first child and is very close to him.
Interview With Shadab Hassan
1. How Did 'Reach to Teach' Start Mr. Shadab Hassan?
In  Brambe, people did not care about education, they were just happy that their children were going to school, but they didn't know what their children were learning in school. Our main goal was to make them realize that they are responsible for what their child is doing in school.
This is how 'Reach to Teach' started. There were also issues of children of the widows. In-laws of these widows refused to take care of them. The parents of these widows were so much in debt and loans because of her marriage that they couldn't teach their grandchildren.
It is tough for them to survive daily, and in such conditions, education is a luxury for them. So, we started teaching these kids for free.
2. What Led to Giving Employment to Local People Rather than Hiring Professionals for Work Like Stitching Uniforms?
So many people needed help. We get our uniforms stitched locally from Brambe rather than Ranchi. We have so many people who needed help, and we thought it would be best to use the capability of the people in Brambe itself rather than getting uniforms stitched in Ranchi. This way, we took a step towards employing the people in Brambe.
3. Do You Think that Offering Free Education for One out Of Three Siblings of a Family Would Also Help Parents Realize the Importance of Family Planning?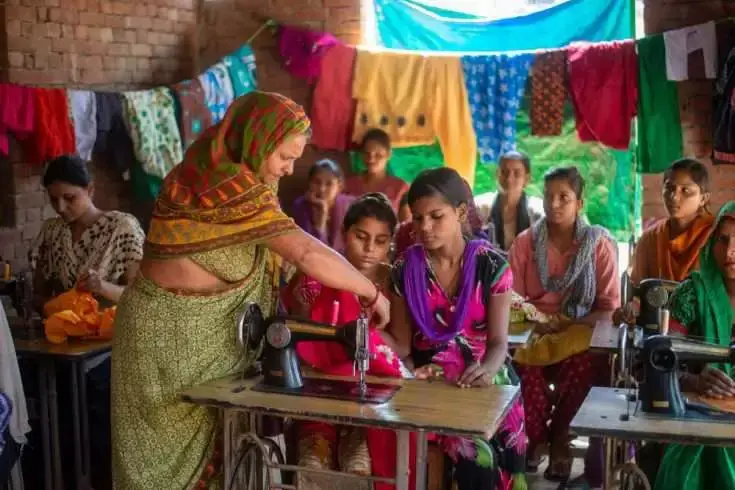 See, I wouldn't take credit for that. If the parents are sending in two out of three children, then for the third child, they will think, "chal tu bhi akela ghar par kya karega, tu bhi chale ja."
We also offered that we teach your son for free only if you also send your daughter to school. To teach their son, they would send in their daughters too.
4. How Did You Inspire Mothers for Maatri – An Initiative to Teach Mothers?
Honestly, mothers were willing to study. The only challenging part was that they were busy with the household work and were occupied with their children.
We focused on teaching them how to write their names so they didn't have to use their thumb impressions for the ration and Adhaar cards. So yeah! I would say this way, Maatri became very successful.
5. How Do You Think 'Passion' Plays a Vital Role in An Individual's Life?
Passion is the driving force of life. We didn't have benches, we didn't have teachers, we didn't have classrooms, but the only thing we had was – passion. So, I think we don't even need resources; just passion would suffice.
6. How Did You Motivate Youngsters and Young Minds to Come and Volunteer and Teach These Children?
We started collaborating with colleges and had student volunteers coming in. We associated with Birla Institute of technology and St. Xavier Ranchi. We also had two foreign interns, and one of them, Aksana, wants to do her second internship with us.
We also had to share our laptop initiative, where we asked college students to come and share their laptops with our children as we don't have any computer labs. So, four to five children would share one laptop under their guidance to monitor any mishap and guide them. We also started with the project WOW (Wonder over the web).
The idea behind WOW is to connect rural kids with kids from different parts of the world over video calls and give them a platform to discuss, debate, interact or simply chat. This really helped in giving kids the right kind of exposure they deserve.
The first school to participate was Oklahoma Public School, USA. Then we had Holy Heart School, Raipur, and other groups of volunteers with kids from mixed schools.  Any individual can volunteer to contribute to this initiative. All they need is a laptop, a dongle/internet connection, and many kids, and they can book a slot to interact with our kids.
7. Like You Mr. Shadab Hassan, There Are Hundreds of Young Entrepreneurs Who Want to Change the World. What Is the One Tip You Would Like to Give Them?
The one tip I have for them is 'DO'. Do what you can with whatever you have wherever you are. I would say more than a hundred; the number is higher than that.
Just imagine all of us start taking this initiative; I am doing this in Brambe; someone else starts doing this somewhere else, and this continues; this way, one day, illiteracy will end.  We don't have competitors; we only have co-workers. All these people together can bring about a more significant change. You have to change your mindset for that.
Be a part of Reach to Teach and WOW because, as Shadab Hassan says, "All of us together can bring a greater change in this world."
What are you doing to make a change today? He is just one among the many angels that make hundreds of children smile every day.
Shadab Hassan is one of those many who are helping change India. Know someone? Let us know at ceo@www.icytales.com!
—————–
Like Us? Please support us by sharing the post and liking us at www.facebook.com/icytalestoday to get regular updates!