As an affiliate-driven website, Icy Tales earns from qualifying purchases.
What Are Scallops?
A saltwater scallop is a must-try seafood! Scallops, a mouth-watering expensive dish served for fine dining in luxurious restaurants, can be easily made affordable at home. So it's better to buy scallops and make them yourself. On keeping the taste of scallops in mind and its soft and delicate texture, one would want to cook it more often.
These super delicious scallops can be made within 10 to 20 mins. Simple recipes made out of scallops go hand in hand when served with wine, especially white wine.
Are your guests arriving at your place uninvited? Are you looking out for a delicious luxurious dish that can be made with minimum prep time? Well, do not worry, for you are at the right place. We got your back!
Isn't Scallop the easiest to cook seafood out there? Here are some tasty, delicious recipes for scallops.
How to thaw scallops?
The primary method is to pat dry the sea scallops with a paper towel and then remove the unwanted muscles, which might taste unpleasant if not removed at the beginning of the process.
Thaw the scallops by leaving them in cold water for about 10- 20 minutes or thaw them in a bowl overnight.
To thaw out frozen scallops on your kitchen bench, spread them out on a baking sheet lined with paper towels and let them sit for 15 minutes before cooking.
Before searing, make sure to thoroughly pat them dry with a couple more sheets of paper towel to remove all the liquid. As scallops cook, they release too much water and simmer in your pan rather than searing.
Are you looking out for an easy and delicious recipe made of scallops? Here are a few of the best made of scallops and bay scallops.
Recipes for scallops (5 easy to make ones)
1. Recipes for scallops: A classic sea scallops recipe
I strongly recommend these deliciously comforting and rich scallops for a romantic dinner tonight, especially with a date. Toss these delicious creamy scallops along with pasta for a fantastic recipe outcome.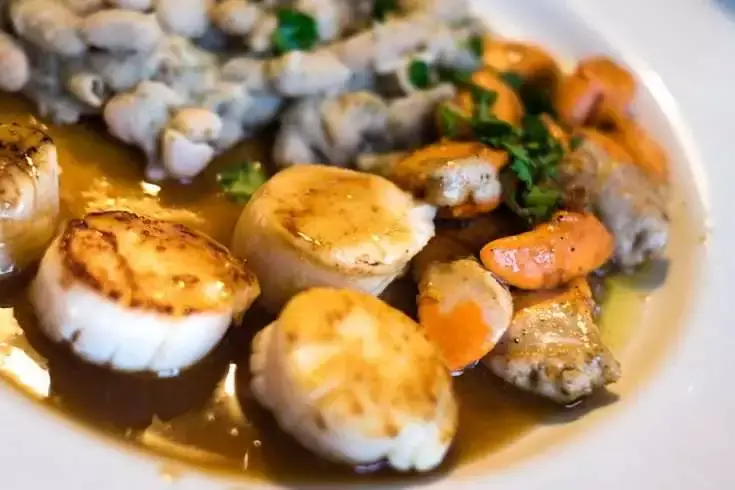 Ingredients:
1 lb sea scallops (dry)
sea salt or coarse kosher salt
fresh cracked black pepper
2 tbsp canola oil
2 tablespoons unsalted butter
3 fresh garlic cloves
3 tbsp chicken broth
1 cup heavy whipping cream
3/4 cup fresh grated Parmesan cheese
salt to taste
1/2 lb angel hair pasta or any other pasta of your choice
Preparation
The preparation and cooking time would be 20 minutes, and the total servings amount to 2 people.
Begin by cooking the pasta and set it aside after straining. Cook the scallops simultaneously while cooking the pasta.
Clean off the sea-fresh scallops with cold water and dry with a paper towel.
If there are any side muscles in any of your scallops, remember to remove them to avoid an unpleasant taste.
Preheat a large skillet pan over medium-high heat.
Heat olive oil, and after a minute, add the seasoned scallops with salt and pepper. Cook scallops by placing them in the large skillet with equal distance for authentic seared scallops.
Please do not turn the seared scallops until they are ready to be flipped.
A seared scallop takes about 2 minutes to be cooked thoroughly. Cook evenly on both sides.
After taking it out, the seared scallops make the sauce in the same skillet.
Melt butter in medium-high heat.
Add pressed garlic and pour in the chicken broth. Now slowly mix the broth while adding whipping cream to it. Also, add grated parmesan cheese and add salt accordingly.
Gently stir the sauce until it comes to a boil. Now add seared scallops as the sauce thickens.
Now, serve to pour the saucy scallops over the angel hair pasta.
This exquisite, easy and delicious seared scallops recipe deserves a chef's kiss!
Nutrition
Calories 209| Fat 10g | Carbs 6g | Fiber 0g | Sugar 0g | Protein 23g
2. Seared scallops with garlic butter sauce recipe
Scallops taste the best when seared until golden brown consistency and served with garlic butter sauce. This easy to cook soft and tender sea scallops melts in the mouth in each bite, just like cotton candy.
The prep time for this dish is comparatively less and can be made in an emergency.
Ingredients:
1 1/4Sea scallop or frozen scallops
1 tablespoon olive oil
salt and pepper to taste
3 tablespoons unsalted butter
1 teaspoon minced garlic
2 teaspoons lemon juice
2 teaspoon chopped fresh herbs
lemon wedges
Preparation
The preparation and cooking time would be 10 to 15 minutes, and the total servings amount to 4.
Pat the frozen scallops dry. Use flour as a fail-safe on the sea scallops. Now add scallops in a bowl.
Season the dry scallops with salt and pepper and place them over a cast-iron skillet. Season the other side of the scallops while one side is being cooked.
The pan-seared scallops must give a beautiful golden brown color. If not, then place the skillet over medium-high heat.
Add the creamy garlic butter sauce and toss some herbs on the seared scallops. Now swirl the cast iron skillet so that the scallops are drenched in butter.
If this is your first time cooking scallops, this easy and delicious recipe made with butter is the best choice.
Nutrition
This buttery scallop recipe's nutrition calories is : Serving Size 1/4 of the recipe (3 scallops) / Calories 267 / Total Fat 12.6g / Saturated Fat 3.7g / Cholesterol 69.5mg / Sodium 1236.8mg / Carbohydrate 9.6g / Dietary Fiber 0.2g / Total Sugars 0.2g / Protein 29.6g
3. Panko- & Parmesan-Crusted Baked Scallops
This crunchy and sweet tender sea scallops is a delicious dish. Try this recipe tonight with limited staples available at home.
Ingredients:
3 tablespoons olive oil
1 pound large dry sea scallops (about 16 dry scallops)
¼ teaspoon salt
¼ teaspoon ground pepper
2 tablespoons unsalted butter, melted
2 tablespoons lemon juice
2 tablespoons chopped shallot
½ cup whole-wheat panko breadcrumbs
1 ounce Parmesan cheese, grated (about 1/4 cup)
2 tablespoons chopped fresh flat-leaf parsley
Garlic bread as needed (Optional)
Preparation
The preparation and cooking time would be 15 to 20 minutes, and the total servings amount to 4 persons or more.
Pat the scallops dry with paper towels. Arrange them in a baking dish after coating them with 1 tablespoon oil. Top the scallops with salt and pepper. Now place the prepared scallops in a preheated oven at 425 degrees F.
Add butter, lemon juice, and shallots in a bowl and whisk them accordingly. Set it aside and the prepared sauce to the large scallops.
Take the same bowl to add flavor. Now add Parmesan, parsley, panko, and 2 tablespoons of oil to mix. Then dust the sear scallops with the prepared mixture as much as needed.
Now the scallops are ready to be placed in the oven. Bake them until they are golden brown. It must take about 10 to 15 minutes as scallops are an easy recipe to cook in a short period.
Please take out the sizzling buttery scallops and serve them hot.
This scallop recipe can be best served with garlic bread alongside. This gives a luscious and rich serving worth 5 stars. For a fancy restaurant vibe, pair the Panko- Parmesan- crusted baked scallops with a glass of wine.
To spice up your date night, go preferably with white wine. Nothing can ever beat this classic combo of luxury and richness. It is nothing but a mouth-watering ecstasy.
Nutrition
281 calories| protein 17g| carbohydrates 13g| dietary fiber 1g| sugars 1g| fat 18g| saturated fat 6g| calcium 57mg| potassium 282mg| sodium 407mg.
4. Lemon Juice and Garlic Butter Scallops
This is my favorite dish out there! Looking for some buttery scallop taste? This one's for you!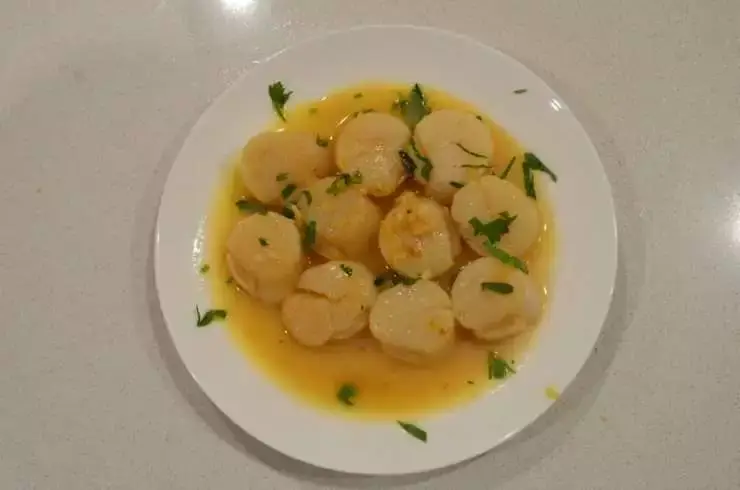 Ingredients:
2 Tablespoons olive oil
1 1/4 pounds2 Tablespoons olive oil
1 1/4 pounds scallops(600 grams)
3 tablespoons unsalted butter
4-5 large fresh garlic cloves (minced)
Salt pepper to taste
1/4 cup dry white wine or broth
2 tablespoons lemon juice
1/4 cup  parsley (chopped)
Preparations:
Please take out the frozen scallops and remove their side muscle—Pat dry with paper towels.
Heat olive oil in a large pan or skillet over medium-high heat until hot and sizzling. Place the scallops in the same pan with equal distance. If there are excess scallops, work in as many batches as needed.
Season with salt and pepper to taste. Fry the dry scallops for 2-3 minutes on one side until it forms a golden crust underneath, then flip and fry again for 2 minutes until crisp, lightly browned, and cooked through. Remove from skillet, transfer to a plate, and use a tissue to remove excess oil.
Add melted butter to the same pan for an authentic taste. Scrape up any leftover brown bits from the scallops.
Now, add in the garlic and cook until it leaves an aroma.
Pour in wine or broth and bring to boil for about 2 minutes until the wine is reduced to half the initial quantity.
Add butter and a few drops of lemon juice, and using a spatula, stir it.
Remove the skillet from the stove.
Add the scallops back into the pan to warm through slightly and garnish with herbs like parsley and oregano if needed.
The lemon juice and garlic butter scallops taste their best when served with white rice, angel hair pasta, fettucini pasta, mashed potatoes, garlic bread, or steamed vegetables like cauliflower, broccoli, zucchini noodles.
Nutrition
Calories: 254kcal | Carbohydrates: 6g | Protein: 17g | Fat: 16g | Saturated Fat: 6g | Cholesterol: 56mg | Sodium: 460mg | Potassium: 334mg | Vitamin A: 580IU | Vitamin C: 8.8mg | Calcium: 22mg | Iron: 0.8mg
5. Creamy Tuscan Scallops
Ingredients:
28 oz  scallops (800 g)
2 tablespoons salted butter
4 cloves garlic, must be finely diced
1 small yellow onion, diced
1/2 cup white wine (if needed)
150 g jarred sun-dried tomato strips in oil, drained
1 3/4 cups heavy cream
Salt and pepper,
3 cups baby spinach leaves, washed
1/2 cup fresh grated Parmesan cheese
2 teaspoons dried Italian herbs
1 tablespoon fresh parsley, finely chopped
Preparations
At first, thoroughly pat dry the sea scallops with a paper towel so that no wet scallops remain. This results in the making of perfect pan-seared scallops.
Heat olive oil in a large pan or skillet over medium-high heat until the oil turns hot and ready to sizzle the scallops. Add scallops in the pan individually without overcrowding the pan. Place them one by one.
Season the scallops with salt and pepper according to your taste. Fry the scallops for about 2-3 minutes flipping each side respectively until both the sides turn golden brown. Allow the scallops to cook, do not rush the process.
Next, melt butter in the skillet or pan. Now add onions and sauté until the onions turn soft and translucent. This process might take less than 4 to 5 minutes.
Add in the fresh garlic and sauté until it releases aroma.
Scrap the remaining bits from the bottom of the pan and pour in the white wine (if needed), and allow it to reduce to half the initial quantity.
Add the sun-dried tomatoes and cook for about 1-2 minutes to release their flavors. And then reduce heat to low-medium heat.
Add the heavy cream (or half and half heavy cream) and stir it accordingly to become thick and creamy—season with salt and pepper to your taste.
As the sauce thickens, add in parmesan cheese and allow it to melt. Now drizzle green spinach leaves and allow them to wilt with the cheesy sauce.
Add the cooked and seared scallops along with a few drops of lime juice into the pan. Mix through slightly before serving.
This is one of the great recipes made of scallops. It is best complimented with pasta, rice, zucchini noodles, cauliflower mash, Mashed potatoes, cauliflower, rice, or steamed vegetables such as broccoli or cabbage.
If you prefer to eat Creamy Tuscan scallops with pasta, keep the following in mind: add in pasta cooked al dente or any other pasta of that kind. Reserve the pasta water, add it to the pan, and cook shrimp or scallops.
Then mix the sauce along with this until it's combined. Serve it hot to experience and witness the exotic taste of Creamy Tuscan Scallops. The best wine to be paired for this specific scallop recipe is a light chardonnay or Pinot Gris.
A bite of this super delicious scallop and a sip of this expensive wine is the best blend for a romantic evening. For a sweeter wine, consider Riesling or a Sparkling Moscato.
NUTRITION
Calories: 516kcal | Carbohydrates: 36g | Protein: 38g | Fat: 24g | Saturated Fat: 14g
So, that's it, easy simple recipes for scallops. Make it whenever you feel like.