1. House built upside down
A house constructed upside down with everyday household items and furniture in Szymbark, Poland attracts thousands of tourists every year. The "Upside Down House" evokes a peculiar feeling – entry is through a roof window and visitors walk around on the ceilings.  Built in just 114 days, the house is furnished in the style of socialist realism designed by Polish philanthropist and businessman Daniel Czapiewski. Moreover, the world's longest plank can also be found here (it is 36.83 m long, weighs 1.1 tonnes and is registered in the Guinness Book of Records).
2. Museum of bad art
The Museum of Bad Art (MOBA) is the world's only museum dedicated to the collection, preservation, exhibition and celebration of bad art in all its forms. It was founded in 1994 and is located in Dedham, Massachusetts with an idea to display the worst pieces of art possessing a unique quality that sets them apart from others.
While every other museum in the world is dedicated to the best of art, this is the only one having a mission to bring art which is as bad as possible!
3. The Henn-na Hotel
The Henn-na Hotel (which translates as "Strange Hotel") is the world's first hotel staffed almost entirely by robots is and is located near Nagasaki, Japan (where else?).  As well as aiming to provide a pleasant and comfortable stay for guests, the hotel has been designed to be cost-effective, environmentally-friendly and fun. Robots are not only deployed at the reception but are also present for carrying luggage, cleaning and maintaining hotel premises.
So if you wish to receive the warm hospitality of a robot t, this is the perfect place for you!
4. High Roller
If you are someone who loves having adventures, then this sky-bound ride is just what you are looking for! Known as the High Roller, it is located at the heart of the Las Vegas Strip and is the world's largest observation wheel with 28 transparent pods holding 40 passengers each.
You can have a thrilling experience by gazing out over the bright lights and revellers of the Las Vegas Strip through the glass-lined and temperature-controlled pods that slowly rotate you higher and higher at a breathtaking height.
5. The Glass slipper Church
Wondering what a slipper has to do with a church? Then, you need to visit the Ocean View Park in Taiwan to find out.  The Glass slipper church, a church built in the shape of a high-heeled shoe is truly a remarkable example of the marvels of modern architecture around the world.
Made out of tinted glass panels, the giant glass slipper church has been apparently built in a bid to attract women. It does not hold ceremonies, but is used as a venue and backdrop for couples' pre-wedding photographs – a popular tradition in the country.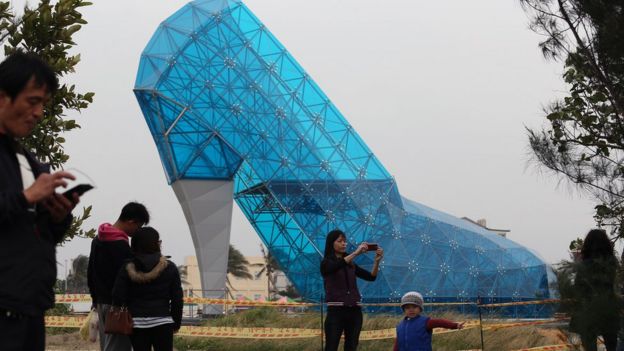 6. Office centre 1000
A curvaceous, luminous, 10-floor building designed in the form of a LTL 1,000 banknote, Office Centre 1000 is probably one of the most strikingly different office buildings in Europe.  It was constructed over a period of three years and was designed by a team of architects who succeeded in applying the image on the glass exterior of the office building by using a special enamel technique.
Popularly known as the Banknote building", this modern construction is situated in Kaunaus, Lithuania's leading centre of economic, academic, and cultural life. We can now surely say that money doesn't grow on trees, but it definitely grows on buildings!
7. Man-made waterfall
China has unveiled an astonishing man-made waterfall measuring 1,300 ft wide that is designed to help provide water during emergencies. It was created as part of a project designed to divert water from the Niulan River into Dianchi Lake, the biggest freshwater lake in Yunnan.  The waterfall is an eye pleasing sight with a park created around it for public viewing free of charge.