As an affiliate-driven website, Icy Tales earns from qualifying purchases.
Varnika Kothari, a 12-year-old girl from Pune, Maharashtra. She is a student and a multi-tasker by passion. She is a fashion and product designer, a business manager, a science fiction author, an actress, and a dancer. Varnika Kothari had a flair for science fiction stories and activities that interest and make her grow into a creative person.
Varnika Kothari has made everyone believe that when you desire to do something on your own, age is never a barrier. Only your determination, efforts, and focus on your goals are enough to succeed.
A delightful conversation with Icy Tales, Varnika Kothari, a young author.
Q.) What's a hobby that you don't currently have, but you did love to learn?
Varnika Kothari: There are no specific things as of now. But the moment I am interested in something, I start to learn about it. Things that are related to creativity interest me the most. I love to think of my own, like graphic designing. I like to learn new things, travel, and read books. Communication skills in a particular field are one of my interests too. That motivates me to give to Trinity Examination every year.
I love things that help me expand my creativity. I am an actor, and acting helps me express my emotions differently.
Q.) How do you nurture your passions as a fashion and product designer? How do you balance your studies along with this?
Varnika Kothari: There is a perception of many people that I make and follow a timetable. The fun fact is, I actually don't have a timetable. I start my day with studies. While I am studying a subject, if something else pops up in my mind, I take a break from that subject and start doing the other thing.
In a single day, I can write a book, give an exam, do graphic designing, and study. I want to do everything that I have planned; if I need to wake up at 5 am, I will wake up.
Q.) What made you want to write a book?
Varnika Kothari: There was a writers club in school, where we were learning to write poems and plays. At the end of the semester, there was a writing competition for the best writer in the class. When the competition happened, my exams were going on. My story didn't win the competition, but I didn't give up. I still have to try more. That made a fire in me, and I kept trying. But then, I got busy with studies and school.
Then the lockdown happened. I was going through all my files. I found a copy of my book. The two-year gap due to lockdown gave me a chance to explore and learn a lot. I went through the draft again, and I realized there was so much to add to that. Some chapters and topics can be added. The copy that I had written for the completion was 19 pages, and the final copy I wrote now was 56 pages.
Q.) How did you think of the name 'Claira Jackson' for your first novel? Any particular idea that came up in your mind?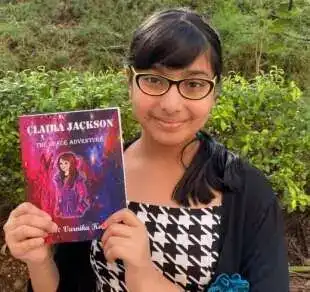 Varnika Kothari: I have loved the name Claira from a very young age. Anything related to my play stuff, my dolls, I named Claira. I was searching for a surname that matches the name Claira. Then Jackosn came into my mind, and I found a suitable and perfect surname. That's how it was given to my first book Claira Jackson: The Space Adventure. 
Q) When you write a book, do you plan or plot the story before writing it?
Varnika Kothari: This is what we have been taught in the writing class, to plan and plot the story first. But I can actually follow a plot and keep changing my idea. That is what I told Amitabh, sir. I start with a circle, and I end up making a triangle. I don't work with a plot, and the reason is that it will limit my story to a particular area. I won't be able to imagine more.
Q.) What is one of your favorite recollections from your time at KBC?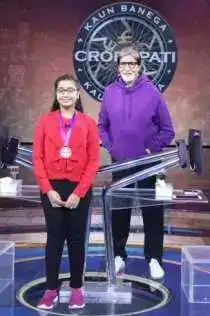 Varnika Kothari: My favorite memory of Kon Banega Karopati (KBC) was before Amitabh Bachchan came. We all were sitting there with so much enthusiasm, excitement, and nervousness. Finally, he is about to come, and the show starts. We were all very curious to know who would be the first to sit on the hot seat. All of the students there became my friends because we were there for a lot of time.
We all were discussing and talking about "Who will get a chance? Hope I get a chance now." I was actually enjoying that moment.
Q.) You published your own book. Did you face any challenges while self-publishing it?
Varnika Kothari: I didn't face any challenges when publishing my book. I thought to promote my book, but my book had self-promotion. When my book got published after three-four days, it was the second-best Amazon. People liked my story, and it got self-promoted. This was one part I was scared of but was handled.
Q.) Do you have somebody that inspires you?
Varnika Kothari: My grandfather, who lives in Canada now, inspires me a lot. At sixteen, he left his village and went to Canada. He made his career and is the first Indian to teach people how to give speeches at NASA. His indelible communication skills inspire me a lot. He overcame all the challenges and difficulties that come his way, which has inspired me.
Personally, I believe that, if you want to achieve something in your life, challenges and failures will come, you have to overcome them.
Q.) What have you learned in life that you feel will be the most useful for you in the coming years?
Varnika Kothari: One thing I have learned during lockdown is "How to manage things and time?". This will be helpful in the coming years. At the moment, I am an actor, author, dancer, coder, graphic designer, business manager. I want to do everything, and managing time will help me the most. With the help of time management, I am learning how to prioritize my work, which activity needs my least attention, Which activity I should do first.
Q.) At the age of 12, you have achieved many things. Would you like to elaborate on your achievements? 
Varnika Kothari: I got my first prize in school when I was in UKG or Preparatory. This was for the best handwriting by my standard. Since then, I have achieved prizes for ranking first in class every year. I have been awarded several prizes for scoring highest in mathematics and science. I even received three prizes in school extempore as the best speaker in my entire standard. That makes a total of 12 prizes and 2 for the best projects.
I have achieved five distinction certificates in Communication Skills from Trinity College, London, three certificates in Text-based Javascript coding from Cyborg Institute in Pune. I have two certificates from the Hindi plays I enacted on stage with a theatre group in Pune, Swatantra Theatre.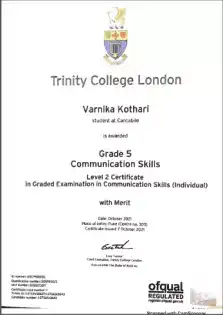 Last September, I even published my own science fiction book of nearly 7,500 words and achieved the title of the World's Youngest Science Fiction Author by the International Book of Records. I also received the best ballerina of the month title in February 2018. I will also be appearing for my German A1 exam by the end of this year.
Q.) Since we know you're working on Arogyam with your mother, how do you plan to take it ahead?  Would you like to tell us something more about your plans ahead?
Varnika Kothari: For now, I don't have any plans for Arogyam. I want to go with the flow. I'm excited to see what chances arise next and other collaborations we may work on shortly. What are the best ways to promote the product? My present goal is to reach out to as many individuals as possible. For the plans, I haven't decided yet. However, one thing is certain: anything I do in the future must always bring me joy, excitement, and inspired by what lies ahead? I can choose my career, but I want to be open to many sectors and explore all of my opportunities before settling on one.
Q.) What base do you keep while doing business planning for Arogyam? Is there any post timing that you have panned and posted on social media? 
Varnika Kothari: I manage the business with the help of the computer. The online promotions, online marketing graphic designing things related to computer. I aim to reach more people. For Aarogyam, I try to make appealing and more convincing designs. I use certain colors in the designs that a human brain can remember easily. These are the things I plan more.
Yes, there are goodies such as pancakes and red velvet. These are the products that are more likely to be famous and more eaten amongst teenagers. We research the best timings to post on the social media page of Arogyam, and then we schedule our post.
Q) If you could change anything in the world, what three things would it be and why?
Varnika Kothari: To be very honest, I am not sure of the three things, but one thing is for sure, and that is, many people have a perception that as a child, you cannot do much. But being a child, I turn to be at a disadvantage in many cases. When I started writing, I was searching for many opportunities, competitions where I could publish. But there were some barriers, and I couldn't do so many things because of that. This is the one thing that I would like to change, that children can do as much as possible.
Q) If you could grow up to be famous, what would you like to be famous for?
Varnika Kothari: I would like to be famous for various things. I want to be very famous for science, literature, acting, IT Engineering. I want to be known as a multi-tasker but not for just one thing. There should be more than one side to whoever I become.
Varnika Kothari, a girl who has big dreams, follows one motto in life, never be satisfied with what you have achieved. The sky is the limit for people, but for Varnika Kothari, she wants to achieve limitlessly. Varika Kothari is an inspiration and a role model for various young individuals.
Arogyam online store links:
Website: https://aarogyamfoods.business.site/?hl=en
You Care lifestyle:https://www.youcarelifestyle.com/categories/food-and-more
Facebook:  https://www.facebook.com/AaroGyam.food/
Youtube: https://www.youtube.com/channel/UCjrSEjhk0ERb0FE2P0btClA