Fashion comes and goes, but few hairstyles stand the test of time. A few hairstyles never get old and stay evergreen. In different variations, they endure over centuries. Hairstyles are an interesting and sometimes revealing topic. Hairstyles are very important in everyone's personality, whether males or females. Short hair, medium hair, long hair, dark hair, brown hair, and blonde hair.
There is a large variation in hairstyles in today's scenario. As there is an increase in varieties of hairstyles, then there is also an increase in the time to maintain these hairstyles. Peoples start spending more time maintaining them as it is either women or men, it's the same for both.
In this article, we will discover 25 Different Hairstyles For Men, which are all over the list of hottest hair trends.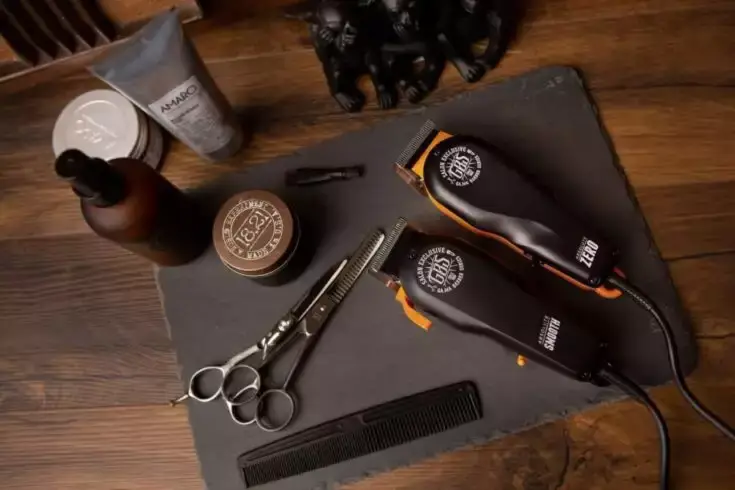 There are large varieties of hairstyles available that you can try; that is where all the men are confused. So to ease your situation, here are all the haircuts for men that you can try; if you want to go for short-length hairstyles, then you can go with the haircuts mentioned below like spikes, buzz cut, bob cut, clean shave, bald fade.
And if you are looking for long-length haircuts, then you can go for the below-mentioned haircuts like dreadlocks, faux hawk cut, shoulder length styles, curly quiff, and Caesar cut.
Different Hairstyles for Men: Short Length Haircuts For Men
Military personnel inspires this cut, and this cut's specialty is its short length with a side parting. It is a simple look and easy to wear, which helps to create a very neat and polished appearance. This is a thin hair design for those who want fuss-free hairstyles and like to be more formal.
This haircut for men is one of the best and is best suited for those who want a masculine look with no styling time. If you want to use this cut with a modern approach, you may shave your facial hair, although many people like this haircut in contrast to a heavy beard with a clean shaved head.
The best thing about curly hairstyles is that it is incredibly versatile. It can be styled in various ways depending on the length of the curls. It can also create a cool and funky look for men, and this texture can even make the most simple look amazing and sexy.
Most men tend to leave their hair messy for a more laid-back approach. This look presents your fine hair in a more charming and polished manner.
The main reason to add this haircut to this list is its shape on the hairline, parting, or temples. It is a straightforward style that benefits from adding the lineup. It works with most face shapes and can highlight your facial features like your jawline, and dimples.
Wavy hair with a Side Part
This cut is one of the most sought-after hair types and can make your hair appear fuller and thicker. You can keep it with both long hair and short hair. The best thing about this parting is that it helps to create a more professional appearance. Pairing can suit every occasion but keep some length on top to highlight your facial feature and natural waves.
This classic hairstyle has been popular since the 90s and has a grunge feel. Messy spiky hair creates a textured appearance and can be adapted to suit hair of various lengths and types.
You can also keep this cut with short and messy hair, which adds more charm to your look and which also helps to make you look more punk. Messy spiky hair also looks good with your facial hair, so if you ever want to try a beard, go for this look.
Temple Fade with Pompadour
This is one of the top classic haircuts famous since the '50s and is incredibly flattering on most face shapes. This look is defined by hair kept longer on the head and brushed backward to create volume.
Temple Fade helps to focus on fading around the temples and enhances the hairline.
The Short Fringe Hairstyle
The fantastic thing about the Fringes is that they can be added to a type of haircut. It can transform your look and make your facial features more versatile and interesting. You also don't need to worry about hairs getting into your eyes.
This style also looks great with a bearded look, so if you want to try this look with facial hair, you can go for that without any problem, as the contrast look great on any face shape.
Slick back with Sink Fade Haircuts
This cut is defined by brushed backward, away from the hairline, and secured with gel, hair wax, or similar hair styling product. It is a classic men's haircut and is popular because it creates a neat and polished appearance.
This style can also be combined with other hair cuts like taper fade, which create a slight contrast. You can use this men's haircut with high fade and mid fade style or go with bald fade.
This is one of those men's hairstyles that defines different variations in fringe. This cut is a fantastic addition to any hairstyle because it makes the hair look more attractive and interesting.
The length of hair on the top, back, and sides should all be styled in the same length. It can work with various face shapes and different hair textures. If you want to try this style with facial hair, then you can choose that option without any hassle.
This medium-length haircut is a great choice for those who want to keep their curly hairstyles short but also texturally interesting. The appeal of 360 waves covers the entire head so that they can easily define your hairline more creatively.
This hairstyle will also go with any of your facial hair styles. You can also try this cut with straight hair, but it takes longer to make them wave. To make more wavy hair, you need more texture in your hair. It also depends on the face shape and how much wave looks good with your face shape.
Short Taper Low Fade Haircuts For men
A taper fade haircut is one of the most iconic and recognizable styles. This short haircut is still in fashion because of its clean style, timeless look, and versatile and polished appearance. This hairstyle suits you best in formal and casual situations. So whether you stay at home or work in the office, this style will be a perfect choice.
If you do not want to spend much time on your hair type, this is your haircut. You can also use this hairstyle with fade, and you can also do this hairstyle with high skin fade and mid-skin fade haircuts.
A crew cut is one of those men's hairstyles in which the upright hair on top of the head needs to be relatively short, in length from the longest hair that forms a short pompadour hairstyle at the front hairline to the shortest at the back of the head so that the side hairs outline the top hair more neat and clear way.
This style looks great in contrast with your beard, so if you want a cut that suits your facial hair, you can choose this style.
Long Length Haircuts For Men
Shoulder Length Hairstyle
This cut is for those men who want to flaunt a healthy, well-kept head of long hair, and this medium-length haircut requires proper Maintenance. Paving the way for Quiffs, pompadours, and shoulder-length haircut opens up uncountable possibilities that short hairstyles can't provide.
You can do this style with medium-length hair as this haircut for men is famous for flaunting hair's natural texture. This style looks more fashionable with thick hair.
The Faux Hawk Fringe Hairstyle
Faux Hawk cut, also known as Fox hawk, has been one of the trendiest haircuts over the last few reasons. Faux Hawk haircut modified hairstyle gives you more freedom when it comes to you what to do with your sides.
To maintain the Faux Hawk style, you will require the help of a specialist. Hairstyles like the faux hawk can be a good style if you take care of your hair with proper hair styling products.
This hairstyle is perfect for you in extreme sports like skating, racing, or biking. This haircut is perfect for those who don't want to stand out from the crowd but with a little zest to their style. This style also makes you look more confident, brave, and energetic in personality.
This style is messy, so you must be habitual to get hairs on your face. This style is generally the priority of very few people, but those who choose this style and maintain it in a good manner can pull off this hairstyle well.
The next one is the most famous and signature cut for long hairstyles. This hairstyle manages to intrigue others thanks to its unique beauty. Although around for decades, this hairstyle has already gotten much attention. The only con to this haircut is that you should get habitual with constant hairs on your face.
Maintenance time also increases when you choose this type of long hairstyle, as you need to care for your hair properly. This style is one of the best men's haircuts of all time.
The Surfer's Haircuts For Men
This type of long hairstyle falls into the category of 'tousled hairstyles.' a purposefully messy hairstyle, cluttered and untidy, and this cut isn't a style that looks like the part. By hearing the name of this cut, we all get the idea of where this hairstyle originates.
For this hairstyle to maintain, you need to get your hair bleached from time to time, soaked in water, and use the correct hair styling product to maintain the charm and grace of your hair that make this classic style look more neat and polished.
The Single Length Straight Hair
Nowadays, almost every man has his hair shorter from the sides and a long texture for hair on top, so to stand out from the crowd, you must consider a single-length hairstyle. If this hairstyle is done properly, then the hair on the sides creates a very rugged and masculine look, making your appearance look more manly.
Blowout Undercut Hairstyle
These men's haircuts can go at any length on top, often styled with sides kept short and slowly tapered off around the temple region. This style can vary slightly, mainly because the fade below the forehead characterizes this cut. The main pro of this style is that you don't need to do special care and maintenance.
This cut is characterized by a long fringe parted in the middle or on the side. This style is mainly popularized in the 90s by grunge bands such as Nirvana and some Hollywood actors like Brad Pitt and Leonardo DiCaprio.
This hairstyle again gets famous in 2022 because of K-pop celebrities. This hairstyle is much more versatile and lends customization and personalization.
This style is generally for some occasions, like when you need to look polished and refined. To approach it, you need to brush all your hair back but try not to overdo it.
As a finishing touch, spritz it with hairspray or use hair wax to keep hairs in place. This hairstyle makes your personality funkier and works best in contrast with a light or heavy beard.
High Top Fade Haircuts For Men
You will easily achieve a contrasting and bold look and adjust your facial features better. This hairstyle gives you a clean-cut look; you can go with any facial look you like.
Even a full coarse beard will not be able to ruin this hairstyle. This style also goes with the many other variations if you want to try it. You can do this style with a low fade or mid fade style, and you can also choose bald fade if you want to add the modern approach and highlight the hair on top.
Medium curls with Medium Length hair
If you have natural curls in your hair, it is high time to embrace them. These styles require high maintenance. If you ever try to do this hairstyle, ensure the length of your hair should be medium length, not too short.
This will mostly go with a clean shave look, but still, you want to go for the bearded look so you can go without any hassle s there is not much problem with the bearded look, but your curl gives more grace with the clean shave face as compared to the bearded face.
The Caesar haircut is a style with long, horizontally straight-cut bangs. Caesar's haircut has been popular since the roman emperors. To give this centuries-old style a modern upgrade, incorporate a fade around the sides.
This men's haircut first comes into the trend in the 1950s among western boys. You can upgrade this cut with a modern approach by combining this cut with Fringe hairstyle, Undercut hairstyle, curly hairstyles, messy hair, and side-parted hair.
This cut allows you to use it with many other different hairstyles and facial hairs for men.
Conclusion
So these are all the top 25 currently trending haircuts for men that you can try to give a boost to your personality. All these little things contribute to making our personality more charming and also help to boost confidence.
Things like your clothes, hairstyle, personality, and face, all matter and have different levels of importance in your life. Especially in today's world, everyone needs to maintain their personality, whether men or women.
In past times these hairstyles or clothing were all just non-valuable things that didn't matter much to anyone, but in today's scenario, things are changed and now these have greater value than any other things. To be a part of society, you must follow these trends and maintain yourself according to these trends.
Everyone wants to be good-looking or charming, but these hairstyles are just a part of your body that does not define you; what defines you is your inner beauty.
These haircuts are also important, so when anyone needs to know what style they should use to make their personality good, you can choose from these styles mentioned above to make your personality more fashionable and charming so you can flaunt it a little bit.