As an affiliate-driven website, Icy Tales earns from qualifying purchases.
One of the most popular cereals in America is the honey nut cheerios. Although it is very tasty, this question bothers most people; are honey nut cheerios healthy?
Honey nut cheerios are known to contain vitamins, minerals, and fiber; hence the claim of being heart healthy. Let's briefly look at all you need to know about cheerios before we dive into honey nut cheerios and their healthy facts.
1. What are Cheerios?
Cheerios were produced by General Mills and became available in 1941. This oat-based cereal was made by grinding oats and refining them into a donut shape. It is made available in 19 different flavors and is also sold outside of the United States.
In 1976, one of the popular flavors known as the Cinnamon Nut Cheerios was introduced. Then in 1979, the Honey Nut Cheerios came into existence.
Listed below are the 19 different cheerios flavors in the United States;
Multi-Grain Cheerios
Honey Vanilla Cheerios
Cheerios Oat Crunch Cinnamon
Pumpkin Spice Cheerios
Original Cheerios
Frosted Cheerios
Chocolate Peanut Butter Cheerios
Strawberry Banana Cheerios
Cheerios Oat Crunch Almond
Honey Nut Cheerios
Very Berry Cheerios
Apple Cinnamon Cheerios
Maple Cheerios
Blueberry Cheerios
Cinnamon Cheerios
Cheerios Oat Crunch with Oats
Honey Nut Cheerios Medley Crunch
It might interest you to know that the most popular and best-selling of these flavors is the Honey Nut Cheerios flavor.
2. About Honey Nut Cheerios
The contents of the honey nut cheerios are what make up its nutritional value. It contains, sugar, oats, salt, minerals, and vitamins. These nutrients were added during the processing for maximum health benefits.
Here are some contents of honey nut cheerios;
2.1. Brown Sugar Syrup
This is one sweetening agent added to the cereal to add color as combined with honey. Brown sugar syrup also adds another level of sweetness to the cereal.
2.2. Cornstarch
Cornstarch is added to the Honey Nut Cheerios for a variety of reasons. It could be added to make the cereal thick when combined with milk.
It can also help to retain the moisture and crunchiness of the cereal. Cornstarch is also known to help preserve the other ingredients contained in the cereal.
2.3. Whole Grain Oats
You might be wondering what gives the Honey Nut Cheerios the brownish-white color you see. Well, manufacturers make use of whole-grain oats during processing.
The fact that whole grain oats are used in the processing means that the oats are natural and provide a lower GI level. This also helps to reduce sugar spikes.
2.4. Honey
Honey is one of the key ingredients of the Honey Nut Cheerios cereal. However, the sweet taste of the cereal is more likely gotten from sugar than honey.
2.5. Salt
The salt content of Honey Nut Cheerios is because of its texture and its saltiness. You should know that when a cereal has no salt to tweak its sweetness, it becomes boring and interesting.
The salt content makes the consumers want more because of its unique flavor.
2.6. Sugar
This is the major ingredient in the Honey Nut Cheerios cereal. The type of sugar used is assumed to be white sugar because it is an excellent source of energy when used in moderation.
2.7. Canola Oil
Oils are added to cereals to help improve the taste of the cereal or to enhance its physical appearance.
Canola oil is used in Honey Nut Cheerios cereal because it has a low content of saturated fat of about 7%
2.8. Tripotassium Phosphate
This is a cleaning agent that is added to most cereals. The cleaning agent is usually added in small quantities.
Tripotassium phosphate is added to Honey Nut Cheerios during manufacturing to help balance the acidity of the cereal.
2.9. Sodium Ascorbate
Sodium Ascorbate was added to the Honey Nut Cheerios cereal to help protect it with Vitamin C. This helps to retain the vitamin present in the cereal. For the body to absorb it into the system, it breaks it down to form Vitamin C.
2.10. Calcium Carbonate
This is added to the cereal to help add more Calcium to the cereal that aids in the regeneration and growth of the bones and teeth. This is also important in regulating muscle contractions and heartbeat.
3. Are Honey Nut Cheerios Healthy?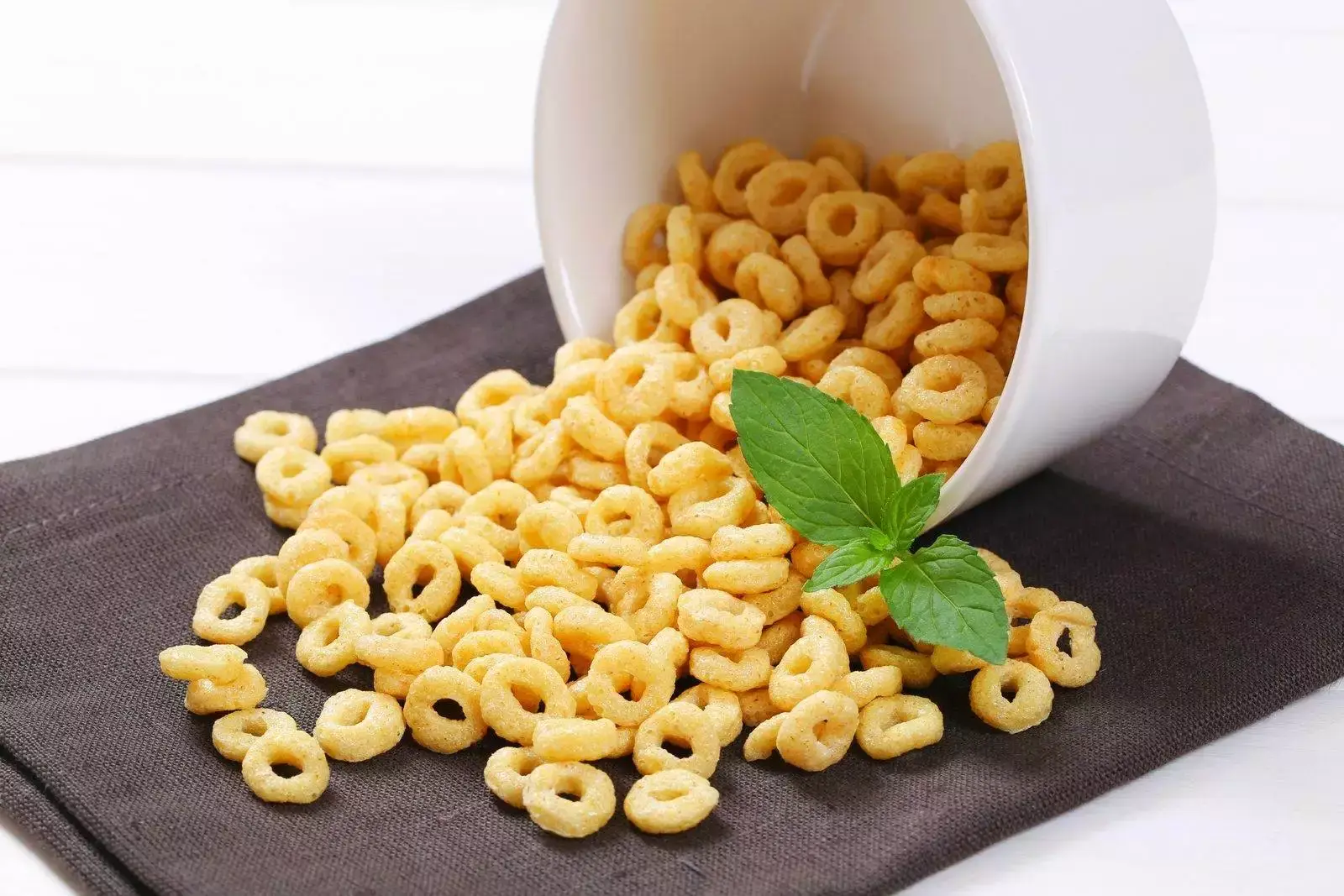 The variety of minerals and vitamins contained in Honey Nut Cheerios cereal makes it healthy. For instance, whole grain oats help to protect the heart from diseases and also help to lower blood cholesterol.
Honey Nut Cheerios does not contain trans and has soluble fiber. Here are some of the nutritional facts about the cereal:
3.1. No Trans Fat
Trans fat is known to be one of the causes of heart attack and also increases the risk of type 2 diabetes. Honey Nut Cheerios has no trans fat.
The United States Food and Drug Administration enforced that there shouldn't be any form of trans fat in processed food because of its harm to the human body.
In recent times, trans fat has been removed from non-processed food by manufacturers to make it healthier.
3.2. Fiber
Since Honey Nut Cheerios contain whole-grain oats, this makes the cereal a good source of fiber. There are, however, two types of fiber; insoluble and soluble fiber.
The soluble and insoluble type of fiber is contained in oats. The soluble fiber helps to lipoproteins in the blood which leads to reduced cholesterol levels in the blood. This helps blood to flow freely in the heart because the blood vessels are not narrowed up.
3.3. Zinc
This is a very essential mineral to the body's immune system. It helps to assist the immune system and also in the metabolism process.
3.4. Vitamins and Minerals
You should know that the Honey Nut Cheerios has a variety of vitamins and minerals in it.
Some of these nutrients are from the oats while some are added during the processing of the cereal. Here are some nutrients and its percentages;
20% of Zinc
4% of Potassium
10% of Calcium
10% of Vitamin D
8% of Magnesium
20% of Iron
20% of Vitamin B12
10% of Vitamin A
8% of phosphorus
20% of Vitamin B6
Low Calories
The low-calorie content in Honey Nut Cheerios makes it a healthy cereal. A serving bowl of this cereal contains about 140 calories.
This is lower than the required daily calories for the body. You can enjoy eating cheerios cereal with milk or fruits.
3.5. Vitamin A
The Vitamin A content in the cereal helps in the formation and maintenance of the bones and teeth. It can also help to improve skin health.
3.6. Iron
Iron is a very important mineral to the human body. It has to produce blood and also creates myoglobin. Myoglobin helps in delivering oxygen to the muscles.
3.7. Vitamin B12
Vitamin B12 is very important to the body as it helps to maintain nerve cells and regulate blood. This also helps in the formation of DNA.
3.8. Potassium
The absence of potassium in your diet can lead to muscle cramps. Honey Nut Cheerios cereal contains potassium which helps in muscle contraction.
3.9. Vitamin D
The presence of vitamin D in your diet helps the body to absorb phosphorus and calcium. These minerals help to maintain bone and teeth health and also lower the risk of inflammation.
4. Downsides of Honey Nut Cheerios
In as much as the cereal has health benefits, it also has some downsides. The fact that it has high sugar content and low protein makes it unhealthy in some ways.
Here are some of the reasons for its downsides;
4.1. Low Protein
The fact that Honey Nut Cheerios has low protein content is an issue. You should know that an adult's diet requires about 0.36 grams of protein to stay healthy.
For those who take the cereal in the morning, ensure to eat food with higher protein content during the day.
4.2. High Sugar Content
The high sugar content in Honey Nut Cheerios cereal is unhealthy for the body. A bowl of cereal contains about 12 grams of sugar.
This literally means that if you take two bowls of cereal, you have already taken in half of your daily dose of sugar. The cereals contain three types of sugar hence, their high sugar content.
You should know the intake of excess sugar can lead to type 2 diabetes, heart disease, and even weight gain.
4.3. High Carbohydrate
The high carbohydrate content in the cereal makes it unhealthy. Although it has low calories, the high carbohydrate content can lead to fast digestion which leads to a sugar spike.
This is also a reason why the cereal has a high GI count which makes induces hunger and may lead to weight gain.
4.4. Increased GI Number
Glycemic Index (GI) is known to be the system of numbers that shows how quickly food turns into sugar. Food is termed healthy if it has a low GI number.
This is so because it will take a while for the food to digest thereby slowly releasing sugar into the blood system. When there is high GI in a food, it makes the stomach bigger.
Honey Nut Cheerios has a GI number of 74 making it easy to feel hungry after a few minutes of taking this cereal.
5. Alternative Cereals
It is interesting to note that there are other alternative cereals to Honey Nut Cheerios. The alternatives have more healthy nutrients and a reduced GI number.
Some of the alternatives include the following;
5.1. Plain Cheerios
Instead of taking the Honey Nut Cheerios because of their high sugar content, you can go for the regular Cheerios.
It is not as sweet as the honey nut but can serve the same purpose if you're a huge fan of Cheerios.
5.2. Rolled Oats
This is a very natural type of oats. It contains more fiber and protein than the Honey Nut Cheerios cereal.
Its low GI number will make you feel full after eating hence, there's a slim chance to gain weight if you want to stick to this cereal. You should mix with warm water and add milk, raisins, berries, or any other sweetening nutrient.
5.3. Whole Grain Nuggets
Healthier cereals like whole grain nuggets and Barbara Shredded Wheat are a good substitute for Honey Nut Cheerios.
They have high protein content and fiber than the Honey Nut Cheerios. This makes them healthier and good for you.
6. Final Thoughts
Honey Nut Cheerios is a processed food with high content of sugar that has both healthy and unhealthy benefits. However, you should eat honey nut cheerios in moderation so you'll not be at the risk of its downside.
We hope we've been able to answer the question; are Honey Nut Cheerios healthy? Kindly share this information and leave a comment below. Best regards!
7. Frequently Asked Questions
These are some of the frequently asked questions about Honey Nut Cheerios
7.1. Are Honey Nut Cheerios Healthy for Weight Loss?
No. Honey Nut Cheerios will not help you lose weight. Instead, ensure to exercise regularly and drink plenty of water.
7.2. Is Honey Nut Cheerios Healthy for Diabetics Patients?
No, Honey Nut Cheerios are not healthy for diabetic patients because of their high sugar content.
7.3. Are Honey Nut Cheerios Good for Your Heart?
Yes, honey nut cheerios are good for heart health as they contain whole grain that helps to lower cholesterol.
7.4. Are Honey Nut Cheerios Gluten Free?
Yes, they contain no gluten ingredients.