Google's 11-year-old service is getting replaced??
The company has not announced any such news and nor it would, but there's something new cooking up at Google.
This week, Google introduced an invitation-only service of Inbox. It is yet another attempt by the company to mediate our dumb email pipe, i.e. Gmail. Earlier attempts to replace this "dumb pipe" were Google Wave and Google+, and both failed miserably.
Although there were tabs that separated important from not-so-important emails, namely "Primary," "Social," and "Promotions," it was not a very efficient form of mediation as hundreds of spam messages were still there, just their positions were shaken up.
A Beta release of Google Inbox has been made available for some of its users. It started several months ago, notifying a small number of users. The responses were so positive that now the migration of users from Gmail to Inbox has expanded to a larger number.
Google Inbox does not require starting over with a new account.
This pop-up message appears when the Inbox user logs in.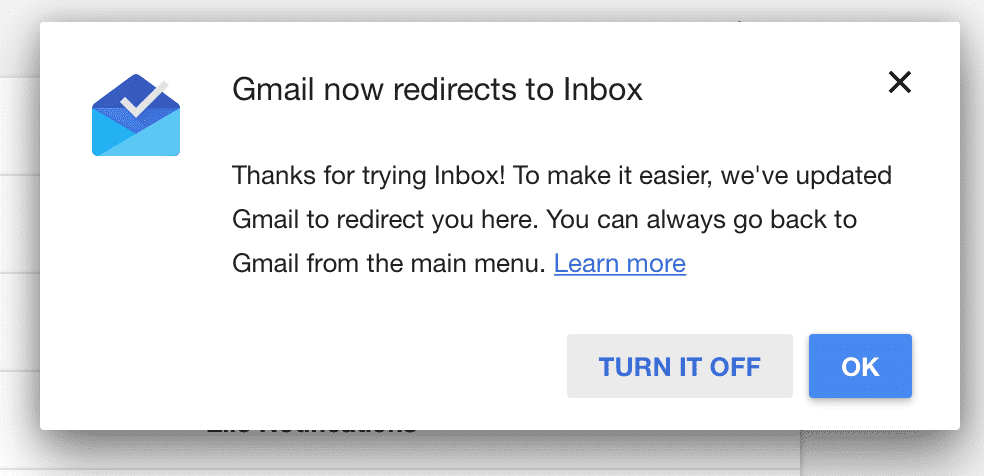 This means that the standalone inbox.google.com address disappears, and Inbox instead resides in Gmail, providing an alternative interface.
Inbox has some exciting new features.
Color-coded :
Instead of grouping the emails in various tabs, Inbox groups the messages together with labels and colour-coded messages according to the category.
Content-based searching:
Another feature includes the generation of search results based on the content of the user's messages, and this additional info is added to our in-box. So in shorter words, Google Now cards are now available directly in our inboxes.
Snoozing:
Just like a "snooze" button on an alarm clock that comes in handy for some extra 5-10 minutes sleep before the alarm buzzes again similarly, Google Inbox also has a snoozing option that makes the messages go away and come back at some specified time in future.
Identifies the links:
Inbox recognizes a link from addresses, phone numbers, items and additional information that might be sent in that particular mail. Then it makes those links live so you can take quick action on them.
Prevents emails from getting buried under 'Mail-Tsunami':
We can "pin" our emails so that they stick around, and we can find them quickly.
Inbox brings intelligence to our "in-box."
Automated features including smart recognition of images, tickets, reminders and more. It just gets better.
Negative spin
It also has some drawbacks. It takes control away from the user and makes the emails unpredictable, unclear and non-linear.
The good news is any user who doesn't want Inbox to replace Gmail has the option to "Turn it Off." They can do so by making changes in the "Settings" or to make things easier, and there is a "Go-back" icon on the homepage itself to go back to the dedicated domain.
There are rumours that Inbox and Gmail won't continue to survive separately. After 14 months of the testing phase, Google is planning to replace Gmail with Inbox completely.
These rumours may have some truth in them as Google doesn't create major services to let them get wasted away. If we go a few years back, the same thing had happened with the much-loved Google Reader when it was shut down in 2013. 
Hopefully, Google does not go wrong with this move; it can't afford to.