Bharat and its history is a vast topic. And in today's time, there is a big gap between the youth and stories from Bharatiya history. The Eternal Epics (Instagram) is precisely bridging that gap.
Started by two friends, Soumya and Madhura, who met in college, The Eternal Epics is on a mission to bring ancient stories to the modern world in a cute, light-hearted, and easy-to-read manner. With the illustrations and the put stories, The Eternal Epics is definitely worth your time.
Today on Icy Tales, we feature the two people behind The Eternal Epics, Soumya and Madhura.
Q) Talking about your page, "The Eternal Epics" is a beautiful idea. How did it come into being?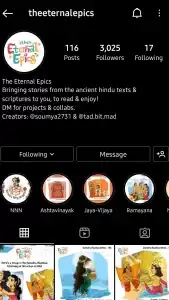 Soumya – It's an amusing start. To give a little background on how we met. We've been friends for some 8 yrs now. We were together in college, during graduation. So we have known each other since then.
Ancient Indian culture and its stories are something that both of us have always been interested in. Whenever we used to meet, we used to talk about "Do you know about this story?",  "Achha yeh wali kahani suni hai?" (have you heard of this story?). That was something we always used to talk about. We loved sharing such stuff.
But at the same time, you have your lives to go on. We both were doing different jobs. I was a designer in the advertising field because I'm in art, and she (Madhura) is a marketing person, so she's been doing marketing for the past seven years. After 7 years of working in advertising, I wanted a change. I thought I should take a step back and rethink what I wanted to do.
When I took that break, I thought, why not try and get my hands on character designing. So I used to, just for fun's sake, create characters. And since we both have always been fond of mythology, Hindu stories, and Hindu scriptures, I thought of starting with a character named "Narada" and seeing if I could build a story on it. I texted Madhura and all my friends (we are a group of 11-12 people).
(Madhura takes over) – So she (Soumya) had just left her job, and she said that she wanted to try her hand at character designing, and then on a common WhatsApp group of our friends, she messaged one day. This was last year during the 2nd lockdown. She said that this is what I'm doing. Can someone help me with captions for Instagram? I was sitting at home, it was work-from-home for me thanks to the lockdown, so I said, "Ha, I'll do it." (Yes, I'll do it).
I was like, and we'll do something interesting on that side-by-side. It began as captions for Instagram posts, but then as we realized that this has so much more potential, we thought – Why are we just doing illustrations? We should try to incorporate the stories with that too. That is how The Eternal Epics took off.
We soon started reading stories and went into their depths. It was then that we realized that our culture was vibrant. Even if you take those stories and put them in your day-to-day lives, there are always learnings. Be it a King Rama, or an Arjuna from Mahabharata, the way they took ahead their lives is something that can always teach us. It's not that they (the stories, scriptures) are forcing us to do it, but they've shown us the path, and we have to take the call.
Q) Since childhood, were both of you into Bhartiya culture and its stories, or was there some point wherein your mind turned towards this?
Soumya –  For me, it's been from my childhood. Being from an Iyer family, it's ingrained in our family. I'm used to my grandmother telling me stories, and I take those stories ahead with me. And that is also how we (Me and Madhura) grew together later on. We were interested in sharing such stories. So I can say that it's from my childhood.
Madhura – For me, it wasn't very opposite to hers. But I'm someone who loves to read, so I've always liked to read about different kinds of stories, and this was one source which I found was never-ending. It always intrigued me the different things that are available and the different types of stories that are there. So it was reading on my own which got me here and then of course when we became friends, we used to discuss all this. She used to tell me about different stories that she'd heard from her taati (grandmother), or I used to say to her about stories that I read in books. That's also how we developed our friendship.
Q) Since the inception of The Eternal Epics, any big, unexpected challenge you faced or are expecting?
Madhura – The main thing is that this is a sensitive topic. If we create some content and put it, people would take offense. Religion in India, as you know, is a touchy topic, so we have to be a bit careful. An example is using the word "Lord." Lord is a very English term, and it doesn't go well with our cultural audience, for whom the apt word is "Bhagwaan." So we take these things in as learnings.
We've had people coming and telling us that "Yeh iss scripture me nahi hai" (This is not present in the scripture), "Yeh uss purana me nahi hai" (This isn't present in the purana), which we respectfully agree with because every story has different versions of it.
So that was a kind of challenge because we were not used to being told that "Yeh galat hai" (This is wrong) (laughs). So that is something we've faced, and we're learning. This field is so vast and extensive that one can't say that this is the only version or the only story. One main thing that has come out of The Eternal Epics is that we have got to know so much more.
Q) How did your friends react when they got to know about The Eternal Epics? It's not always that people, especially youth, are interested in Bhartiya history.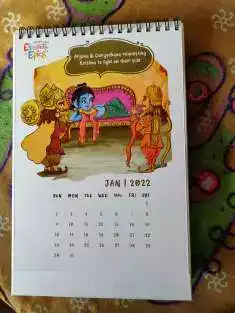 The Eternal Epics – It went down very well with our friends. They've been encouraging right from the beginning about it. That's mainly because we have a lot of Bharatiya culture spread in our group. Marathis hai, Gujarati hai, sab hai bhar bhar ke (We have Marathis, Gujaratis, everyone in ample number) (laughs).
And among them were people like us, who have heard and have been interested in ancient stories, and some people weren't aware. So these people look forward to our posts. We've even had feedback like "itna jaldi jaldi daal rahe ho, padhne ka time toh do" (You're posting so often, at least give us time to read). So we are delighted that people are reading and are interested and that is the biggest thing for us.
Another motivation for us was the positive comments from the youth, which were encouraging. It's always pleasant to see the youth interested in their nation's history. 
Q) If you had to give one piece of advice to someone trying to make a mark in the field of art, what would it be?
Soumya – At least from the 5-6 months since the beginning of The Eternal Epics, one thing I've learned in the field of art is that you need to be unique. You can't have something done by somebody else. Even if it is the same story that we're sharing, pictorially, it's different. That is something we've learned together.
Madhura – On social media, you have to break through the clutter. You have to stand out among the many things that everybody is doing. We've observed that many people do gods' illustrations, but what we bring to the table are stories that are not readily available, and more importantly, in an easy-to-read format.
Soumya – Also, it's in a cute cartoon version, and the text is not very heavy to read. This way, we can put forth ancient stories simpler for others to see and read.
Q) Today's youth isn't much inclined towards our nation's culture, history, and stories. Many even discard it as a "myth" and are fascinated by the "western" and so-called "modern" culture. What is your message for them??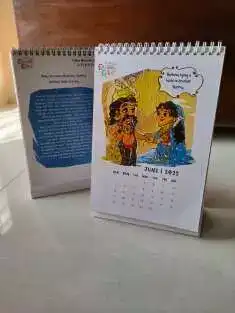 The Eternal Epics –Today's youth should be shown examples of all we have. Why do we need to look outside for inspiration when we have a Takshashila, Panini, and numerous others? These were people known all across the globe for their knowledge and expertise. You'll find every kind of content you want if you try. A little bit of effort will get you any cultural texts you want. It's just that you will have to take that step.
The Eternal Epics is trying to help people out by sharing miniature versions of those stories in a way that is easy for one to consume.
If one can look up to Marvel Cinematic Universe (not targeting the M.C.U) and the Avengers as superheroes and laud them, these (characters of our history) are also, in a way, our superheroes, the only difference being they existed in real life. So the youth needs to at least start acknowledging them.
Giving a shot at content related to our history poses no harm. I want people to try such stuff, and maybe it strikes a chord.
After starting The Eternal Epics, we've learned that there is a significant lack of awareness among people. People know stories from other cultures, like Noah's ark; for example, there was a movie on it, people have watched it and know the story. Very few people know about a very similar story of Manu and his boat, which is about the Matsya Avatar of Lord Vishnu. The latter is from our very own land, but people don't know about it. So lack of awareness is a big problem for the youth accepting and learning about our history.
Q) What are the future plans of The Eternal Epics?
The Eternal Epics – We do have a lot of future plans. We're planning to do more books and more merchandise. We recently came up with a desk calendar. It's a 24-page-calendar with 12 stories. It had one story per month, with an illustration related to the story, along with that month's calendar. We also are bringing our book real soon. It's called "Dashavatara." So we have a lot lined up.
Soumya and Madhura, behind the face of The Eternal Epics, have taken a unique approach to connect ancient stories and today's youth. We wish them all the best for their future endeavors and hope that more and more people get to know about Bharat's ancient stories.