Movies are a source of entertainment and they also give intended or unintended social messages through which people are influenced to do certain things. The effect of movies on society is manifested by the cultural changes it brings in the form of music, dialogue, and costumes of protagonists and the underlying message it contains.
'How to be a Latin lover ' is a very saucy movie accompanied by family drama and is unable to bring any positive change in society. It tries to tickle our bones, it attempts to make us have some heartily laughs, where it by and large fails by indulging in repetition and clichés.
1. Plot of 'How to Be a Latin Lover'
The movie starts when young Maximo and his sister Sara see their father dying because of an accident. Both of them now have a tumultuous life ahead, while Maximo wants to become rich without doing any work, Sara wants to become an architect to construct a home for the family. Their dreams diverged and so did their future lives. The movie moves ten years ahead where we watch Maximo using his youthful charms of a Latin lover to seduce rich older women. His mission of seducing rich older women becomes successful and he spent his next 25 years of life with comfort, without any labor.
25 years ahead, the star of 'Instructions not included' Eugenio Derbez who portrays the character of old Maximo is suddenly dumped by the wealthy old woman Peggy who makes a younger car salesman her new partner. Eugenio Derbez is left embittered and penniless, with nothing left. He has already become a middle-aged man and his youth has vanished. He contacts his companion Rick the gigolo, portrayed by Rob Lowe, and asks for shelter and help in getting another widowed billionaire.
Rob Lowe tries to help him get shelter but the attempt eventually fails and he is forced to seek help ultimately from his estranged sister Sara, portrayed by Salma Hayek.
Her estranged sister is repulsed by him first as he had never attended the family functions and left them to their situation. He doesn't even know about the death of her husband and whether her offspring Hugo is a son or daughter. Salma Hayek still shelters him and instructs him to get a job. While trying to get a job, he falls into debt to two local fellows. He is given employment at a frozen yogurt shop by Cindy, a single woman who likes to live with dozen of cats.
Meanwhile, he identified his next target who is incidentally his nephew Hugo's crush's grandmother. The name of Hugo's crush is Arden and her grandmother is Celeste Birch, played by Raquel Welch. Maximo's nephew Hugo has a huge crush on Arden but he is shy to talk to her. This comes as an opportunity for Maximo who starts helping him to learn how to move and walk with swag, and how to talk with a girl and he shares his tricks with him. He wins the trust of Hugo in this way. Her sister is also more receptive to him.
He also gets an opportunity to attend the birthday party of Adren to try and win over her target and become a gigolo again. Would he be able to succeed at his plan and secure again a comfortable life? On the other end, his estranged sister is trying to become a successful architect, and trying to reignite her romantic life with her neighbor James. Would her dreams succeed? These are the different questions or narratives around which the movie is framed.
2. Cast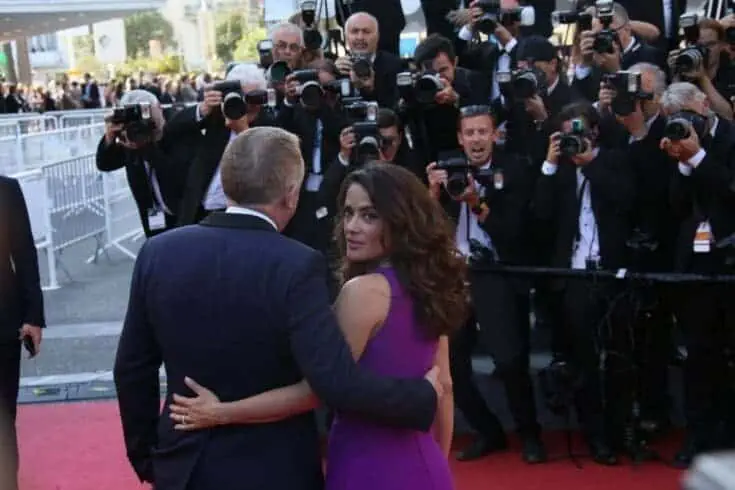 The Mexican actor Eugenio Derbez played the lead role in the movie of Maximo.
Salma Hayek has been cast as his sister in the role of Sara and she has also played the role of Hugo's mother.
The character of Hugo has been played in the film by Raphael Alejandro.
The role of his crush Arden has been beautifully depicted in the film by Mckenna Grace.
Arden's grandmother Celeste Birch who's much of the highlight of the movie for Maximo and wants to seduce her has been portrayed in the film by Raquel Welch.
The competition to win her involves also Maximo's friend Rick the gigolo, portrayed by Rob Lowe.
Also, the character of Cindy who gives employment and shelter to Maximo is played by Kristen Bell.
3. General Facts about the Movie
The direction of the movie was done by Ken Marino who tried to make this movie in a comedy genre with a few sexual references here and there accompanied by a family drama theme. This digestive mixture is unsuited for the taste of the normal audience. Nevertheless, it was a bold experiment at mixing family themes with adult themes.
The trailer of the movie was released on 21st December 2016 and the trailer promised a humourous movie to all of us indeed. But watching the movie, one wonders why all the funny scenes in the movie were already put up in the trailer and we simply wasted our time over it. The release date of the movie in the USA was 28 April 2017 in the comedy genre. The movie got a PG-13 MPAA rating. Not very unsurprisingly, the movie opened up to mixed reviews.
Susan Wloszczyna gave this movie 1.5 stars out of 4 commenting very perceptively in the film's review that: "Ultimately, How to Be a Latin Lover doesn't know how to be a comedy—at least not a 21st-century one that can get away with dopey double entendres while promoting the importance of family ties over money. It's hard to be a sincere heart-tugger when you are sexually harassing your audience."
Joe Leydon writing a review for Variety commented that: "The combo of wink-wink naughtiness and family-friendly sentimentality makes for a wildly uneven farce in How to Be a Latin Lover, as a middle-aged male gold-digger attempts a reconciliation with his estranged sister and nephew — when he isn't busy looking for his next sugar mama, that is."
The IMDb rating of the movie is a little more generous than professional critics. The movie has got a 6 IMDb rating currently and over 16000 people have participated in this endeavor of giving their rating. The runtime duration of the movie is 1 hour and 55 minutes.
The movie was made on the budget of 10-13 million and it earned around 62 million worldwide.
4. The Message of the Movie
We must attempt to find out what things modern society can learn from this movie. We may very easily discard the very premise that there could be anything to be learned from this movie or for that matter any movie at all. But as movies in popular culture have shown their influence on the lives of the people, we must attempt to figure what is the significance of this movie.
The loss of family values has been very aptly captured in the movie. Maximo is after the pursuit of living a luxurious life, withering away the precious relationship he has with his sister. His disdainful behavior towards his sister is replicated in the decadent cultural landscape of modern society. However, when he has lost all his privileges and is left helpless, he remembers his sister and returns home.
The strange and inexplicable attitude to be able to return to some place to find comfort, to find someone where one feels loved and cared for, and to find 'home' in this world is very central to the way humans think. Humans naturally yearn for approval and for affection in their lives which are riddled with incidents that strike them with a growing sense of insecurity and isolation.
All conscious manifestations of the mental life point towards our natural disposition for the want of 'home' wherein we surround ourselves with people we love, people we consider our family. This is the way we fortify ourselves against insecurity and isolation.
This eternal truth of finding a home, finding family, and placing them over and above everything else, most importantly above our material needs is reflected in the movie in a comic way that could be considered worthy of our admiration. However, we must not forget about the misgivings of the movie, because the movie still promotes materialism as a way of living.
The protagonist Maximo runs behind rich wealthy women to secure their attention and marry them to live a comfortable life. The 'gold-digger' mindset of the protagonist doesn't seem to change even until the last scene wherein he has trapped another old woman to live his lavish life. The only apparent change we see is that he uses her money for his sister struggling as an architect.
The subtle promotion of materialistic culture in a disguised manner ruins the valuable message movie wants to convey. We as an audience might feel inexpressible anguish over this paradox of upholding family values and materialism at once. The story writers should have done a solid reflection on the conflicting values they were promoting via the movie. Nevertheless, the movie makes for a one-time watch if you want to spend two hours having some giggles.
I am a second year student of history from Delhi University. I am interested in politics, philosophy and literature apart from history.