As an affiliate-driven website, Icy Tales earns from qualifying purchases.
Here's your guide on how to increase serotonin naturally….
What is Serotonin?
Serotonin is a chemical messenger that helps the brain and nervous system communicate. It plays a huge role in the digestive system and sleep cycle, stabilizing mood and feelings of happiness and well-being.
Serotonin impacts almost every part of your body, from emotions to physical activity, and it is considered a natural mood stabilizer.
It can define your mood from happy, calm, focused, and anxious to emotionally stable and regulates your emotions depending on their levels.
Serotonin's biological function is too complex and multifaced as it modulates mood, cognition, reward, learning, memory, and other psychological processes.
Serotonin is also known as the "feel-good hormone," as it is responsible for releasing a chemical messenger that urges you to act more joyously and feel good about the stuff that you are doing.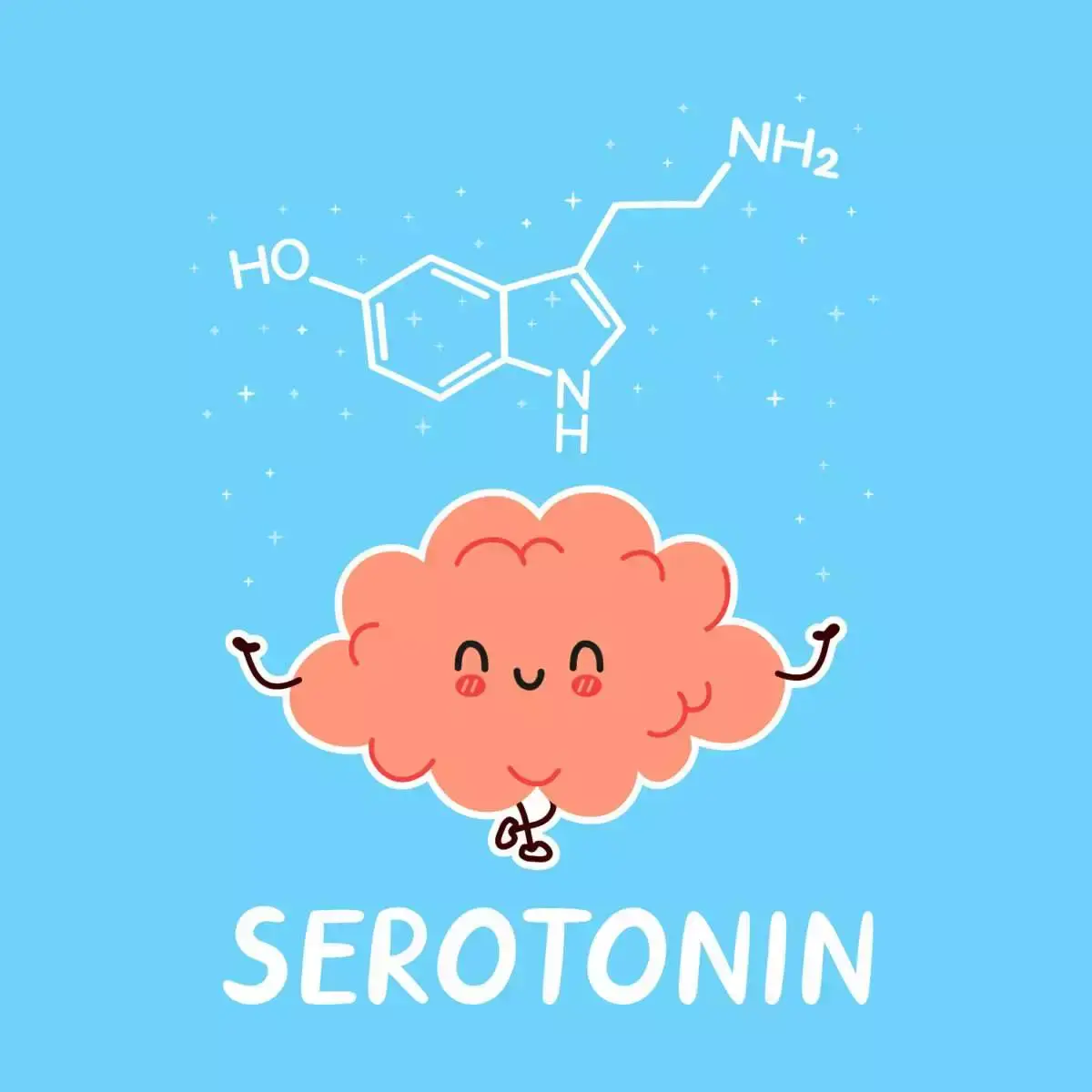 A human body requires serotonin levels, but too much serotonin or too little serotonin may lead to health problems. For example, a person can suffer from depressive symptoms with too few serotonin levels. However, too many serotonin levels can cause a rare condition called serotonin syndrome.
There can be a lot of methods by which you may boost serotonin, but following natural ways, like light therapy, good food, taking in essential amino acids, understanding your mental health, and vigorous physical exercise may help to increase serotonin in a better way than using artificial or chemically induced intakes.
Low serotonin may cause serious problems like mental health issues, depressive symptoms, and panic attacks and push you towards antidepressants that may cause long-term harm to your body and make it dependent on antidepressants and supplements.
Functions of Serotonin
The brain produces serotonin, and the body uses an essential amino acid called tryptophan hydroxylase to create it. It plays a huge role in the central nervous system, composed of the brain and spinal cord.
Serotonin is responsible for mood regulation; balanced levels of serotonin can reduce symptoms of depression and anxiety and can increase feelings of joy and happiness.
It plays a major role in other aspects of health, including:
Sleep:

Serotonin levels stimulate parts of the human brain that controls sleep-wake behaviour.

Bowel Movement:

Serotonin also affects how well the bowel functions and controls bowel movements. The body's most serotonin levels can be found in the digestive system.

Blood Clotting:

Blood platelets use serotonin to help the body heal wounds, encouraging the formation of blood clots and narrowing some tiny arteries.

Nausea:

Eating foods that your stomach doesn't agree with will push your body to make more serotonin, and the increase in serotonin levels can trigger nausea.

Bone Health:

Osteoporosis is a situation that occurs when a body has high levels of serotonin and makes bones weak or brittle. This indicates that bone health may depend on the right serotonin levels.

Sex Drive:

Too many serotonin levels can cause a decrease in your libido. You may have higher than usual libido if you have too few serotonin levels.

Hormonal birth control

The methylation process converts serotonin to melatonin in the gut; hence, serotonin levels are low, making women deficient in melatonin. This is when the hormonal birth control case occurs.
Therefore, too much or too few serotonin levels can cause problems with these functions.
How to increase serotonin naturally
1. Food
Like many essential amino acids, tryptophan, an amino acid that's converted to serotonin in your brain, can be a source of food to increase serotonin levels in your body. Tryptophan is found primarily in high-protein foods, including salmon and turkey.
Though it is not as simple as eating tryptophan-rich foods, a protective sheath around your brain called the blood-brain barrier controls what goes in and out of the brain.
Tryptophan-rich foods are usually higher in other amino acids. The other amino acids are more likely than tryptophan to cross the blood-brain barrier.
But research suggests that eating carbs and tryptophan-rich foods may help the tryptophan make it into your brain and influence serotonin levels.
2. Exercise and Meditation
Strengthening or aerobic exercise and serotonin have a long connection, indicating that serotonin levels can be increased through balanced physical health.
Serotonin circulating exercises affect serotonin levels naturally, and increased serotonin levels can help combat mental health conditions like depressive symptoms and anxiety disorders.
It is medically reviewed that mild to moderate physical activity can reduce symptoms of depression, though the blood levels of serotonin aren't as significant as the ones who exercise regularly.
Exercise plays a huge role in mental health conditions; plenty of evidence points to physical activity as a mood booster. To boost serotonin levels, one needs to be involved in physical exercise.
People who perform aerobic exercise regularly have improved mood, stay active, regulated blood pressure, fewer mood disorders, proper brain functioning, positive emotions and moderate serotonin production.
Meditating can help relieve stress and is an optimal option when you are not feeling like exercising. It will help you keep your mind clear and focused and promote a positive outlook on life, which can be a great source to boost serotonin levels in your body.
3. Vitamin D regulates Serotonin levels.
There are vitamins and supplements known to affect serotonin receptors. Vitamin d modulates normal levels of serotonin as serotonin levels are important for proper brain functioning.
Preventing vitamin d deficiency may help protect from serotonin deficits linked to psychiatric disorders, like hyperactivity and bipolar disorder.
Fish oil rich in omega-3 fatty acids supplements potentially improves brain serotonin levels.
Vitamin B-6, also known as Pyridoxine, is very important as a precursor of tryptophan and serotonin and can also affect behaviour and mood. Magnesium can affect a number of processes within the human brain. Magnesium has many relaxing effects.
4. Bright light
Serotonin levels are usually low in winter, also known as seasonal depression, and higher in summer and fall. It can be a seasonal affective disorder, but mostly, it depends from person to person.
Spending some time in sunlight helps increase serotonin levels as it tends to improve mood, and bright light can regulate low serotonin levels; it'll cure the depressed mood through light therapy, which is very beneficial.
Light therapy can be super beneficial for both your mind and body, as it provides a space to breathe fresher and process what you have been missing, is the bad mood because of seasonal affective disorder, or do you have to look more into it and talk to professionals?
It is medically reviewed that spending 10-15 minutes in bright light will help your body to produce serotonin, physical exercise outdoors in the sunlight will improve mood, and bright light exposure will most probably cure the early symptoms of depression, increasing serotonin altogether.
5. Mood Induction
Thinking about a good memory or something that makes you feel good in general can help increase serotonin in your brain, which can automatically promote improved mood and helps you to be more cheerful.
You may try visualizing a moment that you felt most alive and wish that you could live it again.
You may also try thinking about positive emotions that make you feel like a human and be better for yourself by being productive and being more involved in your family.
Looking at the photos of your loved ones, your favourite place or a pet you love can generally lighten your mood and make you feel good about yourself, which can also increase serotonin in your body.
You can turn on the radio and listen to music or get into some positive podcasts that'll help you figure out what you were looking for or give you a new base to search further.
6. Supplements
A few dietary supplements may help to produce serotonin at a higher rate and can be one of the ways to increase serotonin.
prescribed medication
vitamins and supplements
herbal remedies
Purified tryptophan
The tryptophan supplements contain so much more tryptophan than food sources, so that's more likely to reach your brain and work more effectively on brain serotonin. Tryptophan supplementation induces a serotonin boost, raising brain serotonin and fixing the low serotonin levels. Dietary tryptophan supplements are found in omnivorous and vegetarian foods but are less effective in increasing serotonin.
Selective serotonin reuptake inhibitors SSRIs
Research suggests that Selective Serotonin Reuptake Inhibitors SSRIs are a class of antidepressants with an antidepressant effect prescribed for depression symptoms and anxiety disorders. It works by serotonin transporter binding and increasing serotonin levels within the brain; that is, it works on the brain serotonin and causes low serotonin levels that cause depressive symptoms. There are other antidepressants available that work the same, such as Monoamine oxidase inhibitors.
Probiotics
Probiotics in diet increase tryptophan in the blood, helping more of it to reach your brain; eating probiotic-rich foods, such as yogurt, fermented foods, such as kimchi or sauerkraut.
Probiotics supplements are the best way to add good live bacteria to your body, so when you get an infection, they can be caught and useful against them.
Serotonin contributes to so many health-related factors of our body, and keeping it well maintained is a very heavy task for the human body.
Dealing with plenty full of emotions daily and still maintaining a healthy balance between your body and mind is difficult for us, but understanding how important it is to carry out that balance is an important task in itself.
Most of us tend to ignore our mental health and don't take the indications seriously, which leads to clinical depression and is risky enough to cost you your life.
Maintaining a balance between the right amount of serotonin is necessary, as excessive levels of the same may cause even worse symptoms than low serotonin.
The serotonin syndrome, also known as serotonin toxicity, can be risky, from mild to severe, to the potentiality of death. It is a life-threatening condition in which a person can experience symptoms of high blood pressure and a fast heart rate, usually without fear. It proves how convenient it is for that chemical to kill, who is basically there to make you feel alive.
Eating foods which produce vitamins and are rich in tryptophan can be a great source to increase serotonin levels in the body. Still, you may also pay keen attention to the affective disorders that may follow up due to excessive increases in serotonin levels.
Carrying out a good balance of this chemical in the body is risky. It takes up a very detailed understanding of what's right to do and what's not, as it is only a matter of a few up and down in the level, and your body is bound to act accordingly.
You may feel at the edge when it is at its peak and feel like there's no one better than you. The excessive increasing serotonin will take up your heartbeat to a different level, making you feel overexcited or maybe panicky in a very petty situation.
While it'll bring you down or maybe get you to experience an abyss when you're down because of the low levels of serotonin, and you still don't quite understand what exactly is wrong with you. It'll make you have depressive episodes that want you to disconnect from the world and succumb to your own bubble of being imaginably worthless.
Serotonin levels will get you to highs and lows, no matter how hard you try to control them; healthy diets, exercises and mood inductions, and all these things will continue to work out if maintained regularly for the cause of your well-being.
Also read:
Interesting Facts About the Nervous System