As an affiliate-driven website, Icy Tales earns from qualifying purchases.
One of the most contentious issues in recent years has been whether- Is Gender a social construct! A new orthodoxy in the academic circles has enforced this idea of gender being a social construction without any connection with biology.
Gender has been radically redefined, and dozens of gender identities popped out suddenly, so much so that those who were earlier claiming Gender to be a social construct could not but chuckle in disbelief and awe.
1. What is Biological Sex and Gender Identity?
Before delving into this exciting and perplexing question of is Gender a social construct or not, let us try to define what basic terms like sex and Gender exactly mean.
There are two biological sexes: male and female. Biological sex is characterized based on gametes, mature reproductive cells. There are only two kinds of gametes: sperm produced in males and eggs produced in females. There are no other kinds of intermediate gametes that exist in humans.
Gender identity is something an individual feels in correspondence with their biological sex, either masculine or feminine. When sperm fertilizes an egg, the baby will be either male or female. This biology influences the gender identity of the child.
If we can see things through a scientific prism, we would find that gender identity is synonymous with biological sex, barring two examples: intersex individuals and the transgender community.
2. Is Gender Socially Constructed?
Those who argue Gender is a social construct define Gender as socially constructed roles, behaviors, displays, and activities considered appropriate to their respective gender norms. They argue that the societal enforced gender norms and expectations determine a person's Gender.
The gender roles for women and men are created and sustained via societal and cultural expectations in society. The construction of Gender happens, the progressive activists opine, because of the acceptable gendered behavior of males and females. A set of acceptable gendered behavior becomes rigid gender categories over time, creating all kinds of distinctions between males and females.
A section of progressive activists who support this worldview argues that gender identity is what they feel they are. It is innate and is present in an individual since birth. The biological sexual orientation doesn't matter, chromosomes, genitalia, and secondary sexual characteristics, virtually everything biological is irrelevant except the belief and feeling of any particular gender identity the individual wants.
A person's gender is determined by a person's deeply felt and inner sense of belonging to any particular gender, the progressives declare unscrupulously. They opine that the gender identity need not be just male or female, it is not binary. You can be anything you want to identify. Gender is a spectrum for them, where one can embrace any gender identity. This is another kind of social construction of gender identity.
2.1. Refusal to Believe in Gender Differences
The Progressives are fearful of acknowledging that there are gender differences between males and females. They deny the reality of biological sexual orientation. They claim that all humans are plain slates upon which you can draw anything you want.
Progressives have started to believe in the sort of reality that they have created with their beliefs and feelings, with no space for scientific facts. They have spite and contempt against science.
A group of progressives most vehemently desirous of denying the scientific facts as they exist have labeled science as transphobic and homophobic. They say "biology is bigotry" and assert that truth is transphobic. These labels and ad-hominem remarks are all they could offer in response to the scientific facts.
Like the nobleman and kings who held royal titles and showed them off by introducing themselves, today's progressives have various intersectional ideologies and pronouns to pretend to be enlightened.
Progressives have a dreadful and oddly amusing habit of overlooking the facts as they are. They have inherited this hard and corrosive contempt for facts from their ideologue Rousseau  who once wrote "Let us begin by laying the facts aside, as they do not affect the question."
The faithful progressives have still not abandoned this particular inheritance, which otherwise they dislike.
This is the reason they are unwilling to see the facts as they stand on the question- Is gender a social construct? This is the reason they are not ready to accept that there are certain gender differences between males and females.
As Debra Soh once put it: "It isn't sexist to acknowledge sex differences. What's sexist is assuming that women must be the same as men to be treated as equals."
2.2. Biological Sex Determines our Gender
Biological sex determines our gender in almost 99 percent of cases. Intersex individuals and transgender people are notable exceptions exempted from this rule. However, to assert based on exceptions that biological sex doesn't determine our gender is simply denying and refusing to see the reality.
An analogy here would help to understand this point. Most of us individuals have ten fingers. Few have more or less than that. But that has never led us to the reconceptualization of how many fingers humans possess.
Social influences and cultural norms may influence one's gender expression or suppression but they can not decide whether one would be masculine or feminine. What is considered masculine and what is considered feminine is often decided by the social context and social norms of the society? But it doesn't erase the fact that whether an individual would be masculine or feminine would be determined by biological factors alone.
To illustrate it with an example, we all know that men have a deeper pitch than women do. It has to do with the fact that men were more exposed to testosterone hormones in the womb than women. A deeper pitch is associated with masculinity, henceforth we can understand the fact that biological factors impact the gender identity of a person, not society.
3. Science Refutes the Claim That Gender is Socially Constructed
The vast number of scientific findings and plenty of highly qualified researchers have debunked the claim that gender is socially constructed.
Those who claim gender is socially constructed have arguments with no scientific evidence, they are essentially social constructionists producing artificially manufactured genders every time. If today there are some people in a society whose gender identities are animals like cats, dogs, and wolves, we must understand that there is something deeply wrong with these people.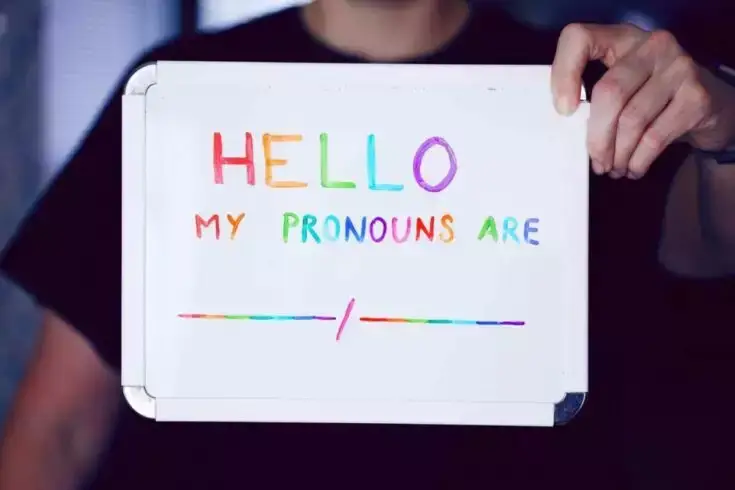 To illustrate whether or not 'is gender a social construct', let us analyze facts. Sex differences in personality of both males and females are consistent and it increases in those countries which are more gender-egalitarian.
There are two most popular methods to ascertain the personality of an individual. One is the Sixteen Personality Factor Questionnaire, labeled as 16PF. The other is Five-Factor Model (FFM) inventory. These two tests have been applied by sex researchers to determine the differences between both sexes.
There are many areas where trivial differences were found. Men were found to be more assertive, self-reliant, and solitary. Women were found to be more open to the world of imagination, lively and animated. We, of course, in society, have such gender stereotypes attributed to both men and women, don't we?
In the Five-factor model ( FFM) inventory, it was found by researchers that women have a higher prevalence of anxiety and stress in them. In the Sixteen personality factor questionnaire (16PF) it was found that women were more apprehensive, worried, and self-doubting about themselves.
Some of the substantial sex differences were corresponding to the gender stereotypes prevalent in society about both gender identities. Women were found to be more appreciative of art and beauty, they were found to be more open to inner feelings and emotions, they were more modest in playing down their achievements, and they were more likely to get affected by feelings and could become easily upset, according to FFM inventory.
In the 16PF several other stereotypes were combined into one " sensitive, aesthetic and sentimental".
Some researchers have tried to find sex differences in infants as well, which is not an easy thing to do. An interesting 2002 research showed that two days old newborn girls showed more interest in human faces while their counterpart newborn boys showed more interest in mechanical mobiles. Another research showed that on average infant girls cry more than infant boys when they hear the recording of a baby crying, a sign of primitive empathetic reaction.
Other researchers have found that on average, infant girls are more likely than boys to show a joy expression at the appearance of the mother. On average, infant girls are more likely than boys to hold eye contact with an adult human being. On average, infant girls are more likely than boys to get distressed by maternal "still face".
The fact that males and females differ from each other since their birth is a fact that is problematic to the beliefs of Progressives. They want people to have gender-neutral parenting which is just balderdash. They are trying to force gender equality by erasing all biological distinctions between males and females. Gender equality is a desirable thing but to obtain that we need not deny the facts that stare at us in our faces.
Even after all these scientific facts stare progressives in their face, they deny them, for the truth is what they don't want to believe. Not just do they consider their beliefs as non-negotiable truths, but they also enforce them on others and anyone who refuses to believe in it is silenced, threatened, disreputed, and attacked ruthlessly.
There's a very simple yet strong question for them to answer: if our feelings and beliefs don't determine what our actual age is, our height is, how can it determine our gender?
3.1. Gender Dysphoria
Gender dysphoria is a unique condition where people identify with the opposite sex rather than the sex they are born in. Often they try to transition themselves to the opposite gender identity, whether it is medically or socially. The concept of gender dysphoria says that gender is innate and in the self-nature of the individual itself.
Gender fluidity is another concept that says gender can change according to the whims of individuals. They say you can be a man in the day, a woman in the night, non-binary in the evening, and queer the rest of the time. This approach is based on the emotions and beliefs of people, it is not grounded in facts and reality.
3.2. Gender Performativity
One of the most influential academicians of our time is Judith Butler. She gave this theory of gender performativity to explain how the idea- Is gender a social construct. She goes as far as to declare even biological sexual orientation is merely a social construct that is imposed on us by society.
Gender performativity theory says that individuals doing certain gender performances normalize the genders in our society, she denies biology has anything to do with it. Gender performance is the reason, she opines, that in everyday life all of us conform to some kind of gendered behavior.
She says that there's nothing natural or fixed about our gender identity. Gender identity refers to only the identified gender or assigned gender at birth. She thinks that the traditional gender binary is an oppressive fiction.
According to her, our gendered ways of living, and our gendered behavior are just performances and that performance has nothing to do with biology. She indeed says that no one is of any gender from the start, which she concedes that it is her controversial claim, and which proves that her claim is not grounded on facts.
4. Social Constructionism
The progressives like Butler assert that concepts like gender, justice, patriotism, and cultural traditions are artificial conventions with no whatsoever connection to the objective reality, they are designed to control people. They are reinforced by social expectations. That's called social constructionism. It is a sort of psychological literature.
This view is entirely incorrect. The gender binary is a product of hundreds of millions of years of evolution. Men and women's brains develop differently in the womb, even before we come into the world and engage in social interaction of any kind. Differences in testosterone and other powerful hormones are responsible for the differences in heights and aggression in people.
These progressives deny even acknowledging that there can be any biological sex. They operate in a cultist behavior where anyone who differs from the official opinion is shunned as a heretic and attacked ruthlessly and brutally. They indulge in fashionable jargon to make even a simple point, they don't have any merit in their ideas. They deem science as a sort of nefarious conspiracy.
The ignorance and inattention to scientific facts at the behest of social justice and creating gender equality is deeply problematic, yet deeply embedded in the academic circles.
5. Combating Gender Inequality
To combat gender inequality, one need not scream that gender is socially constructed because if someone does so, it reinforces the claim that all gender identities are necessarily untrue.
Gender equality can be addressed by fighting gender inequality which means fighting against malnutrition and sexual assaults, fighting for education, and equal salaries. Fighting Gender inequality has nothing to do with denying the basic scientific facts.
Gender equality can be achieved by giving freedom to women to think for themselves and to choose careers as they want. Gender equality can be achieved by making them feel safe at home and in the workplace and in public places.
Eradication of gender inequality also entails equal laws for males and females in cases like domestic violence and sexual assaults. Eradication of gender inequality includes giving men a stress-free, protective environment and family life, statistics consistently show men are driven to suicide more than women.
The social institutions and family life which have given profound social meanings to what constitutes masculinity and femininity are rooted in biological aspects of the human body and not society. Those who assert that Gender is socially constructed are liars and manipulators. Our social identities are based on one's sexual identity. Social identities are transgressive and much more than one's gender identity.
5.1. Socially Constructed Displays
The socially constructed displays are ones where the gender identity of an individual is expressed in a certain established social convention and deeply ingrained gender norms. The status quo of society is disrupted when gender identities are expressed in a way that defies gender norms. Gender norms are certainly socially constructed however they are influenced by biology as well.
Conclusion
As a society, we need to come out of the false belief that we can create genders out of our choice and whims. Gender is a result of evolution and scientists have established these facts with no malice towards anyone. Facts cannot be sacrificed at the altar of hurting sentiments. We need to see the facts as they stand to be if we genuinely want to grow.