Art and craft are two vital essences of an artist's life. Some artists come up with a spirit to bring something new with the old concept. Creativity is the only key that makes people different from others.
Jaya Dourbi is a highly talented woman who came up with renowned Madhubani Art Work. She believes that the weapons to pull off success are hard work and perseverance.
With Uttarakhand's and Bihar's art ideas, Jaya Dourbi brings a pleasing fusion of folk arts. "My life is similar to my artwork." A woman with vision and thought to do something beyond the imagination of many people.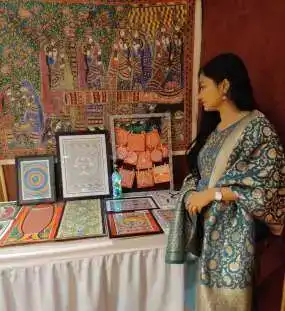 This enthusiast is a real inspiration for all the people out there.
Hard work is the only way to carry off success: Jaya Dourbi
Jaya Dourbi is an artist and journalist working hard to make a statement about herself. It's her courageous attitude that helps her to win her battles. "Hard work and dedication help in pursuing our dream."
The journalist is a fearless and spunky woman who loves to travel and initiate plans in life. "Exposure is the most beautiful thing to make people grow and develop."
Jaya Dourbi doesn't believe in compromising her choices but would like to make the best out of every little idea. Her dauntless bravery and not giving up nature brought her with pride to where she is standing today.
Managing her artwork platform and doing the media work as a journalist was not easy initially. She had to do a lot of hard work to manage and balance both platforms with completely different work ethics.
Jaya Dourbi's impetuous nature made her bring new ideas and creativities to introduce the whole world. She believes in doing things on the spur of the moment, as this is how people would come out of their comfort zone.
Everyone has a turning point in their life: Jaya Dourbi
Jaya Dourbi did not incline towards folk arts. She started Madhubani art in 2018. The Madhubani artist started her journey from doodling and then started developing an interest in artwork.
She started her painting and art career dreaming of a new version of Madhubani art and listened to her inner voice, which said that everything is possible when you aspire for it. The journalist never gave up on her thoughts, as she wanted to become what she is today.
Jaya Dourbi believed in herself; therefore, she is standing today at a place where she finds peace and happiness. Her artistic journey started with a simple painting of six fishes in Madhubani style. She drew the artwork on a regular A4 size paper, making her make more.
She got the real motivation when people started liking her artwork and gave her positive feedback about the arts. "Balancing time is vital for pursuing your dreams. It's not always possible for the person to have only a single dream. People can have many dreams together. People who love exploring things would never stop at one place. They would move ahead with many plans and goals to achieve."
Balancing and managing time comes as the 'Mantras' for everyone out there looking for opportunities, believes Jaya Dourbi. "People give up on their dreams just because they cannot give time to their goals in today's world. People need to believe in themselves, as human dreams have no boundary."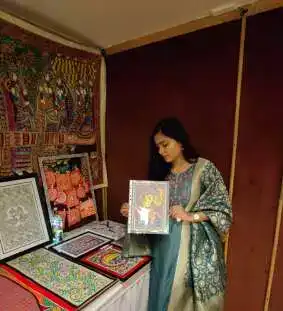 Self-realization is essential: Jaya Dourbi
Jaya Dourbi believes that everything is possible when you carry through perfectly. People have 24 hours in a whole day, and they have to find time for everything they love from those 24 hours. "If you strongly love something, then you would find the way for it."
The initial stage would be pretty strenuous for people, as they would take time to fine-tune their daily lives. Jaya Dourbi promotes two states of folk art in the modern era, which is impressive for beginners and everyone.
She is connected with Delhi, Bihar, and Uttarakhand and is taking references from the artwork of Bihar and Uttrakhand. Jaya Dourbi has completed her studies in Delhi and has received immense support and appreciation from the folk of Uttarakhand and Bihar.
Jaya Dourbi started promoting her work on social media platforms. She gets many opportunities to participate in many events related to the artwork.
Jaya Dourbi believes that real motivation comes from the support of people. "When you start receiving the support and praises of people, you are doing something commendable in life. The love someone receives for their work would motivate them for their whole life."
Jaya Dourbi trying hard to establish a Madhubani community with the help of social media platforms. This platform is becoming a way to connect all the artists who do and love Madhubani artwork. 
Jaya Dourbi believes her family and friends are the most significant support in her life. "If my family would not have supported me in pursuing my dreams, then I may not have reached this level."
Jaya Dourbi strongly believes that it's all comes down to the decisions we take. "The decisions you take would pave your way towards your goals. It's not always easy to run after something challenging to get. Never hesitate to dream big as you can always put your dreams into reality."
Jaya Dourbi not only has a great artist career but is growing as a journalist. She is doing her best on both platforms without worrying about obstacles.
She believes people can choose both negative and positive attitudes. A positive attitude would take them to the height of success. "Attitude is everything, and it's on you which attitude you would choose."
Jaya Dourbi is a successful artist known for her simplicity and talent. With the epitome of courage, intelligibility, and passion, Jaya Dourbi sets an ideal example of how it means to be a person with many dreams.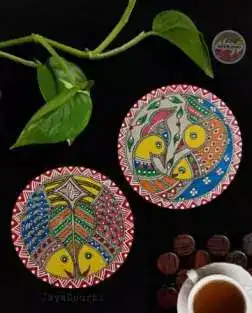 Jaya Dourbi is a woman with thoughts, which puts her ideas into reality—the one who strongly believes in brightness and would live a life full of adventure. Jaya Dourbi is a kind who is loved and admired by many people because of her ethics and morality.
The artist also runs an Instagram page where she helps promote the work of upcoming Madhubani artists so that their work is identified and noticed and they get a good platform to showcase their talents. She has the vision to share art from all over the world and encourage upcoming artists.