Phrases like "start loving yourself more" sound good to the ears when every next person is preaching it. But, when all you see online are people with flawless skin, perfect bodies, and seemingly perfect lives, it's more often than not hard to look at yourself in the mirror and be okay with who you are.
Because of this constant comparison with the people around you, you stop believing in and dislike yourself eventually. Karen Dsouza is trying to change that.
And to help you get out of this situation, Karen Dsouza has created an incredible community through social media. Through YouTube, Instagram and group sessions, Karen Dsouza is helping Gen Z regain their lost faith in themselves, one affirmation at a time.
Icy Tales is in conversation with Karen Dsouza, who will never let your sparkle die.
Q) How would you like to describe yourself and how you have grown as a person so far?
Karen Dsouza- I was timid and a complete introvert as a kid. I am still an introvert to some extent, but back then, I was an introvert completely. And I used to dislike, or I would say, hate myself because of various factors. I was not too fond of the way I looked, the way I thought, the way I didn't have many friends, and some other stuff like this.
I did have a best friend, but it was not the same. A lot has happened, but I have come to a different point in my life right now. I am so much happier, and I have accepted myself for who I am- the way I look, the way I behave, the way I think. And I am in the process of trying to accept absolutely everything that I am. The whole transition from self-hatred to just loving who I am is how I would describe my journey.
There is not a particular career or particular word that I would like to say I belong to, like a typical Gen Z meme, you know. I am a very creative person. But otherwise, I would say that I have grown a lot.
Q) You've mentioned that you're a 'light worker' in your bio. What does that imply?
Karen Dsouza- I believe myself to be someone who is helping bring positivity and happiness amongst the people around me both on social media and otherwise. Besides that, I'm also helping people with affirmations and their mindset. That is why I have used the term 'light worker' on my Instagram bio.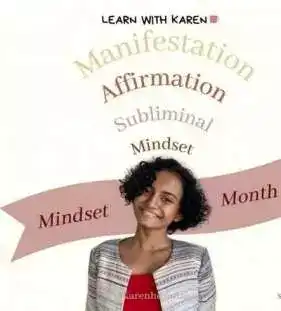 Q) You've mentioned in many of your posts that you help Gen Z accept them for who they indeed are. Why do you think this generation struggles with creating their own identity and cannot embrace themselves for who they indeed are?
Karen Dsouza- It started as me observing people in real life and social media. They would portray themselves as someone different from who they are in real life and during face to face interactions on social media. And there was also another concept of Insta and Finsta, which evolved into spam or PVT accounts.
People are someone else on their public Instagram and someone different on their spam account. So, I could not understand that disconnect. Speaking for me, I'm the same person with everyone, so that disconnect just went over my head. And also, I have seen many of my peers and myself just struggling with embracing ourselves for who we are because the people we see online are doing so many different things. Some people are already CEOs, and some are global and worldwide superstars. We see people of our age achieving so many things, and we bring in so many insecurities because of that.
I felt that our generation needs affirmations because of my interaction with people and what I have seen on social media. We need more self-talk; we need more positivity in our lives because of the comparison we have created online and offline, which social media has made even worse.
That is the main reason why I have been trying to help GenZ, and I have enjoyed working with the people from our age group. Once you realize that 'I am enough as a person, even if my peer is doing something great and achieving more than me, they are them, and I am me. She is on a different path, and I am on a different path'. Seeing people acknowledging and accepting brings immense joy to me. That is the reason why I have been targeting Gen Z.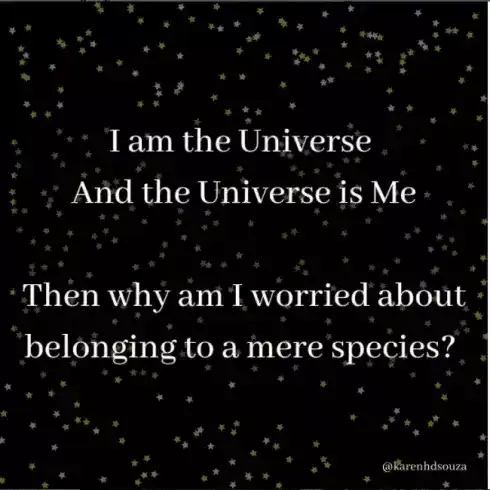 Q) You share multiple affirmations on your page to make everyone's day better. How have affirmations helped you personally?
Karen Dsouza- My self-talk used to be very different 2-3 years ago. I used to keep telling myself that I was stupid, I was not good enough, and I was useless. I used to feel like 'my friends are doing this; why am I not able to? My friends are landing internships; why am I not getting one? Am I so dumb that I cannot land an internship?' This was even with the way I would perceive myself in the mirror. I would look at myself and say, 'oh my god, my thighs are so fat' or 'oh my god, I am too short'. Something like this would constantly be in my thoughts.
And then, I realized that this was not helping me and broke me down every time. I would get in these cycles of sadness and feel low. Then, I started journaling. I had always maintained a diary, not consistently, but just writing in it whenever I felt the need to bring my emotions out on paper. Then, I started writing in 2019 and changed how I spoke to myself. The most significant start is when you start catching yourself saying negative things. Whenever I would catch myself having negative self-talk, I would say out loud that no, I'm fine and good just the way I am.
After recognizing this, you ask yourself if you can alter it, and you start changing your thought pattern when you convert it. All of this has been a game-changer for me; affirmations have helped me. 2020 changed everyone's lives; what was normal was not normal. So that is when I intentionally created Learn with Karen and started using and even sharing affirmations with people.
Q) You've demonstrated the process of 'tapping' in a lot of your reels. How does tapping certain points of your faces exactly help you feel better?
Karen Dsouza- According to tapping, there is energy flow and meridian points in your body. It talks about the upper half of your body, where there are main energy points. And when you tap on it, you can release the blocks restricting your energy from flowing.
Because of these blocks that either slow down or restrict energy flow in your body, you feel low. You feel more focused, and distracting thoughts try to disappear from your body by tapping on these points. When you tap, you also repeat affirmations- positive and ones that help you recognize what you're going through.
So, this is a very effective process and has particularly helped me whenever I felt anxious, and that helps me focus on the words of my affirmations which allows me to calm down.
Q) Social media has set an unrealistic bar of beauty standards for everyone with the emergence of face tune and Photoshop. What would you tell someone who's struggling with body image issues and are in a circle of constantly comparing themselves to people online?
Karen Dsouza- Most of us are ingrained with the thought of fatphobia, and this is where most of the body-image issues stem from. Being conscious about your body is something you should allow yourself time to unlearn.
The critical thing in this is to learn to not be hard on yourself. You first need to know how to be kind to be yourself. Because you're already being critical about your body, and then you're saying stuff like "WHY AM I BEING HARD ON MYSELF?" which is nothing but counterproductive.
Whenever you catch yourself looking in the mirror and finding faults in your body, say, "I allow myself to be who I am, and I choose to be happy with the way my body is." Only trying to say these sentences and change your thought process will make a big difference. The next time you feel like you don't look good in a particular outfit, say, "I allow myself to enjoy the feeling of wearing this outfit and to have fun". Don't take it fast or try to be like, "I love every part of my skin" in one day, but take it nice and slow.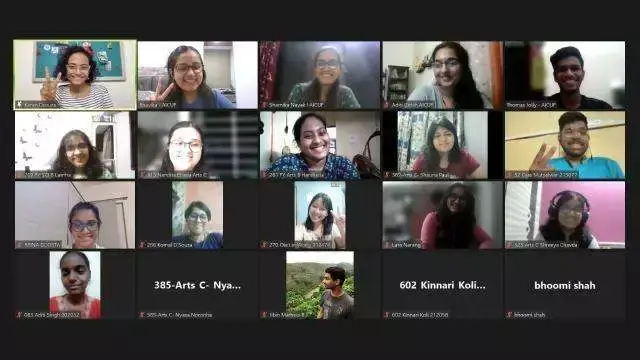 Q) You radiate immense charisma even through online posts. What is your secret to staying this happy all the time? Do affirmations have a role to play here?
Karen Dsouza- Definitely. Every time before I post, I always shut my eyes and say, "I hope this post reaches the right person" or "I hope this post teaches something to somebody". Before this interview, I jumped around and repeated affirmations, and I was naturally nervous.
Before 2020, I used to have significant anxiety before posting and used to think, what if people are like, "oh my god Karen, what rubbish are you posting?" and now through mindset work, I feel like ", I don't care what people think, I just want this post to reach the right person." So, affirmations have played a significant role here.
Q) A few similar practices like affirmations that I know of are focusing on manifesting and visualizing the things you want and a thing called subliminal messages. Do you think these three things share a common ground?

Karen Dsouza- The common ground between all of these things is that what you're looking for outside is right inside you. Manifestation talks about the law of attraction, and subliminal are audios that help you attract good things. And in the end, it is you who is doing the inner work. It is your mind and your fate that is drawing things.
The core of all this stuff realizes that you are a soul with infinite potential. All of the blocks and limiting beliefs you have in your mind are inside you. The situations around you are sometimes in your control and sometimes beyond your control. But what is actually in your control is just you.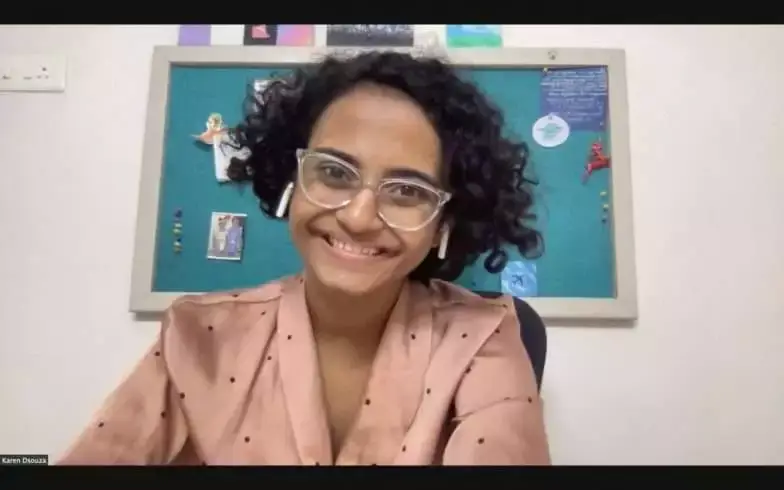 Q) Sometimes, when all things you see are just falling apart, and in times like those, it's hard to convince yourself that things will fall back into place. How can someone muster up the courage to say out loud that things will eventually get okay when everything's going bad?

Karen Dsouza- Let me share one thing with you. On the days that I am very low and sad, I don't say positive affirmations. If I'm going through a period of feeling low or a period of sadness, why would I want to deny what I'm feeling? If you are feeling sad, then recognize it. Affirmations are not toxic positivity; they're about what you think right now.
When you feel sad, your affirmation should be something like, "I am feeling sad, and I'm okay with it." And when it seems like all is gone in life, you say, "I allow myself to feel what I am feeling; that's valid". All of your emotions are valid. Even when you're feeling sad, you will naturally feel the need to feel a different emotion, outside of what you're feeling right now, after some time. And that is something natural, and you're not forcing it. In essence, affirmations are just about recognizing what you're feeling.
So the next time you need some reassurance that you are indeed doing the best you can, and you don't have to feel ashamed of who you are, head over to the Instagram page of Karen Dsouza. One thing is for sure: Karen Dsouza will brighten your day.