Here, as the topic well suggests, I will depict the journey of India's most influential sportsperson to date, i.e., MS Dhoni, through a sport that is a religion in India, cricket.
 MS Dhoni – The Inspiring Journey
His beginnings were small and humble, typical of cricketers of middle-class backgrounds. MS Dhoni moved to Kharagpur after excelling in school and cricket club in search of employment. Late Animesh Ganguly, the then divisional railway manager, other than the TTE, was also searching for a wicket-keeper and batsman.
As luck would have it, he became a TC but also an integral part of the SER (South Eastern Railways) team. Having played 19 cricket games for Bihar in the Koch Bihar trophy, he also made his name in tennis ball cricket in Kharagpur, famous for IIT and the most extended train platform.
This was largely possible because he was spotted as a goalkeeper by KR Banerjee, the cricket coach at Jawahar Vidya Mandir school in the Shiyamali suburb, who asked to try out as a wicketkeeper when he was just 12 in 1993.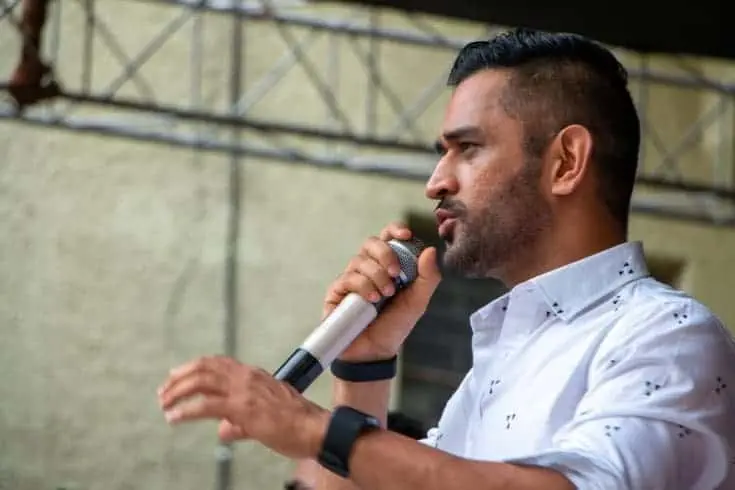 In Kharagpur, doing well with the bat and gloves, he caught the eye of Sourav Ganguly, only to refuse his offer to move to Kolkata. But as fate would have it, he was recommended to NCA before finally being selected in the team of 2004 that was touring Bangladesh.
1. The Way Towards Success 
It seems ironic now that the fastest runner between the wickets was run out for a duck in his first match. But as we say, success can only be delayed, not denied; MS Dhoni blasted the Pakistani bowling attack to all parts on his way to 148 runs (Maiden century) in just the 5th innings of his international career.
His sharpness behind the stumps and his aggressiveness with the bat showed that the long wait for a full-time wicketkeeper-batsman is now over.
Well, this was just the start of what was about to unfold. His 183* against Sri Lanka, an innings that made Sehwag look snail-like, saw many records being tumbled and announced himself on the world stage.
2. Sachin Tendulkar Was Impressed by MS Dhoni
His pro-activeness in the field had already impressed the likes of senior pros such as Tendulkar. He continued on his way to becoming the best finisher the game has ever seen. His aggression was his strength. Then came the time, after the early exit from WC 2007 and the arrival of the T20 era, Sachin proposed his name to lead a young side in SA for the WC.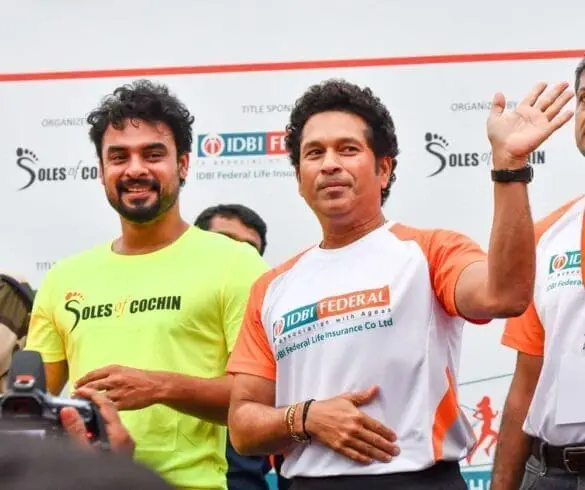 After that debacle earlier in the year, the Indian young brigade went to South Africa with almost zero expectations. It started with a win over arch-rivals Pakistan, which fueled some expectations. Then came the Yuvraj show, and not to forget MS Dhoni's captaincy, we stormed into the final and defeated the arch-rivals Pakistan yet again to lift the coveted trophy. The new era had begun, and Dhoni had risen as a hero, only to get better in the coming time.
3. MS Dhoni as ODI Cricketer
Then came the full-time ODI captaincy in 2008, and the results were immediate. India defeated Australia in their backyard to register a scintillating triangular series win. Apart from the occasional losses, all was well, and he continued to prosper as captain, with India's ODI ranking improving with the passing day. (Not to forget that epic world cup victory in 2011).
He was made the test captain after Anil Kumble's retirement. He also held the test championship after India reached its peak under his leadership in 2009 after defeating Sri Lanka. MS Dhoni thus established himself as a full-time captain who is well known for his calmness and understanding of the game.
He became ICC ODI cricketer of the year consecutively in 2008 and 2009. He still holds a superb record with the bat, with a career average of over 52 with a great strike rate in the high 80s, and let us not forget his glory behind the stumps. MS Dhoni is considered the best finisher of the game, having handed India many victories single-handedly, under immense pressure, and when the chips were down.
No doubt he is considered the best finisher, as according to stats, he has been there at the crease in 40 innings when India was chasing and has made India cross the finishing line in 38 of those; one is a tie, and only one, where we fell short.
4. MS Dhoni as Wicketkeeper
Coming to his wicket keeping. According to Adam Gilchrist, he is the current best, the Australian legend himself. He is number 5 in most dismissals in Test cricket, with a tally of 294 in 90 matches.
Dhoni also holds the record for the fastest stumping ever achieved. He has priced the greatest number of scalps in a single innings in the test for an Indian keeper, tally being 9, that in his last test.
All this has certainly not been a walk in the park. MS Dhoni has often been under scrutiny and faced criticism, primarily due to losses in tests, despite being the lone performer on many occasions with the bat. Though under him, India became the first team to whitewash Australia 4-0 in two decades. The criticism continued once India continued its string of losses when it toured Australia in late 2014.
Finally, MS Dhoni called it a day after the third test of that series, making way for young Virat Kohli to fill in his boots. He retired as the most successful test captain of the country, only to focus on shorter formats and his mission WC 2015. But yes, no one can take away his legacy, even from the tests, where he is the lone Indian captain to have ever held the Test championship memento (Given to the number 1 test team).
5. Dhoni as A Source of Inspiration                
Though after the world cup semifinal loss, he was, in all, praised for the way he lifted his team and carried them to the last 4. He is and has been a source of inspiration for many individuals, for the way he plays, for his great patriotism towards the country, which was also stated in a list by a British institute, where he was ranked ahead of the likes of Messi, and Ronaldo, bolt for the most influential sportspersons across the world. It is a matter of pride for us.
In a recently concluded charity match, Dhoni became a man of the match for his wicket-keeping and for finishing the game in favor of his side (Help for Heroes xi), thus helping in generating 300000 pounds for the noble cause, of which some percentage was given to Indian army welfare for Dhoni's contribution, who holds the prestigious post of LT. Colonel in the army, where he wants to serve after he calls it a day from cricket.
6. MS Dhoni as Captain
He knows how to handle criticism and will continue to make India proud so long as he is in the game. He is a personality worth following and learning from.
Here are some of the achievements of MS Dhoni as a captain:
World cup win – 2011
t20 world cup win- 2007
champions trophy win – 2013
won the IPL trophy consecutively in two years, along with the champions league (2 titles) for CSK
Became the first player ever to get Man of the Match for his role as a captain alongside his vital batting contribution against Pakistan in an ODI in Delhi. India won by 10 runs, mainly because of his excellent field setting and significant bowling changes.
The only Indian captain thus far held the ICC Test Championship (as the top team in 2008-09).
He is why many players have found their self-belief to justify their talents. (Rohit Sharma, R Ashwin, R Jadeja, etc.). He knows how to handle his team and come out with the best. He has glorified the game, even more, taking over the reins from Tendulkar, Ganguly, Dravid, Kumble, etc.
In the game of uncertainties, he often finds a way to make himself as good as invincible. He is the person for whom nothing is as essential for representing India. He is a real national hero.
It is rightly said, every shot of his is an answer to everyone who questions his dreams. Signing off with a statement of the legend himself:
"He is the best captain I have played under." – Sachin Tendulkar