Anime Series have always been in the fantasies of children. "Anime" is the term used for Japanese animated productions. They are entertaining to watch and attract people of all ages. Their characteristic animation like spiky hairstyles, loud action and much more make them a league apart from other animations. So here's listing down 5 anime series that you should not miss:
POKEMON
Those mighty creatures and an ever-ready Ash Ketchum with his hamster like cute Pikachu- who would not watch this series? Three bad ass "rocketeers"(read:Team Rocket) add more to the fun, always bumping into the story track from nowhere only to steal others' pokemon and consequently to get thwarted by Ash and team getting kicked high into the sky. Those cool pokedexes tempt you to have one yourself. Gym battles and the final showdown are good enough to make you feel the rush. Ash's friends change, pokemon increase in types but no matter which the series is, Ash, Pikachu and Team Rocket never change. A fun watch.
2. BEYBLADE
This series made every kid go gaga over the "Japanese Lattus"(read:which never "spin down" :D) with beasts coming out of their centers to get into a good rumble. The beyblade battles bring in adrenaline rush with those beybladders flaunting a bizarre fashion sense of their own. Spinning tops (read:hyped ordinary tops) and their masters serve you some high end "Anime Action" to keep you engaged.
3. DRAGON BALL SERIES 
The characters of this series don't give a damn to the Earth's gravity. Mind boggling action that takes place between the good aliens and the bad aliens leaves every kid and even the grown ups awe stricken. Not just this mid-air action, but these lads' "dynamic hairstyles" and "perfectly chiseled body" are also a thrill to watch. This anime franchise spanned across many series tells the story of the main protagonist Goku- his childhood, befriending his enemies Vegeta and Piccolo, Gohan- Goku's and Bulma's son …… phew, it's one hell of a collection of stories altogether. Oh! don't worry, I didn't forget. Here it is : "KAMEHAMEHA".
4. SHINCHAN
If weird anti grammar language, illogical questions and a mad kid with insane family are what you like, then, Nohara's will leave no stone unturned to tickle your funny bone. Shinchan is the happy go lucky kid who says "Welcome Back" when he comes back home, tries wooing older gals, enacts superhero "Action Kamen" and drives you crazy with his ultra non sense talks. The characteristic crooked depiction of these characters' bodies compliments the madness of this show. No story line is followed as such and so you don't need your brains for this one. Newer series feature Shinchan's younger sibling- Himawari following the formula "Like Brother Like Sister". Shinchan is so effective that some parents even started fearing that watching him would turn their child into one like him.
5. ASTRO BOY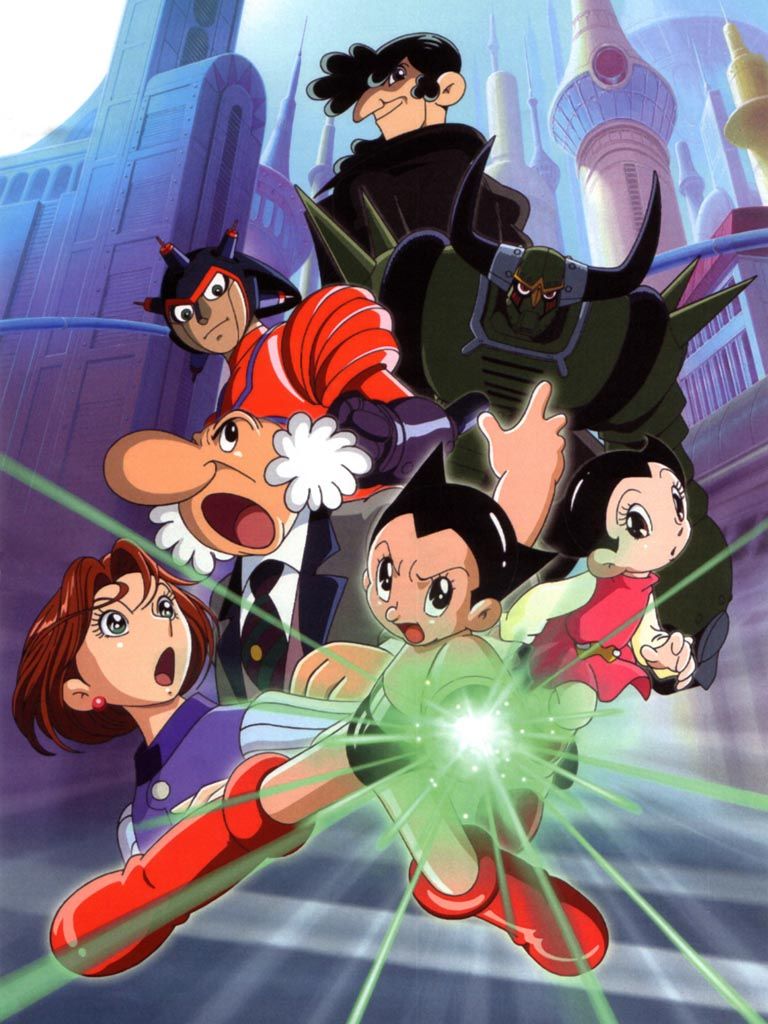 This popular series depicts the age of machines where both humans and robots, robots-some bad and some good live together. Dr. Tenma constructs Astro Boy in order to replicate his dead son Tobio. The series carries the usual theme of "Robots With Human Emotions" forwarded in an unusual way. Good robo fighting bad robo, humans befriending robos, full throttle action and much more stuff make this series a must watch for the "robo freaks". This one has also got one movie by the same name to its credit.