As we all know, Korean dramas came into our lives as an emerging trend and eventually turned into a heartthrob for millions worldwide. They have amassed huge fan following and viewers, irrespective of demographics.
What makes these special is the subtle blend of various genres, such that we do not feel the boredom that arises due to a single genre. In short, Korean dramas, specifically sci fi Korean dramas, have earned their place with international series with their unique balance of everything that the audience is looking for.
Last time, I had put forward a list of 5 romantic comedy Korean dramas, which I hope you all have enjoyed. However, we are all well aware that that list could not have ended in just five dramas. This time, we are here with the Top 7 Sci-fi Korean dramas, again handpicked after going through a lot of public opinions from fans.
This exclusive list is a collection of dramas that are close to the hearts of fans, and are assured to keep you entertained this summer!
1. Signal  
Release Date and Run time: 22nd January to 12th March 2016
Number of Episodes: 16
Signal was an underrated drama, being rejected by three big broadcasters. It finally aired in tvN and topped the ratings at the time. It is a drama that combines many different elements, and the successful storyline has brought it to this list. Signal can be classified as a sci fi Korean drama for bringing together the nail-biting effects of a thriller and a criminal investigation based on real-life crimes, all through a walkie-talkie.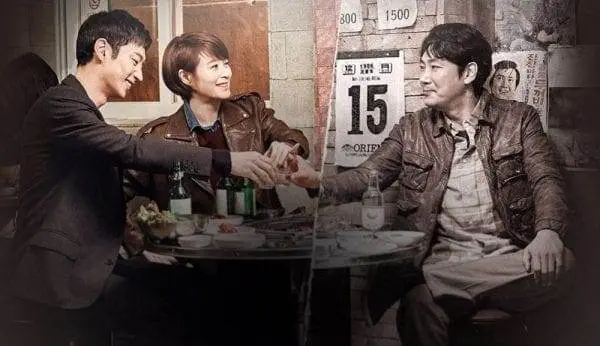 The story proceeds as a criminal profiler Park Hae-young solves cold cases in the present world with the help of Detective Lee Jae-han, who is in the past. This duo uncovers many unsolved cases in the present, while also solving and even preventing crimes in the past. Added to this mix is Detective Cha Soo-hyun, in charge of a cold case team, who is in search of her missing mentor Detective Lee Jae-han.
The series depicts the solving cases and crimes involving a serial killer that left the police baffled through a concept of time travel. These crimes are based on real-life cases that occurred in South Korea, which remain unsolved to date.
Thus, the story conveys the nerve chilling interplay of three police officers, using their mysterious gift to solve and prevent crimes from happening, while also ticking off the respective consequences. This sci-fi drama is sure to give you the chills!
Cast (as mentioned in the synopsis):
Profiler Park Hae-young : Played by Lee Jo-hoon
Detective Lee Jae-han: Played by Cho Jin-woong
Detective Cha Soo-hyun: Played by Kim Hye-soo
2. W- Two Worlds Apart
Release Date and Run time: 20th July to 14th September 2016
Number of Episodes: 16
Now, this is a drama that left me a little bit baffled at the end of every episode but also had something to hang on to, instilling a curiosity that kept me on the hook. W is a sci fi Korean drama with a supernatural twist, along with subtle romance and a never before seen concept that takes us into its world of fantasy.
The protagonist Kang Chul is a character in a webtoon named W, unbeknownst to him. He has a troubled youth, from which he recovers by acquiring wealth and becoming the CEO of an organization that promotes justice and truth.
Oh Yeon-joo is a doctor, who is seldom considered as skilled, and underrated at her job. Her father Oh Seong-moo is the creator of the webtoon W, which eventually spirals out of control. W did not stick to the storyline anymore. It began to have its own plot twists and directions. What he did not realize was that Yeon-joo could travel into the webtoon and back, saving Kang Chul's life several times in the webtoon.
The story has elements of romance, the sparks flying between Yeon-joo and Kang Chul after multiple meetings, along with elements of a science fiction thriller that defies the laws of technology that we have today. This sci fi Korean drama is a must-watch if you want to go on a nail-biting journey of twists and surprises.
For a deeper outlook into the storyline, visit Secrecy Of The Mind.
Cast (as mentioned in the synopsis):
Kang Chul, the male lead: Played by Lee Jong-suk
Oh Yeon-joo, the female lead: Played by Han Hyo-joo
Oh Seong-moo, the creator of W: Played by Kim Eui-sung
3. Nine: Nine Time Travels
Release Date and Run time: 11th March to 14th May 2013
Number of Episodes: 20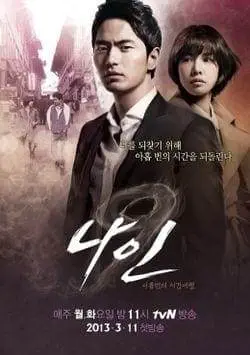 Nine: Nine times Time Travel is a sci fi Korean drama laced with a pinch of mystery and romance. It says the story of Park Sun-woo (played by Lee Jin-wook), a news anchor who comes into the possession of magical incense sticks. With these incense sticks, he can travel through time, to ensure the safety of his family by altering past events.
However, he only has a limited number of trips to determine the right place to travel back to, to avoid the problems they were facing in the present. What he does not realize is the consequences of his actions to try and alter past events and how it will affect his life in the present.
This sci fi Korean drama has everything that you are looking for, mystery, romance, and an intense time travel dilemma. Do give it a watch and pitch in your feedback in the comments section!
4. My Love From the Star
Release Date and Run time: 18th December 2013 to 27th February 2014
Number of Episodes: 21
This is a story that brings romance, fantasy, and drama into a sci fi Korean drama. It puts forward the story of an alien Doo Min-joon, an Alien who visits Earth in 1609, in the Joseon Dynasty. He misses the trip back to his planet while rescuing a girl from falling off the cliff, leaving him stranded on Earth for the next 400 years.
With his enhanced physical abilities of hearing, vision and speed, he continues life on Earth until one day, he meets Cheon Song-yi, a Hallyu actress turned neighbor. He realizes that she looks exactly like the girl he had saved 400 years ago, and couldn't help but fall in love with her all over again.
As fate has it, all these new additions to his life happen with only three months left for him to go back to his planet, once again risking his trip. But this time, he has more at stake.
This story is accompanied by many mysteries involving Song-yi with Lee Jae-kyung, the elder brother of Lee Hee-kyung. Hee-kyung is a childhood friend of Song-yi and is also in love with her. What she is unaware of is the danger that is lurking in the shadows, associated with Jae-kyung.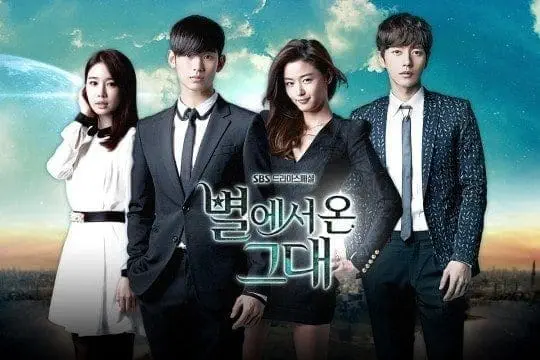 This sci fi Korean drama portrays a long lost love that is regained, only to be lost again, mystery, and difficult choices that the protagonist must make, whether to stay back for his love of 4 centuries or return to his planet.
Cast (as mentioned in the synopsis):
Doo Min-joon, our alien who gets stranded: Played by Kim Soo-hyun
Cheon Song-yi, an actress, neighbor to Doo Min-joon: Played by Jun Ji-hyun
Lee Hee-kyung, a childhood friend of Cheon Song-yi: Played by Park Hae-jin
Lee Jae-kyung, elder brother of Lee Hee-kyung: Played by Shin Sung-rok
5. Life on Mars
Release Date and Run time: 9th June to 5th August 2018
Number of Episodes: 16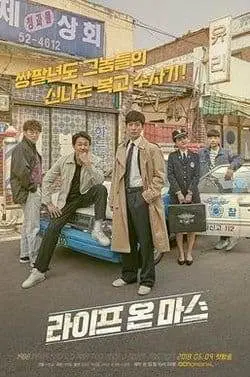 Life on Mars is a sci fi Korean drama that brings with it the thrill and mystery of a criminal investigation. The protagonist is Han Tae-joo, a forensic scientist who is also in charge of a crime investigation team. Brilliant at his job, he relies more on data and facts that on the word given by people. Things take a turn when he meets with an accident and wake up to find himself in the year 1988.
The story closely weaves together science fiction and criminal investigations, as Tae-joo (played by Jung Kyung-ho) investigates a serial killer case in 1988 in the hopes of returning to the present.
6. Memories of the Alhambra
Release Date and Run time: 1st December 2018 to  20th January 2019
Number of Episodes: 16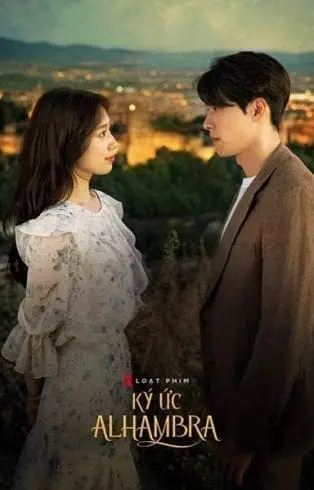 Memories of the Alhambra comes from the writer of W and Nine, both great for their supernatural twist and thrilling sequences that leave us on edge. This sci fi Korean drama is set in Spain, and just like W took us into a webtoon and Nine brought to us the vivid concept of time travel, Memories of the Alhambra takes on a journey into augmented reality (AR).
Jung Se-joo creates a highly engaging AR game that is based on medieval wars and battles in Alhambra. Yoo Jin-woo, the CEO of a company focusing on optical technologies, travels to Spain in search of the creator of the game, only to find that he is missing. It is here that he meets Jung Hee-joo, owner of a hostel and Se-joo's sister.
As the story progresses, their lives get sucked into the vortex of the game, blurring the line between reality and fiction. This sci fi Korean drama has all you need, action, romance, fantasy, and thriller all rolled into one.
Cast (as mentioned in the synopsis):
Yoo Jin-woo, the male lead: Played by Hyun Bin
Jung Hee-joo, the female lead: Played by Park Shin-hye
Jung Se-joo, creator of the game: Played by Park Chan-yeol
7. Are You Human?
Release Date and Run time: 4th June to 7th August 2018
Number of Episodes: 36
Are you Human is a sci fi Korean drama that puts forward the story of Oh Laura, a brilliant scientist and expert at intelligence studies. The story progresses as her Nam Shin is taken away from her, and she creates robots named after him and lets them grow up in his place. Things fall apart when Nam Shin slips into a coma after an attempt at his life, and Nam Shin III takes his place as the heir to a conglomerate.
This sci fi Korean drama is an excellent mixture of political mystery, romance, and science fiction.
Cast (as mentioned in the synopsis):
Nam Shin/ Nam Shin III: Played by Seo Kang-jun
Oh Laura, Nam Shin's mother: Played by Kim Sung-ryung
Choosing a mere seven dramas out of so many great sci fi Korean dramas out there wouldn't do justice to the others, so check out the BONUS dramas that are a must-watch and certainly on par with those mentioned above!
A Bonus From My Side:
Circle: Two Worlds Connected
Release Date and Run time: 22nd May to 27th June 2017
Number of Episodes: 12
Circle puts forward a unique plot that is worth mentioning in this list. It combines mystery, aliens, and a thrilling storyline giving us this sci fi Korean drama that is bound to keep us engrossed. The story follows the lives of 2 twin brothers and their father, who is a neuroscientist, who discover an alien and decide to have her as a part of the family.
This sci fi Korean drama is set in two different zones, one in 2017 and the other in 2037. When Dr. Kim Kyu-chul realizes that the alien that is living with them has the special ability to lock in people's memories and convert them into videos, he takes Byul (the alien) with him. He isolates himself to study the technology behind it.
One of the twin brothers, Kim Bum-gyun concludes that Byul has taken their father captive, whereas the other brother Kim Woo-jin, refuses to believe so. Fast forward to the year 2017, Woo-jin is a college student who meets Han Jung-yeon, another student, while investigating a series of suicide cases that they suspect to be murdered. Woo-jin is of the inkling that the cases are linked to Bum-gyun, who was frantically in pursuit of aliens, hoping to find Byul.
The drama also shows the happenings of 2037, where a detective Kim Joon-hyuk tries to solve a case of 2 brothers who went missing in 2017. In 2037, South Korea consists of two parts, Smart Earth and Normal Earth. Smart Earth is crime-free, clean, and peaceful, whereas Normal Earth has widespread criminal cases.
Joon-hyuk, a Normal Earth detective, tries to gain entrance into Smart Earth to solve the case at his hands. What he doesn't realize is a deep mystery that awaits him, the secret behind the crime-free tranquility of the Smart Earth that might come to light.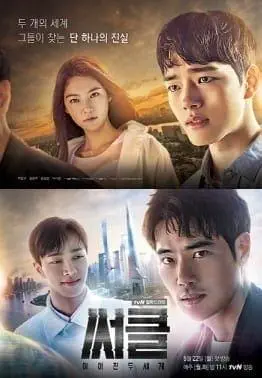 There is certainly a lot more to this mystery sci fi Korean drama than one could explain, which is a visual treat, so do give a watch!
Cast (as mentioned in the synopsis):
Kim Woo-jin, the younger of the brothers: Played by Yeo JIn-goo
Kim Bum-gyun, the elder twin: Played by Kim Kang-woo
Han Jung-yeon/ Byul, the humanoid alien: Played by Gong Seung-yeon
Dr. Kim Kyu-chul, neuroscientist and father to the twins: Played by Kim Joong-ki
These are a few selected sci-fi Korean drama series that have made it to the list after popular opinions and ratings. Here I have compiled the top sci-fi Korean dramas that are a must-watch if you love science fiction.
Korean dramas have always come up with great ideas and innovations when it comes to science fiction, and they come with great plot twists that have presented us with some entertaining sci-fi Korean dramas. Therefore, this is a must-have list if you are looking for some fun this summer!
Do give them a watch and mention your feedback in the comments section. Also, feel free to drop your favorite sci-fi Korean dramas as well if you feel that I have missed out on any!