As an affiliate-driven website, Icy Tales earns from qualifying purchases.
What foods have gluten in them?  To answer this. first of all, find out what is Gluten? Gluten is the protein in the grains that give an elastic texture to the dough, and it helps the dough to rise when baked. Gluten helps to improve the chewy texture and flavour of the dough. Cereals like wheat, barley, and rye contain gluten in large quantities. Gluten doesn't provide any important nutrients to the consumer.
Certain people can be intolerant to gluten in foods like wheat flour, and wheat starch. The gluten in the food is resistant to stomach acids and stays intact in the digestive system making it difficult to be digested.
The immune reaction to the gluten in the food items causes inflammation in the small intestine and prevents the absorption of essential materials from the diet. This causes the degradation of the health of the consumer.
 1. Diseases and Conditions Related to Gluten Intolerance
 1.1 Celiac Disease
Gluten-containing foods can sometimes interfere with the person's immune system and cause the immune system to attack the small intestine, disrupting the immune system associated with the small intestine. This is an autoimmune disorder is called Celiac disease.
Some people with celiac disease show only the symptoms of tiredness and anemia making it difficult to be diagnosed.
The other common symptoms of gluten ataxia are a tingling sensation in the extremities, trouble speaking, and when using fingers and hands. In rare conditions when left untreated, this may affect the brain, causing loss of body balance. Ataxia can be cured if treated on time.
The major symptoms of celiac disease are diarrhea, fatigue, bloating, abdominal pain, nausea, vomiting, and constipation.
The celiac patient has to start a proper gluten-free diet. People having celiac disease have a higher chance of developing osteoporosis and infertility.
 1.2 Non- Celiac Gluten Sensitivity
Gluten intolerance is another condition also known as non-celiac gluten sensitivity can also cause difficulties like stomachache and diarrhea. The non-celiac gluten-sensitive patients test negative for Celiac disease but stay intolerant to foods containing gluten.
The major symptoms of non-celiac gluten intolerance are stomachache, blotting, anemia, gas irritation in the stomach, fatigue, diarrhea, and constipation. Gluten intolerance is usually resolved if the gluten in the food is removed. People with non-celiac gluten sensitivity disease should properly see a doctor to determine the risk of their condition of gluten intolerance.
 1.3 Wheat Allergy
The wheat allergy occurs when the immune system identifies gluten as an antigen and tries to eliminate it from the body. Sometimes this occurs when inhaling flour dust. This gives breathing trouble, tightened effects of the throat, dizziness, pain in the chest, skin reactions, and diarrhea. The other symptoms also include swelling and itching of the mouth and throat, the appearance of rashes on the skin, diarrhea, cramps, nausea, and vomiting.
The food items like bran, triticale, and wheat starch cause wheat allergy to develop in people.
 2. Symptoms of Gluten Intolerance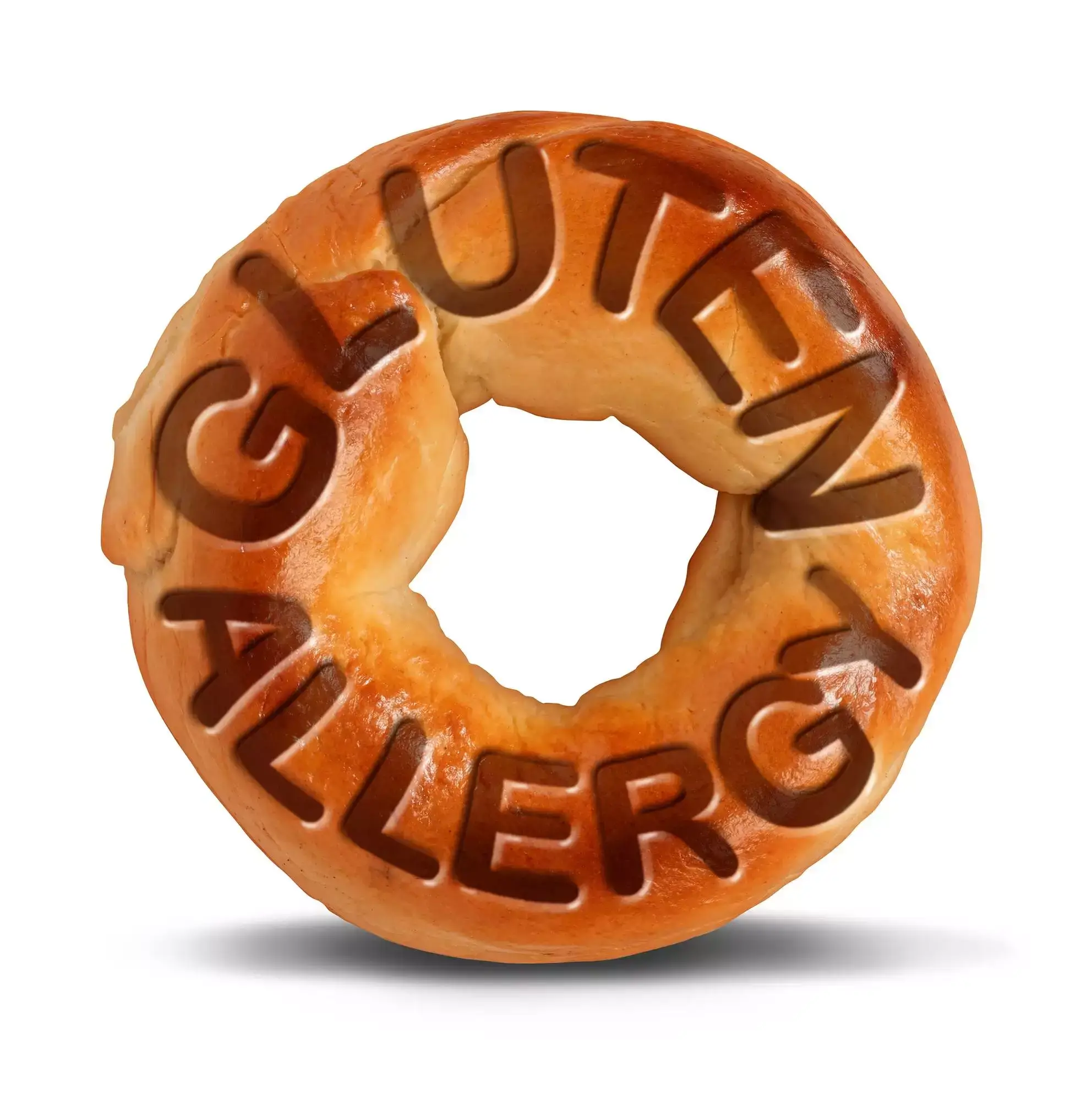 Diarrhea and constipation, bloating, abdominal pain, fatigue, nausea, headaches, joint and muscle pain, depression and anxiety, confusion, and anemia are caused due to gluten intolerance.
 2.1 Gluten Sensitivity
The non-celiac gluten sensitivity is usually a condition when certain people are intolerant to gluten-containing food, but it is not an autoimmune disorder condition.
Digestive discomfort is the major symptom and can be determined by blood tests and a biopsy of the small intestine.
If a person thinks that they have celiac disease should consult a doctor before switching to a gluten-free diet.
 3. Gluten-Free Diet
Adopting a gluten-free diet can minimize the risk of these reactions in gluten-intolerant people. A gluten-free diet includes rice, oats, flax, millet, quinoa, tapioca, buckwheat, arrowroot, and sorghum. Oats are a naturally gluten-free food.
Other gluten-free foods include fish, eggs, and meat. fruits, dairy products, nuts, legumes, and fats.
It is always better to choose food items that are labeled gluten-free to avoid the chances of consuming cross-contaminated foods.
Naturally, gluten-free foods are way safer than processed foods that are gluten-free. A healthy gluten-free diet can be adopted by avoiding gluten-containing foods like wheat flour tortillas, wheat starch, rye bread, processed foods, gluten-containing grains, and cereals.
 4. Gluten-Free Foods
Many available foods labeled to be "gluten-free" may not be gluten-free at all. Most of the labeled gluten-free items are processed and are not naturally gluten-free. Wheat gluten poses a major trouble in the diets of gluten-intolerant people.
The food labels show these items on the list like gelatinized starch, hydrolyzed vegetable protein, and vegetable gum. probably contain gluten in it.
Since there is no standard label for gluten-free food items, the products that are certified as gluten-free by the Gluten Intolerance Group can be considered genuine gluten-free products.
By including certified gluten-free varieties in the diet, excluding gluten-containing ingredients, and including gluten-free ingredients in the diet of people with gluten intolerance, the development of allergic reactions can be avoided.
 5. Why Gluten-Free Diets is the Trend?
Even though there is no scientific proof, people hold a concept of using a gluten-free diet for weight loss. Thye considers gluten to be a harmful substance since it triggers some autoimmune disorders in some other people.
The marketing of gluten-free food items and processed food items was also promoted through this trend. Some even consider having gluten-free foods to be good enough to support the health needs of an adult without even consulting a doctor.
Diabetic patients also have to maintain their gluten intake to the minimum level to ensure the health of the whole body. It is because gluten in diabetic patients can trigger a sudden rise in the blood glucose level.
It is also important to use gluten-free products to treat low blood glucose levels such as glucose tablets since high sugar content and gluten can usually exist together.
 6. What Foods Have Gluten in Them?
 6.1 Gluten-Containing Grains
Whole wheat, wheat derivatives like wheat flour and wheat starch, wheat bran, wheat germ, wheat berries, rye, barley, and triticale. are the major food that contains gluten.
 6.2 Other Foods That Have Gluten in Them
White bread, rye bread, whole wheat bread, flour tortillas, flatbread, potato bread, French fries, and canned soups are the other
 6.3 Some Condiments That Contain Gluten
Cream sauces, gravy sauce, salad dressing, soy sauce, malt extract, malt syrup, malt vinegar, malt flavoring, and soup mixes. are some condiments
 6.4 Alcoholic Beverages That Contain Gluten
Beers, malt beverages and malted milk, dessert wines, commercial chocolate milk, distilled alcoholic beverages, and bottled wine coolers are some of the alcoholic beverages that contain gluten.
 6.5 Wheat-Based Snack Foods and Baked Products That Contain Gluten
Granola bars, cereal bars, cereal chips, French fries, cookies, pastries, doughnuts, muffins, pancakes, potato chips, and tortilla chips are daily snacks and baked products that contain gluten.
 6.6 Processed Foods That Contain Gluten
Meat substitutes, Egg substitutes, Fresh meats and imitation meats, Breakfast cereals, Corn flakes, and Seasoned rice are some of the processed food items that contain gluten in them.
 6.7 Other Daily-Use Items That Have Gluten in Them
Some medications, herbal supplements, lipsticks, and lip balms may contain gluten in them.
 7. Should We Avoid Food That Contains Gluten?
Whole wheat flour, bread flour, pancake batter, lunch meats, and some other grains have a greater level of gluten content.
Research suggests avoiding gluten in the diets of celiac disease patients. Many people do not need to avoid gluten, and if they cut off the gluten and do not replace them with enough quantities of carbohydrates, they could be at risk of low fiber and vitamin intake.
Eating gluten-free is a healthy practice if prescribed by the doctor. One has to decide the amount of gluten and carbs as needed for the daily diet to avoid complications of digestion. Continuous intake of processed food may lead to other digestive issues with counter medications.
 8. Some Gluten-Free Options for the Gluten Intolerants
 8.1 For Vegetarians
Whole oats, Chickpeas, Sweet potato, Olive oil, Lean proteins, Vegetables, Fruits, Beans, peas and lentils, Healthy fats, whole grains. can be consumed by gluten-intolerant people.
 8.2 For Non-Vegetarians
Egg, Chicken, Fish, Shrimp. can be included in the diets of non-vegetarians.
 8.3 For People With Celiac Disease
Yogurt, Eggs, Chicken, Fish, Beef, Carrots, and Buckwheat. are some food options for people with celiac disease.
Bottom Line
You must have got the answer to your question What foods have Gluten in them?
Gluten foods are wheat and wheat derivatives, most baked products, processed foods, and alcoholic beverages. Gluten can develop disease conditions like celiac disease, non-celiac gluten sensitivity disease, and wheat allergies.
Gluten-containing food can be incorporated into the diet under the supervision of a doctor. Since there is no scientific proof of gluten aiding weight loss, cutting off gluten from the diet completely can trigger fiber and vitamin uptake.
Gluten-free diets include fruits and vegetables, legumes, gluten-free grains, animal proteins, healthy oils, and ample amounts of carbs that have to be added to the diet when you avoid wheat. This shift in food consumption is a major issue since it is degrading the quality of the food consumed. The dangers of gluten-free foods are silently hidden from the common people.