Going to a party? Want to look striking at that party? And the theme is the 90s era! Look out for all the options before you have your desired 90s theme party outfits ready for trial!
In the era of the 90s, clothing wear fashion statements sprang onto casual and comfortable wear. From rigid and fixed outfits to casual and grunge subculture was the 90s era all about.
A personal style quotient depends simply on personality and how someone carries themselves. Wearing an outfit also depends on your current style, haircut, and skin complexion. All of these need to be considered while dressing.
If you dress up into something just because it's in trend or someone said so without grasping your body structure or your body type, that may not look good. Dressing into something just because it looks good on someone else is not the right thinking.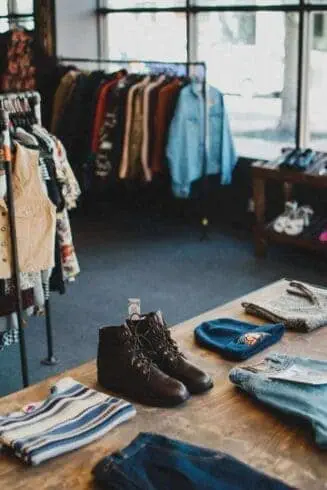 Style yourself into clothes that make you 'You.' Clothes don't style you, 'you' style the clothes.
Don't know what you should wear to a 90s theme party? Check out the below options that can help you fix your outfit choice. Remember, looking good for yourself is more important than looking good so people can look. This doesn't mean you should not try to stand out in a crowd!
Here are some items, outfit options, and accessories approvingly popular in the 90s that you can try to get the best look for your 90s theme party outfits.
1. 90s Theme Party Outfits
After the 80s era of extravagant clothing, casual and minimalistic color was in vogue. The decade of simple and plain clothing was in time, and the clothing showed it. But, it's not just that. It gave quite an interesting fashion statement in the coming years. Upcoming movies and music made up a whole culture start.
90s party without themed clothes is just boring. Check and probe all the options laid out for you to get yourself in the spirit of the 90s and dress for 90s theme party outfits! You can mash up some items of clothing to have yourself an outfit.
1.1. Shirts & Low Rise Jeans
In the 90s, a comfortable and casual look was all the rage. Guys could have several flannel shirts for every party they wanted to attend. Pairing flannel shirts with simple inner t-shirts was even the go-to look for parties. People used to pair oversized shirts with low-rise jeans in the 90s.
Oversized men's shirt color choice of a black or white shirt was a big choice among the pop culture. If you need some examples, check every hip-hop or rap album, and you will be mind blown by how much it was trending.
Plaid flannel shirts also do the epitome of the 90s. If you want the grunge look of the 90s, try some plaid flannel shirts. Pair it with some low-waist jeans, an undershirt, wavy hair, and dreamy eyes. There's your look. Girls, you can go with a mini skirt, a plain t-shirt tucked in, and a plaid shirt upon it with a high ponytail. You got your outfit.
A plaid flannel shirt is your go-to option. Just have one tied around your waist or slouched upon your shoulder. And you got yourself 90s theme party outfits. Any of these look paired with Gold Chains, and you will rock it! Rock it like Kurt Kobain or the 'it' girl Claire Danes does.
Going for a 90s theme party outfits spread out with flannel shirts can be your choice.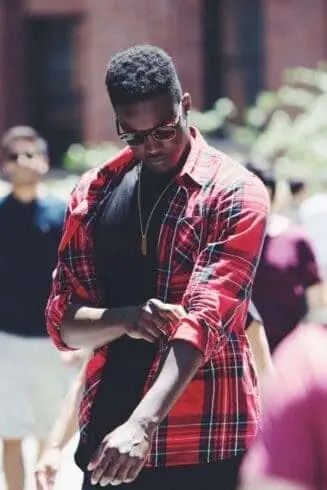 1.2. Camouflage Prints & Starter Jacket
The print is about blending it, but the trend made it stand out more! Disney's children, each one of them, rocked camouflage print in their way. It may be Avril Lavigne, Christina Aguilera, or Gwen Steffani. They all rocked, being covered in camouflage print from head to toe on many occasions.
Pair your camouflage with a starter jacket. Camouflage print came in the 80s but trended as a fashion trend in the 90s. Going after the same look as a professional sports person was the defining point of the 90s. Also, it will be hype if you pair your starter jacket of camouflage print with a plain undershirt and black tracks.
Be covered in a camouflage print clothing item, and you will rock it. It's one of the striking pieces of clothing for the 90s theme party outfits.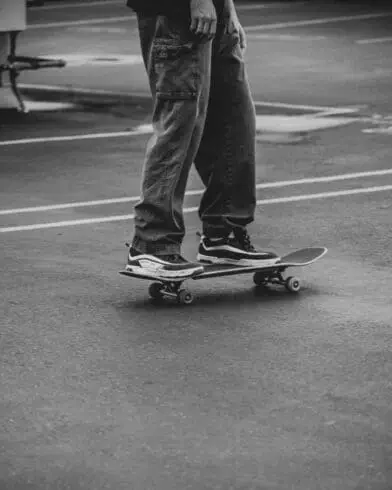 1.3. Cargo Pants & Vests
Cargo pants are an ideal choice of pants with lots of pockets and space. You go with Black or Olive green color cargo pants. No doubt it's going to give you an aesthetic look. Now pair it with some white or light color t-shirt, add on some dark shaded vest and your look is complete. Also, add some light accessories.
Punk Rock gave light to some bold outfits. Among them were the vest combinations. Vests were wildly famous and interesting bright colors in the 90s with 'Indie designs.' The 90s cargo pants were quite baggy and loose, giving the layoff look. Vest gave the rock look.
Here you go, the 90s theme party outfits choice is ready. Want to rock your 90s party? Add these two items to your list, and you are good to go.
1.4. Turtleneck & High Waist Jeans
Resembling a turtle in more than one way, turtlenecks give introverts a choice to be within their shell but still outgoing and part of the crowd. You won't have to worry about being in the spotlight in the crowd.
A trend well in demand in the 90s has also gained an uproar in the coming fashion times. High-waisted jeans show turtlenecks with a refined look. Your high-waisted pants will perfectly match with bowling shirts if you are a bowling fan.
If you are a 'Friends' sitcom fan, you will not back down from opting for this look. Be Chandler Bing with sarcastic remarks and a quirky smile if you pair it with high-waist jeans and a bowling shirt.
Going to a 90s party and being an introvert, you have a choice but beware if it turns out to be too good-looking and you do have a spotlight. Don't shy away & enjoy your party till it lasts.
A great clothing option for your 90s theme party outfits paired with hip-hop essence.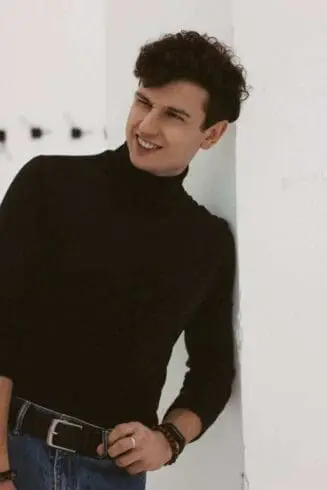 1.5. Leather Jackets & Satin Shirts
Influenced by supermodels, the trend of leather jackets was an emerging trend in the fashion industry in the 90s. The trend had such a huge impact that it became the primary outfit item in a fashionista's closet.
Vintage 90s satin shirt, a huge fashion statement article of cozy luxury wear. The invention of satin shirts was also an eventful opening in the 90s. If you want to look regal and cute, choose a satin shirt with a faux leather jacket and leather pants. And add on ankle boots or strappy heels.
90s theme party outfits of choice like this can give you a striking look. Be ready to have your party group outblown on the tip of your shoes or converse sneakers.
1.6. Band Graphic T-shirts & Ripped Jeans
Hip Hop music influenced the fashion industry skyrocketing the trend-setting fraction. Singers like LL Cool J, Tupac, Jennifer Lopez, Madonna, Bjork, and many more started a cultural movement impacted by artistic expressions.
Although rock music was known for its fashion maker crux, hip hop music was gaining its voltage in the fashion industry. Boy bands such as Backstreet Boys, AC/DC, and Aerosmith were some renowned names that influenced graphic band t-shirts.
The trend was first introduced in a movie with the lead actor promoting his favorite band. Pair your outfit of ripped jeans and a band graphic t-shirt with added accessory of a bandana, and your funky hip hop outfit is ready. It's one of the gripping savvy outfits of 90s theme party outfits.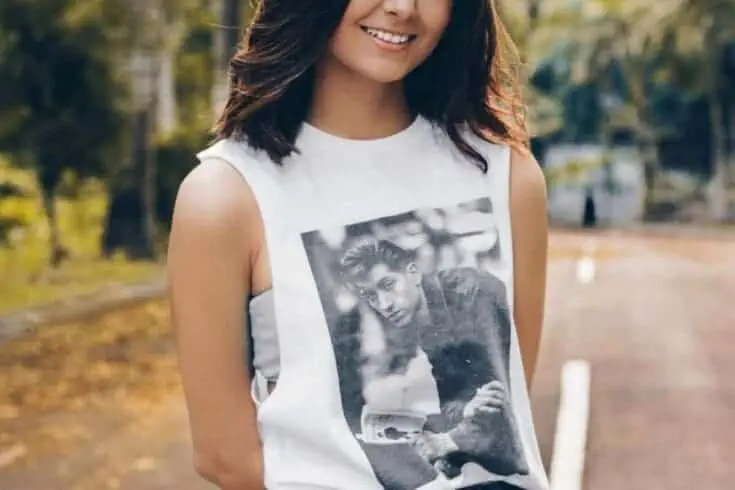 1.7. Beach Mini Dress & Jean Jacket
Want to go for the laid-off casual look for the pool party? You can find many patterns and designs that suit your comfort level. You can try a floral dress or spaghetti strap dress. You can try both of these options with one strap too.
A mini dress with floral and frill patterns would go well to enjoy the relaxing vibe of a pool party with a 90s look and feel. Add over layer garment of a jean jacket. It may be short or long as you wish. You can also add platform shoes or strappy heels with them. It will enhance the hippie and cool vibe of your look.
Mini dress oozing beach vibe got highly famous, influenced by the hip hop fashion carried out by many movies. Pamela Anderson, one of the most influential celebrities of Hollywood, brought iconic dress of mini dress variation in the 90s.
It's a simple choice of clothing that you can wear to a 90s theme party. Outfits paired with a Beach mini dress & jean jacket can be overly casual and vivid simultaneously. Mainly depends on how you carry it.
1.8. Retro Preppy Ideas
Going for a Vintage Preppy, retro look? Check out high school outfit ideas that would give you the famous waspy school look of the 90s. The goody-goody personas commonly favored this fashion style introduced in the 1940s.
"Ivy League Style" is particularly preferred and in demand within the nerdy crowd. Not typically nerds but smart, stylish quote followers. If you are one with elegant guise and want to stand out in that manner with dapper looks, a retro preppy look is a way.
Have some braided belts, knee socks (knee-high socks), cardigans, tweed blazers, collared tops, chinos, boat shoes, and loafers. All of those can help you sort out your desired look. A great choice if you intend to stand out in the 90s theme party crowd.
Wear to a 90s theme party outfits outlay with a retro preppy look that will offer you an outlandish and quirky stance.
1.9. Hip Hop Outfits Ideas
The understatement of this outfit was streetwear which started gaining attributes and attention cause of its association with the music and movie industry. Hip-hop outfits got categorized gender-accord in the 90s. Many artists contributed on this front.
Rapper LL Cool J, Biggie plus actress Mary Kate and Ashley Olsen brought the revolution in the fashion style through the hip hop genre.
Guys favored Kangol hats, baggy jeans, baggy shirts, gold chains, sneakers, and heavy workboots, whereas women favored chunky heeled clog sandals, bell bottoms, tighter jeans, and tube tops.
You will be in the spotlight at your 90s theme party outfits collection by carrying a hip-hop outfit. Try some pieces and mash up an outfit that screams hip hop from top to bottom. Many aspiring brands like Chuck Taylor, Raiders, and many others contributed to this popularity of fashion exposure.
1.10. Hawaiian Shirts & Overalls
Bright colors with a casual outlook were the fashion carryover in the 90s. Hawaiian shirts gained huge popularity among the bold print culture in men's clothing. Traditionally, it is referred to as Aloha shirts. The pioneer of surfing, Duke Kahanamoku, awoke the Hawaiian rage in huge numbers through promotional strategy.
Wear an outfit including a Hawaiian shirt with maybe beach shorts or overalls. Both were trendy garments in the 90s, influencing the dapper casual look.
You can add a flat visor hat to complete your outfit style. Wearing this outfit no doubt is going to gain some onlookers for you. One of the best options for your 90s theme party outfits.
1.11. Crop Tops & Skinny Jeans
The grunge look impact of the 90s has one name royally imprinted, a renowned celebrity in Hollywood. Drew Barrymore has worn such chic clothes creating rage among the crowd. Her fashion style became a fashion statement of its own.
Her grunge look popularly exudes elegance with simple crop tops, tank tops, skinny jeans, pencil skirts, sheer t-shirt blouses, black sports bras, braided belts, velvet jackets, and the list goes on and on. She became a fashion icon with a unique style and wonderful grace to carry it.
Carry some of the abovementioned pieces, like tank tops and skinny jeans. Accessorize it with a fanny pack or sunglasses, and you are ready.
Following some iconic person's style quotient is not a bad idea. Try on this outfit of huge number hit that might blow your crowd with your style. What to wear to a 90s theme party outfits? Choice followed by some iconic leads might be your answer!
1.12. Plaid Outfit Ideas
Dressing up like the 90s era and not indulging in plaids might not be a good idea. Because if it's the 90s, there's plaid clothing if you want it or not.
Have you heard of the sitcom "Spice Girls"? This sitcom gave rise to a lot of iconic clothing outfit choices. Most of them were plaid clothing. Friends celebrity "Rachel Green's" iconic outfits and Clueless lead's clothing popularity uproared the influence of plaid outfits.
You can pair clothing items like platform shoes, plaid skirts, plaid jackets, plaid shirts, and plaid pants to bring out an outfit of your choice. You dressed in a plaid skirt will be a classic outfit in itself.
Plaid clothing can be one of the excellent choices for 90s theme party outfits to knock in the crowd.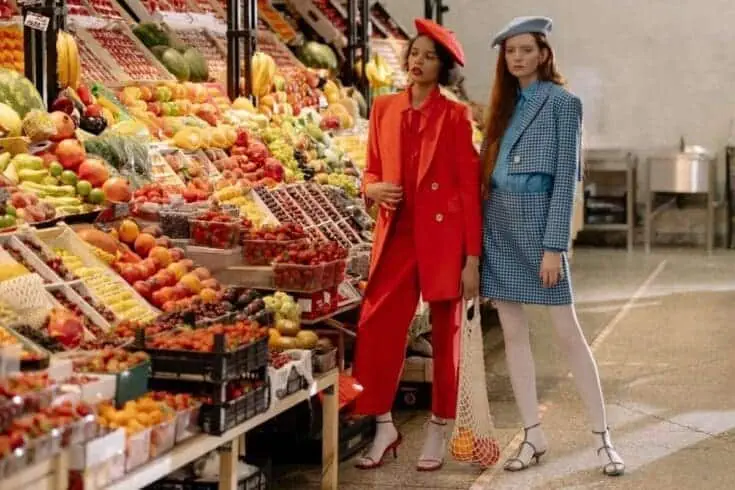 1.13. Movie Outfit Ideas
Clothing is one of the common things that impact the viewing crowd. Movies have always influenced fashion trends no matter what era. A lot of iconic personalities have been part of it too. People get encouraged to follow well-known personalities' steps for everything they execute.
Nike Air Jordan sneakers, backward clothing, Cazal glasses, baseball caps, flat visor hat, fanny packs, fishnet stockings, fanny pack, and denim shirt are some unique standard items the watcher hold onto.
Mash up these clothing articles, and you will rock your outfit. Add ripped jeans with a leather jacket to the compiled list, and boom! You are the talk of the show.
Have some outfits ready for your 90s theme party outfits paired with movie spirit!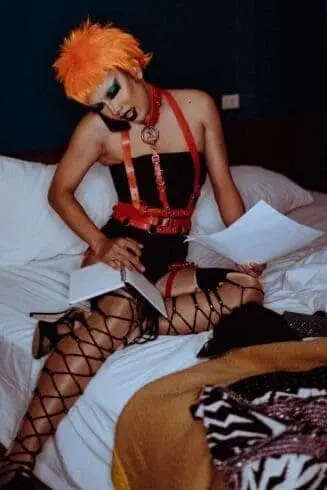 2. Last Thoughts
You will find more movie outfits if you explore. Try clothing with a wider zone but don't plug your comfort zone into no bounds. Broaden your horizon and try all that makes you shine.
The 90s fashion era compelled an assortment of clothing with exceptional results. Results were deemed to diminish with time but fought their way out again into the newer times. Many clothing items found their way back to the upcoming fashion stands.
Try and implement all the options available, whether a 90s theme party outfit for casual day wear or a lavish ceremony costume. You can select your choice of clothing to make you reflect on yourself the best. Doesn't matter if it's in trend or not.
Further, look at how fashion styles have changed over time and in what ways!