A pilot has many duties on their shoulders, and one such important duty is to take their passengers from one location to another safely. Tapesh Kumar is a very responsible and skilled pilot, being the youngest Captain in the world in 2018 at 25 years of age, qualified on Boeing and Airbus.
Tapesh Kumar has been working with Jet Airways for 6 years, and now he is with AirAsia. The pilot has the best hand-flying skills. He did his initial training from Chimes Aviation Academy in Madhya Pradesh and Type Rating from Cockpit4u, Berlin, Germany.
"A Journey through Struggles" – Tapesh Kumar
Tapesh Kumar was born in Haryana and was bought up in Delhi. When he was six months old, he shifted to Delhi. Tapesh Kumar never wanted to be a pilot when he was growing up. "Flying came in pretty late in my life, one year after my 12th standard." Tapesh Kumar's childhood days were mostly spent playing football. He played football professionally when he was in his 11th standard, but eventually, it did not work out.
"I wanted to become a professional football player back during my childhood; that was the primary thing. But unfortunately, that did not work out because of not much awareness of this sport. If it had been cricket, then parents and everyone would have still agreed, but it was back in 2008-09, so there was not much support for this sport, and it did not go well along with my studies."
Tapesh Kumar's parents wanted him to pursue IIT, but he did not have any interest. He found a middle ground with his parents for becoming a pilot.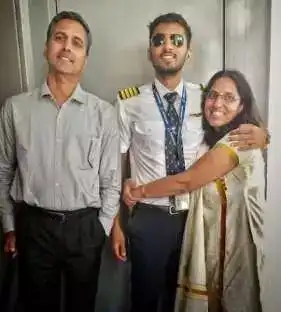 Tapesh Kumar did not have the best childhood. The pilot's mother was a housewife, and his dad had been in aviation with Jet Airways for about 30 years now. "I don't have a lot of fond memories, some of them are very nice, but some are pretty sad. I come from a middle-class family, so we didn't have a lot of money to spend, no luxuries, just necessities. I was not very confident about myself, and I was skinny, couldn't talk to people face to face." 
From being an under-confident, thin, introverted person, Tapesh worked very hard on himself professionally and in all other speers of life to become a confident, amazing, and committed pilot. The pilot believes there are many things that we don't realize when we are young, but sooner or later, we know what is right for us and work towards the same.
"As a kid, you don't understand what is going on and how you can correct the things that make you feel bad. You feel sad about those things and go through them. But eventually, when you grow up, you realize many things that shouldn't have happened. So now I know how to deal with haters or negative people who cause trouble." 
"The Dream of Touching the Skies" – Tapesh Kumar
Before the flight training, Tapesh Kumar was preparing for IIT, so he used to go for coaching, skipped school, and studied a lot. However, he did not make it to IIT, but his parents were not happy about the same, so they told him to reappear for the exam. So the pilot ended up dropping one year after the 12th standard. However, Tapesh Kumar had no interest in engineering, so he left studying for it and decided to take up aviation.
"On 17th March 2011, I still remember the date; on that day, I told my parents that I wanted to be a pilot. So after I dropped the entire year and at the end of that one year, I didn't even give the exam. At that point, everyone declared me a failure because I didn't even score very well in my 12th board exams and then didn't make it through IIT or any other reputed college."
Eventually, when Tapesh Kumar decided to join aviation, he wanted to prove many people wrong. He wanted to prove his capabilities through his hard work and dedication. "Many people said that you are not good enough, you cannot do this, you are a quitter, you gave up, so I had a lot of negative motivation."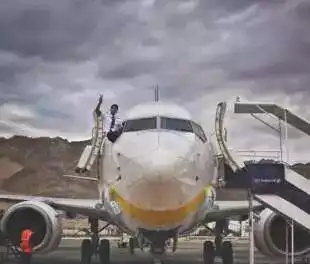 Tapesh Kumar used to wake up early in the morning, study for some time, go to the flying school, finish up whatever flying had to be done, and then stay back in the flying school to study, whereas everyone else would come back to the hostel. He studied pretty hard and finished the entire thing in about 11 months.
"After going to the flying school, nothing came across as very tough because I have worked extremely hard each day and fell in love with what I did. It becomes easier automatically if you end up loving what you are doing as a profession or whatever you are doing." 
"Some Memorable and Challenging Flying Experiences" – Tapesh Kumar
The most memorable flying experience for Tapesh Kumar was when he got his command, from being a first officer to becoming a captain. "On that flight from Delhi to Nagpur, I had my parents along. They had just come for that flight. They came from Delhi to Nagpur and then returned with me. So on that flight, I transitioned from a first officer to a captain. So at the end of the flight, you have a little ceremony where they change the stripes on your shoulder, so first will have three stripes on the shoulder, and a captain will have four. My parents did that, and they were thrilled and proud."
The pilot also had some challenging flying experiences. One of them would be when he was flying to Leh Ladakh. One of the sensors on the aircraft had ice on it, and because of that, it had blocked the sensor. It was an important sensor needed during many functions, so multiple things on the aircraft failed. They had to land on Leh, a tricky landing base with many mountains. That flight was pretty challenging because there were many things that the pilot had to manage. But he managed that flight very well.
"My Parents and Wife are my Constant Strength" – Tapesh Kumar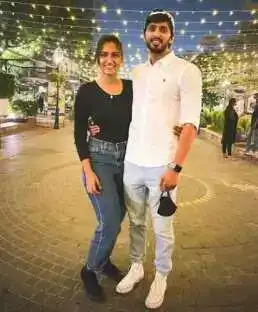 The pilot has barely any free time, so whenever he gets some time off, he loves to spend his time with his wife, who is also a pilot – Prachi Kumar, "I got married in June 2021, and I love spending time with her. Whenever I have a very tiring or a long day, I need to hug her, which gives me the energy to do anything. Prachi can instantly light up my mood. Besides that, I have two Youtube channels and an Instagram page to run, and I have an academy where I teach upcoming pilots."
Tapesh Kumar's parents have also stood as a pillar with him against all his problems.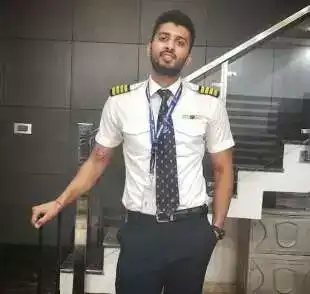 Tapesh Kumar feels that the most enjoyable thing about flying is the flying itself. "The feeling of flying an 80-ton machine, which costs around Rs 1000 crore, and flying that is an experience in itself." The pilot also used to write poetry; however, he is not very active now, nor does he put it up on his social media because he thinks of keeping that to himself.
Tapesh Kumar believes that if somebody is passionate about anything in life, they should work very hard towards it, day in and day out, and you will get there one day for sure. We applaud him for all his flights.
Watch the amazing journey of Captain Tapesh Kumar