As an affiliate-driven website, Icy Tales earns from qualifying purchases.
Trees are the most vital living things on our planet without which no human being can live. There are very few people who can give their life and devote themselves to saving the trees. Siddhartha Trivedi founder of Atmos24, working hard towards planting and saving more trees.
Siddhartha Trivedi is known for his initiative towards planting trees and supporting the environment which is a very noble cause. He is also popularly known as "Treevedi" and "Treemonk".
Siddhartha Trivedi -"Planting Trees would create more amount of oxygen in the environment!"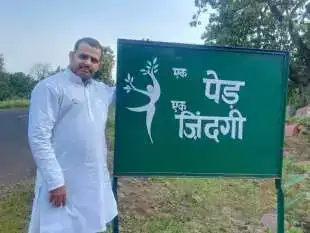 Siddhartha Trivedi aims to help people who are struggling with oxygen deficiency. "There are many people that suffer due to insufficient oxygen levels in our country. I started this non-profit organization (NGO) to increase the oxygen levels in the air. As people would be able to fill the oxygen cylinder when the oxygen will be available in the huge level."
When Siddhartha Trivedi started planting trees he faced many difficulties, as it was quite expensive to plant trees during the initial stages without any financial support. However, the 'treemonk' never stepped back even after facing many difficulties.
Siddhartha Trivedi had decided to contribute to our environment and society with this initiative. With time, a lot of people started supporting and contributing towards his goal. With that, the cost of planting trees drastically came down. Then Siddhartha Trivedi decided to bring many new initiatives to help people suffering from difficulties. He came up with literature programs and Atmos24.
Siddhartha Trivedi- "Difficulties are the key to bringing on success!"
"Everything was quite unpredictable and difficult when we started planting trees. Over some time, we got so many people to join hands. The government support also motivated me to do better towards my goal."
Siddhartha Trivedi's thought behind starting the girl child education was impeccable. He aims to bring a new society where all should live a quality life. The treemonk with his team got associated with a lot of schools and education platforms to spread the awareness of girl child education. He also encouraged the concept of menstrual education for the girl child.
They mainly aim to visit the rural crowd to develop the desire for education in the children. They want to expand their reach in the rural public as the rural people need more help than the urban public. The opportunities in the rural areas are extremely less as compared to the urban areas.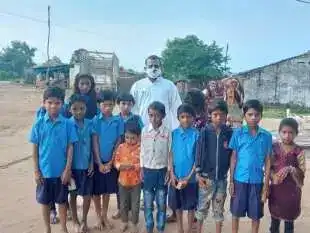 "From one tree to planting more than 26,000 trees today was not an easy task. Helping others was the only motive behind bringing all the support initiatives." Siddhartha Trivedi feels extremely overwhelmed when he sees what he has done for society. He feels satisfied for giving something to society every day.
Siddhartha Trivedi aims to plant one billion trees over the coming time. "Since my childhood, I was inclined to environmental issues. We have been taught and brought up that way". He believes that either you have to give something to society or help people around.
Last 15 to 16 years, he has been associated with many NGOs such as Mother Terrassa Foundation and many more. Being extremely spiritual, Siddhartha Trivedi also loves to do the gurudwara activities. He along with his team used to do a lot of temple activities to help people. He decided to start his organization to give people all the kind of support possible by his organization.
"The health of the tree matters a lot to me. The tree would be healthier if the soil is taken from the native place". He believes that if somebody wants to plant any fruit, then he should plant it in a place where the trees would be healthier. "The oranges should be planted in Nagpur and apples in Kashmir. These places are great for supporting the healthier growth of fruits and trees."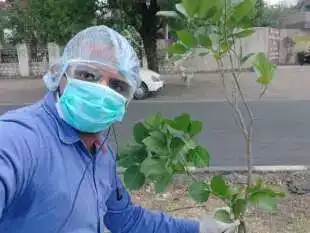 Siddhartha Trivedi explains that it is vital to look for the site or land, which is the native place for that particular tree. "When someone digs the soil, the soil should be dug 3 feet deep before planting the trees. Everyone should position the tree correctly in the soil."
According to Siddhartha Trivedi providing fertilizers is vital for the growth of the tree in an appropriate manner. "Everyone should give support to the tree to make them grow healthier. The tree is just like a child they need proper care to grow".
The treemonk believes that giving support to the tree is extremely vital as when it would start growing, the weight of the tree on its own would be very heavy. The tree needs support to distribute the weight or else it would start bending. Ideally attaching some bamboo or stick would not allow the tree to get uprooted from its roots.
"If everyone can take care of the growing trees of two seasons correctly, then there won't be any looking back. Having a tree guard around the trees is vital as many animals or humans may harm the trees."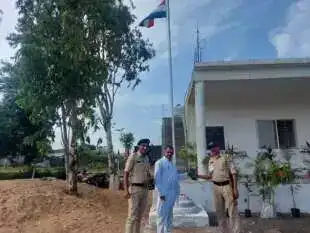 Siddhartha Trivedi – "Challenges keep on changing from situation to situation".
"Everyone's luck won't be in their favor and you have to fight out the challenges to fulfill your dream." Siddhartha Trivedi faces many challenges daily. For him, finding more volunteers is quite difficult as he wants to expand his initiative to 100 more cities.
"It's not easy to do all the things by myself. Volunteers would work pretty well to work for all the branches that I have expanded." Onboarding volunteers and reaching out to people is the current challenge for Siddhartha Trivedi.
"Reaching out to masses and telling them to help to grow more plants is not easy. As not everyone would be convinced by the initiative. Some people take time to understand how these plants can give them food and oxygen."
Siddhartha Trivedi – Treevedi with a Great Vision 
"Jahan Aapko Jaana Hota hai waha sab se Pehle aap ki soch pahonchti hai. Thought is the fastest medium of Travel." 
Siddhartha Trivedi wants everyone to know that plants are the real home for humans. People should understand how they will be benefited from the plants and should give back to them in every possible way.
Siddhartha Trivedi is a real example of how a selfless gentleman should be like. His thought and vision towards society are pure. The treemonk is a real motivation for all his altruistic acts for the present and future generations.