As an affiliate-driven website, Icy Tales earns from qualifying purchases.
Sonika Bhasin is a media professional working in the industry for 19 years. She has been following a sustainable and low-waste lifestyle for three years now. This started when her son Abir was born. Since then, she has been taking slow steps towards reducing waste as much as possible and being more sustainable across everything she does.
Sonika Bhasin encourages and involves her son to make sustainable living very normal for him. She is a progressive mother who believes that children should do whatever they wish. It doesn't matter if it is a girl or a boy, one should let their children explore.
Icy Tales
is in conversation with Sonika Bhasin on how to ace parenting and sustainable living.
Q) What was the driving force behind your perspective towards sustainable living?
Sonika Bhasin – It was having my son. Having a child makes you realize that you are responsible for another life you brought into this world. I realized that our lifestyle was harming the planet, and I didn't want to be a part of the problem. Rather, I wanted to be a part of the solution.
I know there are things I can't do – I cannot change policy; I cannot ban plastic. But what I have realized in all my research is that one of the most considerable contributions one can make as an individual or a household is reducing our waste. And not just reduce our waste in the sense of what we were generating in our home but also overall reduce our consumption.
I realized that overconsumption is a huge issue. It puts a lot of pressure on resources, and we consume things mindlessly. So we decided to reduce our overall consumption across everything, whether it was clothes, shoes, or even food, and be more mindful of what we were consuming. And, of course, take care of our household waste and not let it go to a landfill.
It took us time, and it didn't happen overnight. It took us more than a year to finally reach a stage where we don't have dustbins in our house!.
Q) What measures do you take to move towards Low waste living?
Sonika Bhasin – It started with a cloth diaper. That was where my journey began. I got a cloth diaper for my son, and I had no idea how to use it, and I stumbled upon a group on Facebook for people who do cloth diapering in India. That is where I realized that disposable diapers are very harmful to the environment, which got me thinking about other types of waste. And I started doing some research on the topic.
I learned what happens to disposable diapers, sanitary pads, general disposable things, where they land up, and all the issues they cause, so my husband and I decided that we would not use disposable diapers for my son even if we are traveling. Then we slowly decided to eliminate all the disposables from our lives, even if it was a cotton ball or tissue paper. Now it doesn't matter what material something is made of; if it's disposable, we try and avoid it.
The other thing we tried to do was to stop consuming mindlessly. I am guilty of doing that in the past, and I used to do that a lot. I would shop a lot online, even if I didn't need anything. So I deleted all the shopping apps from my phone, so I didn't get tempted to buy things. The lockdown helped because you didn't need anything; you were not going out of the house.
For my son, we have been very mindful from the beginning of what we buy for him, and we hardly buy anything for him because we have a lot of friends who have older kids, so most of the stuff like clothes, shoes, toys, or books that he uses are passed down by friends. We will buy it only if he needs something; otherwise, we try to use a hand-me-down. For ourselves, I think I have gone through my cupboard and have realized that maybe I never need clothes again; I have so many clothes, so probably I will not buy them!
Another thing that we have done is when we need to buy something, we have started buying from sustainable Indian brands and not going to a big FMCG or a multinational company because of the way they operate and their carbon emissions. So, we try and consume sustainable products made by Indian local sellers.
Q) There must be a journey full of ups and downs. Would you like to tell us something about your journey and what kept you going in the face of the challenges? 
Sonika Bhasin – I don't think I had to face many major challenges. The challenge was only to find things, but that was also not a big challenge when I started writing about these things on Instagram. I connected with many people who talk about sustainability, low waste living, zero waste living in India. Because if you follow people who are not from India, it becomes difficult to buy or get stuff.
And the other great thing that happened during covid was when the lockdown happened, and it's like everyone came online. So things happening offline like meetings or workshops started happening online, and things became very accessible. So I attended a lot of workshops. I attended any workshop that I could find online on zero waste living, low waste living, composting, etc. If I had any challenges or doubts, I would clear them in the workshop.
Since we are a nuclear setup, it's me, my husband, and my son, and my husband has been on board since the beginning, so that has not been an issue. But I have to say that my biggest challenge has been my anxiety related to climate change, managing that has been tougher than actually making the changes in our lives.
When I started doing all these things, I expected everyone around me to do the same thing, but that was not possible or practical. I remember I used to have fights and arguments with my parents because I expected that if I had changed, people around me should start doing the same. Even with my friends, I expected that since I know about all this, everyone should be well aware of all this. But which was not acceptable as I was also doing the same thing sometime back.
So I think that has been a journey from feeling so anxious and upset about everything to now coming to a place where I try and influence somebody who is okay with it. Someone who I think can change or make small changes. I try not to argue unnecessarily because it doesn't lead to anything, and I will do what I do. I don't have to change the whole world; even if I can change a few things for some people, that is good enough.
Q) Developing the habit of thinking about the impact of our actions on the earth is something everyone should do. How do you encourage your son towards sustainable living?
Sonika Bhasin – I've realized that kids pick up what they see around them. Because we have done this from the time he was born, I didn't have to teach him. But what I did do is when he started walking and talking a little bit, I would make him sit next to me when I was doing something. When I was composting, he would sit next to me, and I would show him things. I showed him a maggot, and he was not scared. He found all this very interesting, and slowly he wanted to be involved in doing that with me.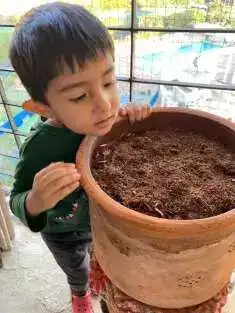 Kids want to be involved in activities. That's how he started composting, and now he can compost on his own.
So it was not an effort because he had seen it from the beginning. And also, we are fortunate to have a very good nanny, and she is very adventurous and fond of being outdoors. While my husband and I work, my son spends a lot of time with her in the garden with the gardeners.
He helps them water the plants, plant new ones, prune them, etc. When you touch the soil, you get dirty when you get into it; that is when you are in touch with the environment. He has been doing all this and has naturally been in touch with this. It is not something we had to teach him.
Q) Why is it important to recognize children's right to a healthy environment? What does it mean to you to recognize a child's right to a healthy environment?
Sonika Bhasin – I wanted to share an instance here. One day someone gave my son a balloon, and I was there, and I wanted to see what he would do. Because I have told him balloons are not good as animals also eat them, they become sick. So he came to me, and he had tears in his eyes and told me he could not take it because it was plastic.
So I explained to him it's okay, you can take it if someone gives it to you, and you can play with it. I am glad he thinks like that. When he is older, he will be able to explain it to people.
Q) What advice do you have for our readers when it comes to promoting the means of sustainable living?
Sonika Bhasin – Sustainable living is about changing your mindset more than anything else. It's about being mindful.
Think about what you are doing and how it will affect everything around you, including yourself. Please don't do it for somebody else, do it for yourself because what is not good for the environment is not good for us, our health. Once you do that, you'll realize that following a sustainable lifestyle is not time-consuming, difficult, or expensive.
I suggest you don't jump into everything together. Just do it slowly, start with something that you are comfortable with that doesn't disrupt your entire lifestyle, pick up one thing and change that. One step is enough, and you take a step, you will automatically start thinking about the next thing.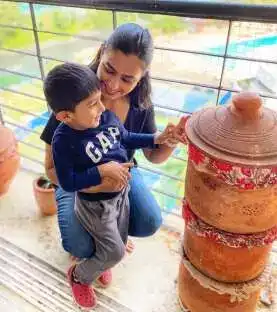 Sonika Bhasin, who is living a sustainable life, not only inspires everyone to start making their small steps towards change but also motivates many with her indulgent opinions about letting go of stereotypes about women in the kitchen and men going out for work or boys playing with blocks and girls playing with dolls. She strongly affirms that parents should not stop kids from doing anything based on their gender and let them explore whatever they like.
Watch how Sonika Bhasin leads a sustainable lifestyle.