West Virginia sparkles with the magnificent Appalachian and Allegheny Mountains and the glistening rivers, which offer loads of adventures, making it the best four-season destination. The incredible beauty of the nature of this place is something to wander off in as you relax.
Travel to West Virginia Golf Resorts for a vacation, business conference, or celebrate a special occasion of your life and relish the luxurious destination while playing your favorite golf.
1. Lakeview Golf Resort
One Lakeview Drive Morgantown, WV 26508
Lakeview Golf Resort nestled alongside the Cheat Lake and the Allegheny Mountains, forms a picturesque landscape tugging the legs of both the vacationers and the golfers to cherish their wonderful adventure at this panoramic West Virginia Golf Resorts.
This highest-rated course puts forth the mesmerizing view as golfers make their way through the intricate tree-lined fairways on the undulating greens.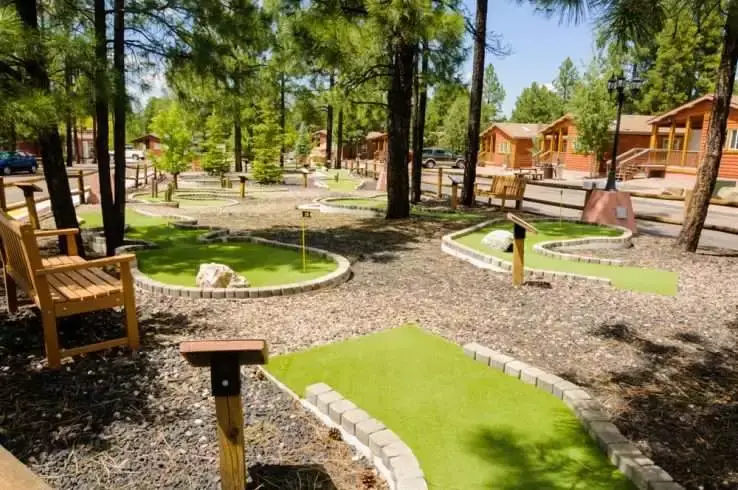 Please start a new chapter of your life with its wedding perfect backdrops on the two golf courses and vast space for family or guest gatherings that fascinate visitors.
The first-class fitness center, glistening indoor and outdoor pools, and on-site dining on the resort are enjoyed with the comfortable accommodation offered in spacious suites full of king-sized rooms and private patios that views the Cheat Lake.
Explore the lovely trails and go on a white-water rafting trip to make the day memorable.
Things to do: Sunset Beach Marina, Coopers Rock State Forest, Art Museum of West Virginia University, Mountaineer Field at Milan Puskar Stadium, WVU Coliseum, Monongalia County Ballpark, Forks of Cheat Winery, Mylan Park, Spark! Imagination & Science Center and West Virginia University.
2. The Greenbrier, America's Resort
101 Main Street, West White Sulphur Springs, WV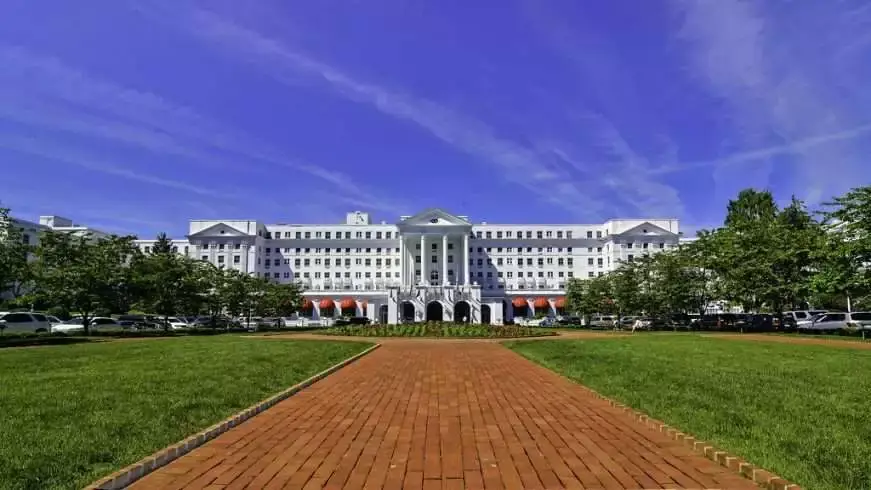 A drive past the main gate will open your eyes to the Greenbrier America's Resort's elegant and panoramic landscape located in the depths of the magnificent Allegheny Mountains. It traces a long history and is a unique luxurious Georgian architecture that meets all the high standards and amenities of today's vacationers.
The Greenbrier has ranked among the top West Virginia Golf Resorts and has been walking hand-in-hand with the world-class golf with its grand courses as golf continues to be the premier game.
The natural beauty with its rolling fairways and lush mountains is not like any other. Lavish galas and special events are often organized here.
Adventures and Activities: Aerial Adventure course, Alpine Tower Climbing, Arcade, Bike Rentals, Bowling, Bunker Tours, Blacksmith Demonstration at Gibson's Studio, Sleigh Ride, Carriage Ride, Escape Oz Escape Room, Falconry: Beginners Lesson, Ice Skating and much more.
3. Stonewall Resort
940 Resort Drive Roanoke, WV 26447
West Virginia's wooded mountains and lake waters engulf the Stonewall Resort taking you to the land of wanderlust. The blissful nature will embrace you as you lounge by the lakeside patio or go off on the hiking trails.
The Arnold Palmer Signature Course of Stonewall Resort is one hidden treasure in the depths of nature. The relaxing golf is best experienced with its wonderful condition and natural and peaceful setting. The King's Course lays out a unique set of experiences for youths, beginners, and skilled golfers.
West Virginia golf resorts, Stonewall, with mountains and lakeside destination calls for a wide range of adventures and attractions.
The picture-perfect choice of vacation will also delight you with its quality of accommodation.
Recreation: CraigCat Mini Power Boat, Mtn. Laurel Spa, Lakeside Fire Pit, Complimentary Lake Cruises, Pontoon Boats, Indoor/Outdoor Heated Pool, Aqua Cycles, S'mores, Canoes, Paddle Boats, Tennis & Pickleball, Kayaks, Disc Golf, and more.
4. Canaan Valley Resort
230 Main Lodge Road Davis, WV 26260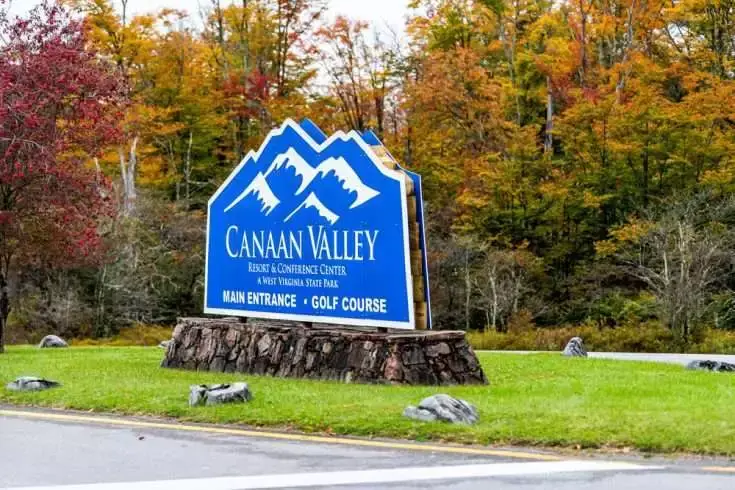 Guests go astray in Canaan Valley Resort's natural charm, oozing with serene nature in this ideal setting. All year long, different folks immerse themselves in the scenic beauty while journeying in the luxurious accommodation and amenities the resort has in reserve for you and the adventure the area has to offer.
This West Virginia golf resorts known for its ski and golf destinations are all packed up for vacationers and business travelers with cabins, suites, and campgrounds to meet their requirements. The resort's spectacular view and location are perfect for the golfers to practice their swings on the 18-hole, par 72 golf course characterized by 65 sand bunkers and eight water hazards—this putting green challenges both the beginners and the most experienced golfers.
The endless outdoor adventures along the magnificent mountain setting are the best getaway, enhancing it more with the often celebrated events and occasions.
Activities: Tennis Court, Playground, Miniature Golf, Soccer Field, Sand Volleyball Court, Softball Diamond, Skiing & Snowboarding, Ice Skating, Snow Tubing, Basketball Court, Wagon Rides, Horseshoe Pits, Ladder Golf and Bean Bag Toss.
5. The Resort at Glade Springs
255 Resort Dr, Daniels, WV, 25832
The Resort at Glade, Springs, located in the Appalachian's beauty, Mountains is a perfect holiday destination for golfers. The three 18-hole courses of Glade Spring are consistently in the top 5 golf courses of West Virginia Golf Resorts, which sets a great challenge for the golfers with its finest championship layout.
The stupefying beauty of Stonehaven and Cobb's rolling greens is suitable for skilled weekend golfers and beginners.
Enjoy the delightful golf package full of golfing opportunities, overnight accommodation, range balls, full plated breakfast, and much more. Take advantage of the all-day accessible tennis court along with unlimited golfing rounds, and don't miss out on the best dining areas.
Cherish your time overlooking the enormous greens of the Cobb Course from the outdoor patio.
Adventures and Activities: Boating, Archery, Bowling Center, Camp Glade, Escape Room, Fishing, Fitness Center, Geocaching, Hiking, Laser Tags, Pools, Shopping, Tennis, Bridge day, Bridge Walk Tours, Daniel Vineyards, Paintball, Rock Climbing, and Rappelling, Tamarack, Whitewater Rafting, and Beckley Exhibition Coal Mine.
6. Oglebay, West Virginia Golf Resorts
465 Lodge Drive, Wheeling, WV 26003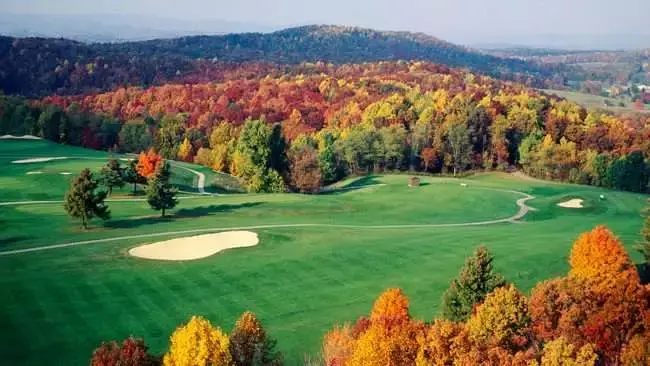 A perfect family gatherings or special events shelter is nestled in the rolling hills of Wheeling, Oglebay Resort, 60 miles away from Pittsburgh. A golfer lover experiences great golf on the 36-hole championship courses of the three greens Speidel, Crispin, and Wheeling.
The family-friendly atmosphere will make you feel at home with its comfortable amenities whether you travel there for a business or a holiday. Multiple ballrooms, banquets, and beautiful outdoor settings set a perfect venue with a gorgeous backdrop to host the wedding of your dreams.
Oglebay, a top-rated West Virginia Golf Resorts, is one of the best places to have a memorable stay.
Things to do: Good Zoo, The West Spa, Winter Sports, Schenk Lake, Wilson Lodge Indoor Pool, Wheeling Park, and Crispin Center Outdoor Pool, Walking and Hiking Trails, Museums, Shopping, Championship Golf, Horseback Riding, Bissonnette Gardens, Tennis Center and Aerial Challenge Course.
7. Twin Falls Resort State Park
WV-97, Mullens, WV 25882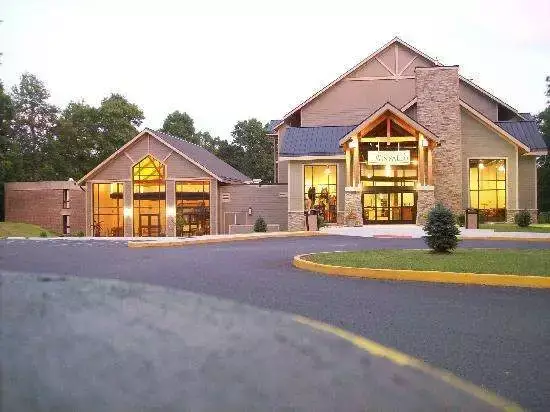 Foley Falls and Black Fork Falls were clubbed together to form the Twin Falls Resort, the nature enthusiasts' ideal setting. The 18-hole championship golf course of West Virginia Golf Resorts is located on the wooded mountains of Wyoming County.
The weather permitting golf course offers golf packages for two overnight stays for all seasons.
The restaurant serves delicious regional dishes all year-round, and golfers can take a lunch box to the golf course.
Events: Snow Scenes Canvas Painting, Prickett's Fort 18th C. Firearms and Accoutrements Show, Cardboard and Duct Tape Sled Race, Historical Art Workshop at Prickett's Fort, Wood Duck Day with Joey Herron, and many more
Things to do: ATV Riding, Aerial Tours, Blackwater Falls Sled Run, Camping, Boating, Fishing, Golf Courses, Hiking Trails, Geocaching, Hunting, Mountain Biking Trails, Horseback Riding, Outdoor Adventures, Scenic Train Rides, Museums and Historical Sites, Snow Sports, Swimming, Whitewater Rafting.
8. Raven Golf Club at Snowshoe Mountain Resort
10 Snowshoe Drive Snowshoe, WV 26209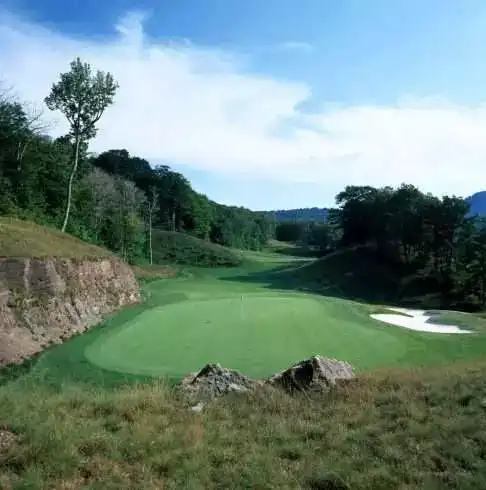 The splendid landscape and mild weather are an icing on the Gary Player designed golf course, Raven Golf Club, nuzzled in the Appalachian Mountains. A driving range filled with challenge and scenic beauty excites golfers of all ages.
Snowshoe, West Virginia golf resorts set out to be an ideal destination to hold out a family reunion, club outings, conference, school trips, and much more.
Tie a knot with your partner at this awe-trucking resort, forever engraving the memory in your hearts.
Activities: Offroad Adventure Tours, Snowmobile Tours, Coca Cola Tube Park, Night Skiing at Silver Creek, Mountaineer Terrain Parks, Split Rock Pools, Snowshoe Bike Park, the Woods Escape Room, The Big Top, Guided Fly Fishing, and so much more.
9. Alpine Lake Resort
700 West Alpine Drive, Terra Alta, WV 26764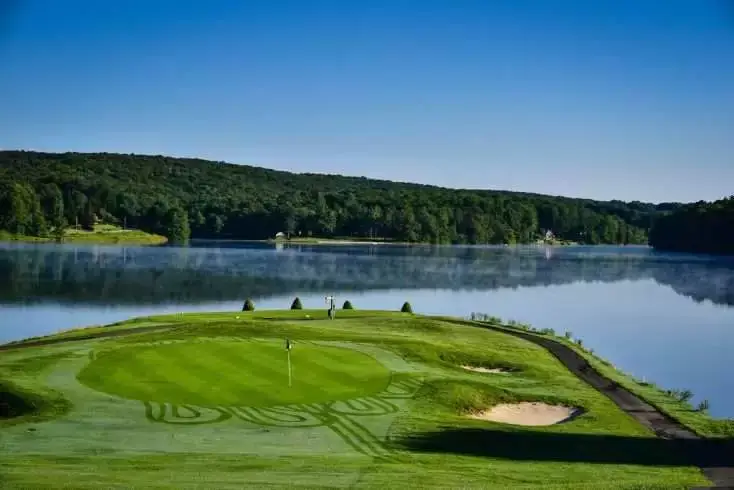 Savor the hot sunny summer inhaling the mountains' clean and cool air where the gem of adventures and activities, the Alpine Lake Resort, resides away from the bustling Tri-State area.
The favorable conditions make golfing convenient on the course of par 3, 4, and 5's. Evergreen Dining Room, Lakers Lounge, and outdoor deck overlooking the beautiful Deep Creek Lake and the green course are perfect places to relax. Alpine Lake treats the guests with tons of lodging accommodations and amenities.
Celebrate your special events, creating the best memories at this West Virginia Golf Resorts that will last forever.
Events: Family nights, AYCE Fish Dinners, and Rib Nights
Things to do: Boating, Beach, Cross Country Skiing, Fishing Fitness Center, Indoor Pools, Biking/Hiking Trails, Sledding, Miniature Golf, Snowshoeing, Dog Park and Tennis.
10. Capon Springs and Farms Resort
3818 Capon Springs Rd. High View, WV 26808
One of the 19th Century traditional styled West Virginia Golf Resorts, Capon Springs, continues to be a seasonal holiday in third-age possession. The guests feel at home in the comfort of the resort and the friendly treatment of the staff.
The well-groomed layout of two very distinct golf courses; one regular course suitable for all golfers levels whereas the Prep Course is maintained for short-fun games. The course characterized by tree-lined fairways does not have any water hazards.
The spectacular scenery, along with delicious baked food and the refreshing spring water, captures the travelers bringing back their feet to Capon Spring every year either for an outing or a special occasion.
Things to do:  Tennis and Pickleball, Swimming, Hiking, Caponchase Adventure, Croquet, Golf, Frisbee Golf, Horse-shoe, Fishing more.
Enjoy the vacations relaxing in cozy and luxurious golf resorts while making memorable memories swinging the golf and experiencing the outdoor recreational activities.