As an affiliate-driven website, Icy Tales earns from qualifying purchases.
Urvashi Jha is a Certified Child Nutritionist and a blogger. She is an advocate of homemade food and believes that this tradition is something that we all should always imbibe in ourselves. The child nutritionist's shop on Amazon, Gotomamma, focuses on helping mothers have a good journey from pregnancy to motherhood.
In her conversation with Icy Tales, Urvashi Jha spoke about her journey to becoming a nutritionist, her views on screen-free parenting, and her future goals.
Q) Going back to your younger self, what were your aims then? Did you always want to do something about nutrition, or did it just happen?
Urvashi Jha: I am an engineer, and all this began because I had a coronial pregnancy. I started researching pregnancy and childcare just because my baby was born in 2020, so I had to take care of myself, and that's how it began.
I was always into something like research, but I had never planned that. Because of the pandemic and my being very possessive about my baby, I started all this. The pandemic was also a period when our fitness and nutrition became very important, though it was already for me. I was concerned about what I eat and what goes inside my body.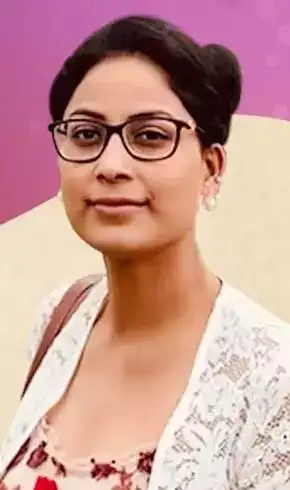 But then, when you have a baby, it has to be better than what you are doing to yourself. So I habitually wrote a diary of whatever I read during the day. I wasn't there on Instagram last year; 2021 January was when I had just put up a post, and it got a very good response. So that's where I got myself certified as a pediatric nutritionist, and I'm still digging deep inside it.
Q) What do you have to say about the importance of child nutrition?
Urvashi Jha: The first thousand days of our life is very important. A baby's brain develops up to 80% in the first two years; it's right from the day you conceive till the child's second birthday, so that's how important it is.
So I always say that it's not only feeding the stomach; you're feeding and nurturing the brain. So it's very important as a part of parenting; I think what a child eats and consumes eventually decides the behaviour and the well-being; it has a very significant role.
Q) Can you tell us about self-feeding and why it is important?
Urvashi Jha: If you see my page, I do workshops on traditional weaning, a method that has been practised for decades. This is how we were raised as kids when we sat and our mothers spoon-fed us.
But then, all of a sudden, weaning came into the scene. Research says that it allows babies to self-feed and has its advantages. But some people are not that confident enough to do that. So I started training parents about traditional weaning, and I've already trained more than 1500 parents.
Instagram shows you many videos of babies eating alone at six months of age. It is all about how you allow your child to self-feed. Many people question that it can not happen with traditional weaning, but I beg to differ. In my journey, when I started solids for my baby, I was also under pressure about these methods of beating traditional weaning.
It's not about the method, and it's about what you're feeding your child. I strongly suggest feeding them homemade food and allowing them to eat by themselves. Traditional weaning is innate to humans as feeding is something that you cannot take away from us over time.
I have spoken to mothers under postpartum depression, just stressing that they're unable to feed their children; this is what Gotomamma is all about. It is making it easier for everyone, and it's all about Indian food, Indian eating habits, and how well it can go along with your life.
Q) Talk to us about Screen Time and Screen-Free Parenting
Urvashi Jha: We humans are social animals; we need to talk to each other when our children grow up. We must indulge in more healthy conversations with them rather than just looking at the screen and what is framed. When we have a screen in front of us, we distract ourselves and do not even focus on what we eat.
Once children finish their meals and if you ask them what did you eat, they don't even know. I remember in our times if our mother used to cook something very interesting, we were so happy about it, but that's not how it is today. Today it's all about watching cartoons and episodes.
If you read more about it, it's leading to many disorders like passive autism, sensory disorders, and speech disorders, so I would say screen time has to be regulated. You cannot just eradicate it, but we need to balance it in our kids' life.
Brain Development today is all happening on apps! If we look at Einstein and other great scientists, they had it all without such right and left brain development apps. It will happen; we need to let kids live in the natural environment, which is missing today.
In many research papers, it is proven that screen time has so much impact on your hormones as well. So it's a great loss to us. I think the marketing gimmick about the right brain and left brain thing is responsible. We grew up so well, so we can make it happen for our kids.
Q) What are your future goals?
Urvashi Jha: I have a lot of things on my mind which are all about nutrition. Starting solids is recommended around six months of age. Parents nowadays bring packets of chips at home, which are not needed. Only if you read what's behind the packet will you see what you're feeding to your child.
I nurture homemade food as I am very fond of eating at home. For example, when parents ask me what we feed when travelling? There are so many healthy and easily available things at home. I would say Makhana, an Indian food item that has become popular worldwide. All our Indian food is getting more popular worldwide, it's going to Western countries, and then we are taking it over from them.
So why not get back to basics, back to old school when it comes to nutrition especially? It will do wonders. We did not have so many disorders and sensory problems two decades back; It's just the result of screen time and unhealthy eating. I can't directly control nature right now, but I can try at least in the nurturing part. If you ask about my goal, it is to nurture and promote home-cooked and healthy food.
Urvashi Jha aims to spread the word about homemade food because she believes home-cooked food can cure anything. She urges parents to give children the right nutrition and get educated about better nutrition methods. Urvashi Jha also helps with easy and yummy recipes to include in your child's diet for their health benefit.
Check out the whole conversation with Urvashi Jha on our YouTube Channel.