As an affiliate-driven website, Icy Tales earns from qualifying purchases.
Karaoke Songs For Women: Get Set Going!! 
Ladies and gentlemen! Now we would like to welcome the sensational, the queen of melody, the life of this gathering, our rock and karaoke star__(your name)__.
How does that sound? Insane right? But by the end of this article which tells you 70 karaoke songs for women to try, you would be able to live your dream of becoming the karaoke star of your audience.
How is that possible? Simple! With our list of the best karaoke songs for you, you can do anything.
Karaoke nights are fun to get together with family, friends, or anyone who forms your audience. The lights, vibes, music, dance, and whatnot.
But there comes a villain in the path of you becoming the pop star of the night. You cannot find the best karaoke songs to grace the karaoke gathering. Also, your lack of confidence comes in the way of your wish to sing like a dream.
Again when you think of crowd singing, female singers like Amy Winehouse, Lady Gaga, Miley Cyrus, Gwen Stefani, Janet Jackson, and Avril Lavigne come to your mind.
That makes you even more depressed about your performance.
We understand your frustration and have a solution. We will hand you a list of the best songs for karaoke of all time and a bonus tip at the end to take your karaoke singing to the next level.
In this article, you will find songs of various genres and languages. We have made a list of the best songs from Bollywood. However, you will find a few Hollywood hits too.
So, brace yourselves!!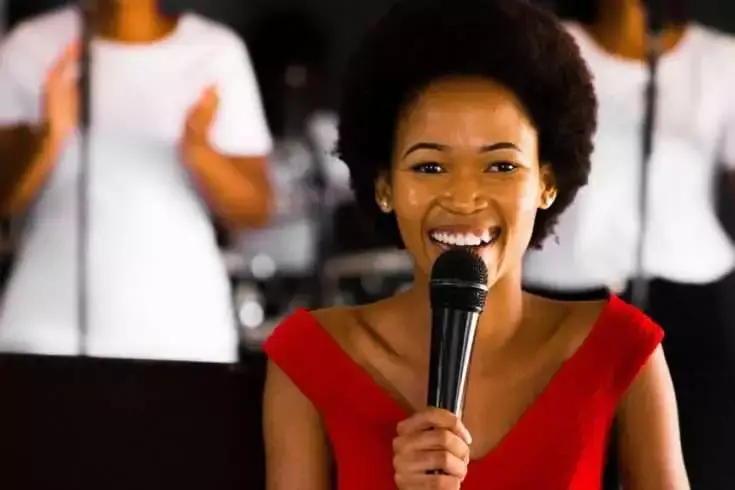 For History Lovers 
Japanese inventor and musician Daisuke Inoue first came up with the karaoke machine in 1971, but karaoke singing was introduced to the world by Filipino inventor Roberto del Rosario in 1975.
Result? The Philippines country has a karaoke machine in every home. It is a kind of tradition there and a means of pastime.
Also, karaoke is famous in many Asian countries like Japan and South Korea, other than the Philippines.
When everything is set, you will be all excited to get on the floor but wait!
Here is the list of the best karaoke songs for you to get started as per your mood, audience, and setting. And guess what, you can get some of your favorite songs from this list to enjoy forever. Mostly Bollywood songs are covered in this post, including old Hindi female songs, Hindi karaoke songs, and old Hindi songs.
Romantic Karaoke Songs For Women to Try
1. Dil Diyan Gallan (Love Conversations): A Bollywood Hit
Even the thought of this song carries us to the setting of the snow-covered mountains and love in the air.
Coming from the movie 'Tiger Zinda Hai', this melodious song will give you all the reasons to love more.
So grab your mic, although you can't be like Atif because you don't need to. So, give this song your female vibes.
2. Love Me Like You Do: All-Time Favorite
A Song by Ellie Goulding became the most successful song of her career in the film 50 Shades of Grey (2015).
This can even make your karaoke solo successful too.
3. Hasi Ban Gaye (You've become the reason for my smile):
The song comes from the Bollywood movie 'Hamari Adhuri Kahani' in the voice of Ami Mishra, but Shreya also gave her voice in the female version of this song.
Interestingly, the actor also sings this tune to confess his love. Now it's your turn. Where's your karaoke mic?
4. Samjhawan (How do I make you understand about my love):
Aww! The lover is everything for this girl means the one who acts in this song.
So why are you waiting like that girl? Get on the stage with this awe-inspiring melody and confess!
5. Jag Ghumeya (Travelled the world but couldn't find someone like you):
Starring Rahat Fateh Ali Khan as a leading singer, but don't worry about that. You can perform this Hindi song too for your love.
This song is cute in that the lover lists all the qualities of his beloved and makes them incomparable.
The song is easy but not ordinary. It refreshes the room and mind of the people with its sizzling lyrics.
Easy Karaoke Songs For Women
6. Pardesia Yeh Sach Hai Piya (O stranger! People say I'm in love with you):
From the 1979 movie Mr. Natwarlal, the song has been sung by the Nightingale of India, Lata Mangeshkar. Featuring Amitabh Bachchan and Rekha, the track has quite playful vibes. This one is the best Indian karaoke songs to try at once.
7. Give Me Some Sunshine:
The song tells the plight of students who spend their lives fulfilling others' aspirations and ignore their bliss.
A great melody presents the rebellion of students sacrificing their future.
Give yourself the love you need with this song.
8. Channa Mereya (My beloved):
Wow! This one has the power to make you a pop star of the night. Only "wow" will come out for you from your audience. Super easy to sing.
It has sad vibes but can be sung playfully. "Acha Chalti Hun Duaon Me Yaad Rakhna" has become a trendy line in Bollywood.
9. Tum Hi Ho (Because you are my love):
Sung by the legend Arijit Singh, this song has its audience and is a milestone in the career of Arijit and the music industry itself.
If sung from the heart, this creates magic everywhere. Remember, the lines? "Kyunki tum hi ho…ab tum hi ho…meri Aashiqui ab tum hi ho".
10. Lag Ja Gale (Embrace me):
A sensual track ahead of its time from the movie 'Woh Kaun Thi' (1964) can still give us goosebumps.
Its audience is increasing day by day, making it a massive hit of all time. Your audience will totally enjoy the vibe and groove to the music as you sing this song.
Classic Karaoke Songs For Women
11. Yeh Ladka Hai Allah (How mad this guy is):
A girl tries to make her lover understand about love. In Asha Bhosle's voice, the song is from "Hum Kisi Se Kum Nahin" (1977).
12. Humein Tumse Pyar Kitna (I don't know how much I love you):
I will not lie. This song from the movie Kudrat (1981) is phenomenal. It well serves the purpose of stating that your love is beyond explanation.
13. Shayad Meri Shadi Ka Khayal
The song is conversational, and trust me, you will rock while singing it to your partner on one condition.
You should be single because that's when you will ask your lover to come to your house and ask for your hand from your mother.
14. Agar Tum Na Hote (If you were not there):
One of my favorites, and I bet it can be yours too.
Lata Ji's voice and Rekha's presence make this song more appealing. This will make your lover love you forever.
90s Karaoke Songs For Women
15. Jab Koi Baat Bigad Jaye (O my love! Stay with me in every situation):
The line 'Tum Dena Sath Mera, O! Humnava" is magical as the whole song. Just feel the vibes.
16. Pehla Nasha (First Hangover):
It can be termed the first love song as it has all those fresh vibes of a sprouting love.
17. Taal Se Taal Mila (Harmonise your rhythm with mine):
Another hit song from the 90s with some drizzling vibes.
It will make you the dancing queen as you would not be able to stop yourself from hitting the dance floor.
18. Barbie Girl:
This one by Aqua has its audience from the kids to the young people. A smashing hit for your karaoke. The singer sings she's not just a girl, but a barbie girl.
19. Saat Samundar Paar (Across seven seas):
Sing this track as a love confession, groove to its music, and make everyone else dance as well.
20. Dheere Dheere (Slowly slowly):
It needs no introduction and was one of the most popular songs in the 90s.
Sad Karaoke Songs For Women
21. Dil De Diya Hai (I have given you my heart):
22. Jo Bheji Thi Dua (The prayer that has been sent):
23. Sun Raha Hai Na Tu (Are you listening):
It is a sad romantic song but can be sung otherwise. For example, if someone is upset with you, sing this to realize their importance in your life.
24. Tujhse Naraz Nahi Zindagi (I'm not upset with life but surprised):
This song relates to life. Sing like you are conversing with life itself. It is one of those evergreen songs.
25. Tere Naam (For You):
Have you just been through a break-up? Try this one to let your feelings out.
Feel your feelings to release pain and this will indeed become one of your favorite songs for a grieving mood, of course.
26. Bol Kaffara Kya Hoga: (What will be the compensation?):
Originally sung by Sehar Gul Khan and Shahbaz Fayaz Qawal, this song joins people across the nations. Its remake has recently been sung by Jubin Nautiyal, making it more widespread.
It has all that one song needs. In short, a masterpiece! A great song portraying separation in a love story.
Fun Karaoke Songs For Women to Try
27. Raat Ke Dhai Baje (Around the late night):
28. Iss Diwane Ladke Ko
In this song, the girl forces the boy to convince his love as he denies it. So, if you want someone to do the same for you, you've got to try this song.
29. Sare Niyam Tod Do (Break all the rules):
From the movie 'Khubsurat', Asha Ji has made this song even more fun to sing.
It is easy to sing and feels like this one was made especially for karaoke singing. It will make your party come alive.
30. I'm A Mess:
Sung by Bebe Rexha in her debut album, 'Expectations' in 2018, this song is exciting and amusing at the same time.
Also, it is an easy karaoke song for your first-time karaoke experience.
31. Shake it Off:
Sung by Taylor Swift, this one will lift your and your audience's mood. It is a chartbuster from Taylor Swift and can prove a real crowd-pleaser.
Sing with me, haters gonna hate…hate, hate, hate.
Suggested: Top Easy Songs to Sing: 19 Catchy Ones
Popular Karaoke Songs For Women to Try
32. Agar Tum Sath Ho (If you are with me):
The song says, "I can survive every odd if you are by my side." One more soulful track to go for in Alka Yagnik's sweet voice.
33. Rabta (Connection):
It will remain forever in the hearts of everyone due to its melody and meaningful lyrics.
The song has 2-3 variations, and each one is mesmerizing. The song suits low female voices more.
34. Kal Ho Na Ho (Whether tomorrow comes or not):
Evergreen song of Shahrukh Khan, King of the Bollywood from the movie 'Kal ho na ho' in the voice of Sonu Nigam. Anyone can sing this one. Try it out!
Sometimes giving hope and at other times sad vibes, it's a reminder to live life now.
35. Roar:
I used to confuse this song with 'Eye of the Tiger' because it has the same line. The song is famous worldwide and has been the best-selling song of 2013 by none other than Katy Perry.
Preach everyone about self-empowerment with this song and Roar about the girl power!!
36. Aaj Phir Jeene Ki Tamanna Hai (Today, I want to live again):
Since 1965, Bollywood has given us this gem called 'Guide'. Every song from this movie is heart-touching, and 'Aaj Phir jeene ki…' comes in the personal favorite of each of us.
This song can fill the arena with positivity.
37. Khairiyat (Ask for the wellbeing of your love):
The song is a gem and will always be in the heart of music lovers. This track is so relatable that it can instantly light up someone's mood. Give it your best shot.
No introduction is needed to Arijit Singh as he lives in our hearts.
Friendship Karaoke Songs For Women
38. Tera Yaar Hu Mein (I'm your friend):
One more soulful track from Arijit from the movie "Sonu Ke Titu ki Sweety." The story revolves around bromance vs romance, and the song is sung by one of the friends on another's wedding day.
This song is super special when it comes to lasting friendships. So give this song to your friend as an affirmation on karaoke night.
39. Ik Tu Hi Yaar Mera (I don't need anyone else when you are my love):
This song serves two ways – for friends and lovers too because "yaar" can also mean love, and your lover can be your best friend.
Neha Kakkar's voice has given this track an edge. It would be one of the best fits to make your gathering memorable.
40. Yaara Teri Yaari Ko (I worshipped your friendship):
The song says about the gratefulness that one friend has to offer to the other.
Kishore Kumar's voice makes this song even more irresistible. A perfect song to celebrate an ideal friendship.
41. Ye Dosti (We will not end this friendship):
Again, with another legend, Manna Dey, Kishore Kumar created magic in this track from 'Sholay'.
Another reminder of immortal friendships means a hit for your karaoke night.
42. Wannabe:
In the year 1996, the emergence of British pop group named Spice Girls. And BOOM!
The album celebrated the theme of friendship over love and gave the rockstars of this album their due fame.
43. Daru Desi (Hangover of your friendship):
This is a fun track to sing and dedicate to your friend from the movie Cocktail.
Dedicate this song to that friend with whom you can be you—a casual song to sing in your carefree college days.
Until now, you have come across the top Bollywood Karaoke songs. Now let's change the pace and take a look at English hit songs.
English Karaoke Songs For Women
Why stay limited to Bollywood? Try out the top hits of Hollywood too.
44. I Wanna Dance with Somebody – Whitney Houston
45. Mamma Mia – Abba
46. I'll Survive – Gloria Gaynor
47. Say My Name – Destiny's Child
48. I Love Rock' n' Roll – Joan Jett & the Blackhearts
49. Oops, I Did It Again – Britney Spears
50. Before He Cheats – Carrie Underwood
51. Holding Out for a Hero – Bonnie Tyler
52. Baby – Justin Bieber
53. Million Reasons – Lady Gaga
54. Man! I Feel Like a Woman! – Shania Twain
55. Valerie – Amy Winehouse
56. She's A Lucky – Britney Spears
57. 9 to 5 – Dolly Parton
58. Girlfriend – Avril Lavigne
59. I Hope You Dance – Lee Ann Womack
60. Forever And For Always – Shania Twain
61. What's Love Got To Do With It – Tina Turner
62. My Love Is Your Love – Whitney Houston
63. I Will Always Love You – Whitney Houston
64. It's Raining Men – The Weather Girls
65. Independent Women – Destiny's Child
66. Stronger – Kelly Clarkson
67. Hit Me With Your Best Shot – Pat Benatar
68. I'm Every Woman – Chaka Khan
69. Beautiful – Christina Aguilera
70. First Cut Is The Deepest – Sheryl Crow
Bonus Tip:
To give your best shot in the karaoke bar or wherever you are, do this –
Feel the music and act confident, whether you are singing country songs, rock music, or performing any of your favorite songs.
Karaoke singing should be about fun, not about straining yourself.
We have listed the best karaoke songs for you to perform in the next karaoke session. The stage is all yours.
All you need to be is ready to rock the stage!!
Good luck.