A girl, right from the beginning, starts making plans for her wedding day. Be it jewelry or dress, and she plans it all. India is a magical place, and weddings here are a huge affair.
People spend crores of rupees to make the moment right. But what makes these weddings special in this wedding season? You guessed it right; it's none other than the beautiful brides.
Let's have a look at why these brides are so special.
1. Haldi Rasam (Pre Wedding)
Haldi, which is known to have numerous benefits to human beings, is also used for beautification.
It's a pre-wedding ritual, which takes place just one day before the wedding day. It leaves the skin of the bride healthy and glowing. 
2. Mehandi Ceremony (Pre Wedding)
I can bet every girl loves mehandi art. and when it's for the bride, its importance grows even more. A bride is imperfect without mehandi, and it completes her.
It is the representation of the bond of matrimony and signifies love and affection between the couple. It adds magnetism to the bride.
3. Chura
I personally love Chura a lot, and it's a must-have for my wedding too! It is a set of 21 bangles in red and white.
This signifies her status of being a newly married woman. Wearing it brings prosperity and fertility to the married couple.
4. Kalire
Kalire is tied to the bride by her family and friends and is a symbol of their love. The bride makes all her friends stand in a row, and she shakes her hand on their heads; if any part of the kalire falls on the head of any girl, then it is believed that she'll be married soon.
So those who are in a rush to get married, this thing might work. (I want those too).
5. Bridal Lehenga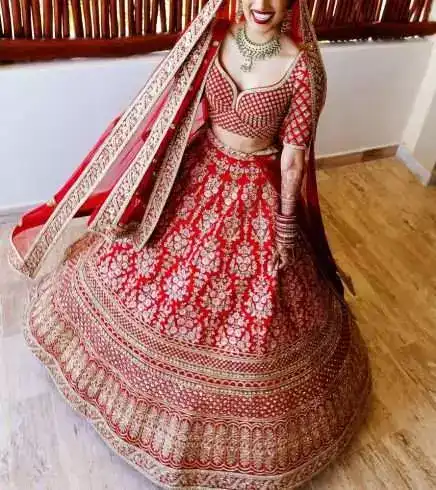 The lehenga or the wedding dress is one of the most important aspects for the bride. These can start from a few thousand to pretty good lakhs. Most bridal makeup artists also work with the bride's wedding dress plus the make up if they aren't very comfortable wearing it by themselves, considering how heavy Indian wedding dresses are.
Generally, it's from the groom's family, but some brides choose to buy it themselves. A bride looks ravishing in a lehenga.
6. Jewelry
Who can forget jewelry and especially when it's a wedding?
Bridal jewelry differs from normal jewelry as it is more beautiful and also really heavy. Even if the bride wears just a single piece of diamond around her neck, the whole crowd will follow her because one cannot compare the sparkle she gets after wearing it. Some brides in India also prefer heavy jewellry on their special day, especially in the Southern part.
7. The Powerful Bindi
The bride wears it between her eyebrows. It is a symbol of married life. It is essential for a bride, and it adds beauty to her. This adds beauty to the bride, along with the other Indian bridal makeup.
Usually, an Indian bride prefers light makeup to heavy makeup in their wedding ceremony to let their natural skin tone glow. WIth simple eye makeup, usually kajal and mascara giving that traditional bridal Indian wedding look. In many parts of India brides even prefer doing their own makeup since many can't afford a makeup artist.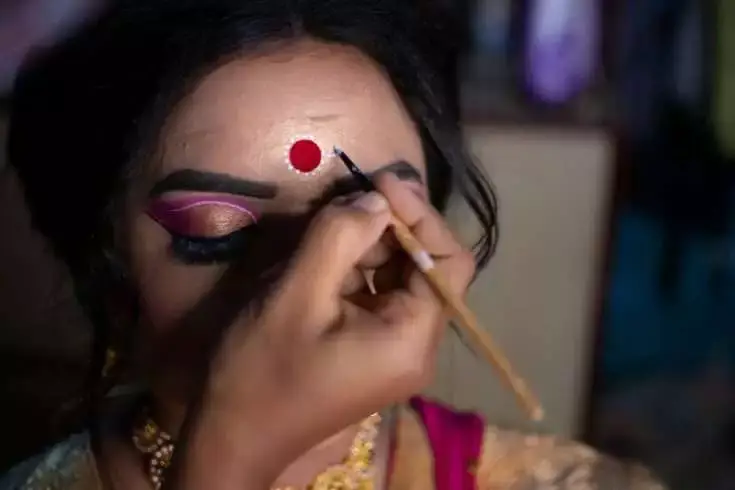 8. Sindoor
Sindoor or vermilion is a red-colored powder that the groom applies. Today, many women do not apply sindoor, but I find it important because the red color is so charming and looks perfectly beautiful when a woman wears it.
9. Gajra
At Indian weddings, every Indian Bride Wears a Gajra, being part of the Indian Culture. It gives a traditional look to the bride and her hair-do. Generally, jasmine flowers are used, but now a day's other flowers like roses, orchids can also be used. These add so much extra beauty to the bride (and don't forget, the wedding photos too)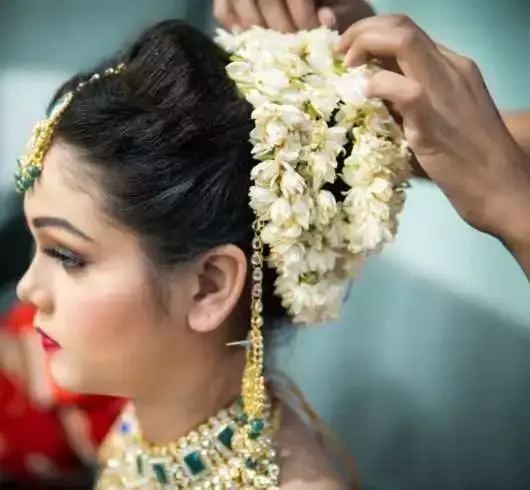 10. Nose Ring

A nose ring or nath is a part of Indian tradition which every bride follows. It gives a royal look to the bride and completes her appearance.
11. Indian Brides Are Very Stylish!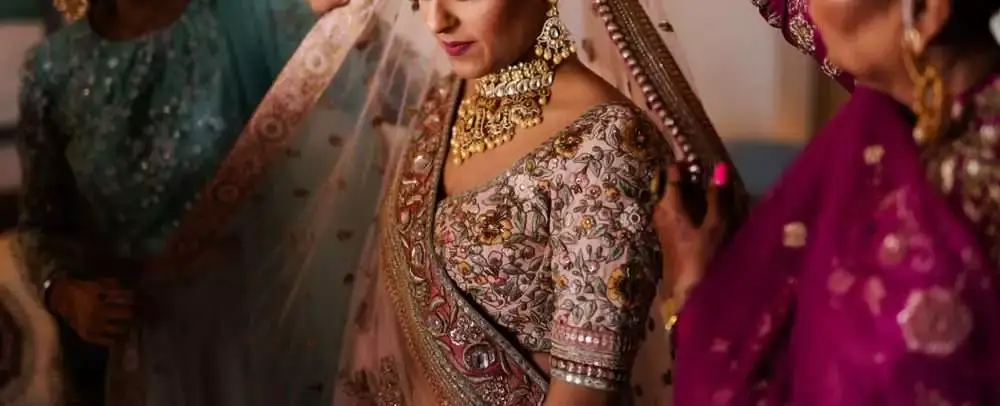 One most simple and classic reason for an Indian bride to be beautiful is that they are very stylish and smart. They know how to look beautiful in any attire, be it formal or casual. They perfectly carry a nice one-piece dress with Chura on. They are simply magical.
-Edited by Steffy|22/7/22