It's always better to have a broad vision of success by holding a humble attitude. Being nice to people is the least you can do to serve them and make them feel important.
These are few words by one of the great chefs with outstanding culinary skills, Chef Biswajit Moharathi. He believes in serving people and food could be the first step in achieving heights in that.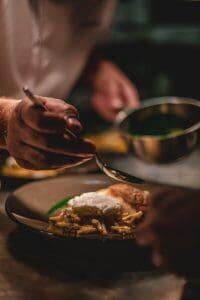 You Are Never Late For Your Dreams!
People always believe in dreaming but they think the time constraints could stop them. The dream has no specific boundaries or time limits. The dream is something that is every individual's right. You could never feel of not dreaming if you think it could be in your hand. Human life is very unpredictable, you don't know what could come on your plate even without thinking. Chef Biswajit is a big dreamer with positive hopes, he has no place for failures. He thinks there is no term called a failure but inspirational dissatisfaction. For him everything has a lesson or knowledge, you just have to cope with dissatisfactions to bring the real way of satisfaction in your lives.
My Biggest Inspirations, My Friends!
In the odyssey full of many ups and downs, Chef Biswajit Moharathi is grateful to have some folks in his life who never gave up on him.
There were times when he was in a situation putting many bad thoughts in his mind, but his friends always played a pretty supportive role in bringing back his energy to the top. He even dedicated many dishes to his friends as they played a very important role in bringing him to the place he is standing right now. Every human needs pillars in their life to make him and stand. We can definitely say in the life of Chef Biswajit it is his friends playing the role of pillars and bringing positivity in his life.
My Heroes, My Parents!
Parents are always the first and last thing every child would think about in a day. Chef Biswajit Moharathi being the only son of his parents showed immense love for his parents all the time through all his works. He was the topper of the state with an excellent career in his engineering field. He grew up as an outstanding software engineer with excellence in the field of his studies. He decided to develop the culinary skills that got him to visit many new places and to explore many things. In all this journey with a lot of excitement, there were a few phases where he felt a little low. Here, his family played a great role in encouraging him to do something that he dreamt of and that is something a child could ever expect from his family. He has a sister with amazing cooking knowledge and techniques, he would love to eat foods from her hands. This shows how humble and affectionate Chef Biswajit Moharathi is for his family and friends.
Serving People Gives Me Ultimate Happiness!
People with humanity should have the ultimate goal to serve people. Not everyone wishes to help people without any self profit but Chef Biswajit Moharathi has the vision to bring cope to Odisha. He intended to develop the scope for people in Odisha to give hope of success. He wants to build opportunities in Odisha to make people learn more things and be independent. There are many talents that are not able to come out because of not scope and lack of encouragement. This is something Chef Biswajit Moharathi intends to get out of. He wants to be the reason people smile out of success and happiness. In the world everyone looking to achieve heights by putting people down. Chef Biswajit comes as a hope for many people looking for a bright and happy future.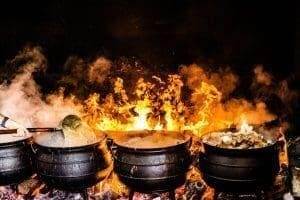 For me, Food is a Religion!
Food is the only religion that Chef Biswajit believes. He always defined the real meaning of religion that anyone should follow as something that a person loves. For following and admiring a religion you should respect and love that religion. Chef Biswajit Moharathi called his love for food is as similar as following a religion. He finds peace and ultimate satisfaction in cooking and eating good food. For him, feeding people with some creative food recipes is complete bliss. He finds inner peace in making a fusion of different recipes. Basically, he wants to make a great fusion of Indian dishes at an international level. He always believes in creativity that makes him a great human and chef.
He Survives To Cook Good And Creative Recipes!
Being blessed with great culinary skills, Chef Biswajit Moharathi has been always into cooking and trying out new recipes that could impress his soul. It's not always easy to make a fusion and bring the best out of a simple recipe, but Chef Biswajit always conquers the field with the willingness to do well. For him, cooking is a religion, emotion, and self-satisfaction. For him working is cooking something new on a daily basis. He would love to give a new touch to any simple or technical dish. He never finds any dish to be very difficult for him, may because he always enjoyed taking difficulties or challenges. He has innovated many beyond belief astounding dishes such as Faluda momo and many other desserts along with different Indian recipes with an international touch. He survives to eat some delicious and flavorsome foods and more than that he would love to cook for people.
Life Is All About Doing Something That Makes You Happy!
It's not always easy for people to do what makes them happy, as there are many obstacles in their way. There are many people working for their livelihood but not everyone works for happiness and to touch people's lives. Chef Biswajit is always into helping others and cooking for people is the best way to serve or help people. The best part about him is the confidence and positive hopes he has always had through all the triumphs and catastrophes. He always enjoys his work no matter how well or badly it's going. He believes in fighting tough situations with the happy and humble nature that he shows since childhood. It's not that difficult to become a chef if you dream to be one and believe in trying no matter how many times you fail. Chef Biswajit Moharathi is the best example of simplicity, humbleness, and impeccable Chef.