Meditation can be done anywhere, but there are a few conditions you need to meet to experience the benefits of meditation. Have you ever tried meditating in bed? But how to meditate in bed, you'd ask? We will discuss five simple meditation techniques to help you relax, improve sleep quality, and reduce anxiety without ever leaving your bed.
1. Five Simple Ways to Meditate in Bed
Savasana
Mindfulness meditation
Deep conscious sleep meditation
Body scan meditation
Guided meditation
1.1. Savasana
Savasana is yoga usually practiced after a yoga session's end. Since this meditation helps you sleep deeply and much faster, it is also called sleep meditation. Savasana's actual meaning is a dead body posture; it also helps reduce stress, blood pressure, anxiety, and insomnia.
1.1.1. How to do Savasana?
Slowly lie down your body into Savasana.
Extend your legs as possible.
Your hands should be a couple of inches away from your body.
Let your palm face up.
Close your eyes.
Make yourself comfortable as possible.
Feel the body weight against the ground.
Draw your attention to the breath.
Breathe naturally.
Ignore every noise around you.
To exit the pose, bring back your attention to the body. Move your fingers, bend your legs up, and slowly move left and right, then take a deep breath and exit the pose.
1.2. Mindfulness Meditation for Better Focus
Mindfulness meditation is a kind of meditation that can help your mind acknowledge your thoughts better, understand things from a positive perspective, and reduce negative thoughts. This is an effortless meditation compared to others.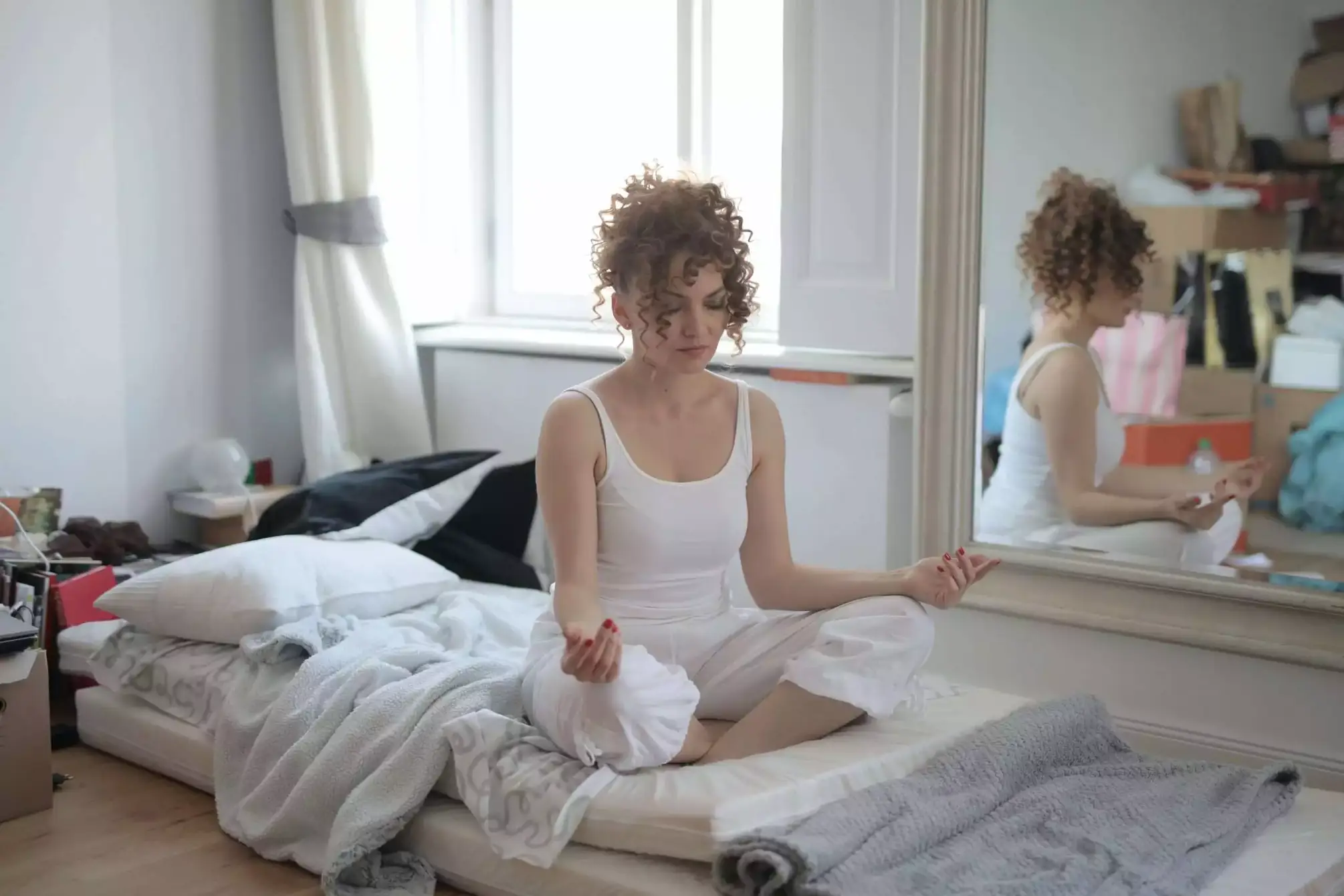 1.2.1. How to do Mindfulness Meditation?
Ensure you are lying down in a comfortable position.
Adjust all your body parts comfortably.
Start with three deep breaths.
Notice any sensation in your body.
Relax them one by one.
Let your body sink into the bed.
Find a part of the body to focus on.
Stay focused.
Scan your body.
Take a deep breath to exit the mindfulness meditation.
1.3. Deep Conscious Sleep Meditation for More Restful Sleep
The US military uses this meditation for instant stress relief. They found that it provides a profound sense of relaxation, and you can have two to three hours of sleep within this 15-minute practice.
1.3.1. How to do Deep Conscious Sleep Meditation?
Lye down on your bed.
Make yourself comfortable.
Face your palm upwards.
Free all your muscles.
Convince yourself that you will not sleep.
Breathe in and out a few times deeply.
Scan your body, and feel any physical sensations.
Relax them.
To exit the meditation, open your eyes slowly and roll over your body left and right.
1.4. Body Scan Meditation to Fall Asleep Faster
This meditation practice is similar to mindfulness meditation in that you scan your whole body while feeling every sensation. Body scan meditation can improve sleep quality, decrease stress levels, and, most importantly, help you fall asleep faster.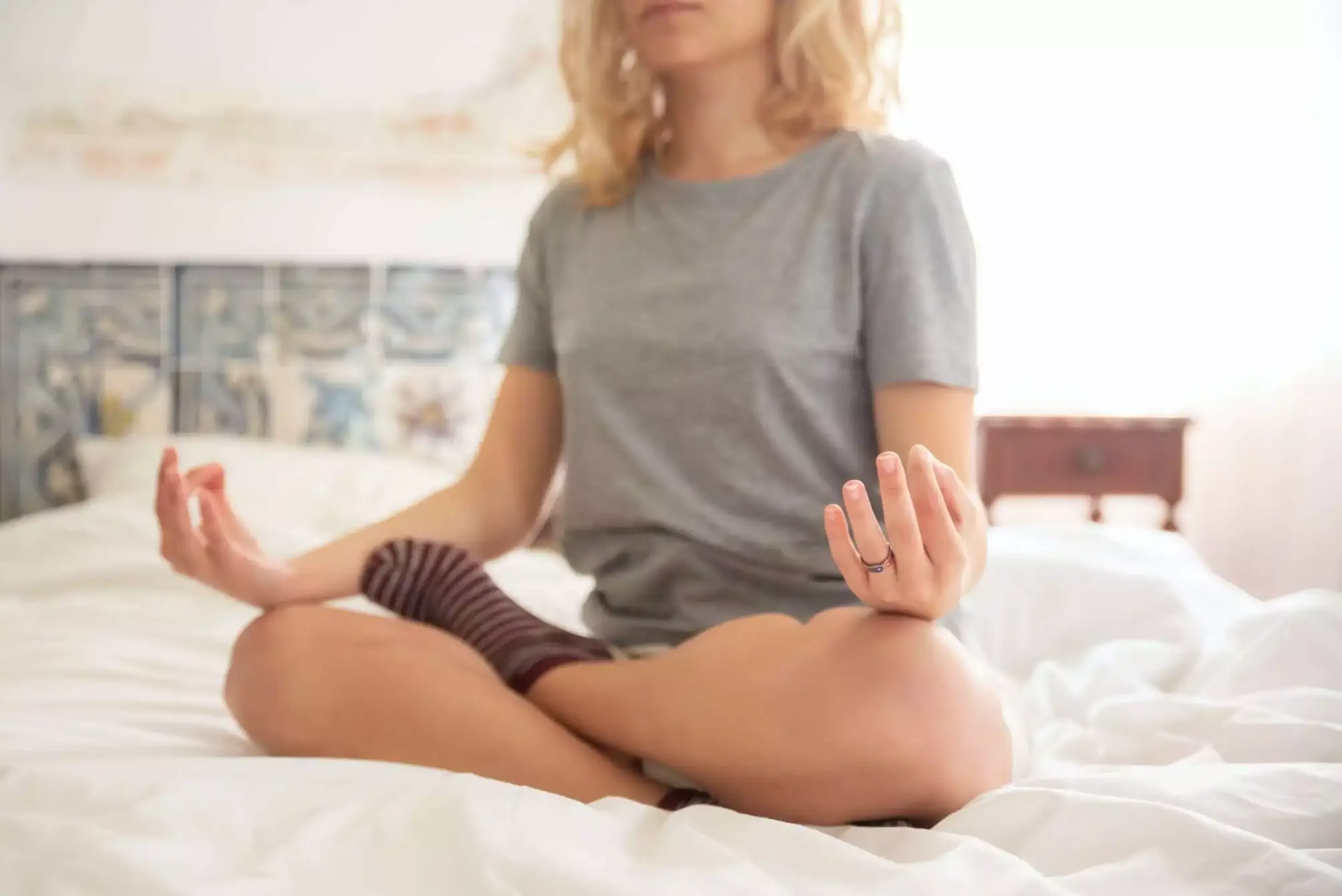 1.4.1. How to do Body Scan Meditation?
Lye down comfortably.
Let your palm face up.
Make yourself as comfortable as possible.
Start with your feet, and feel any sensation.
Relax it.
Slowly go up of your body.
Feel any sensation.
Relax it.
To exit the meditation, take a deep breath, breathe out, and slowly open your eyes.
1.5. Guided Meditation
Meditation with a guide is one of the most effective meditation techniques for beginners. There is very little effort required to perform this meditation. All you have to do is follow the instructions given by the meditator. Also, you will benefit from guided meditation because you make fewer mistakes.
Trying guided meditation can be a useful tool to help your body to promote sleep, increase inner peace, and deepen a state of relaxation in your mind.
2. Best Meditation Routine
If you are a beginner, you should start with five minutes a day, three times a week. Slowly, you can increase the number next week. There is nothing wrong with feeling unfocused. So if you find that distractions are overwhelming, go to a quiet place, sit comfortably, and try to focus on your breath.
You can meditate any time, but the best time is early morning.
3. How to Meditate In Bed for Better Sleep Quality
Good sleep is essential for our health; many people have trouble falling asleep at night every day, which can cause major health problems like insomnia.
The National Institute of Health estimates that roughly 30% of the general population complains about sleep difficulties or shows insomnia symptoms, and about 10%-15% of older adults have chronic insomnia. Stress is the one root cause of insomnia. Research shows that a powerful breathing technique called Sudarshan Kriya can cure insomnia.
3.1. How to do Sudarshan Kriya?
Ujjayi– Sit in a typical yoga position, elevate your chest, roll your shoulders, take a slow deep breath, and exhale your breath slowly. You have to do that at least two times.
Bhastrika– Sit in a Vajrasana posture, keep your hands in loose fists close to your shoulders and your elbow close to your waist; raise your hands by inhaling, open your fingers, and come back to the position by exhaling.
Om Chant– Sit in a yoga position and chant Om three times.
Kriya– Sit in a yoga position, close your eyes, inhale a deep breath, exhale all your breath, and do that at least 5 to 10 times.
4. The Negative Impacts of Excessive Meditation
Meditation is one of the best solutions to curing mental health. Still, some studies showed that it could be dangerous in the long run if you don't meditate correctly or do it excessively, or you can get the opposite reaction.
Some meditation side effects are:
4.1. What are the Meditation Side-Effects?
Sleep problems
Anxiety attack
Lack of motivation
Lack of creativity
Socialization problem
5. Benefits of Meditation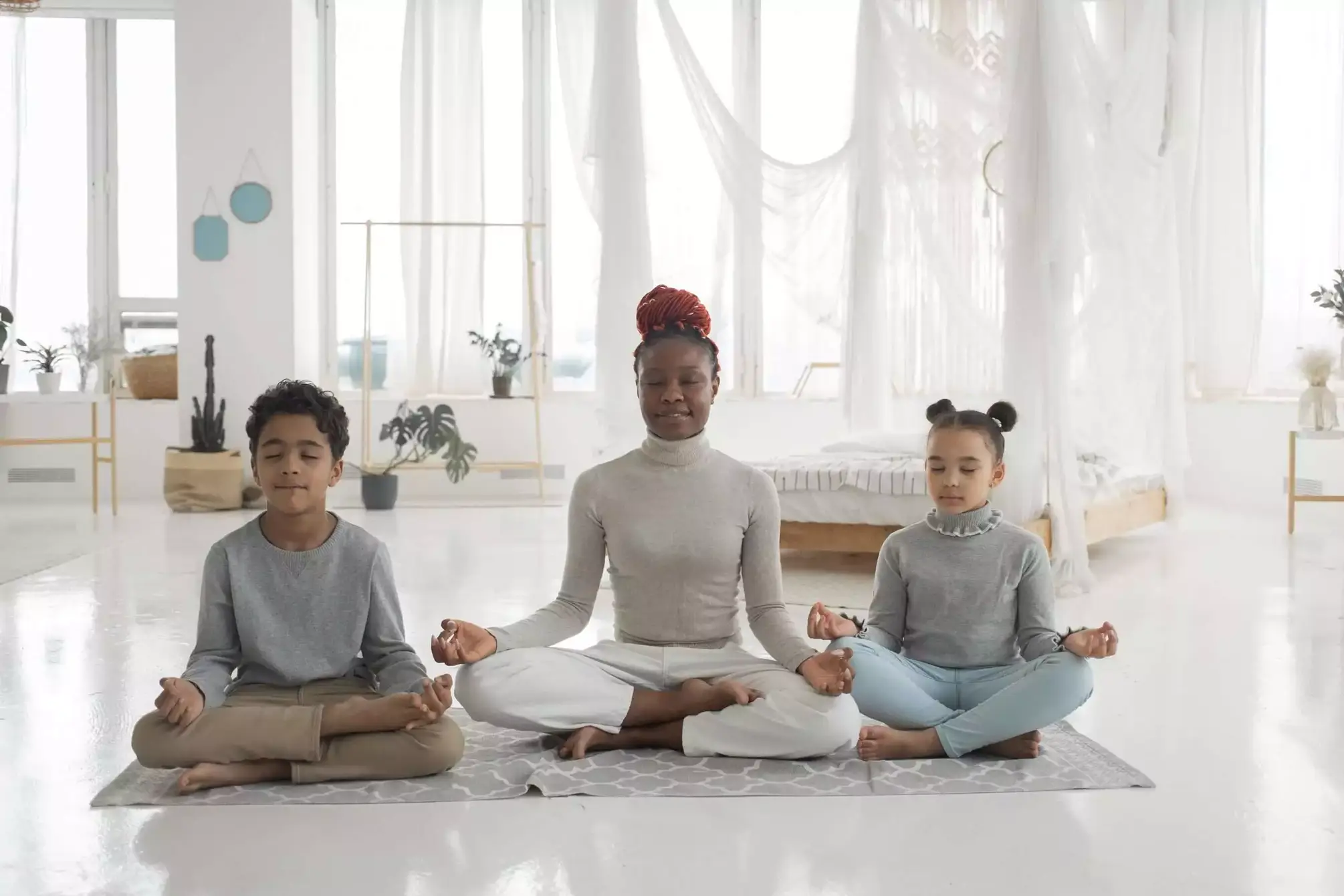 Meditation is a practice that improves our mental and physical health. Meditation benefits your health greatly. In our daily life, people are very busy with their work, but even if we do at least 5 minutes of meditation, it will make our life far better than before. Some health benefits of meditation are mentioned below:
5.1. Health Benefits of Meditation
Improve sleep
Falling asleep faster
Improves concentration
Improves productivity
Improves relationships
Promotes general health
6. Choosing a Meditation Method
Many don't know about different meditations, so we often try to force ourselves to focus on a single meditation that might not suit us. Eventually, we end up quitting meditation.
Everyone should know the different types of meditation, so they can choose what is best for them. Here are some examples:
6.1. Types of Meditations 
Focused meditation
Mindfulness meditation
Spiritual meditation
Meta meditation
Pranayam meditation
Guided meditation
7. Setting up the Right Meditation Room
Meditation can be done anywhere, but as we know, comfort is the priority to do meditation. So you can organize your room a little to get the most benefits. Picking the wrong place to meditate can be very bad for meditating.
7.1. Things You Should Keep in your Mind 
It would be best if you liked the place.
The place should have a good smell.
Use a comfortable yoga mat.
Decorate with plants for aesthetics.
Sit close to the windows for fresh air and sunlight.
8. How to Meditate
Meditation practice is the ideal solution for mental illness and, in general, for your body's health. Unlike the popular belief that meditation is hard to do, it is a simple practice that anyone can learn. If you are a beginner in meditation, you can follow these instructions to do it.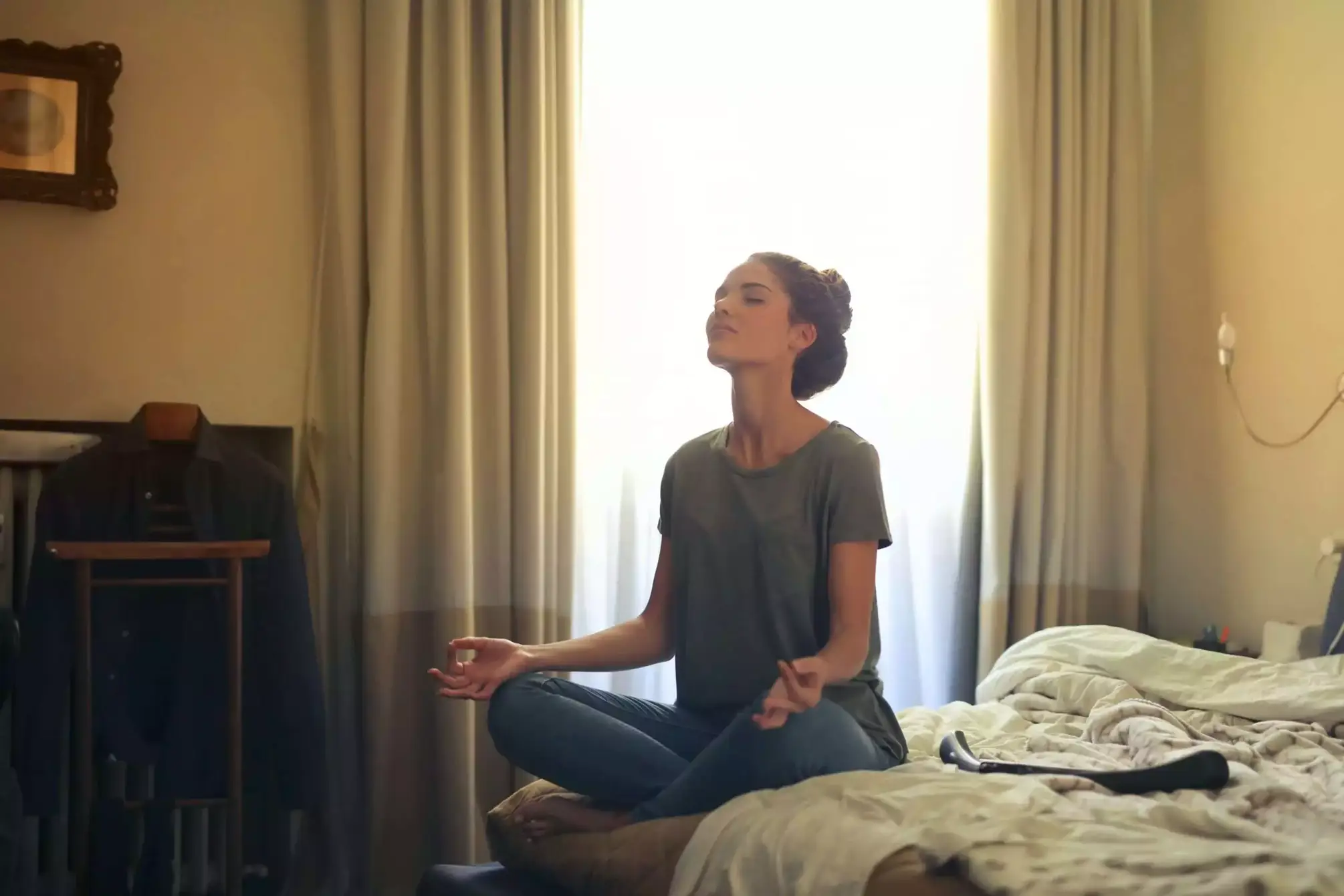 8.1. You should follow these steps:
1. Choose a place to sit
You can pick a place where you find yourself comfortable; it could be your bedroom or a corner of your room.
2. Take a seat
You can use a yoga mat and cushions to make your place comfortable. Sit comfortably with a straight back and your hand resting on your lap.
3. Focus on your breath
Focus on your breathing, inhaling, and exhaling process.
4. Don't lose your focus
Ignore the distractions and focus on your breathing exercises instead.
9. How much should I Meditate?
It should be noted that if you are new to meditation, five minutes would be ideal. However, if it's too long, you can start with three minutes. Then you can push yourself a little further with ten minutes. Once you start, there is no limit to what you can achieve.
10. How many times a day should I Meditate?
Generally, once a day is perfect for meditation. The best way to start your day is by meditating in the morning before you start your day. If you have sleep problems at night, you can meditate before bed to fall asleep faster and get better sleep.
11. Bottom Line
A lot of work goes into meditation, so you must be very patient to get the benefits of it. Almost 80% of people leave meditation because they don't see any benefits as quickly as they want. The first month of meditation is very important because, within this, some people quit, and some stick to it.
You will undoubtedly see the results after completing a month of meditation and will see a difference. Some noticeable differences will be you are calmer than before, more focused on your work, and more relaxed. When you get used to meditation, you will not care how long you have done it; you can even do an hour of meditation at a time, which will turn into a habit.