Do you love learning about a place's history, culture, ideas, or traditions? If your answer is affirmative, we will present you with the National Museum of Australia Building Tour and Entry in Canberra. The tour shall take place in the National Museum of Australia, Lawson Crescent, Acton, 2601. Furthermore, this tour is not limited to a specific day; there are various dates to choose from. Moreover, the time starts at 10.00 a.m. and is an hour-long tour.
Though the tour has no age limit, an adult is recommended to accompany the child. Charges are determined according to age; while minors and senior citizens are charged 10.13 dollars, adults are subject to 23.30 dollars.
So grab your tickets and enjoy this fantastic tour only on FEVER.    
Highlights of the Tour
Unleash the extraordinary tales and hidden meanings of the National Museum of Australia.
Art enthusiasts will surely enjoy this informative tour as they discover the Museum's distinctive architecture, interiors, and landscape.
The experience will be even more memorable as you will be guided by a knowledgeable guide who shall bring the museum's history to life by sharing the stories.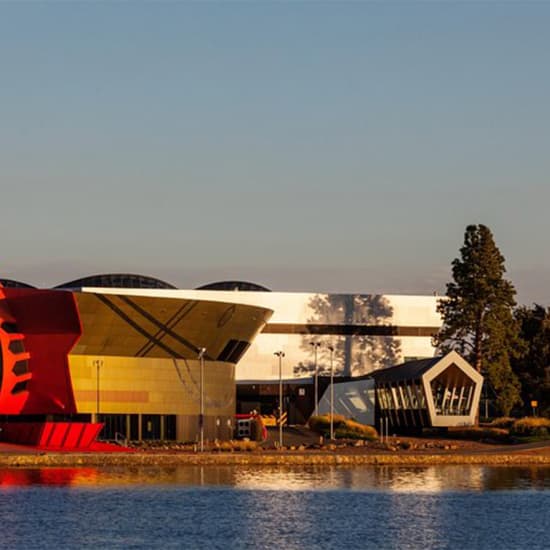 What to Expect at the Tour?
Whether you are a historian, a student, or an individual interested in understanding a particular country's historical background, this tour is meant for you. So folks set yourself to have an entirely novel experience at the National Museum of Australia. 
During the tour, you will be accompanied by a highly knowledgeable guide, who shall walk you through the museum's buildings and architecture. In addition, the focus will also give you an insight into the historic museum's impressive structures.
And do not worry if you are not fluent in English as this tour is offered in various languages on request.  
Moreover, you will be able to uncover the numerous hidden meanings behind each structure. Various tales are associated with the museum's forms, designs, buildings, and landscapes, making it an extraordinary place.
This tour will be a learning experience for you where you will discover about the country's past. This will eventually help you understand the current state of the country.
The National Museum of Australia Building Tour is perfect for visitors who are short on time yet want to explore the key attractions.
The tour is held at 10:00 a.m. and lasts one hour. Also, wheelchair access is available during this time. 
Tickets  
Charges are categorized according to age as follows:
Children (Aged 5-10): 10.13 AUD only
Adult (Aged 17 to 64): 23.30 AUD only 
Senior Citizen (Aged 65-99): 10.13 AUD only
Kindly note that all tickets include entrance to the National Museum of Australia and the Building and Architecture Tour.
You can purchase tickets from FEVER.
Get Set to Explore the Historic National Museum of Australia in Canberra
What:  National Museum of Australia Building Tour + Entry in Canberra.
When: Numerous dates can be selected while purchasing tickets.
Where: National Museum of Australia, located at Lawson Crescent, in Acton.
Timings: From 10:00 a.m.
Tickets: Purchase from FEVER.
Nazish is a member of ICSI (Institute of Company Secretaries of India) and also double graduate in Commerce and Law. Currently a full time mother and a homemaker trying to mark a difference through the power of pen. She is a voracious reader and has passion for writing. She has positive outlook towards life. She enjoys travelling and discovering new places.