Do you wish to explore the world but fear burning a hole in your pocket? Don't worry; we are bringing you the best budget travel tips to help you become a globetrotter just with a little money.
From the snow-laden mountains to the mesmerizing beaches or the evergreen grasslands to the vast dunes, read the budget travel tips useful at all the locations and pick the best yet a most affordable destination for yourself.
Here is our list of 25 best budget travel tips to help you travel smartly and stylishly without spending your money on the water!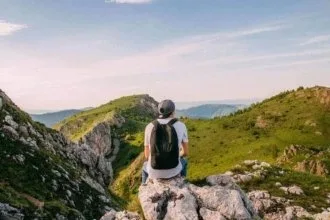 How to travel on a budget in style?
The cheapest accommodation isn't always advertised online.
With a bit of planning, there's almost always a much cheaper alternative accommodation available; find it! Budget travellers should call the hotel and ask for the best available prices, appropriate room options, and a free upgrade.
Look for websites that provide travel points. Use travel rewards and spend your money wisely!
Beware of the comfy poolside towels, the coffee delivery at your door, and the wi-fi in your room; these luxuries come at a hidden cost. So, always ask about the resort's fee policy before booking your room.
1. Choose your destination carefully.
How you travel influences the cost. Travel in developing countries provides cheaper alternatives to visiting hot destinations.
Save money by doing proper research on budget-friendly destinations beforehand. Look out for cheap destinations with a low cost of living and easily accessible.
Don't forget to take advantage of favourable currency exchange rates compared to the local economy.
List of some budget-friendly destinations – Croatia · Bolivia · Costa Rica · Cambodia · Honduras · Greece · New Zealand · Thailand · Turkey ·  Bali · Thailand ·  Bhutan •Albania · Mexico · Bosnia-Herzegovina · Colombia · Republic of Georgia · South Africa · Vietnam · Uruguay ·  Cuba · Prague, the Czech Republic · Fiji · Central America  · Sri Lanka ·  South Korea ·India · Eastern Europe.
2. Travel during the off-season to save money
If you choose off-season travel dates, the weather might not necessarily be the best, but your chosen destination will be much less crowded and affordable. For a better experience, keep a weather updating app handy.
Travelling off-season means travelling cheaply because it will help save money through discounts on hotel prices, sightseeing fees, and cheap flights.
Hotels give huge discounts during the off-season, and even the markets are on sale if you want to shop for souvenirs.
3. Track + Find Flight Deals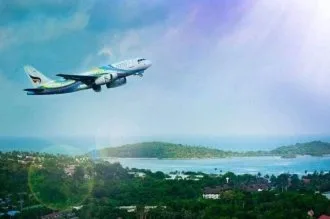 As more people are free to travel on weekends, the flights also get expensive. Try to fly between Tuesday to Thursday for cheap flights. Usually, flights are expensive, so look for cheaper modes like trains or waterways. It's usually more affordable to book tickets well in advance to get the best prices as bookings on an urgent basis charge surged prices.
Also, if you want to find the best flight deals, follow all the major airlines on social media, sign up for their rewards programs, and subscribe to their free e-newsletters to get alerts on the latest flight deals.
4. Avoid tourist traps
Major cities and tourist hotspots are crowded with people; hence, every little thing is charged twice its price. Try to choose less well-known destinations and stray off the beaten track!
An important rule to remember is- if there are too many tourists, the restaurants are overpriced, and the shops are overrated, so to be a budget-friendly traveller, avoid staying and shopping in the vicinity of touristy places.
One of the best budget travel tips is- don't shop for unnecessary touristy things. If you still want to buy some souvenirs, check multiple shops and compare the prices before buying.  Also, try to check for the authenticity of local products.
5. Travel overnight to save money
If you need to take a long journey to reach your destination, one of the best budget travel tips is to travel overnight.
Travelling overnight saves you the cost of accommodation for that night and provides you more time to explore the place during the daytime.
6. Avoid busy tourist areas.
It is not a surprise, but the more famous a destination, the costlier the prices. Certain places, such as major cities, are prone to raising prices simply because they know people will travel to them.
Low radar, not so popular locations, however, generally tend to have better costs. Some beautiful and affordable areas, such as Central Asia and the Middle East, are hidden. These less-known countries usually have lower prices and are often undervalued.
7. Pack Light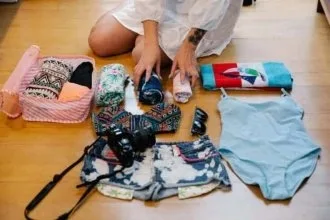 You won't wear half the clothes you want to take, so pack light! This will save you from paying excess baggage fees, and walking with your bag will also be easier.
Put some thought into packing matching tops and bottoms, and pack as few shoes as you can handle emotionally and physically.
However, it's important to check that you take everything you need, don't forget anything! If you forget something essential, it could cost a lot of money to buy that item. So, pack light and well ahead of time to avoid last-minute panic.
8. The more, the merrier!
More often than not it's less expensive to travel in groups than alone. From low-cost lodging to shared food, day trips, and sightseeing, being a part of a group saves money on everything.
You'll also save money on alternative accommodation if you're willing to stay in a hostel having a shared bathroom with other travellers. Check out popular travel sites to find other travellers heading towards the same travel destination as yours and try to join them.
9. Look for – What are the Free Do activities?
One of the best budget travel tips is to look for free things to do wherever you're heading.
DIY Tours- most thrilling of all budget travel tips
Don't forget the classic free walking tours, a great way of seeing the city you are visiting. Also, National Parks are a must-visit when travelling on a tight budget. They provide a thrilling travel experience at cheaper prices.
Some of the best free things to do include- picnics in parks, lying on beaches, tours with a digital audio guide, exploring plazas, markets, bars, and sidewalks
Some museums are free on certain days, so try to grab this opportunity!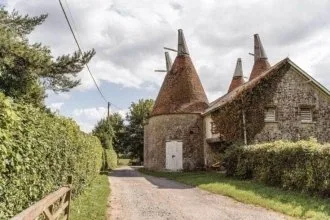 10. Travel where your money goes far
GO TO SMALL TOWNS!
Budget travellers know that some of the coolest places to visit are towns with small populations. Whether you want a warm welcome, a first-hand experience of local culture, or a tasty bowl of traditional cuisine, the small towns make for the most memorable and affordable vacations on earth.
So instead of travelling to a major city that is already crowded with tens of thousands of tourists every day, go to a serene and peaceful travel destination in the small towns. You can also find beautiful towns in South America, Central America, and Eastern Europe.
Some of the most affordable cities and towns to visit are-  Ho Chi Minh City, Vietnam · Chiang Mai, Thailand · Penang, Malaysia · Chiayi, Taiwan, Luang Prabang, Laos · Sa Pa, Vietnam · Tiger Leaping Gorge, China Flores (Guatemala), Isla de Ometepe (Nicaragua), and San Pedro La Laguna (Guatemala), MEDELLÍN, COLOMBIA. CUENCA, ECUADOR. CORDOBA, ARGENTINA. LIMA, PERU. BOGOTA, COLOMBIA. QUITO, ECUADOR. CURITIBA, BRAZIL.
11. Couchsurfing for free accommodation
Be it any part of the world; the locals are most excited to see a tourist. There are only a few hotels in far-flung areas, and they charge high prices. So homestays provide affordable and comfortable accommodation. You can also befriend locals and stay at people's houses for free accommodation.
While couchsurfing, make sure you find safe deals and choose a host family with consistently good reviews.
12. Look into carpooling services such as Bla Car.
Don't be hesitant to join the travellers heading in the same direction as yours! Ask for a little space from people who have cars and are making the same journey anyway.
Similarly, if you're making a road trip and you have space in the car, take advantage of the situation, offer a ride to other travellers and generate a bit of money back towards the petrol.
For best deals, go for pooled rental car services instead of expensive taxis. Compare different shops' and companies' rates to find the best prices on car rentals.
13. Use local transport or Walk, Walk, Walk.
Walking is the cheapest transport and is also the best way to discover a new area via a free walking tour.
When visiting any major city like Paris, New York, London, or Rome, learning the routes and pricing systems of the light rail, underground, and bus systems can save you tons of money compared with renting, gassing up, and parking a car.
Renting a bike is also a way of cheap travel if you need to go a little further.
If you have to take public transport, buses are typically the cheapest. If travelling on a tight budget, you must avoid taxis and Ubers.
14. DIY excursions- the best budget travel tips
You can often save much money by skipping planned tour packages and making an entire plan for yourself!
Use local transport for budget-friendly travel and buy your entry ticket.
Buy a map of your destination and do research well on travel routes to find the cheapest way of exploring. Skip the traditional tour guide and use digital tour guides to save money. Or contact local people to get some free travel tips on a free walking tour.
15. Bring your water bottle.
Water and food safety are issues while travelling to a new world. Once you get sick on your trip, no budgeting will work.
In many countries, tap water should be avoided, so try to carry your water bottle filled with filtered water.
Don't eat fruit or vegetables directly from the streets unless you peel them yourself. Avoid street food unless the food is hot out of the oven and is hygienic.
16. Cook Your Meals When Possible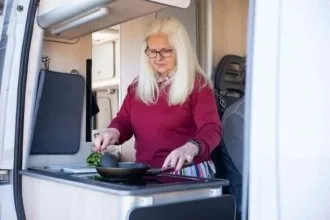 The list of budget travel tips is incomplete without including the topic of food.
When you are a budget traveller, shop at the supermarket and cook meals.
Consider trying some local restaurants if you get their food at the same price, but beyond that, prepare your food. Most hostels have free kitchen facilities for everyone to use; check them out!
One of the best budget travel tips is to carry some snacks or fruits in your handbag to avoid feeling hungry by the aroma of overpriced snacks at the hot tourist spots.
17. Be aware of ATM charges.
Read your banking terms carefully; some ATMs can charge a lot for withdrawal and exchange services.
To avoid charges, take as much money as you can afford in one go. The more money you carry, the less often you'll pay the withdrawal charge, but also, there's a higher threat of stealing!
If you have lots of cash, put it in different parts of your bag, and leave some in a locked, secure space at your accommodation.
18. Get a local Sim
To avoid exorbitantly high data charges, get a local Sim card and access cheaper local data packages. And ask for free wifi wherever possible.
You need internet access to know your route, navigate major attractions, and contact your family back home!
19. Research Scams + Know What Things Cost/Conversion Rates
Wherever your journey is, someone will try to scam you. It is best to do the research in advance to avoid a lot of unnecessary expenditure in a new country.
In many countries, scams are planned by taxis and taxi companies. So know what things cost locally and keep the current conversion rates updated.
20. Get recommendations from locals
One of the best budget travel tips is interacting with locals and recommending the best affordable options. Stay cautious of whom to trust, ask multiple people, and do not blindly follow a single person's advice.
The foreign language might be tough for locals to understand. Hearing one's native language from foreigners' mouths always delights the locals. Learn some frequently used local words; it'll be a helpful resource in making local friends and improving your bargaining skills.
E.g. the famous local slang for saying hello is – Mandarin: Nǐ hǎo. Spanish: hola. French: Bonjour. German: Guten tag. Italian: salve.Portuguese: olá. Arabic: asalaam alaikum. Japanese: konnichiwa.
21. Travel slower + longer
It may appear counterintuitively that extended travel can save money. Still, most things can be cheaper during a longer stay, like the flight prices and a better understanding of local affordable pots.
So once you reach a destination, take your time exploring and making the most of your trip! Imagine booking flights only once and spending the entire month exploring an island lifestyle! It'll save money on back and forth journey taken to reach a new destination.
22. Get travel insurance
In general, budget travel tips may not always recommend travel insurance. It's an extra expense in some instances, but it'll be very useful if you have to cancel your travel. Hence, travel insurance is a great tip to travel comfortably.
If you're booking a package tour or cruise ship, make sure you understand the cancellation policy, and if you think there's a chance you'll cancel, to deal with unforeseen circumstances, it's a good option to pay a small premium. Insurance may help you in getting a good refund.
23. Work while travelling- most interesting of all budget travel tips
Earn money even when on a trip!
Making money on the trip can add a lot to your goal of saving money and help you balance the travel budget.
Many hostels offer free accommodation if you work a few shifts, and there's also the option of bartending. You can earn even more money by teaching abroad, or it can get you a working holiday visa.
24. Book now and stick to your travel budget
There are very few places that can't be travelled on a low travel budget.
There are free things to do at every destination, so you must manage your expectations of how many expensive activities you want to do on a trip. Once you've planned your budget using our best budget travel tips, try not to overspend.
So what are you waiting for? Use our list of budget travel tips; pack your backpacks, and voila! All your travel dreams will also become a reality at a low cost.
Did I leave any of your budget travel tips out?
How do you travel on a low budget? Drop a comment below sharing your experiences.
Click here to read about dos and donts in Cuba.